Whether you are a singer, podcaster, video game streamer, or just an artist on YouTube kick-starting their channel, you will find how important it is to get your voice across to your viewers. To hook your viewers, the equipment you use is essential, and your microphone is the one piece of equipment you have to make sure is the right fit.
The Blue Yeti is better than AmazonBasics mic as it has additional gain control, zero-latency adjustment, and a better quality result. The AmazonBasics mic, however, commands a lower price. Both instruments offer a great value for money, whether you are recording vocals, podcasts, or instruments.
This article helps you understand the specific differences between the two microphones, their features, and whether the microphone is worth your time and money. You will learn about the two most popular and affordable microphones, their pros and cons, where each microphone's critical aspects are highlighted. This will make it easier for you to decide whether you should purchase the Blue Yeti or the AmazonBasics USB Condenser microphone.
The AmazonBasics USB Condenser Microphone: A Brief Overview
After Amazon's success as being a one-stop-shop for all, the company decided to launch a private label with its own line of products ranging from kitchenware to tech gadgets. Amazon makes the most out of their consumer data research, releasing products to tackle competition by fulfilling their consumers' wants. 
The AmazonBasics microphone is the perfect competitor; it looks almost exactly like the Blue Yeti, has virtually the same features, and even goes as far as to have a very similar microphone stand included with the microphone.
USB microphones are simplistic in their use, making them user-friendly. The AmazonBasics mic requires only a USB cable to be set-up. The cable is already included in the box. It comes with a microphone stand that is adjustable in height and can also be removed by unscrewing from the bottom. The microphone is built almost entirely out of metal, giving it a premium and sophisticated look. 
More importantly, this makes it durable, heavy, and not easily damaged. It offers a three condenser capsule for a good quality experience and four polar patterns:
Cardioid Mode: This mode receives signals from one direction, making it ideal for individual input as it picks up sounds from the front while canceling out any from the back. If you record in an environment where passing cars or people outside the room can be heard in your audio, Cardioid mode lets you make the recording less noisy.
Omnidirectional Mode: this mode picks up sounds equally from all directions of the microphone. If you're recording background sounds and wish to capture the ambiance accurately, you have to pick the Omnidirectional setting.
Bidirectional Mode: with this mode, sound signals are recorded from the front and back of the microphone while the left and ride sides are blocked out. It is ideal for interviews and podcasts.
Stereo Mode: Stereo mode helps pick up sounds from the front, left, and right of the microphone.
The USB microphone uses a touch button system to give it a sleek and modern look. It comes with a headphone jack, which only controls the playback of the audio on your laptop while having no effect or control on the zero-latency monitoring.
On the front body of the microphone, it has a mute button, a mode button to select each polar pattern, a 3.5 mm (0.14 in) headphone cable port, and microphone volume controls. There is a standard USB cable on the back of the microphone, and the entire microphone does not have a gain control button.
Sale
Amazon Basics Professional USB Condenser Microphone with Volume Control and OLED Screen - Black
Professional USB condenser mic with 3 condenser capsules for 4 different recording patterns: cardioid, bidirectional, omnidirectional, and stereo
Durable metal construction (mesh grill, housing, and stand); black color; OLED screen for easy readability of displayed info
Integrated headphone amplifier allows for zero-latency monitoring, complete with pattern selection, gain and volume control, and a microphone mute button
Last update on 2022-05-24 / Affiliate links / Images from Amazon Product Advertising API
Pros of the AmazonBasics Mic
USB: The microphone can be used with any USB to micro-USB cable, which is convenient.
Price Point: The AmazonBasics mic is almost always discounted and also general at a lower price because it is an exclusive Amazon product. Compared with the Blue Yeti, it is a cheaper alternative.
Audio Quality: the audio quality, given the price point, is definitely a plus. It is clear, clean, and smooth without any distortion or extra sensitivity. The polar patterns are also a definitive way of ensuring the right adjustments.
Cons of the AmazonBasic Mic
No Gains Control: the AmazonBasics mic does not offer a gain control button, which is a big downside as it makes it difficult to adjust the sensitivity of the audio directly from the microphone. Instead, you have to make adjustments from the software while recording, which can be a hassle.
Indication: another notable downside is that the volume adjustment buttons on the microphone are not very indicative of the level of volume. One has to continuously keep in check with their laptop or computer screens to check the levels.
Volume Controls: the volume controls do not offer zero-latency monitoring, only controlling the volume of the audio playback of the microphone.
Warranty: AmazonBasics mic comes with only a limited one year warranty.
The Blue Yeti Microphone: A Brief Overview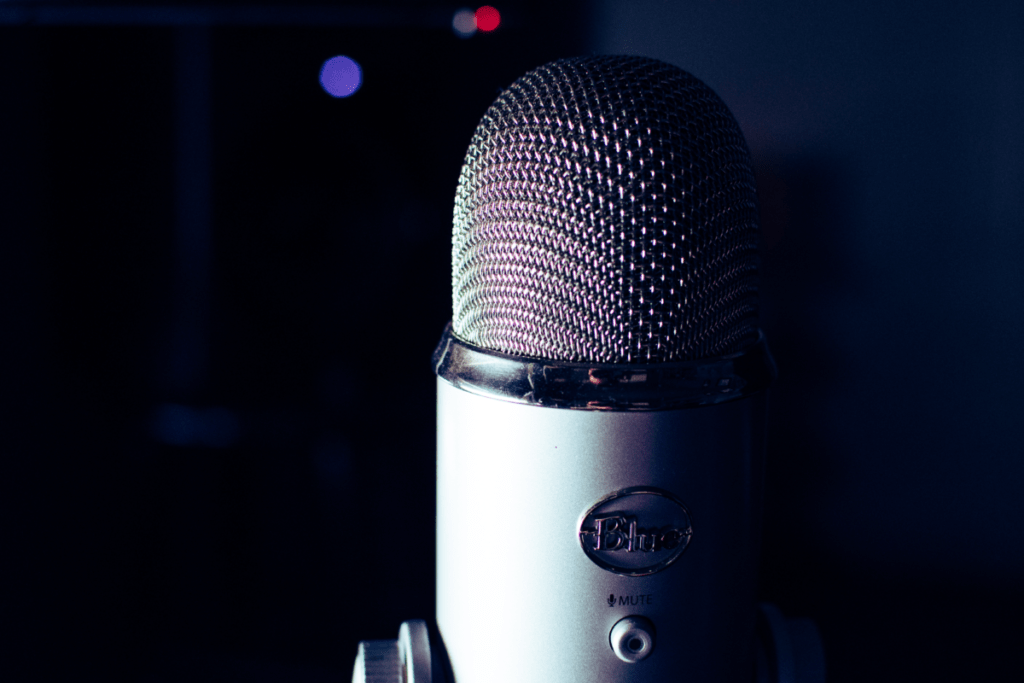 The Blue Yeti microphone is well-loved by most singers, podcasters, and recorders. Both the microphones offer pretty much the exact same features; given that the AmazonBasics was built in competition with the Blue Yeti, it is the actual role model on the basis of which it was created. 
The Blue Yeti also has four polar patterns – omnidirectional, bidirectional, stereo, and cardioid – which have been explained above. It has a headphone jack, a mute button that blinks red when switched on, a designated USB cable, and a volume control knob.
This microphone also has a gain control knob, which allows you to directly adjust the sensitivity of the audio while recording to ensure there is no peaking. It comes in multiple colors, as opposed to the AmazonBasics that only comes in a standard black. 
Prices for each color vary, so if you do not care much for the color and more for the savings, then you can easily opt for a lower price. Being a USB microphone, it already has an internal preamp conversion, which means you do not require any additional audio interface.
Check out this article about whether the Blue Yeti microphone is good for singing here!
Blue Yeti USB Microphone for Recording, Streaming, Gaming, Podcasting on PC and Mac, Condenser Mic for Laptop or Computer with Blue VO!CE Effects, Adjustable Stand, Plug and Play – Blackout
Custom three-capsule array: This professional USB mic produces clear, powerful, broadcast-quality sound for YouTube videos, Twitch game streaming, podcasting, Zoom meetings, music recording and more
Blue VO!CE software: Elevate your streamings and recordings with clear broadcast vocal sound and entertain your audience with enhanced effects, advanced modulation and HD audio samples
Four pickup patterns: Flexible cardioid, omni, bidirectional, and stereo pickup patterns allow you to record in ways that would normally require multiple mics, for vocals, instruments and podcasts
Last update on 2022-05-24 / Affiliate links / Images from Amazon Product Advertising API
Pros of the Blue Yeti Mic
Better Quality: the Blue Yeti promises better quality with THX-certified audio. It picks up on sound signals better compared to the AmazonBasics and cancels out noise better as well in different polar modes.
Gain Control: a feature that positively differentiates the Blue Yeti is its gain control knob. This does not come with the AmazonBasics where, while recording, you have no idea what the gain levels are. With this, you can control it directly.
Headphone Latency: this headphone control allows for real-time zero-latency monitoring without needing the software, making it more convenient and quick. Additionally, it also lets you listen to computer audio.
Warranty: The Blue Yeti comes with a two-year limited warranty.
Cons of the Blue Yeti Mic
Price Point: this microphone, while only a few dollars more expensive, is not as cheap as the AmazonBasics, which offers almost the same features, albeit with lower audio quality. It is worth the extra bucks, but you may want to buy this on a sale if you are on a tight budget.
Designated USB: this microphone offers a designated USB port and may not provide a micro-USB one, although the Blue Yeti does come equipped with a USB cable in the box.
Check out how the AT2020 microphone is better than the Blue Yeti microphone here!
Conclusion
For all recording purposes, the Blue Yeti is better than the AmazonBasics mic. Although it is pricier, you can easily find it discounted during sales or in bundles. Its sound quality is superior to that of Amazon Basic and also wins by a tiny but significant margin in terms of features.
Check out this article here to see if the Blue Yeti is good for singing!
Sources