The Blue Yeti is an incredible mic with an appealing price tag. Virtually every tech YouTuber on the planet has recommended it at some point. But all pieces of tech have some problems. If you're asking, "Why is my Blue Yeti crackling?" you came to the right place.
Your Blue Yeti may be crackling because of software-related issues or a problem with the USB cable or port. You can restart your computer, adjust the microphone gain and volume, and turn off background processes to fix it. Using a different USB port and cable is another possible solution.
In this article, I'll explain some common Blue Yeti issues that can cause it to crackle and how to fix them.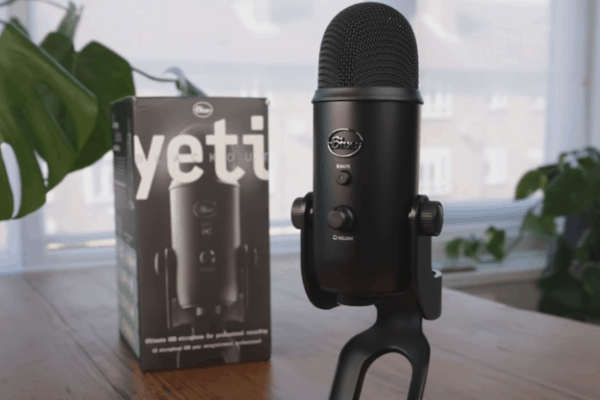 Restart Your Computer To Refresh Your PC Hardware
I know it sounds incredibly cliché, but restarting your computer is the easiest way to fix Blue Yeti crackling sounds.
If the microphone was working just fine yesterday but crackles now, it's worth a shot.
Several factors can make the Blue Yeti start to crackle all of a sudden. Maybe your BIOS didn't load it correctly, or your USB port bugged out, or perhaps the driver isn't loaded correctly.
Whatever the issue might be, a quick restart could fix it.
Turn off Background Processes To Speed Up Your Computer
There are a few reasons why background processes can make your Blue Yeti crackle. 
Maybe your CPU and RAM are working too hard, so your recording quality starts to suffer.
And don't get fooled that a high-end CPU won't face this issue. It has more to do with lousy optimization than hardware power.
CPU and GPU performance and temp monitoring programs are to blame most of the time for crackling.
Here is how you can find and turn off any background process:
Press Ctrl + Shift + Esc to open the Task Manager.
Click on Details.
Press on the CPU tab to list the processes by CPU usage.
Press on any unknown task and click on End task.
Turn off all processes and check your microphone. If it stopped crackling, there's your fix.
I recommend repeating this by restarting your PC and then turning the processes off one by one until you find the one causing the issue.
It's most likely going to be a third-party program that you're using for gaming or productivity. If it isn't something you can't live without, go ahead and uninstall it.
Change Your Speaker and Blue Yeti's Recording Sample Rate
Sample rate indicates how many samples your microphone records in a second.
In simpler terms, the higher the sampling rate, the better the sound quality. At least in theory.
I lowered my speakers and microphone sampling rate because of crackling noise, and I honestly can't tell the difference. Both sound just as good on a lower sample rate, but your mileage may vary.
Here is how you change the recording sample rate in Windows 10:
Go to Start and type Sound settings.
Scroll down to Input and click on Device properties.
Under Related Settings, press Additional Device properties.
Click on the Advanced tab.
Under Default Format, press on the sample rate and change it to 2 channel, 16 bit, 48000 Hz (DVD Quality).
Press Apply and OK.
Try other sample rates as well to see if the crackling persists.
While you're here in the Advanced tab, you can try a few other things. Uncheck the box next to Enable audio enhancements.
Also, check the box next to Allow applications to take exclusive control of this device. Changing these settings could fix your crackling issues, but there's no guarantee.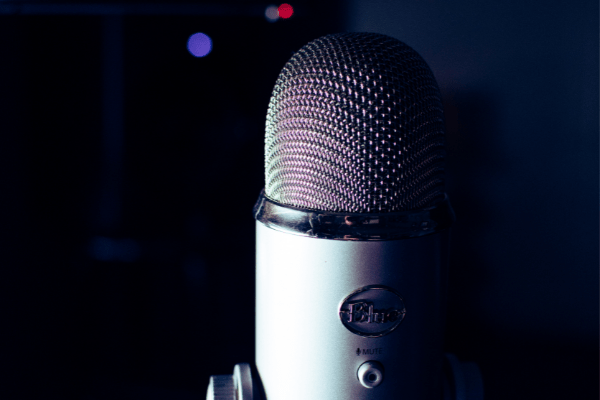 Blue Yeti Headphone Jack Crackling
If your Blue Yeti Headphone Jack is crackling
Use a Different USB Port To Give Your Blue Yeti More Power
One of the most common microphone issues can be fixed by simply changing the USB port you're using.
If you plugged your Blue Yeti into a front USB port, that's a red flag. Front USB ports are case ports and don't have nearly as much bandwidth as motherboard USB ports in the back.
If you already have the Blue Yeti plugged in a back USB port, try a different one. USB ports are buggy and sometimes can't provide enough juice to power your excellent microphone, causing it to crackle.
Replace a Bad USB Cable
Just like a bad USB port can cause crackling, so can a bad USB cable. Thankfully, the Blue Yeti uses a standard Mini USB cable.
You can get this A-Male to Mini-B Cable from Amazon.com. It's 3 ft (0.9 m) long, so plugging it in the back of the case won't be an issue. Also, it's gold-plated, which means it won't rust.
Amazon Basics USB 2.0 Charger Cable - A-Male to Mini-B Cord - 3 Feet (0.9 Meters)
IN THE BOX: (1) 3 foot high-speed USB 2.0 A-Male to Mini-B cable
FOR SPEED CRITICAL DEVICES: Connects speed critical devices, such as external hard drives and smart phones, and peripherals that require a Mini-B connection to your computer
GOLD-PLATED CONNECTORS: Constructed with corrosion-resistant, gold-plated connectors for optimal signal clarity and shielding to minimize interference
Last update on 2022-06-24 / Affiliate links / Images from Amazon Product Advertising API
Even if your Blue Yeti is brand-new, that doesn't mean that the USB cable functions. A new USB cable can quickly stop your crackling issue.
Change Your Blue Yeti's Volume and Gain
Microphone gain is similar to microphone volume, but it's not the same — the higher your gain, the more sound the microphone will pick up.
However, if you crank the gain knob on your Blue Yeti to the max, it'll pick up a lot of background noise.
A different thing happens with your microphone volume, though. Your friends might hear you loudly, but not clearly.
This happens when you set the volume to 100, but the mic gain stays low.
Here's what you have to do:
Go to Start and type Sound settings.
Go to Input and press Device properties.
Turn down the Volume slider to 20-50 and turn up the gain on your microphone using the gain knob on the back.
You'll have to play with the gain and volume settings a bit until you fine-tune the sound. Doing this can stop your microphone from crackling. As a bonus, it'll improve the sound quality.
Remove the Blue Yeti in Device Manager
This is a more advanced version of "plugging it out and back in" because you're removing all the software related to the microphone along with it.
Here's how to remove your Blue Yeti in Device Manager:
Go to Start and type Device Manager.
Expand Audio inputs and outputs.
Right-click the Blue Yeti and select Uninstall device.
Plug the microphone out.
Restart your computer.
Plug the microphone back in.
In a nutshell, you've just plugged your Blue Yeti in for the first time. 
Your computer will now automatically download and install the optimized drivers for the microphone. The crackling should be gone now.
For more information, check out how to reduce background noise on a Blue Yeti.
Record Through Audacity
If you get crackling noise only in OBS Studio and other programs, you can try Audacity, a free program used to record and edit audio.
You can prevent crackling, screeching, and everything in between. Also, you can significantly improve the Yeti's sound quality using Audacity.
Here's a quick YouTube video that showcases how to use Audacity for the Blue Yeti:
Use a Pop Filter To Make You Sound Better
If the crackling noise you're hearing is the puff of air that leaves your mouth when speaking, a pop filter will alleviate that issue.
Pop filters are great at isolating sound and making you sound better.
You don't need to go overboard. A simple pop filter like this one by EJT from Amazon.com is enough. It's double-layered and has an adjustable screw clamp that you can attach to the Blue Yeti's stand.
EJT Upgraded Microphone Pop Filter Mask Shield for Blue Yeti and Other Mic, 6 Inch Dual Layered Pop Wind Screen with Enhanced Flexible 360° Gooseneck Clip Stabilization Arm
WHAT IS DUAL-LAYER POP FILTER?-Ever seen footage of your favorite artist recording their vocals in a studio? Most likely, you saw a strange black circle standing in between them and the blue yeti microphone.A pop filter,pop shield or pop screen is a circle of nylon mesh that's positioned a few inches in front of the mic.It's clipped to the mic stand via an 360°adjustable metal gooseneck mount.and the Pop filters can also keep saliva off the condenser microphone.
WHY DO POPING SOUNDS OCCUR?-Generally, plosive sounds are those heard on letters like P, B and S, Imagine singing a phrase like "break my heart" into the microphone.It will cause a loud blast of air to head directly towards the microphone's capsule, causing it to overload unpleasantly. This causes the microphone to "pop" at that point in the word. just like you are holding a lit candle in front of your mouth while you're speaking, these sounds would make the flame flicker.
HOW DOES THE POP FILTER WORK?-Popping sounds can be heightened if you have your mouth too close to the microphone when recording. The plosive sounds interact with the microphone's first diaphragm, The gap in between then disperses any remaining air pressure, so by the time it passes the second screen.the blast is easily contained..A mic pop shield or filter acts as a barrier between these sounds and the microphone, with the aim of eliminating them altogether in the final product.
Last update on 2022-06-24 / Affiliate links / Images from Amazon Product Advertising API
Frequently Asked Questions
How To Deal With Blue Yeti Headphone Jack Crackling
If your Blue Yeti headphone jack is crackling, there is a problem with the connection with the cable or the port. If it crackles even if you replace the cable, then the problem is with the headphone jack. You should check the warranty and contact the manufacturer regarding fixing the headphone jack.
Final Thoughts
The Blue Yeti is a great microphone. However, like any other microphone, you're bound to face some common issues.
If your brand-new Blue Yeti is crackling in videos and games, you now know 9 solutions to fix it.
Sources