Audio clarity is crucial when you want to make music. Professional audio recorders and artists spend thousands of dollars creating a recording booth or an isolated place with no external sound. The microphone isolation shield is a cheaper alternative, and even though they're popular, the question is, are they any good?
A microphone isolation shield greatly reduces the echo and reverb from the voice and produces dry audio. It does so by 'shielding' the voice and absorbing any echo that might otherwise go inside the audio. Therefore, it works best in a closed environment where echos are more likely to occur.
If you wonder whether microphone isolation shields work or not, this article should clear all your doubts. In the final section, there's a list of the best isolation shields available on Amazon.com.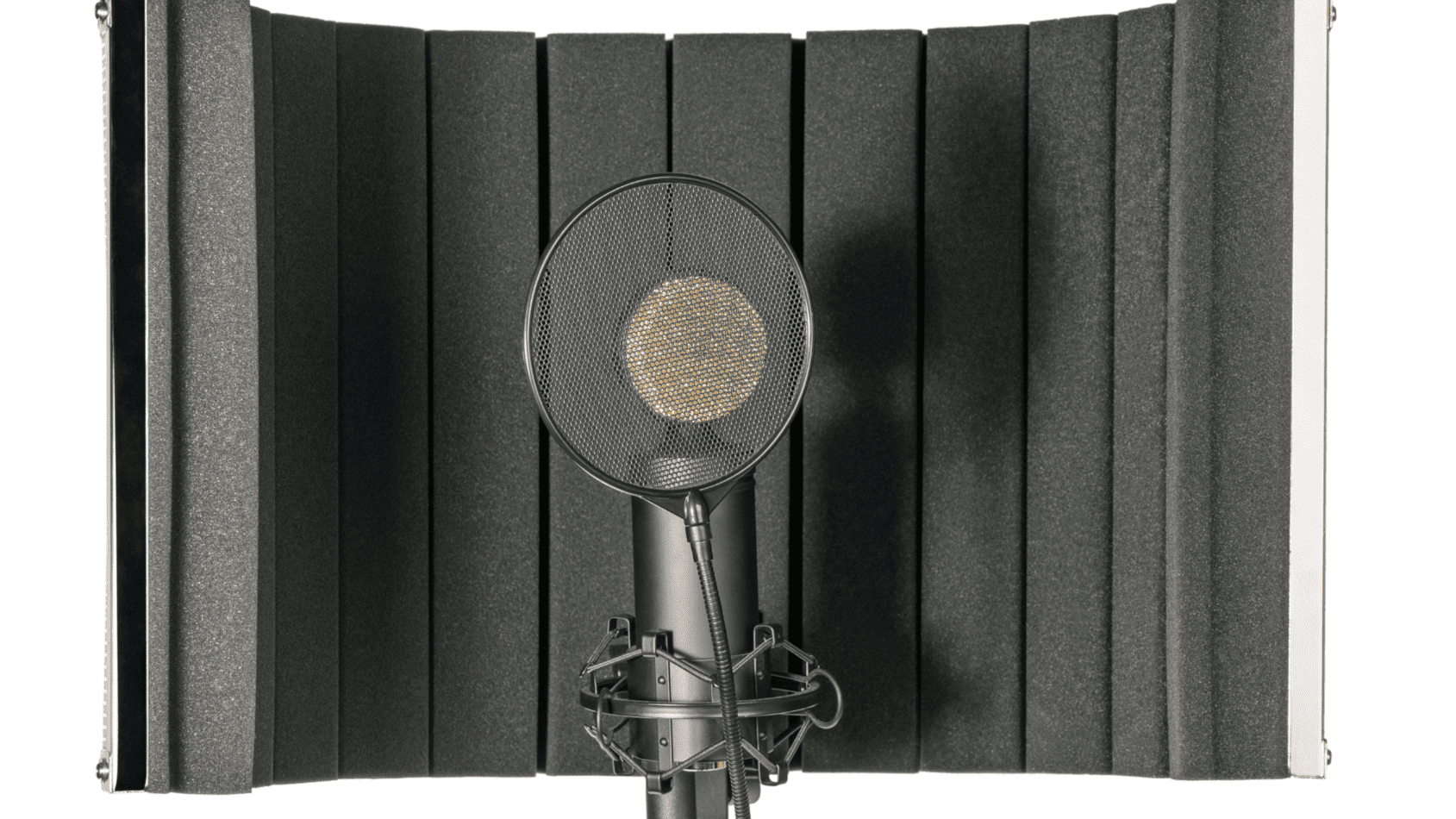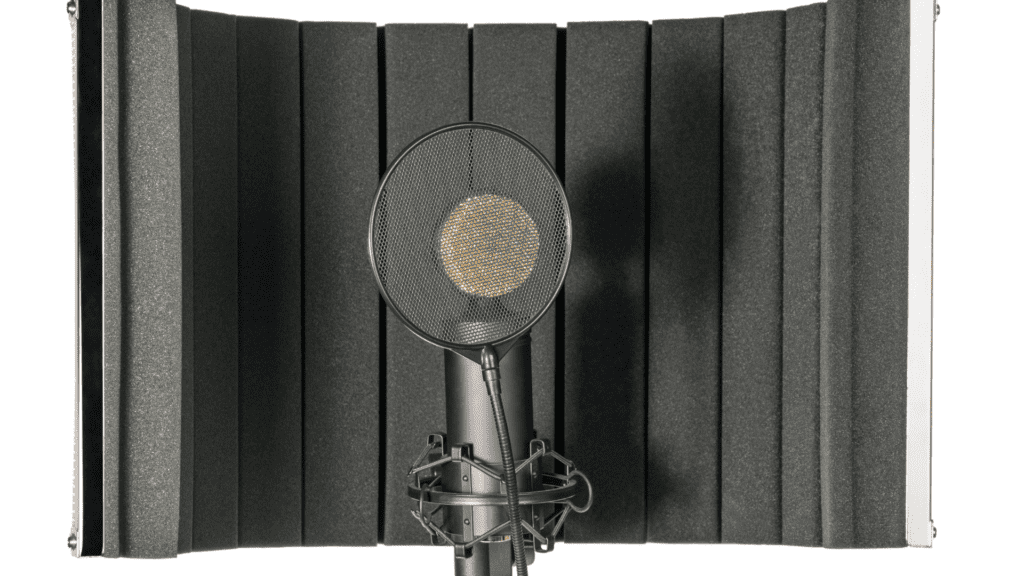 How Does a Microphone Isolation Shield Work?
A microphone isolation shield is a foam padding fitted on solid material like metal (the external shell) or plastic. It's usually fixed on a stand and covers the open space in front of the microphone, isolating it from the surrounding environment.
The microphone isolation shield minimizes the noise from the external environment and maximizes the audio input into the microphone. These shields, also called portable booths, mimic the same functionality of a sound-proof recording booth.
If you're looking for a professional setup without breaking the bank, then a microphone isolation shield is necessary. It's also a good purchase if you need to record audio on the move. These shields are portable and sturdy.
Unsure if you need a pop filter? Read more about it here.

How Do You Know If a Microphone Isolation Shield Is Working?
The best way to find out if your microphone isolation shield is working or not is by comparing a sample recorded with and without the shield. Sometimes, you might not feel any difference at all, which mainly has to do with the room's acoustics.
Some rooms can unintentionally have surprisingly good acoustics.
Perform an Audio Check
Background noise or an echo is easily identified as 'extra' sounds that you don't need in your audio. It could be the sound from your AC, your dog barking in the background, or some random noise from the street.
To determine the quality of your audio, you should perform a thorough audio check using one of the online microphone testing software like MicTest

or professional recording software like Audacity

and Adobe audition

. You'll know precisely how much echo you're getting with and without the microphone isolation shield.
Check Your Environment
Watch this YouTube video from Tech HD that shows how the isolation shields work in various environments and whether they're helpful or not:
Here are some of the observations:
Useful in closed environments. If your setup is close to a wall or the space where you are recording is small, then the isolation shields are helpful. It effectively absorbs echoes and reverberations that bounce off the wall.
No significant difference in more open environments. If you're recording audio in an open environment like your living room, these shields aren't that effective. It's simply because the room is too large for the echoes to bounce off the wall and come back to the microphone.
Good if you're using a low-quality microphone. An isolation shield can be effective if your microphone captures many echoes and background noise. But if you use a professional microphone that has rich and natural vocal reproduction, such as the Neumann Microphone, Shure Microphone, and the Sennheiser Microphone (available on Amazon.com), then there's no need for a shield.
Sale
Neumann TLM 107 Condenser Microphone Black

Multipattern large diaphragm microphone with 5 polar patterns (omni, wide cardioid, cardioid,...
Navigation switch with LED illuminated display for polar pattern, PAD and low cut
Sound characteristics: transparent, natural reproduction of human voice, outstanding transient...
Last update on 2023-03-28 / Affiliate links / Images from Amazon Product Advertising API
Sale
Shure MV7 USB Microphone for Podcasting, Recording, Live Streaming & Gaming, Built-in Headphone Output, All Metal USB/XLR Dynamic Mic, Voice-Isolating Technology, TeamSpeak & Zoom Certified – Black
USB OR XLR CONNECTIONS - Dual USB/XLR output allows digital or analog recording
CLOSE MIC APPLICATIONS - Great for podcasting, recording, live streaming, and more
INTUITIVE TOUCH PANEL CONTROLS - Intuitive touch panel for control over gain, monitoring volume,...
Last update on 2023-03-29 / Affiliate links / Images from Amazon Product Advertising API
Sennheiser Professional MKE 600 Shotgun Microphone with XLR-3 to 3.5mm Connector for Video Camera/Camcorder

Ideal video camera/camcorder microphone: Able to handle the most demanding filmic challenges
High directivity: Picks up sounds coming from the direction in which the camera is pointing and...
Switchable "Low Cut" filter: Minimizes wind noise
Last update on 2023-03-28 / Affiliate links / Images from Amazon Product Advertising API
What Should You Look for in a Microphone Isolation Shield?
The best microphone isolation shield will stop at least 80% of the echo and reverberations. Even though it's not sufficient from a highly professional recording perspective, it's still excellent.
By now, it's clear that isolation shields for microphones are highly effective in some environments. However, you won't get the same level of crisp audio from every isolation shield.
To identify the best ones, you need to look for the following features:
Padding. Undoubtedly, padding is the essential feature of the isolation shield. The quality ones will have more than one level of padding to absorb various levels of sound. The ones with spiky foam absorb more noise by increasing the surface area and hence are the better choice.
The external shell. The outside cover is equally important since it provides rigidness and stability to the foam. A strong shell allows the foam to absorb the noise equally from all ends. Always go for the ones with metal or alloy.
Area covered. An isolation shield is usually a semi-circle, covering the front and both sides of the microphone. This ensures maximum blocking while still leaving enough room for the user. A shield with good height and width should be your ideal choice.
If you're planning to buy an isolation shield, check out the list below. You can also build your shield from foam and alloy. But you need to do it in a way that is effective and long-lasting. Watch this super easy DIY tutorial on YouTube to help you:
List of Top-Performing Microphone Isolation Shields
If you constantly work in small and closed spaces, purchasing an isolation shield is a good decision. Here are some of the most popular shields available on Amazon.com:
The Aston Microphone Reflection Filter is one of the top-rated microphone shields in the market. Although it's more expensive than its competitors, it works exceptionally well to keep unwanted noise out. It's lightweight, has 360o filtering, and absorbs more sound than others due to its large surface area.
Aston Microphones Halo Portable Microphone Reflection Filter, Black

Radically improved isolation
360 degree filtering (vertical, Not just horizontal plane)
Much bigger surface area (approx. 40 percent bigger than main competitor)
Last update on 2023-03-28 / Affiliate links / Images from Amazon Product Advertising API
sE Electronics is one of the biggest names in the microphone isolation shield arena. Due to the multi-layer filtration system, this shield is perfect for vocal and instrument recordings. It has a dimension of 14.5 x 12 x 8 inches (36.83 x 30.48 x 20.32 cm and absorbs sound waves across the microphone with ease.
SE Electronics - Portable Acoustic Treatment Filter PRO, Black (RF-PRO)

Reflection Filter that helps absorb ambient room sound and keep a well-balanced sound. Multi-layered
Last update on 2023-03-28 / Affiliate links / Images from Amazon Product Advertising API
The Neewer Isolation Shield is made from lightweight metal alloy and acoustic foams that minimize hall reflections and echoes. The result is clean, dry audio with zero or minimal background noise. It has a dimension of 16.7 x 12 x 6.1 inches (42.5 x 30.5 x 15.5 cm), and the size is comfortable for a single user.
Last update on 2023-03-28 / Affiliate links / Images from Amazon Product Advertising API
The LyxPro VRI-20 has a sleek design and weighs only about 6 pounds (2.72 kg). It reduces bounceback and eliminates noise interference, making it perfect for vocal recordings and acoustics. It's made of aluminum and foam.
LyxPro VRI-20 Sound Absorbing Acoustic Foam Isolation Portable Microphone Shield, Vocal Recording Panel, High Performance - Stand Mountable

ACOUSTIC SOUND VOICE AND LOCAL TRACKS RECORDING : Preserve the clarity of your voice and instrument...
ELIMINATE AUDIENCE CHATTER AND NOISE INTERFERENCE : High quality Acoustic sound absorbing foam...
MAKE ANYPLACE YOUR PROFESSIONAL RECORDING SPACE : This high end sturdy lightweight aluminum and foam...
Last update on 2023-03-28 / Affiliate links / Images from Amazon Product Advertising API
The TONOR Microphone Isolation Shield is a low-cost alternative with a 1.7 inch (4.32 cm) foam on a premium steel shell. It eliminates interference and is an excellent choice for musicians and vocal artists.
Sale
TONOR Microphone Isolation Shield, Studio Mic Sound Absorbing Foam Reflector for Any Condenser Microphone Recording Equipment Studio, Black

Eliminate Interference: Sharp 1.7 inch thick high density foam for the best noise reflection...
Flexibility & Convenience: The three panel design features two foldable end panels to allow for...
Durability: Constructed out of premium steel with high-quality screws to ensure sturdiness, and long...
Last update on 2023-03-29 / Affiliate links / Images from Amazon Product Advertising API
Final Verdict
A microphone isolation shield does what it says. It shields the microphone from echoes and external sounds, giving you dry audio. It's portable and works in small spaces.
So, it's a yay if you work in a closed environment or move around with your recording equipment a lot. But it's a nay if your home studio is roomy and you use a high-quality microphone.
If you don't want to spend money to purchase an isolation shield, you could build your shield with foam attached to a piece of metal or plastic. 
Sources
Was this article helpful?
Recent Posts
link to How To Allow QuickTime To Access Microphone 🎙️  
QuickTime is a vital app for many Mac users, and if you've recently bought a new microphone, you might wonder how to use it optimally. QuickTime cannot record audio content if it doesn't have...
link to How Do I Test My Microphone? 🎙️
Every microphone leaves a unique signature on the quality of its output. If you're a podcaster trying to melt your way into your audience's hearts, a muddy, distorted recording won't cut it....