Treating your home studio for acoustics is difficult, labor-intensive, and expensive. It can cost anywhere between $10 to $30 per square foot (0.092 sq m) to soundproof a room. Since most of that cost is spent on acoustic foam panels, replacing them with cheaper materials can save you a lot of money.
Here are 13 of the best acoustic foam alternatives for your home studio:
Soundproof curtains
Fiberglass
Mineral wool
Towels
Blankets
Egg cartons
Carpets
Styrofoam
Sound deadening coating
Green Glue
Mass loaded vinyl
Disposable coffee tray
Melamine foam
This article will cover all the different sound-absorbing materials that you can use instead of acoustic foam to treat your home studio for perfect acoustics. By the time you've finished reading this article, you'll have a better idea of the acoustic foam alternatives available to you.
1. Soundproof Curtains
Soundproof curtains are the easiest and fastest way to acoustically treat any room. These heavy drapes are designed to absorb any sound that comes at them.
You should put them over your windows to block any unwanted noise from the outside and stop the windows from reflecting your mixtape.
Keep in mind that glass has an optimal resonance frequency of 400 Hz

. This means that it'll absorb any sound around that frequency and throw your acoustic balance out of whack.
But why stop at windows?
You can permanently mount a curtain rod on each wall and attach a soundproof curtain to it. This allows you to fine-tune the exact amount of soundproofing you want in the room. It'll be easier to adjust the reverberation time

to get a more natural, lively sound.
Another selling point for soundproof curtains is that they're super common in professional environments. In addition to covering the windows, bands use thick soundproof curtains for rehearsals backstage before playing live.
Also, if your studio is too large, the curtains can double as a room divider. It'll be easier to make only one part of the room sound good instead of the whole place.
You can get the Nicetown Sound Blocking Curtains

from Amazon.com. These gorgeous curtains are made from sound-absorbing polyester and come in several colors.
NICETOWN Closet Curtains Sound Blocking, Bedroom Privacy Room Divider Curtain Screen Partitions, Thermal Insulated Blackout Patio Sliding Door Divider Curtain (1 Panel, 8.3ft Wide by 7ft Long, Gray)

CURTAIN DETAILS: The room divider curtain's fabric is super soft, thickness and heavy innovative...
SPACE SOLUTION: Curtains can be a clever and temporary solution for creating new spaces without...
MULTIPLE FUNCTION: Just draw ROOM DIVIDER CURTAINS shut when either side needs privacy, body shape...
Last update on 2023-09-25 / Affiliate links / Images from Amazon Product Advertising API
Check out how to Mount Acoustic Foam on a Popcorn Ceiling

2. Fiberglass
Fiberglass

is a super versatile material that comes in different shapes and forms. You can use any kind of fiberglass you want for soundproofing except for the reflective transparent sheets that resemble glass.
Dense fiberglass insulation in the form of a sheet is by far the easiest to work with. However, if you're lucky, you can also find pre-cut fiberglass acoustic panels. They're much cheaper than acoustic foam, and they do a wonderful job of soundproofing your studio.
As a nice bonus, fiberglass will also make your studio warmer in the cold winter months when you'll be working on your holiday specials.
You could also use a regular fiberglass batt for insulation and cut it into more manageable pieces. Place a flat piece of wood over the batt, press it firmly, and use a razor-sharp utility knife to cut it.
Fiberglass is very dense, so it'll dampen any sound that hits it.
Although your house might have fiberglass insulation sitting between the two layers of drywall, you should still put it over the walls. After all, in addition to the soundproofing effect fiberglass provides, you want the fiberglass to absorb sound that'd otherwise bounce off the wall.
To make the fiberglass stick to your walls, it'd be best to build a custom wooden frame for it. However, this could turn into an expensive project, which negates the point of opting for cheaper insulation materials. Instead, you will use double-sided tape, super glue, or epoxy.
3. Mineral Wool
Mineral wool is somewhat similar to fiberglass. However, it's much denser, so it'll absorb any sound that reaches it. That's why it's a bit more expensive – that said, it's still dirt-cheap compared to acoustic foam

panels.
However, the additional density also makes it harder to work with. Instead of a regular utility knife, you will need to use a serrated edge knife or saw. It'll cut through the mineral wool like butter.
You can find mineral wool in the form of panels. They're usually rolled up for easier transport, though.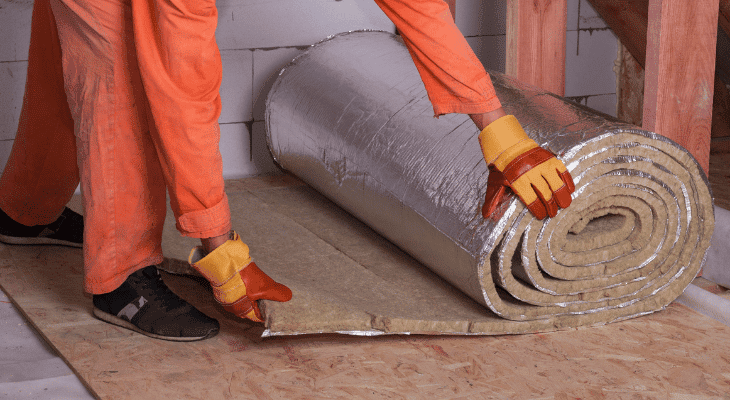 However, be careful when using mineral wool for custom acoustic panels. It's one of the most effective materials at reducing

noise and reverberation, and you don't want to eliminate all reverb in the room – it'll dull out your sound.
Additionally, turning your home studio into a full-blown anechoic chamber will do more harm than good for your tracks. It'll be hard to mix your samples with other elements because of the absence of any reverb.
Instead, try to get the thinnest mineral wool possible and start with just a couple of smaller panels first.
4. Towels
You probably have a dozen old towels lying around your house, slowly rotting away. So, why don't you put them to good use by repurposing them as DIY acoustic panels?
You can use both bath towels and beach towels effectively. They are usually made of cotton, which is similar to fiberglass

when it comes to sound absorption.
You can use regular bath towels, but beach towels will be even easier to work with because they're larger. That's because you'll most likely have to fold the towel once or twice to make it dense enough to absorb more sound waves.
Most importantly, sourcing enough towels will be either free or dirt-cheap. Ask your friends and family if they have any they can spare. If they don't have anything to donate, check your local thrift and dollar stores.
The trickiest part isn't getting the towels — it's mounting them. Once you've determined the correct placement for your "acoustic foam," you can install the folded towels with a hammer and a few super long nails.
Alternatively, make a wooden frame and hang your custom towel panel like a picture. You can watch DIY Perks' YouTube video for a better idea of how you should do this:
5. Blankets
Blankets are similar to towels in terms of installation. However, they can be far more effective at noise absorption, depending on the thickness, filling, and materials.
There are even professional-grade sound-absorbing blankets like Insul-Quilt

, which should be enough proof that blankets deserve a spot in your home studio.
That said, there's no reason for you to spend the extra money to get purpose-built sound dampening blankets. The comforter that's been sitting under your bed unused for the past three years will work fine too! Keep in mind that a dense, thick blanket will absorb far more sound than something thin and light.
You can hammer the blanket into place or hang it over a curtain rod. You can also cover the door of your home studio with a blanket to block out any noise coming from the kids' room next door.
6. Egg Cartons
The shape of egg cartons already bears a striking resemblance to acoustic foam. You can use this to your advantage by hot-gluing a few egg cartons together to create a large acoustic panel.
But there are a few caveats to using only egg cartons. The thin cardboard won't do much to absorb soundwaves, but the shape is excellent at deflecting and absorbing

echoes.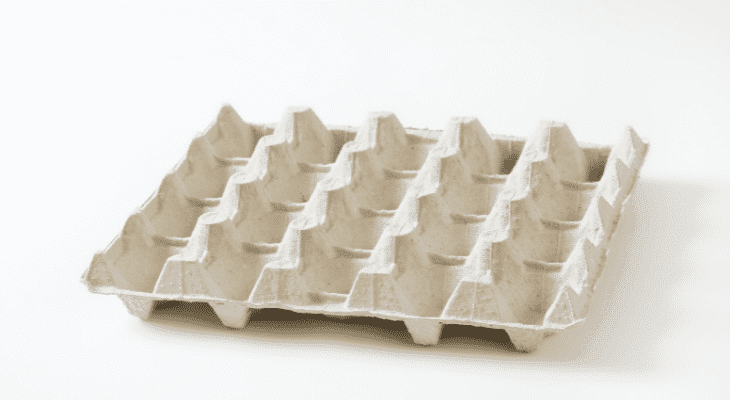 So, what does that mean for you?
It means that egg cartons will only work if you already have decent sound absorption in the room. The egg cartons make sense if you have soundproof windows, doors, and a thick insulation layer behind the drywall.
Otherwise, glue the egg cartons over a dense layer of mineral wool, fiberglass, or cloth. My favorite is mineral wool because it's super thick and easy to work with.
7. Carpets
Carpets are one of the most common acoustic foam

alternatives out there. However, keep in mind that you can't use any old carpet for acoustic treatment. 

Thin carpets won't absorb high frequencies very well, only the mids and the bass. So, if you want a carpet acoustic panel to do its job, you should only use the thickest, densest deep pile carpet you can find. You can check a few local thrift stores to see if they have any you can buy.
You can and should combine a few different carpets, but make it symmetrical. If one side of the studio has stronger sound absorption than the other, the reverberation time in the room will become unnatural.
8. Styrofoam
Styrofoam is a cheap and effective material used for sound absorption. It's also easy to work with, and it already comes in the form of large panels. Additionally, you can easily find it in any hardware store, and you'll be able to find it in exactly the thickness you need.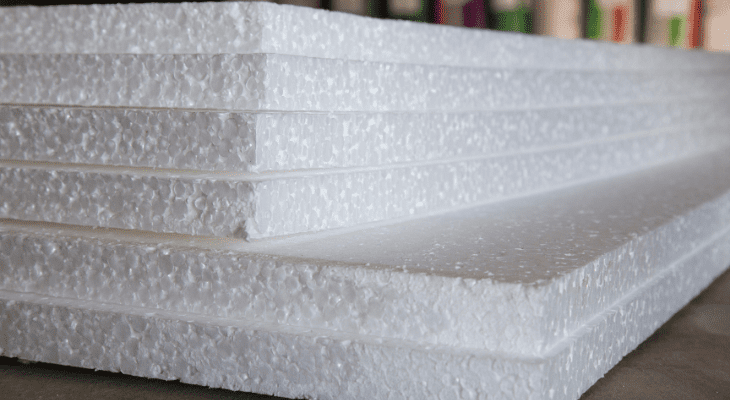 This material also has the added benefit of thermal insulation. However, like egg cartons, it's not dense enough to work well in and of itself, so you'll probably have to combine it with another insulating material.
You can make custom styrofoam acoustic panels fairly easily. Combine styrofoam with a dense material like mineral wool, and it'll absorb any sound wave that hits it. Two or four large styrofoam panels are probably enough for your home studio.
9. Sound Deadening Coating
A layer of sound-reducing paint is an easy way to acoustically treat your room. It'll take some time to paint the whole studio, but it's worth it.
However, adjust your expectations before you grab a gallon of sound deadening paint and lather it on your paint roller. It'll leave a thin layer of rubber on your wall that adds some sound absorption. However, it simply isn't dense enough to create a drastic difference on its own.
I recommend using it as a finisher with other materials to improve the looks and effectiveness of your custom acoustic panels.
10. Green Glue
Green Glue

(available on Amazon.com) is a great noise damping compound used for soundproofing walls and ceilings. It improves the effectiveness of any other material you choose for soundproofing.
Green Glue Company CMPD_1pk Damping Compound, 1 Tube, 29 Ounce

A 29 oz Tube of Green Glue Damping Compound with Nozzle
Coverage of 16 square feet
Highest quality soundproofing damping compound
Last update on 2023-09-25 / Affiliate links / Images from Amazon Product Advertising API
As the name suggests, it's an adhesive that you sandwich between two other materials. For example, you can use Green Glue between your carpet or towels and wall to bolster the sound absorption or improve the quality of your custom styrofoam or egg carton panels. It's a great way to improve the soundproofing quality of your other materials.
11. Mass Loaded Vinyl
As the name suggests, mass-loaded vinyl is a heavy-duty dense material used to improve a room's acoustics. It's usually applied between the plywood and drywall layers, but it'll work fine if you use it over your finished walls too.
Although this material is very thick and dense, you should use at least a few layers for your acoustic panels. You can glue it over some cardboard (bonus points if you do it over egg cartons) or stick it directly onto the wall.
12. Disposable Coffee Tray
Disposable drink coffee trays (essentially, cardboard cup holders) work for the same reason egg cartons do. If you flip it around, it has peaks that look like the pyramid pattern we see on real acoustic foam.

You can get disposable coffee trays in many fast food outlets for free and use 4 of them for a small acoustic panel or 9 if you want to make a large one.
Even though the shape is very effective, you'll still have to add some density to the thin cardboard material. Filling it with some Green Glue and mineral wool from the other side will do the trick.
If you don't know where to get disposable coffee trays, you can get the FMP 45-Pack Pulp Fiber Tray

from Amazon.com. These thick cup holders are eco-friendly and biodegradable, which means it's easy to dispose of them if you decide to get real acoustic foam later. Additionally, the 45 pack is enough for five large 9-piece panels.
[45 Pack] Pulp Fiber Drink Carrier Tray Biodegradable 4 Cup Container Compostable Stackable Ecofriendly Carry Holder for Hot and Cold Drinks

Ideal Size Drink Tray- The length of every cup carrier is 8 1/2 inches; width is 8 1/2 inches and...
Accommodates Four Cups/Containers Easily - The sturdy and multi compartment design of these...
Simple & Sturdy Design Cup Holders for Takeout - Simple beige color design, use of molded fiber and...
Last update on 2023-09-25 / Affiliate links / Images from Amazon Product Advertising API
13. Melamine Foam
Melamine foam is incredible at absorbing sound waves. It's one of the most effective materials used for acoustic treatment

and is so good that some companies use it to make real acoustic panels.
If you don't know what melamine foam is, it's the same stuff used for magic sponge erasers. This dense material will efficiently absorb any sound wave that hits it, reducing reverb in the process.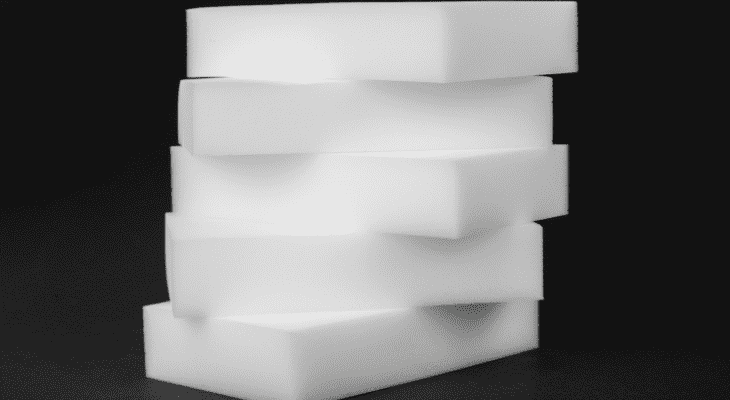 You can buy a few cheap melamine foam sheets from your local hardware store and use some Green Glue to stick them to the wall. That's pretty much all you have to do, and you've got a decent soundproofing solution!
It's not as effective as real acoustic foam panels due to the absence of geometric shapes that increase the surface area. However, you'll hear the difference immediately when you mount the melamine foam, and you'll save hundreds of dollars in the process.
Sources
Was this article helpful?
Recent Posts
link to How To Allow QuickTime To Access Microphone 🎙️  
QuickTime is a vital app for many Mac users, and if you've recently bought a new microphone, you might wonder how to use it optimally. QuickTime cannot record audio content if it doesn't have...
link to How Do I Test My Microphone? 🎙️
Every microphone leaves a unique signature on the quality of its output. If you're a podcaster trying to melt your way into your audience's hearts, a muddy, distorted recording won't cut it....