As those who own a home with popcorn ceilings can attest, this surface can be nearly impossible to make anything stick to. What happens when you decide to add acoustic foam to a popcorn ceiling?
You can mount acoustic foam on a popcorn ceiling by following these steps:
Gather the necessary materials.
Prepare cardboard for each piece of acoustic foam.
Attach cardboard to acoustic foam with velcro strips.
Apply spray adhesive to the cardboard.
Attach the acoustic panels to the ceiling.
In this article, I will explain the process of installing acoustic panels on a popcorn ceiling in a way that ensures the foam doesn't fall after a few weeks or months. Additionally, you'll find some tips and tricks on how you can make the installation process easier and the solution last longer by using some simple and affordable items.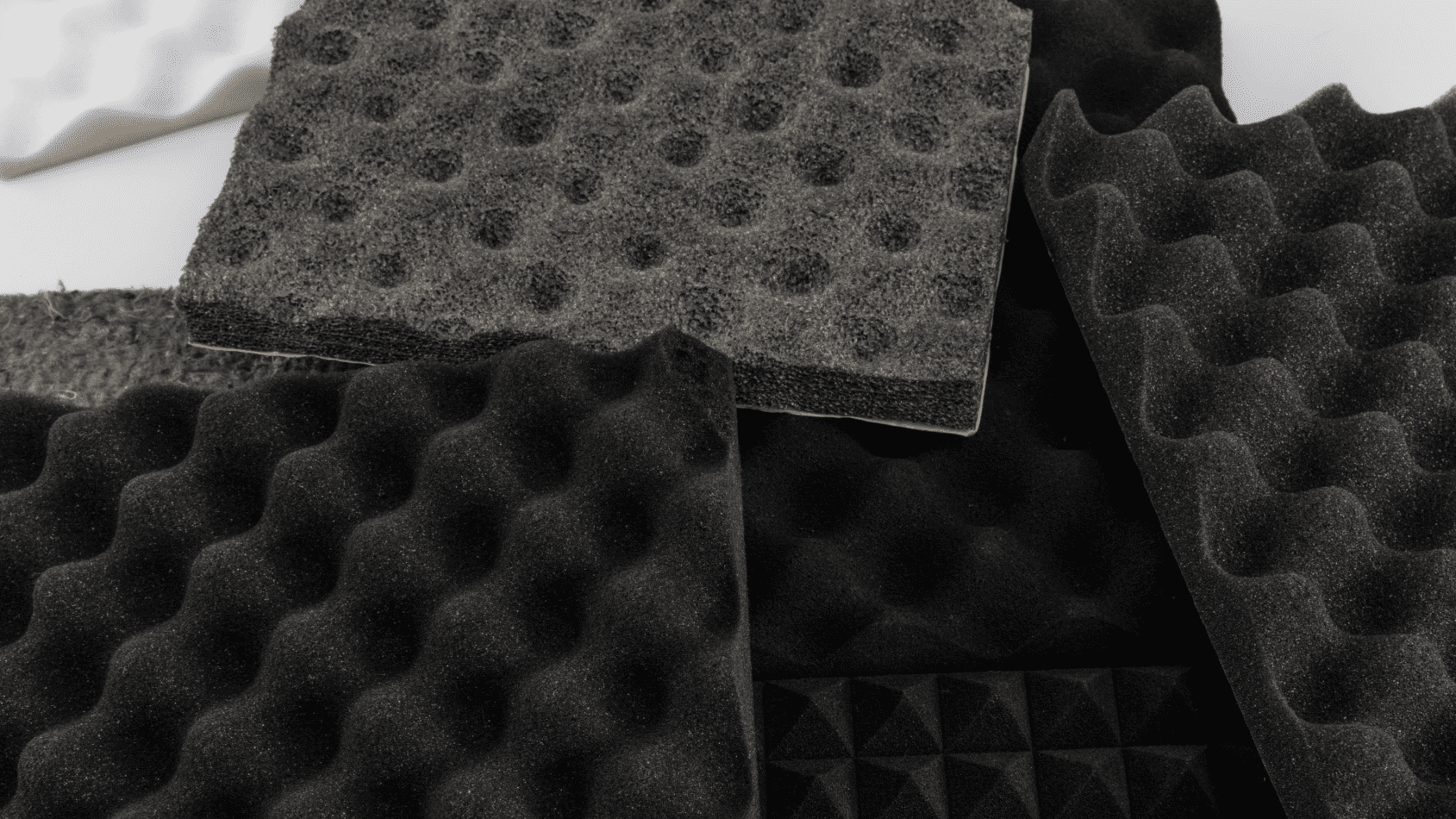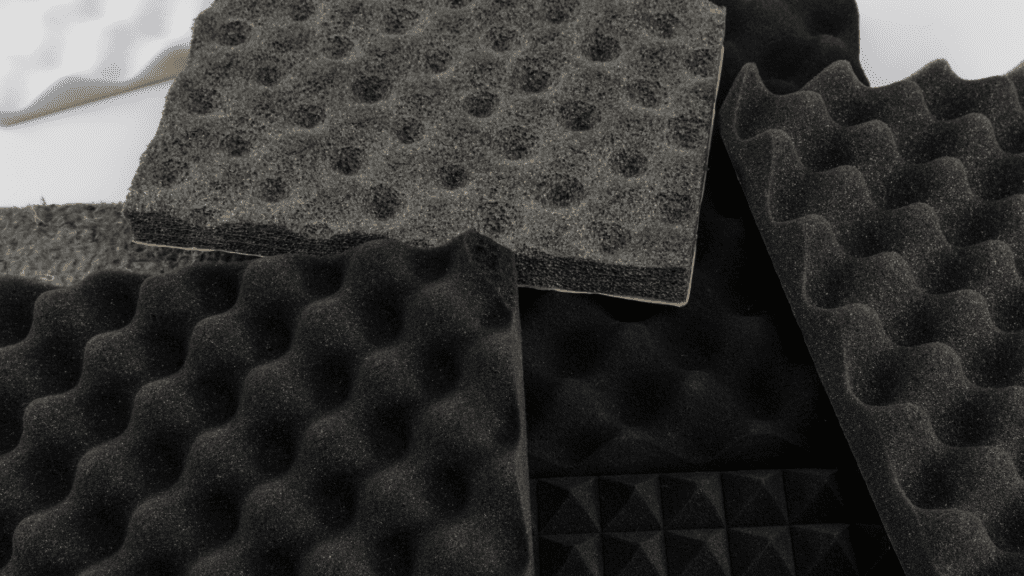 1. Gather the Necessary Materials
As with most tasks, the first step is to get all your supplies together. And other than acoustic foam, you might have all the other items you need lying around your house.
Here are the supplies you'll need to install acoustic foam on a popcorn ceiling:
Acoustic foam pieces
Cardboard pieces (one for each piece of foam)
Velcro picture hanging strips (double-sided)
Adhesive spray
That's it! Just some everyday items, along with the acoustic foam, itself, is all you need.
If not, you can easily find affordable options online:
I recommend getting the 3M Command

picture hanging strips from Amazon.com. These adhesive strips can withstand a load of up to 4lbs (2kg), which is more than enough for a standard 2 inch (5 cm) acoustic foam panel.
Sale
Command Small Picture Hanging Strips, Damage Free Hanging Picture Hangers, No Tools Wall Hanging Strips for Living Spaces, 36 White Adhesive Strip Pairs (72 Command Strips)

MAXIMUM FRAME SIZE 8 X 10 INCHES: One package includes 36 pairs (72 strips total) of the Command...
WORKS ON A VARIETY OF SMOOTH SURFACES: Wall hanging strips work on a variety of smooth surfaces,...
SURFACE PREP: Clean the desired surface with rubbing alcohol to remove grime and dust to allow the...
Last update on 2023-12-01 / Affiliate links / Images from Amazon Product Advertising API
When it comes to adhesive sprays, I recommend getting a product with a proven track record. One that is guaranteed to do the job is the 3M 45 General Purpose Spray Adhesive

from Amazon.com. It has great coverage on large surfaces and can secure a bond in as quick as 30 seconds.
3M 45, 10-1/4-Ounce General Purpose Spray Adhesive, 10.25 Ounce (Pack of 1), White, 10 Ounce

ALLOWS FOR QUICK REPOSITIONING for perfect placement
EFFECTIVE adhesive provides a secure bond in 30 seconds to 15 minutes
IDEAL FOR LIGHT-DUTY MATERIALS including paper, fabric, felt, lightweight wood, cork, flexible foam,...
Last update on 2023-12-01 / Affiliate links / Images from Amazon Product Advertising API
If you need mass amounts of cardboard, you'll find boxes for sale in various retailers, or you can simply ask a few of your local stores if they can provide you with some after their shipments are unloaded.
Once you have all the required supplies, it's time to proceed to the actual installation process.
2. Prepare Cardboard for Each Piece of Acoustic Foam
Prepare a piece of cardboard for each piece of acoustic foam you're installing on your popcorn ceiling. The cardboard piece should be slightly smaller than the acoustic panel it's going to be attached to during the next step.
The cardboard will not only work as an additional contact point between the popcorn ceiling and the panels, but also as a protective layer for the foam
3. Attach Cardboard to Acoustic Foam With Velcro Strips
Using the velcro picture hanging strips you've acquired before starting the project, attach the cardboard pieces to the back of each acoustic foam panel. Make sure that there are multiple contact spots, as these strips are essential to your panels remaining on the ceiling.
For now, refrain from removing the top covers from the velcro strips.
In case you have issues distinguishing the sides of the panels, the backside is usually flat, while the one that is meant to face the room has a sound-reflecting texture.
4. Apply Spray Adhesive to the Cardboard
Now's the time to break out the spray adhesive. Apply liberally to the cardboard that has been velcroed to the acoustic panels, as per the instructions in number 2.
Here's where the second major role of the cardboard pieces comes into play – the protective feature. Be careful not to get any adhesive spray onto the panel, as it can damage the acoustic foam.
5. Attach the Acoustic Panels to the Ceiling
The final stop in acoustic foam on popcorn ceiling installation is to make contact between the surfaces.
Start by removing the protective layer from the picture hanging strips while being careful not to get messy with the adhesive you previously applied. The second part of this step is to connect the acoustic panels with the ceiling. Make sure that you're pressing the entire surface of the foam to make proper contact.
Remember that the entire cardboard surface needs to stick to the popcorn ceiling, together with the adhesive strips. Maintain firm contact for 30 seconds to a full minute to ensure that the acoustic foam remains in place.
Why This Method Works
Just in case you think that some parts of the process described above might seem unnecessary, here's a further explanation.
There are two reasons why this method of attaching acoustic foam to a popcorn ceiling works better than any other.
The first reason is the double binding that comes from the use of adhesive strips and adhesive spray. The second is the addition of the cardboard to the back of the acoustic foam. This added piece significantly increases the surface that connects the acoustic foam piece to the ceiling.
Remember that we're dealing with textured ceilings. The rough surface of popcorn ceilings requires additional reinforcement to prevent the acoustic foam from falling. When regular flat ceilings are in question, using a simple carpet pin or a few adhesive strips might do the trick.
How Popcorn Ceilings Affect Acoustics
A common question on many people's minds is whether their popcorn ceiling is affecting the audio reproduction and recording quality in any way. But if it's affecting it in a good way, do you even need to add the acoustic foam?
Because of their sound-damping abilities, price, and easy application, popcorn ceilings became extremely popular around the world during the 1970s. However, while outstanding for that period, the fact is that any benefits popcorn ceilings bring to acoustics just aren't up to modern standards.
Modern studio environments require more than a textured ceiling to provide a good listening and recording environment. Proper acoustic treatment is necessary for both professional and amateur studios. Without an added layer of acoustic foam, popcorn ceilings are just not able to meet the modern audio requirements.
So while somewhat effective as an acoustic treatment, another thing to keep in mind is that popcorn ceilings can be dangerous to our health. Some of these ceilings might contain asbestos and other harmful materials. Ensure that your popcorn ceiling is asbestos-free and safe before proceeding.
For more information, check my article on 5 Key Places to Position Acoustic Panels in Your Home Studio

Why You Should Install Acoustic Foam on Popcorn Ceiling
Popcorn ceilings are not easy to live with. As mentioned, cleaning is difficult, while mounting stuff onto them might seem like an impossible task. One of those seemingly impossible tasks is mounting acoustic foam on the popcorn ceiling. Why even bother trying to do it?
Removing popcorn ceilings

can be a difficult and expensive task. Adding acoustic foam panels is the next best solution for spaces with this type of ceiling installed. Acoustic foam is highly effective in controlling sound vibrations, noise levels, and echoes, experts claim

.
A great thing about acoustic foam is the fact that it comes with all these features without breaking the bank.
Are acoustic panels fire retardant? Find out here

.
Conclusion
Although somewhat similar to installing acoustic foam on a flat ceiling, popcorn ceiling installation requires additional effort and reinforcement. Still, only a few items and a small chunk of your time are all that's needed to install the acoustic foam on a popcorn ceiling.
With a set of adhesive strips, a can of adhesive spray, and some cardboard, you can easily create a brand new acoustic foam treatment for your popcorn ceiling that'll make the space sound so much better. Enjoy it!
To find out what's best for flooring, check out my article on 4 Best Flooring for Home Studios

Sources
Was this article helpful?
Recent Posts
link to How To Allow QuickTime To Access Microphone 🎙️  
QuickTime is a vital app for many Mac users, and if you've recently bought a new microphone, you might wonder how to use it optimally. QuickTime cannot record audio content if it doesn't have...
link to How Do I Test My Microphone? 🎙️
Every microphone leaves a unique signature on the quality of its output. If you're a podcaster trying to melt your way into your audience's hearts, a muddy, distorted recording won't cut it....