You know you need acoustic treatment for your room or studio if you are recording your latest compositions or your jam session with friends and you pick up the sound of cars passing by, the raised voices of arguing neighbors, or your dog barking outside. Or if something does not sound right with your recorded audio, like too much echo. So, is acoustic foam effective?
Acoustic foam is effective in that it helps enhance the sound in your recording studio by reducing echoes. It can also reduce unwanted background noises your microphone might pick up. However, it does not completely soundproof your studio and block outside noise, so manage your expectations.
If you are thinking of ways to cut back on background noise in your recording studio, then you should first know what acoustic foam is and what it does. You should also understand how sound works to know what to expect when you install acoustic foam panels on your walls.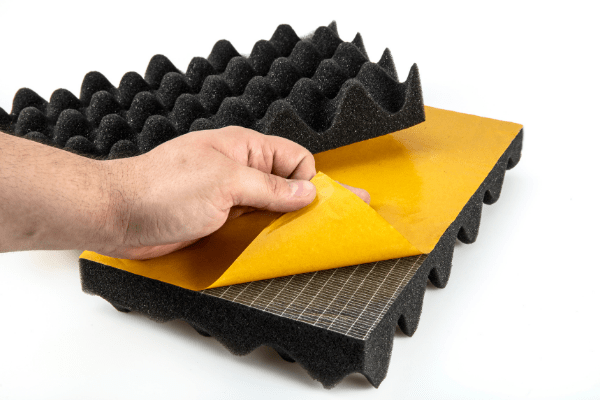 What Does Acoustic Foam Do?
If you have no idea what acoustic foam looks like, it is like an egg tray that is made of foam instead of a carton. These foam panels may also come in a rigid form. They are attached to wall surfaces beside each other. You might have seen these panels if you have visited a recording studio before, but other places use them, too.
Restaurants, for example, install these to help improve the sound and lower the noise within their premises.
Acoustic foam

dampens sound waves by the reduction of the waves' amplitude. To do this, the open-celled foam helps increase air resistance. Additionally, it is meant to reduce or control noise

, which then dissipates as heat. It can also reduce echoes and deaden the sound.
It helps that acoustic foam panels also look good, so some people use them as a decorative element in their studios or rooms.
Several materials can be made into acoustic foam, and it's usually available in a variety of thicknesses and colors. It's usually made with polyurethane or melamine foam

.
Acoustic foam works when you take time to determine the perfect location for it. You place the acoustic foam on surfaces around your room that reflects sound back to absorb the sound and reduce the echo.
For instance, there are special types of acoustic foam that work to reduce the noise coming from the lower frequencies. Called bass traps

, these are best placed in the corners where low frequencies gather.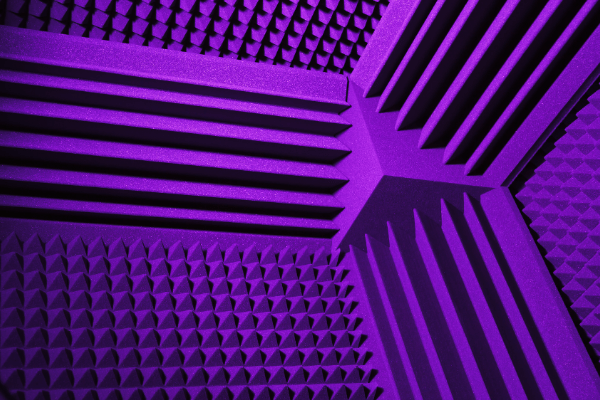 How Good Is Acoustic Foam at Absorbing Sound?
Acoustic foam

is designed for and is effective at absorbing sound, or more accurately, in enhancing or modifying the sound properties in a particular room. It acts as a sound absorber that hinders sound from bouncing all around your room or space.
In a gymnasium without sound absorbers such as acoustic foam, you will have a hard time hearing somebody speaking into the public address system.
The sound will just bounce all over the room for a few seconds because hard surfaces are very efficient at reflecting sound. With acoustic foam installed in the same gymnasium, you will not be getting as much garbling because the sound is being absorbed rather than getting thrown back into the air.
The reverberation time is reduced. Reverberation time is the length of time that a particular sound bounces around the room. In the case of the gymnasium example above, the reverberation time is merely a few seconds, but it's enough for you not to hear anything but garbled speech. Or words that are difficult to make out.
If you want something that can absorb sound, you can check out these products on Amazon.com:
Last update on 2023-12-08 / Affiliate links / Images from Amazon Product Advertising API
Last update on 2023-12-08 / Affiliate links / Images from Amazon Product Advertising API
Aside from these acoustic foam products that look like egg trays, you can also check out sound absorbers on Amazon.com such as:
ATS Acoustics Panel 24x48x2 Inches, Beveled Edge, in Natural

Provides clearer, more enjoyable sound by effectively controlling unwanted reverb and echo.
Superior sound absorption: NRC 1.0 out of 1.
Attractive, textured fabric complements studios, auditoriums, and living spaces.
Last update on 2023-12-08 / Affiliate links / Images from Amazon Product Advertising API
Sale
Primacoustic 1.5 inch Nimbus 2 x 4 foot Acoustic Ceiling Cloud Panel - Black (2-pack)

48-inch x 24-inch x 1.5-inch Broadway Absber with Glass Wool Ce
Hardware/Suppts (pair) - Black
Fabric Covering
Last update on 2023-12-08 / Affiliate links / Images from Amazon Product Advertising API
Is Acoustic Foam Effective at Soundproofing?
Often, people buy acoustic foam thinking that it would solve sleepless nights when the neighbor is having a party or watching an explosive action movie at three in the morning.
Acoustic foam, however, is not effective at soundproofing despite what some people believe. If you are going to use acoustic foam

by itself, you will not be able to block sound from the opposite side of the wall. Or you will not be able to keep your conversations private.
A good analogy would be that you put water in a container that's made of a sponge. The water will leak out. The same thing happens when you try to keep sound in or out with acoustic foam. Like water, the sound will go through a porous material like acoustic foam.
Instead, you will need to use dense materials, like the ones we recommend below.
How Do You Soundproof Your Recording Studio?
There are two ways by which that soun

d travels. The first is through the air and the other is by vibration. The sound that travels through the air is easily minimized by acoustic foam.
But if it's something like live music or machines vibrating against the wall, it's going to take more than just a high-density acoustic foam. For the most part, you will need to make your wall thicker or denser.
You should know that while the acoustic foam is installed on top of your wall, soundproofing is usually found behind the wall. The good news is that you can go DIY with soundproofing your room so you don't have to spend too much having a contractor or other professionals do it for you.
To soundproof your recording studio, you can install sheetrock that measures 0.625 inches (1.6 centimeters). Or you can build a bookshelf that will cover the wall from ceiling to floor and end to end.
The bookshelf and the books will help block the sound coming from the opposite room that goes through the wall. You can also use a mass-loaded vinyl barrier that is made of a high-density material that can reduce the transmission of sound.
You can check out this SoundproofingMLV Mass Loaded Vinyl Sound Barrier

(available on Amazon.com), which measures 4.5 by 15 inches (11.4 by 38.1 centimeters) and covers 67 square feet (6.2 square meters).
Noise Grabber Mass Loaded Vinyl - 2 LB, 4.5' x 15', 67.5 Square Foot Roll of MLV - Dozens of Options, Soundproof Barrier, Reduces Noise, Installs Anywhere, Made in the USA
Highest Quality Mass Loaded Vinyl sound barrier, highest sound ratings by weight, heavy weight, odor...
Best Product with a proven 32 STC Rating, Great for Walls, Floors, Ceiling, Doors, Home Theaters,...
Technical Specs: 1/4" thick, two pounds per square foot, 4.5 feet wide by 15 feet long, weighs 135...
Last update on 2023-12-08 / Affiliate links / Images from Amazon Product Advertising API
Or you can try Green Glue Company 10730


Noiseproofing Compound

on Amazon.com. Green Glue is a compound that dampens vibration. You will need to apply this glue between layers of sheetrock to help deaden the sound and reduce vibration.
Green Glue Company 10730 Noiseproofing Compound, 12 Pack, 336 Ounce

Sold in cases of 12 (29oz.) tubes per case.
Each case comes with installation instructions (in English and Spanish) and data sheets.
Better results for low frequencies
Last update on 2023-12-08 / Affiliate links / Images from Amazon Product Advertising API
It is best if you can install soundproofing materials that keep the noise within the room inside, while also keeping out the noise coming from outside.
But as this Soundproof Guide video shows, it helps to augment soundproofing materials with acoustic foam and other materials that can help dampen or enhance the sound:
Check out my other article on how to mount acoustic foam to popcorn ceilings.

Final Thoughts
A lot of people buy acoustic foam to help get rid of echoes and noise in their recording studios at home. But there are some who make the mistake of thinking that acoustic foam can also block out sound. On its own, acoustic foam cannot effectively soundproof your room because it's not dense enough and it's made with porous materials.
Sources
Was this article helpful?
Recent Posts
link to How To Allow QuickTime To Access Microphone 🎙️  
QuickTime is a vital app for many Mac users, and if you've recently bought a new microphone, you might wonder how to use it optimally. QuickTime cannot record audio content if it doesn't have...
link to How Do I Test My Microphone? 🎙️
Every microphone leaves a unique signature on the quality of its output. If you're a podcaster trying to melt your way into your audience's hearts, a muddy, distorted recording won't cut it....