Blue Microphones is a company that has been producing high-quality microphones since the mid-90s. The company has cultivated a reputation for good microphones, but the Yeti USB microphones made by Blue completely changed the audio world forever. Blue Yeti mics are some of the best on the market, but which mic in the Yeti range is the best?
The best Blue Yeti

microphone is the Blue YetiX. This mic features four high-quality condenser capsules, records at 48kHz 24-bit, and has a switchable pickup pattern for maximum functionality. This mic has many unique features and is ideal for podcasts, content creation, and recording instruments.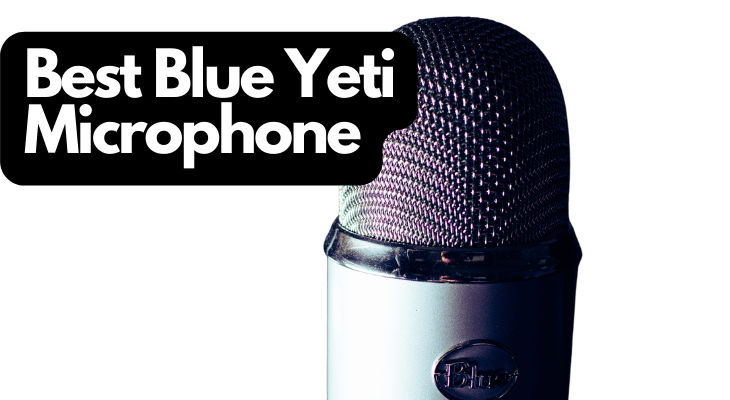 Mics made by Blue Microphones are outstanding, and they have a reputation for being some of the best available, but the USB mics made by this company set them apart from all other mic manufacturers. If you want to get a Blue Yeti, you have already made a good decision, but which Blue Yeti is best for you?
Which Blue Yeti Microphone Is Best?
Sale
Blue Yeti X Professional USB Condenser Microphone for PC, Mac,Gaming,Recording, Streaming, Podcasting on PC, Desktop Mic High-Res Metering, LED Lighting,Blue VO!CE Effects-Black

Four-Capsule Array – Capture Legendary Blue Broadcast Sound With Greater Focus And Clarity Than...
High-Res Led Metering – Visualize Your Voice Level At A Glance And Adjust Up Or Down For Powerful,...
Multi-Function Smart Knob – Fine-Tune Your On-Stream Sound With Easy-Access Controls For Mic Gain,...
Last update on 2023-09-26 / Affiliate links / Images from Amazon Product Advertising API
Blue Yeti microphones are widely regarded in the industry as some of the very best USB microphones available. High-quality USB microphones changed the world of audio forever, and the Yeti range from Blue Microphones has always been a forerunner in the development of this microphone type.
However, Blue Microphones has produced not only one Yeti microphone, but the company has developed an entire range of Yeti mics with different features and specifications.
All Blue Yeti microphones are good, but if you are looking for the best in the range, which should you choose?
The best Blue Yeti USB microphone is the Blue YetiX.
The YetiX is the flagship USB microphone made by Blue Microphones and is the next progression from the standard Yeti that is responsible for the good name of this microphone range.
The Yeti X is an improved and upgraded version of the original Yeti, and it is made to produce a higher audio quality and is built with more features than the original mic.
Some of the most impressive features of the YetiX include a higher bit-rate than any other Yeti mic, four condenser microphone capsules, a four-way switchable pickup pattern, a built-in headphone preamp, a multi-functional smart-knob, built-in level metering via an LED array, G Hub integration, and access to VO!CE, which provides vocal effects, modulation, and HD audio samples.
This microphone is made to be the ultimate USB mic for multi-purpose use, including podcasting, streaming, recording instruments, and vocals, as well as everyday uses such as video calls and conferences.
The Blue YetiX has customizable light colors; the mic comes with a good desk stand and a 2m (6.5ft) USB cable, is compatible with Windows and macOS, and is specifically designed to look good on camera.
The sensitivity of this microphone makes it ideal for multiple purposes, but it is always made to be as versatile as possible and can be configured to be as focused for your purposes as possible with G Hub and the built-in controls, as well as the software that Blue provides for the mic.
Few USB mics on the market compare with the YetiX. This is the most versatile and useable Yeti mic in the range and is among the best and most useable USB mics available right now.
Blue YetiX Specifications
To further demonstrate the features of the Blue YetiX, here is a table that outlines the core specifications of this world-class microphone.
Specifications of the Blue Microphones YetiX
Microphone Performance and Figures
Power Requirements / Usage
62mA – 203mA
Sample Rate
48kHz, 24-bit
Capsules
4x Blue-Proprietary 14mm Condenser Capsules
Polar Patterns (Switchable)
Cardioid, Omnidirectional, Bidirectional, Stereo
Frequency Response
20Hz – 20kHz
Maximum SPL
122dB
Dimensions With Stand
4.33" x 4.8" x 11.38" (11cm x 12.2 cm x 28.9cm)
Weight Without Stand
1.14lbs (0.519kg)
Weight With Stand
2.8lbs (1.28kg)
Headphone Amplifier
Impedance
13 Ohm minimum, 16 Ohm typical
Power Output (RMS)
72mWrms per channel
Frequency Response
20Hz – 20kHz
Signal / Noise
100dB
System Requirements
PC
Windows 10 or higher
Mac
macOS 10.14 or later
USB Port Requirements
1.1 / 2.0 / 3.0
What Are The Other Microphones In The Yeti Range?
We have established that the Blue YetiX is the best mic in the Yeti lineup, but there are several other mics on the range to consider.
The YetiX is significantly more expensive than the other mics in the range, which means that it may be out of reach for some people, but the good news here is there are several excellent mics in the Blue Yeti range, and all of them are ideal for all USB microphone applications.
The Blue Yeti microphone lineup consists of the following microphones:
The Blue Microphones YetiX
The Blue Microphones Yeti
The Blue Microphones YetiNANO
The YetiX is, as we have established, the best mic in the range, but the rest of the Yeti range is also outstanding.
The standard Yeti is the mic that made this microphone range famous and has many of the features of the premium X version. It lacks the fourth mic capsule and some configuration and metering features, but almost all of the other features are the same.
The standard Blue Yeti remains one of the best USB microphones on the market and is more affordable than the premium mic.
The YetiNANO is a USB mic focused on the spoken voice. The higher-tier mics in the range are great for voice, instruments, and vocals, but the NANO is geared around podcasting, streaming, recording audio for videos, and conference calls.
The NANO is still a powerful condenser mic with two high-quality mic capsules. It can record in 24-bit, 48kHz, which means it is capable of high-quality audio, and it is a smaller microphone than the other mics in the range, which is good for a smaller recording or streaming setup.
All the microphones in the Yeti range are very high-quality, and you will not be disappointed if you choose to use them. The NANO is the only mic in the range that is not ideal for recording instruments, but if you use these mics for their intended purpose, there are almost no USB mics that can match them.
Blue Snowball Microphones
Logitech for Creators BlueSnowball iCE USB Microphone for PC, Mac, Gaming, Recording, Streaming, Podcasting, with Cardioid Condenser Mic Capsule, Adjustable Desktop Stand&USB cable, Plug&Play – Black
Custom Condenser Capsule: Powered By Blue'S Custom Condenser Capsule, Snowball Ice Microphone...
Cardioid Pickup Pattern: Captures Your Voice With Clear, Focused Sound For Streaming, Podcasting,...
Stylish Retro Design: Record Or Stream In Style With A Classic Recording Equipment Design That Looks...
Last update on 2023-09-27 / Affiliate links / Images from Amazon Product Advertising API
When exploring the Yeti microphone range, it is also essential to mention the Snowball microphone range.
The Snowball mics from Blue are a smaller version of the Yeti microphones, equipped with only one condenser capsule. These mics are very small and designed to be portable and easy to use, but they are still very powerful.
Snowball mics can even be used for recording vocals and instruments, they can be equipped with shock mounts for stable recording, and they are the best mic to use for podcasting on the move.
If you are looking for a good USB mic but want something portable or cannot yet afford a Yeti, the Blue SnowballICE and Snowball microphones are excellent options.
What Makes Blue Yeti Microphones So Good?
Blue Yeti microphones are considered some of the best UB mics around, and many consider them the industry standard for streaming. What makes these microphones so good, and why are they so popular with many content creators and musicians?
The reason Yeti microphones from Blue Microphones are so good is that they have specially designed microphone capsules that are made to function well in a USB-mic format, and the microphones themselves are very high-quality with excellent features.
The core requirements of any microphone, used for any purpose, are audio quality, useability, versatility, and accuracy. These four fundamentals of a good microphone all determine how well the mic can be used, how easily it can be used, how well it performs, what the mic can be used for, and the quality of the microphone's audio recording.
The Yeti microphones score highly in all these metrics, and they have several innovative features, such as switchable pickup patterns and powerful configuration software that can also add digital effects to the mic audio.
These mics have built-in preamps, are highly versatile, can be used for almost any purpose, sound incredible, are very easy to use, and excel at their intended purpose.
Blue Yeti microphones are so good because they are made well, have been designed intelligently for maximum useability and functionality, and sound outstanding compared to almost all other USB microphones.
Are Blue Yeti Microphones Worthwhile?
If you are looking for a good USB microphone, you will find good mics other than the Blue Yeti range. What makes Blue Yeti mics stand out from other UB mics, and are they worthwhile purchasing?
Blue Yeti microphones are worthwhile purchasing and using. These mics are significantly more affordable than many of the other top USB mic brands on the market, and they are better equipped and come with more features and tools than almost any other USB mic range.
Everyone who uses a Blue Yeti mic states the mics are brilliant for what they are, and they are always highly recommended by their users.
Top YouTubers, streamers, podcasters, and even musicians use these mics because of their high quality and versatility. No other USB microphones offer the same features as the Yeti mics with the same features, functionality, and versatility.
The switchable pickup patterns of the Yeti and YetiX are enough on their own to warrant using these mics, as this feature turns one USB microphone into an entire studio's worth of microphones.
Blue Yeti microphones are very worthwhile, and if you have the opportunity to use one, you will not be disappointed.
Which Blue Yeti Microphone Is Best For You?
The Blue Yeti mic range is excellent, and all of the mics are great for what they are, but which of the Yeti range is the best microphone for you?
The three mics in the Yeti range are all designed for specific tiers of recording. The YetiX is designed to be as versatile and high-end as possible but is designed for content creation more than anything else.
However, the four internal condenser capsules make it the most versatile USB mic on the market and make this mic ideal for recording and streaming almost anything.
The standard Yeti mic is designed to be highly versatile and made to be used in all types of recording environments. This mic is a good all-rounder and is an excellent option for almost all audio applications, but it does lack some nice-to-have features that many other USB mics are equipped with.
The YetiNANO is the ideal mic for a podcaster, streamer, or gamer, especially if you need a portable setup. This mic is not great for recording instruments or singing, but it is excellent for recording the spoken voice.
This means that if you need a high-quality, top-end USB mic for multi-purpose recordings, then the YetiX is the best option for you. If you need a mic for more general use and do not need all of the features of the premium version, then the standard Yeti is an ideal mic for streaming, gaming, video calls, instruments, singing, and capturing audio for online content.
If you need a portable and shockingly easy-to-use mic, then the YetiNANO is the best in the range for you. This mic is ideal for podcasting on the move and is small enough to fit into any luggage easily.
Take your time to explore the Yeti range and consider your microphone requirements to identify the best Yeti mic for you. all of the options are excellent, but it is best to choose the mic that suits your requirements.
Check out: Best ASMR Microphones
Conclusion
The best Blue Yeti microphone is the YetiX. This is the most comprehensive, feature-rich, highest quality, and most versatile microphone in the Yeti range and is considered to be among the best USB microphones available right now. There is almost no better USB mic with the same price-value ratio.
Yeti microphones are excellent, and if they are used well within their intended range of functionality, it is difficult to find anything better. If you need a USB microphone for any purpose, look no further than Yeti microphones.
References
Was this article helpful?
Recent Posts
link to How To Allow QuickTime To Access Microphone 🎙️  
QuickTime is a vital app for many Mac users, and if you've recently bought a new microphone, you might wonder how to use it optimally. QuickTime cannot record audio content if it doesn't have...
link to How Do I Test My Microphone? 🎙️
Every microphone leaves a unique signature on the quality of its output. If you're a podcaster trying to melt your way into your audience's hearts, a muddy, distorted recording won't cut it....