The Blue Snowball and the Razer Seiren Mini mics are excellent options for making a foray into online content creation. They are both excellent entry-level mics that plug directly into your computer, turning it into a sound studio. But which of these entry-level USB mics is the better choice?
The Blue Snowball is better than the Razer Seiren Mini because it boasts more features and has a broader application range. The Blue Snowball supports podcasting, live streaming, and voice-overs, while the Seiren mini is geared towards live streaming only.
In this article, you'll get in-depth insights into both options as we explore how they work and their pros and cons.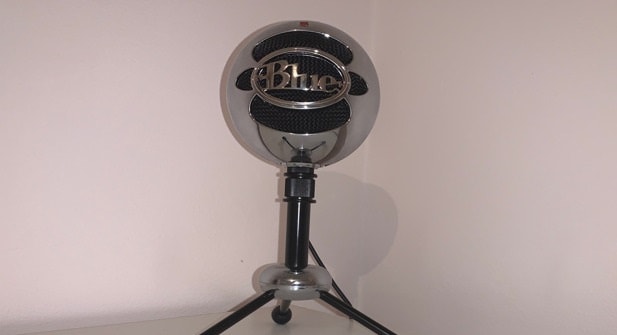 Blue Snowball: A Basic Overview
Blue

is a renowned player in the microphone world, and the Blue Snowball was the company's flagship product in the USB microphone category. The unique shaped, entry-level USB mic is geared towards content creators – podcasting, streaming, and voice-overs.
The Blue Snowball is a desktop mounted version of more expensive professional mics and has features to boot. Despite its diminutive size and unique retro ball shape, the mic comes with three excellent sound capture patterns

.
The mic is light years ahead of the standard built-in microphones in most computers and simple headsets to let content creators turn their PCs into sound studios.
Blue Snowball Features
Build and Design
The Blue Snowball boasts a stylish retro design that sets it apart from other USB mics. The orb-shaped mic comprises a sturdy metal construction to give it a superior build quality and longevity. The mic's capsule has a 12.8 inch (32.5 cm) circumference, making it small and portable.
Snowball comes with a resin casing with a rear and front wire-mesh grille that protects the two custom capsules

and increases their lifespan. The mic's rear houses the USB and a 3-position slide to allow customized sound pickup patterns. The included desktop mount attaches to threaded adapted at the bottom of the orb.
Multiple Polar Patterns
The Blue Snowball boasts three polar patterns – cardioid

, Omni

, and cardioid with a -10dB pad. You can switch between them using a 3-position slide at the rear of the mic.
Cardioid mode picks sound directly in front of the mic, such as when speaking directly to the mic. It's excellent for voice-over, Twitch streams, and podcasts.
Omni mode captures sound from all directions and best suits live-recordings with multiple instruments or round table discussions.
Cardioid mode with a -10dB pad reduces the mic's sensitivity to diminish or eliminate level peaks. This mode lets you capture the best sound even in loud and noisy surroundings.
Frequency Response
Snowball USB mic frequency response extends from 40Hz to 18kHz at -6dB. In Cardioid mode, the mic has a peak presence at 3kHz and 10kHz in Omni mode. The inbuilt analog-to-digital converters

are fixed at 16-bit and 44.1khz.
The Snowball mic shows up as two identical inputs instead of a single mono source thanks to its two capsules.
That enables the Blue Snowball to provide well-defined sound, cover a good frequency range, and deliver excellent background filtering noises.
Mount
This spherical mic comes with a sturdy and well-built desktop mount that's threaded into its base. The mount comprises a height-adjustable tripod with legs that fold out to save on space while keeping the mic steady on a flat surface, allowing for hands-free operation.
The Snowball's threaded base pivots slightly and adjusts backward or forward with the sound source. Pairing the Snowball's desktop mount with a Ringer Shockmount

gets you the best results.
Plug and Play
Like its sister USB mics such as the Blue Yeti

, Snowball is a Plug & Play USB microphone. Plug it into your Windows PC or macOS, let drivers install, and you're ready to go. You don't need to download and install any additional software.
However, you have the option of installing Blue Sherpa

to get firmware updates and access additional mic settings. With the software, you can control gain, monitor recording volume, mute, and control headphone volume.
Pros of Blue Snowball
Unique and appealing orb design
Two polar patterns – cardioid and Omni
Durable metallic construction
Lightweight and portable
Plug and play
Produced by a THX-certified company
Comes with a desktop mount
Brand is renowned for audio quality
Cons of Blue Snowball
No headphone jack and line input
No mute button
Specs
| | |
| --- | --- |
| Size | 4.88 x 7.88 x 10 inches (12.4 x 20 x 25.4 cm) |
| Weight | 1.01 pounds (465 g) |
| Connector Type | USB |
| Type | Condenser |
| Polar pattern | Cardioid, Omni, Cardioid with -10dB |
| Compatible platforms | Windows |
| Frequency Range | 40Hz to 18kHz |
Sale
Blue Snowball USB Microphone for PC, Mac, Gaming, Recording, Streaming, Podcasting, Condenser Mic with Cardioid and Omnidirectional Pickup Patterns, Stylish Retro Design – Brushed Aluminum

Legendary Blue broadcast sound: 2-capsule design gives your voice exceptional presence and detail...
Multiple pickup patterns: The USB microphone features a cardioid pattern for recording and...
Stylish retro design: Record or stream in style with a classic recording equipment design that looks...
Last update on 2023-05-30 / Affiliate links / Images from Amazon Product Advertising API
Razer Seiren Mini: A Basic Overview
The Razer Seiren Mini

microphone is a no-frills budget USB microphone that packs a punch. This barebone but the eye-catching mic is an ideal choice for content creators looking to dip their toes into the game. Like most budget mics, the Seiren Mini is devoid of many fancy features.
The mic lacks digital signal processing (DSP)

, a headphone jack, and a gain knob. The trade-offs allow the manufacturer to keep the mic super affordable without compromising on sound quality. As a result, the Seiren Mini is the best sounding mic in its class.
The mic is geared to live stream gamers on both Twitch and YouTube and delivers professional-sounding vocals. Since the Seiren Mini is a condenser mic, it has some degree of background noise rejection

. While it won't entirely reject all the noise, it dulls the sound of a mechanical keyboard as you chat with your friends.
Razer Seiren Mini Features
Build and Design
The Seiren Mini comes with a pill-shaped build, and the speaker grille comprises the mic's top half. It features a recessed Micro USB port on the rear side, and while the front face spots a tiny LED status light that comes on when the mic is connected.
The Seiren Mini boasts a 14mm condenser capsule behind the grilles and is responsible for its excellent sound quality. It also comes with some internal mount protection and comes with a built-in desktop stand that angles upwards and angles to the side for better sound capture.
Polar Patterns
The Seiren Mini boasts a super-cardioid polar pattern

that's optimized to capture sounds directly in front of the mic. It rejects background noise from behind and the sides while putting a tighter focus on the front. The sound capture pattern is best suited for vocal placing and focuses solely on the speaker.
Be careful with the mic's placement, as its angling and height can affect performance. While the screw-in stand allows the mic to tilt, the tilting range is limited and may not align with your mouth.
The mic sits low on the desktop, placing it level with your torso rather than your mouth. To tap into the mic's excellent performance, you're better off connecting it to a boom or another stand. A simple DIY fix is to place the mic on a stack of books as placement is crucial to its performance.
Frequency Response
The Seiren Mini couples a super-cardioid polar pattern

with a 20Hz to 20kHZ frequency range. It comes with a sample rate of up to 48kHz, and a bit depth goes up to 16 bits.
With proper placement to align with the speaker's mouth, the Seiren Mini delivers a clear signal and adds a subtle low-frequency warmth to your voice. The tighter, close sounding signal filters out the ambient noise to give your voice recording a natural feel.
The Seiren Mini capitalizes on the proximity effect to give you a rich low-mid presence while balancing the high-mid presence. A subtle dynamic compression smoothens the signal if you're close to the mic. Surprisingly, the mic lacks DSP but doesn't distort the sound when you're speaking too close to the capsule.
Bundled Software
Unlike other USB mics, which are plug and play, the Razer Seiren mini requires additional software installation. The Synapse 3 software

includes basic mic controls missing on the mic's surface. That said, you can operate the mic without installing Synapse 3, which is a Windows only application.
Pros of Razer Seiren Mini
Super-affordable
No frills mic but packs a punch
Optimized for superior vocal recording
Super-cardioid sound capture
Inbuilt shock mounts
Comes with bundled software
Excellent ambient sound filtering
Adds a warm frequency to your voice
Cons of Razer Seiren Mini
Lacks volume and gain control
Tricky placement
Tiny desk mount
No mute button
Specs
| | |
| --- | --- |
| Size | 3.55 x 3.55 x 6.35 inches (9 x 9 x 16 cm) |
| Weight | 1.01 pounds (460 g) |
| Connector Type | USB |
| Type | Condenser |
| Polar pattern | Super-Cardioid |
| Compatible platforms | Windows, macOS |
| Frequency Range | 20HZ to 20kHz |
Razer Seiren Mini USB Condenser Microphone: for Streaming and Gaming on PC - Professional Recording Quality - Precise Supercardioid Pickup Pattern - Tilting Stand - Shock Resistant - Mercury White

The #1 Best-Selling Gaming Peripherals Manufacturer in the US: Source - The NPD Group, Inc. U.S....
Ultra-Precise Supercardioid Pickup Pattern: The Razer Seiren Mini is tuned with a tighter pickup...
Professional Recording Quality: With its 14mm condenser capsule and flat frequency response, the mic...
Last update on 2023-05-30 / Affiliate links / Images from Amazon Product Advertising API
Which One Should You Choose?
The choice between the Snowball and the Seiren Mini comes down to your budget and streaming needs.
If you're on a tight budget, just getting into live streaming, or simply looking for a great USB mic, you're better off with the Razer Seiren Mini. Although depending on where you buy it, they may be similar in price.
A Snowball USB mic is a better investment when looking for a budget mic that delivers professional-grade recordings. It offers more features, provides better performance, and supports more functions.
To hear the difference, check out this YouTube video below.
Which one is better for podcasts?
The Snowball is a great choice for podcasters who want to capture quality audio. The large diaphragm does well capturing sound, and you can position the microphone in any way that fits your needs.
The Seiren Mini is also good for podcasts if you're looking for a more compact option with high-quality sound capture and noise cancellation features.
Ultimately, the Snowball would be a better choice.
Which one is better for gaming streaming?
The Blue Snowball is a budget-friendly microphone for gamers with a USB interface and can plug directly into your computer or laptop with no additional software required.
The Razer Seiren Mini, on the other hand, is an excellent choice for gamers who want to record their own voice in a high-quality audio format without any background noise interference.
The Razer Seiren Mini is a better value for money and its design is with needs of gamers in mind.
Which one is better for voiceovers?
The Blue Snowball is a popular choice for many voice-over artists because it's an affordable option that offers high-quality audio. It has a built-in shock mount and comes with a stand, making it easy to use on your desk or in front of your laptop screen.
The Razer Seiren Mini is also an excellent choice for voice-overs, but the quality isn't as good as the Blue Snowball. However, if you're looking for something more portable than the Snowball, this may be the best option.
Conclusion
While both Blue Snowball and Razer Seiren Mini are entry-level USB microphones, they're uniquely different. The no-frills Seiren Mini is the more affordable of the two and is geared toward live game streaming.
The Blue Snowball is a tad more costly but is worth every penny. It supports more uses and packs more features in addition to delivering superior sound quality. This is also a popular choice among many streamers.
Sources
Was this article helpful?
Recent Posts
link to How To Allow QuickTime To Access Microphone 🎙️  
QuickTime is a vital app for many Mac users, and if you've recently bought a new microphone, you might wonder how to use it optimally. QuickTime cannot record audio content if it doesn't have...
link to How Do I Test My Microphone? 🎙️
Every microphone leaves a unique signature on the quality of its output. If you're a podcaster trying to melt your way into your audience's hearts, a muddy, distorted recording won't cut it....