Recording audio is essential and sometimes a difficult task. Suppose you have your podcast, streaming channel, or you record videos for Youtube with a Blue Snowball microphone. In that case, you know that background noises can be hard to handle. 
So how do you reduce the background noise that Blue Snowball picks up? To reduce background noise on a Blue Snowball mic, you need to set your microphone by choosing between the CARDIOID or OMNI option. Then place a sound filter between the microphone and you. If it still picks up background noise after that, you will have to use noise-canceling plugins and software.
In this article, we will be going over all you need to know to reduce your Blue Snowball microphone's background noise.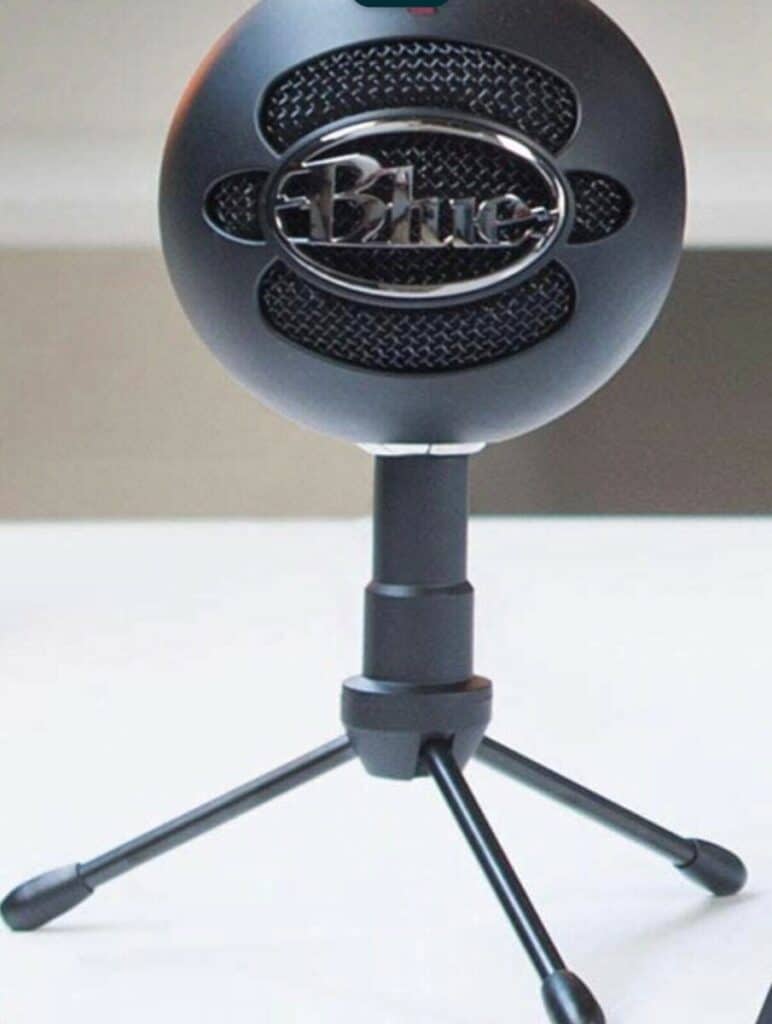 What Is the Blue Snowball Mic? 
The Snowball mic from Blue is one of the most intuitive USB mics for any application. With this rugged mic from Blue, you'll be able to get studio-quality podcasts, streamings, YouTube videos, and more.
The Blue Snowball microphone delivers condensed natural sound directly to your desktop without a problem. It's simple; you only need to plug it in and start recording. There will be no need for extra gear, even if you work on a Mac. 
The Snowball microphone comes in six different styles, so you can choose the one that matches yours. 
Last update on 2022-05-24 / Affiliate links / Images from Amazon Product Advertising API
Here are 11 possible reasons why your Blue Snowball Mic is echoing.
The Different Blue Snowball Mic Settings
You can adjust the Blue Snowball microphone for many recording needs. With this microphone, you'll have the versatility of recording for streamings, podcasts, conference calls, Youtube videos, and more. 
Here are the three settings you can use with a Snowball microphone: 
CARDIOID: With this setting, you can record audio from the front of your microphone. It is perfect for podcasts with just one person, solo instrument recording, and video game streamings. 
OMNI: The OMNI option allows you to record multiple sound sources like a group of acoustic instruments or a conference call. To get this set, switch your Snowball microphone to the 360 degrees option. 
CARDIOID with -10Db Pad: This setting reduces loud sound sources if you are dealing with loud instruments or vocalists. The sound will be crystal clear and without any distortion. 
Check out my article about whether Blue Snowball is good for recording music.
also check out my article on how to fix a Blue Snowball Mic cutting out.
Snowball Is Highly Compatible
Snowball microphones are compatible with most recording and audio editing software. You can use it with GarageBand, iMovie, Pro Tools, Audacity, Adobe Audition, and more. 
Snowball and Snowball iCe are also compatible with Windows 10, Windows 8 and 8.1, Windows 7, Windows Vista, Windows XP, and MacOS X. 
Check out my picklist for the Best Condenser Mics for Under $200.
What Is Background Noise?
Background noise is all the sound that you aren't trying to record or capture with your mic. It can be a far-away conversation, traffic noise, a vacuum, or your neighbor's baby. It reduces your project's quality and will make your viewers or listeners feel like they are watching or hearing an amateur. 
The process of reducing the background noise in a recording is called "noise canceling." The software can help you with it. Some plugins do it automatically if the noise is not as loud as the primary audio. 
Snowball microphones are some of the best mics on the market, thanks to their many features. A Snowball microphone will allow you to record high-quality dialogue, musical instruments, and more. But they can still let in a lot of background noise. 
There are two ways to reduce background noise in your Blue Snowball microphone. The first one is to use the right hardware (e.g., Filters), and the second one is to do editing with multiple plugins and other software.
For more information, check out how to stop a Blue Snowball from picking up the keyboard.
Also, check out how to deal with static on a Blue Snowball mic.
Use Pop Filter
As a general rule to reduce background ambient noise on a blue snowball mic, you can use a pop filter on the mic. Pop filters can be a foam ball that wraps around the mic head or a screen mesh between you and the blue snowball mic that latches onto the mic stand.
The initial purpose of pop filters is to reduce the aspirated plosives of sounds of 'p', 't', 'k', 'd', 'b', and 'g' letters. It inadvertently assists in reducing some of the ambient noise around you. Using a pop filter is a cheap and quick win.
Here is a pop filter set that I use for my Blue Snowball Ice Microphone by Innogear.
Sale
Last update on 2022-05-24 / Affiliate links / Images from Amazon Product Advertising API
Check out my guide to the Best Boom Arms.
Use Noise Reducing Hardware
The first thing to do is set your Snowball microphone right. Use the setting that fits better for what you are trying to achieve. If you want a great podcast or streaming, then go for CARDIOID. If you are recording multiple sound sources, then the OMNI is the better choice. 
Once your microphone is ready, you then have to use a sound filter. It would be best if you put something in between the microphone and you. It could be a sponge or other material. 
Note: make sure you are recording or streaming in a calm environment. If there is no background noise, there will be no need to reduce it. 
For more information, check out my guide to making a Blue Snowball louder and guide to making a Blue Snowball sound better.
Check out the best voicemeeter setting for Blue Snowball Ice.
Use Noise Cancelling Plugins and Software
Noise-canceling software is the most efficient way to reduce microphone background noise. The reason is that noise-canceling software allows you to use plugins that are meant and explicitly designed to reduce background noise.
The best noise-canceling software is the digital audio workstations that allow you to use multiple plugins for different background noise types. 
Software
Here's a list of the best software to remove background noise:
Adobe Audition
Adobe is the go-to for editing pictures, videos, animations, and even sound. Adobe Audition allows you to reduce the background noise manually or through one of its many plugins.
Audition comes with a couple of plugins that will make reducing background noise easy:
Automatic Click Remover
Adaptive Noise Reduction
DeHummer
Automatic Phase Correction
Pro Tools
Pro Tools is a digital audio workshop developed for Windows and macOS. It's an excellent option for audio editing and mixing, as well as sound creation. 
It is one of the most expensive audio editing software. Still, it offers many features and plugins to help you achieve a professional track or sound. Pro Tools is an excellent option for podcasts, music production, and other audio mixing needs. 
F.L. Studios
This software is best for musicians or music producers. Fruity Loops Studios allows you to mix tracks with the best professional standards. 
It also comes with hundreds of plugins to make your life easier, and it has great options for background noise reducers. 
Last update on 2022-05-24 / Affiliate links / Images from Amazon Product Advertising API
Plugins
Here's a list of the best background noise reducer plugins: 
Check out my article on why your Blue Snowball sounds muffled.
Time for an Upgrade?
If you are considering getting an upgrade from your Blue Snowball microphone, definitely worth checking out its better alternative in the range: the Blue Yeti!
Blue Yeti USB Microphone for Recording, Streaming, Gaming, Podcasting on PC and Mac, Condenser Mic for Laptop or Computer with Blue VO!CE Effects, Adjustable Stand, Plug and Play – Blackout
Custom three-capsule array: This professional USB mic produces clear, powerful, broadcast-quality sound for YouTube videos, Twitch game streaming, podcasting, Zoom meetings, music recording and more
Blue VO!CE software: Elevate your streamings and recordings with clear broadcast vocal sound and entertain your audience with enhanced effects, advanced modulation and HD audio samples
Four pickup patterns: Flexible cardioid, omni, bidirectional, and stereo pickup patterns allow you to record in ways that would normally require multiple mics, for vocals, instruments and podcasts
Last update on 2022-05-24 / Affiliate links / Images from Amazon Product Advertising API
It is definitely worth considering if you are using your microphone for recording & streaming projects. The Blue Yeti is better at not picking up background sounds whilst recording a better voice quality.
Check out the BEST ASMR MICROPHONES.
Conclusion
The Blue Snowball microphone is already a great tool to avoid background noise. Use the correct settings in the right environment to get the best results. If you cannot control your environment, use a sound filter to reduce background noise (sponges are great for this).
If you did everything right, but there's still noise in your take, then go for the editing option. You can delete the background noise with some of the best denoiser plugins. Choose the one that fits your budget, install it, and you'll be ready to go.
The Blue Snowball is great but find out how it compares with the Razer Seiren Mini in this article.
Sources