As a music producer, you likely already know that making music isn't all about the plugins. However, if you're new to Logic Pro or want to learn more about it then you'll want to find out which of Logic's stock plugins are easiest to use, and which third-party plugins give you the most bang for your buck.
So, what are the best plugins to use in Logic Pro? I've divided them into four categories:
Best Synths and VST Instruments
Alchemy (Logic Pro)
ANA 2 (Sonic Academy)
Studio Strings (Logic Pro)
Best EQs and Compressors
Air EQ (Eiosis)
Vintage VCA Compressor (Logic Pro)
Pro MB (FabFilter)
Best Reverbs
Chromaverb (Logic Pro)
Space Designer (Logic Pro)
Lustrous Plates (LiquidSonics)
Best Other FX
Saturation Knob (Softube)
Phat FX (Logic Pro)
Virtual Tape Machines (Slate Digital)
In this article, I'll be going through my top picks for plugins to use in Logic Pro, ideal scenarios to use them in and handy tips to make the most of them. Let's get into it.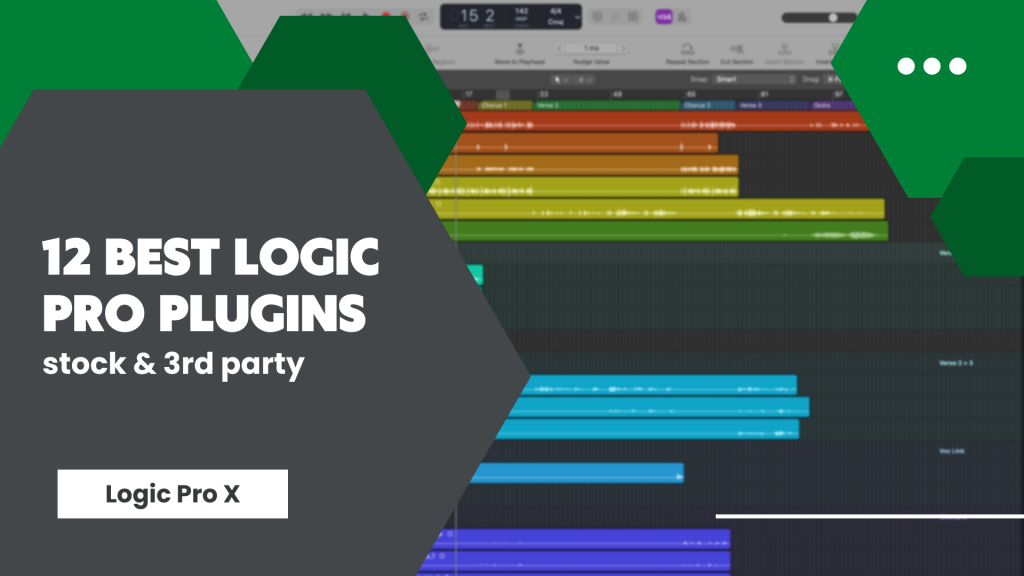 Best Synths and VST Instruments
Alchemy
Type: stock Price: included in Logic Pro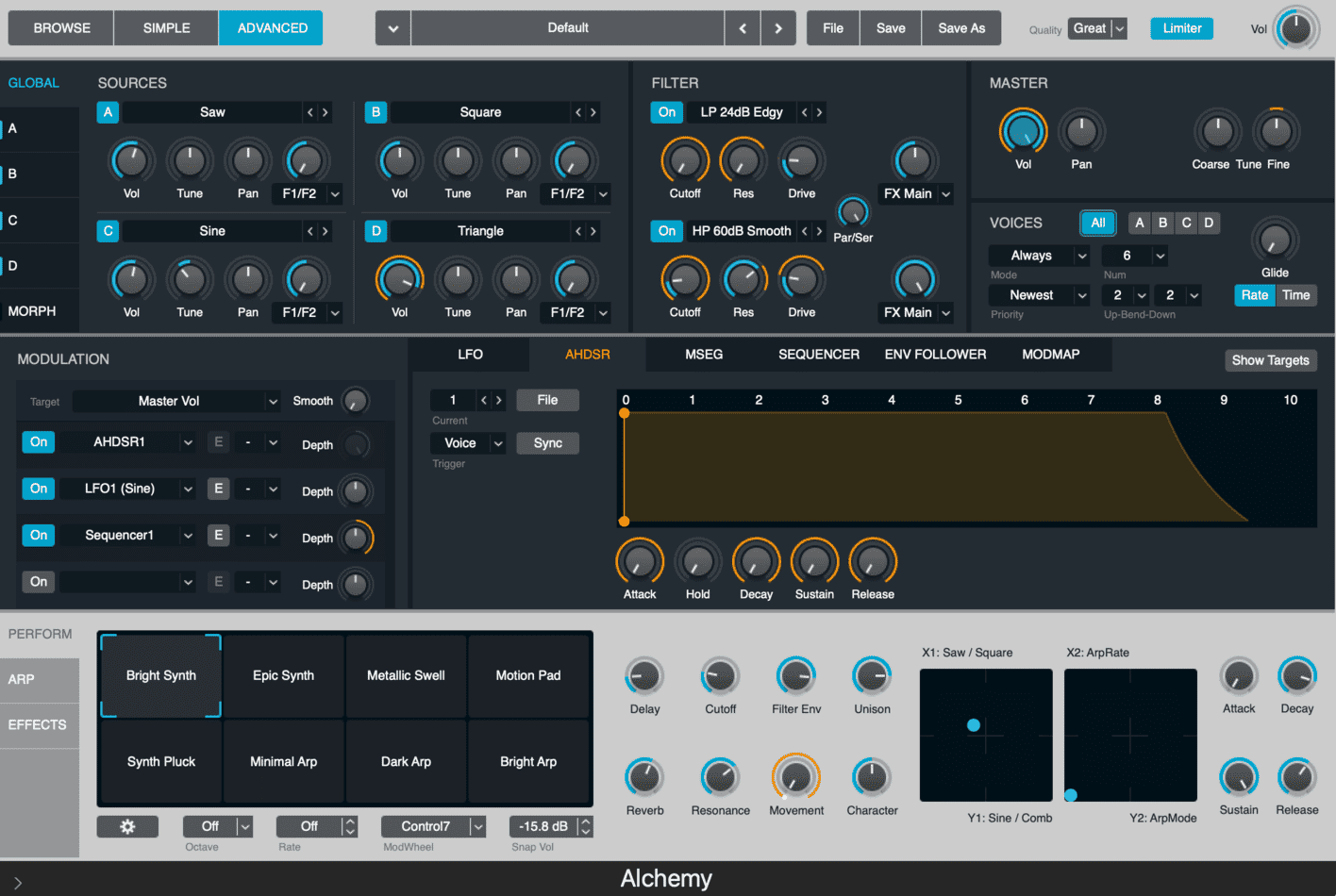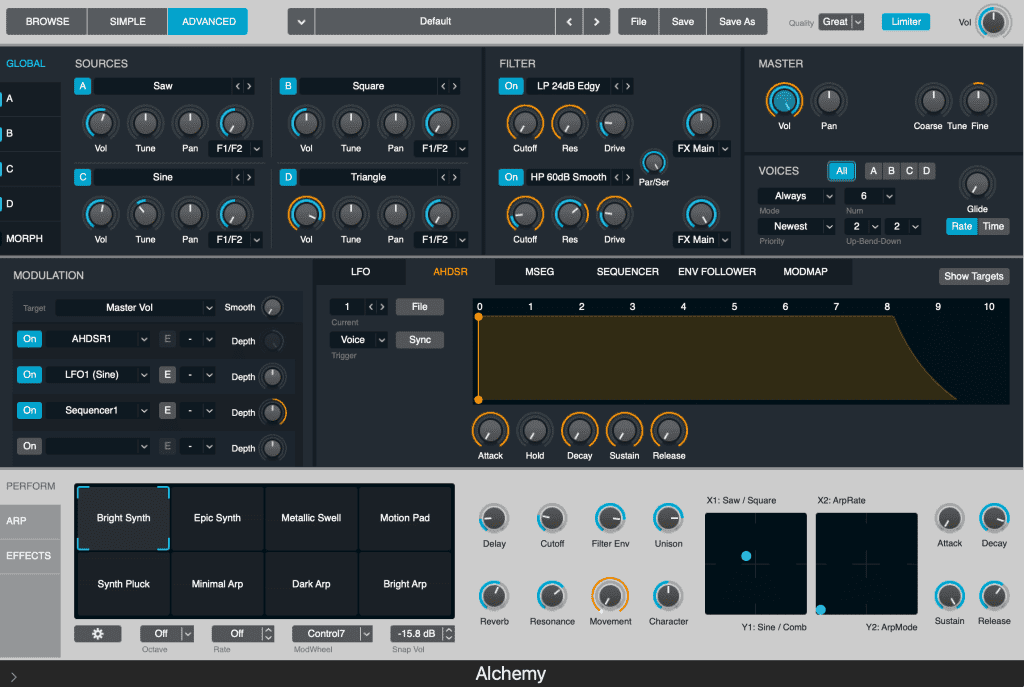 Earlier users of Logic will remember the dreaded ES2 synth. Luckily, Logic have now introduced Alchemy, an incredibly easy-to-use and powerful synthesizer. It features many types of synthesis including additive, spectral, granular, sampling and virtual analog emulations. You can choose from a huge selection of sample sources (or import your own) and layer them hundreds at a time, or create entirely synthetic sounds with the synthesis engines.
Each sound can contain up to four sources, each using one or more synthesis engines and each having up to three source filter effects. The resulting sound can then be manipulated with more filters and modulation effects.
Pro Tip: If synthesizers aren't your thing, don't worry. Alchemy comes with an impressive library of 3568 spacey-sounding presets, each with 8 performance styles and a panel of 'simple' controls which are easy to understand.
ANA 2 – Sonic Academy
Type: 3rd-party Price: (with all presets)$229.74 or from $9.99/mo with Slate Digital All Access Pass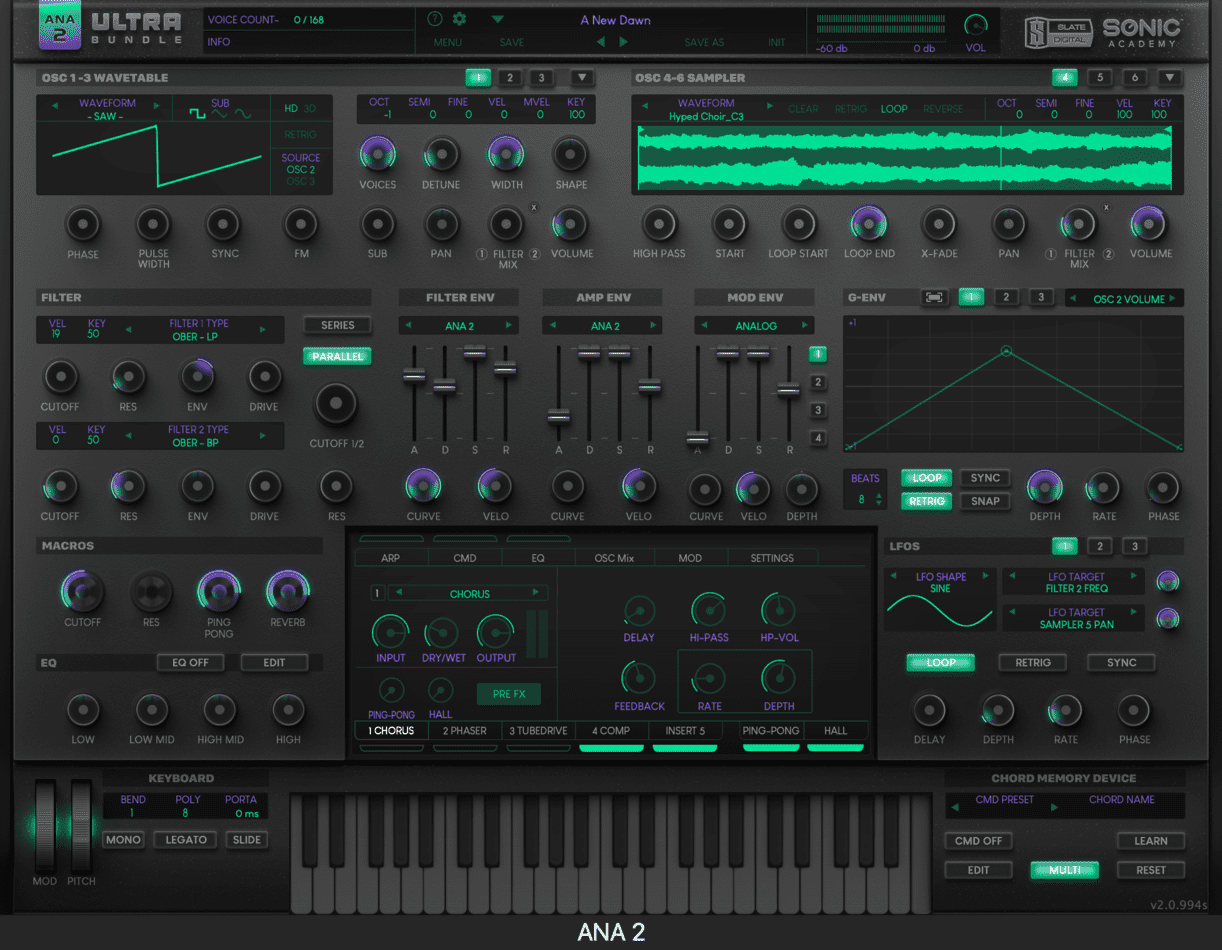 ANA 2 is another immensely powerful synthesizer, plus with the Slate Digital Ultra Bundle it comes with over 1000 presets to choose from, including a selection of eye-catching skins to go with them. It is a wavetable synthesizer, meaning it can create incredibly rich and complex waveforms (and import your own samples).
It has all the features you'd expect in a wavetable synth including 46 different filter types, plus the layout is very intuitive (maybe more so than Alchemy). It's a great go-to synth for creating any type of sound.
Pro Tip: trying to create a great sync patch completely from scratch is pretty hard. Try picking a preset to start and changing one or more aspects of it to create your own unique sound without feeling completely lost.
Studio Strings
Type: stock Price: included in Logic Pro


For a stock plugin, this is one of the most realistic-sounding acoustic instruments you can get. Studio strings has all the common members of the string family, and they come with the ability to choose articulation type (e.g. stringendo, pizzicato, trills and dynamic flourishes). Previous string plugins haven't allowed this type of control over articulation, so it's quite exciting to see. You can also change things about the sound itself with synth-style controls like attack, release and cutoff.
Pro Tip: It's easier to manage multiple types of articulation if they are used as separate instances of the plugin with their own individual tracks, rather than automating changes in the plugin on a single track.
For more information, check out:
Best EQs and Compressors
Air EQ – Eiosis
Type: 3rd-party Price: $69 or from $9.99 with Slate Digital All Access Pass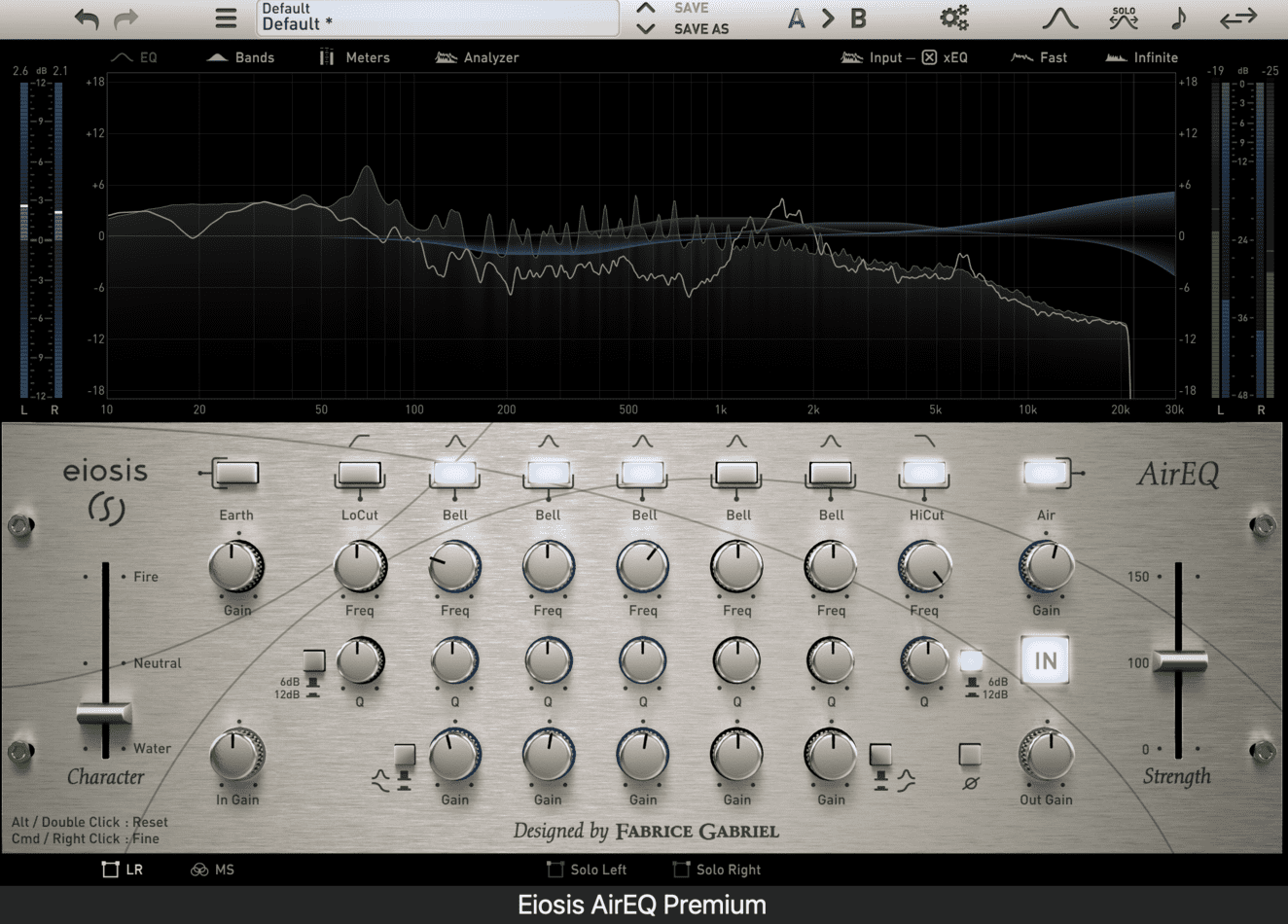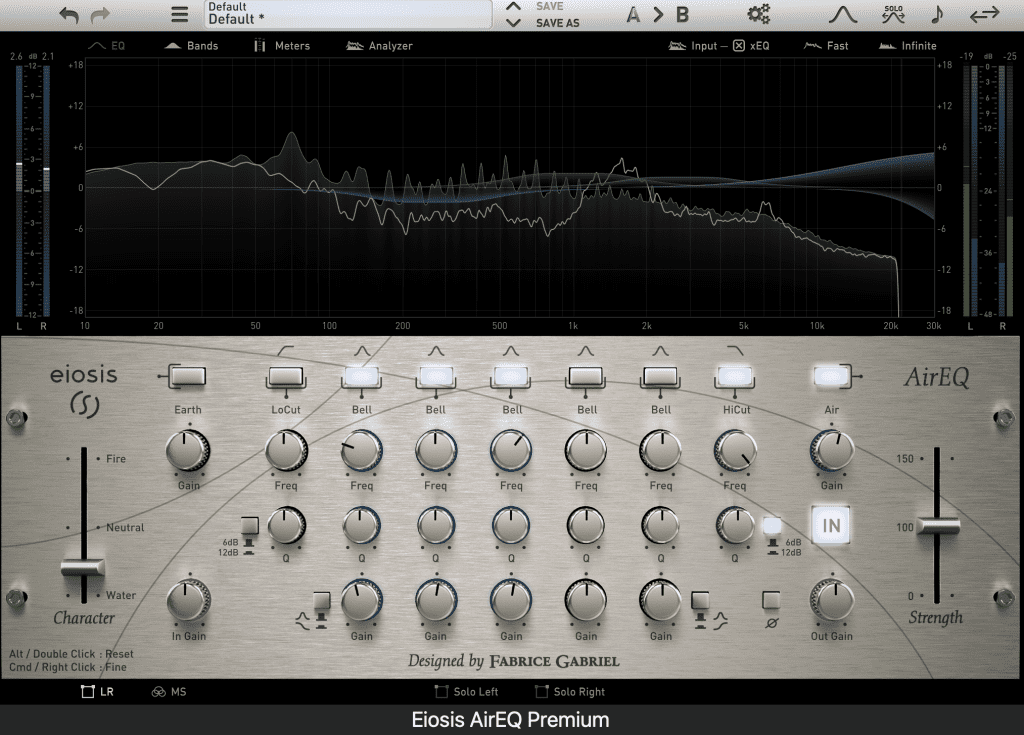 Air EQ calls itself 'beyond analog' and has a rather interesting elemental theme to it. A slider between 'fire' and 'water' controls whether your EQ bands are pointed and precise (fire) or gently sloped (water). There are two shelf filters: a low shelf which boosts the bass and sub-bass (earth) and a high shelf which boosts the top end (air).
This elemental layout makes the plugin very enjoyable to use, allowing you to stop and think about what kind of tonal characteristics you are trying to create with it. It also has a really transparent, smooth tone which handles even major EQ adjustments quite pleasantly.
Pro Tip: to avoid boosting too many extreme high or low frequencies when using 'air' or 'earth' shelves you can use them in combination with the plugin's gently-sloping high/low pass filters.
Vintage VCA Compressor
Type: stock Price: included in Logic Pro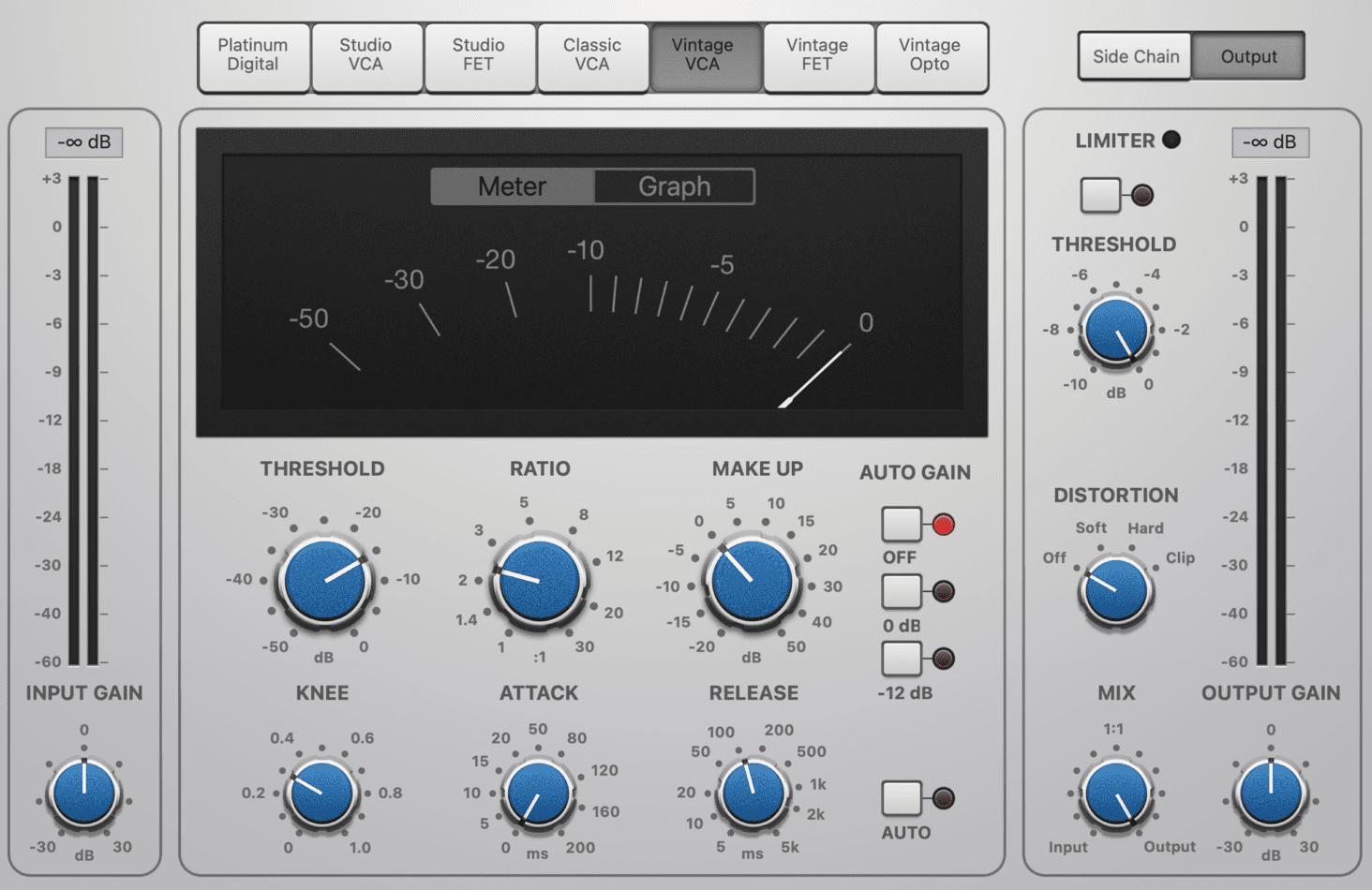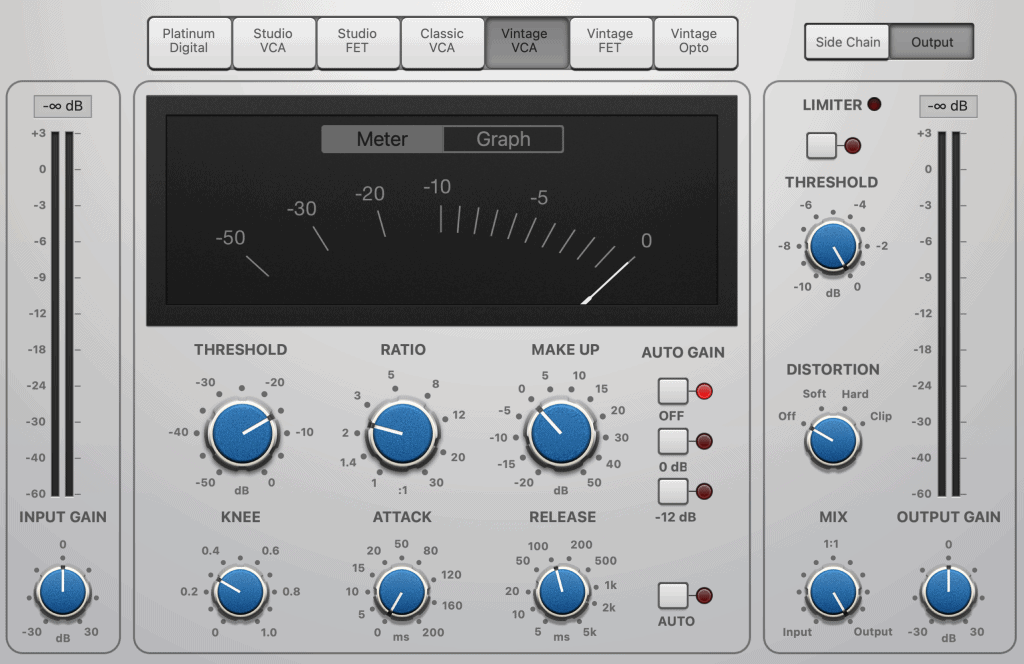 This compressor makes the list due to its magic 'glueing' capabilities. Based on the famed SSL G Bus Compressor, it's designed for use on the mix bus to make mixes more cohesive as well as bigger, powerful and more punchy.
Obviously, it's not going to be suitable for every single mix. However, it does a great job of making pop and similar genres sound more 'finished' even in the early phases of mixing by glueing everything together.
Pro Tip: this compressor also works great for glueing together other instruments such as drums, or for natural, musical-sounding compression on something like a piano.
Pro MB – FabFilter
Type: 3rd-party Price: $199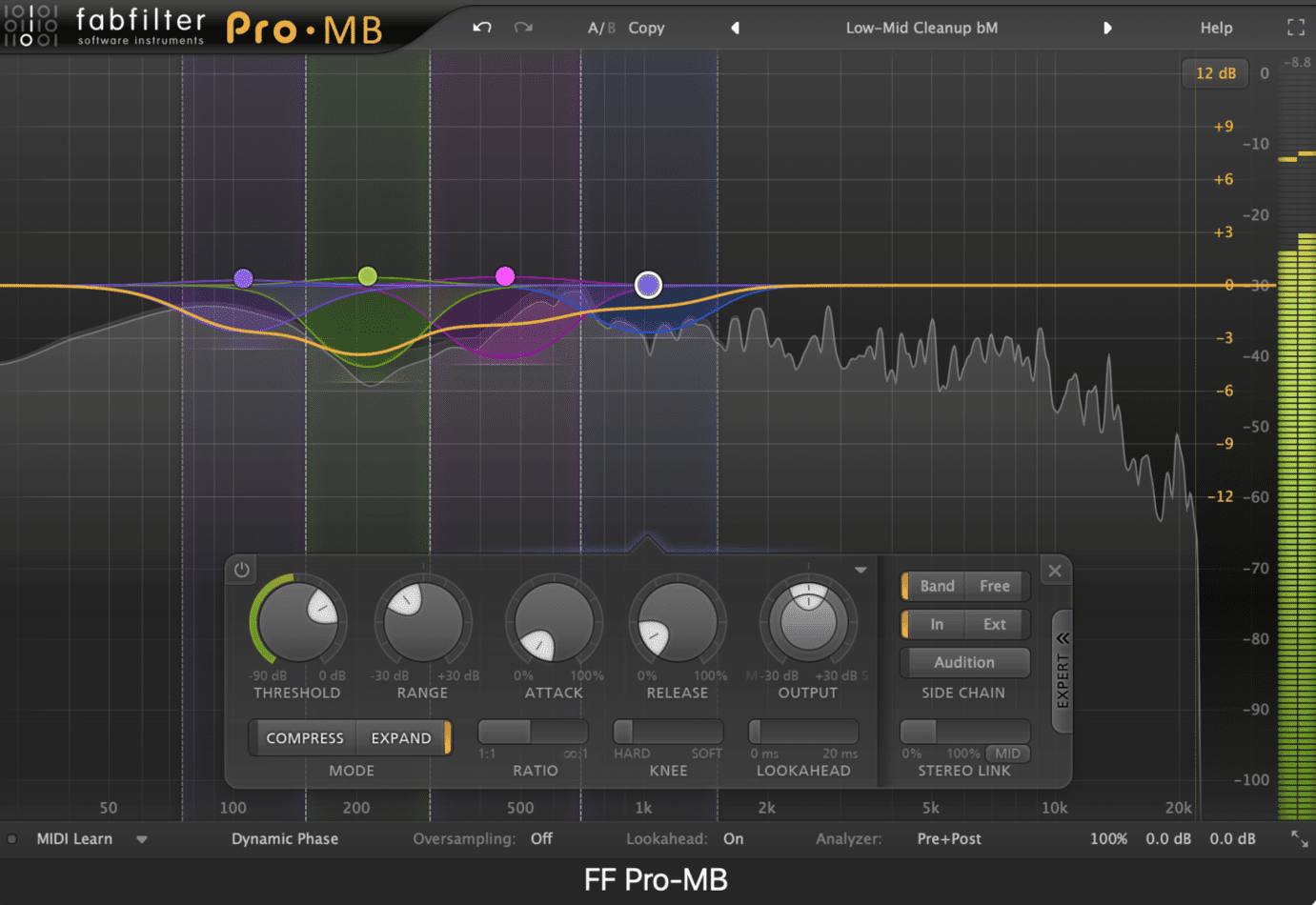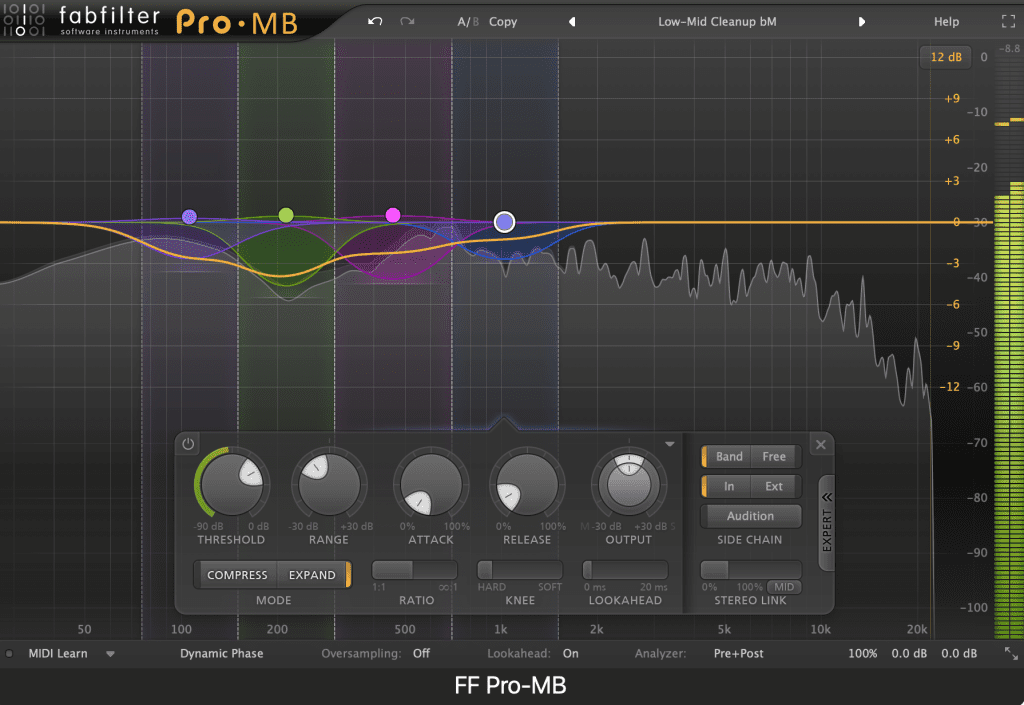 If you're quite familiar with Logic Pro, you may have noticed that their multi-band compressor (called the multipressor) is a bit… disappointing to look at. The interface is quite out-dated which makes it uncomfortable to use.
In comes FabFilter's Pro MB. With a nice sleek interface and visual frequency spectrum display, it's quite easy to use. There are plenty of presets for various compressing purposes, but its usually easier to just set it up on your own. It also has an 'expand' mode which adds a boost rather than a cut when the volume of the band falls below a certain level. It has a unique phase processing model which sounds much smoother than some other multi-band compressors out there.
Pro Tip: multi-band compression can seem scary at first. Think of it like an EQ which turns on and off according to when a frequency band reaches a certain volume. A common use is to put it on a vocal which has some frequencies jumping out on specific words.
Best Reverbs
Chromaverb
Type: stock Price: included in Logic Pro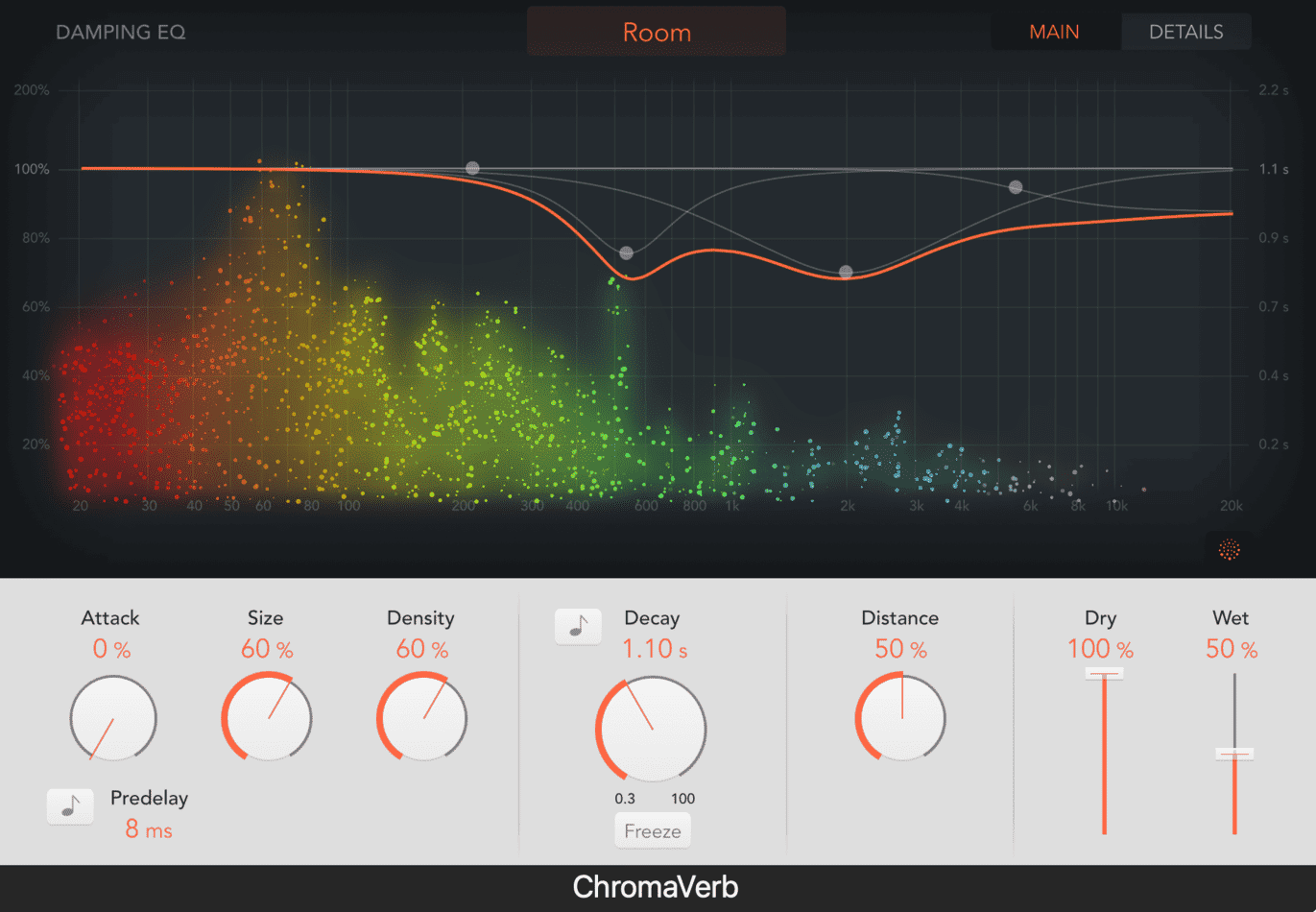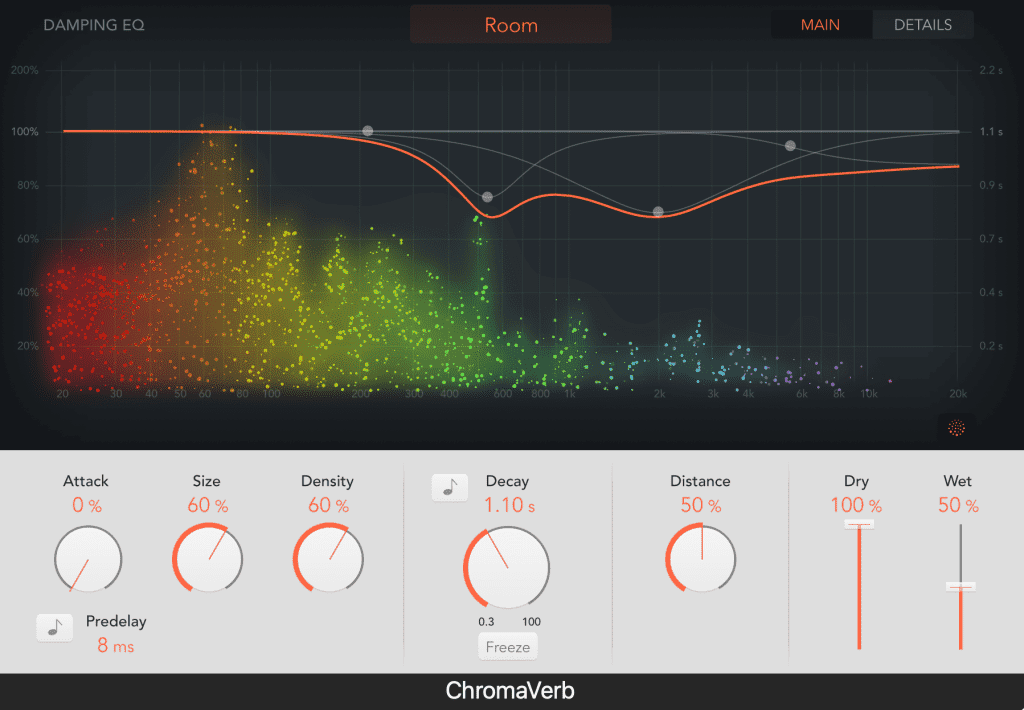 This plugin may have made this list due to its beautiful rainbow display… however it is also very impressive as a reverb.
An algorithmic reverb, it has everything from natural rooms to freaky spaced-out washes. The controls are laid out very nicely and it's easy to navigate. There are various room types to choose from, such as 'theatre', 'strange room' and 'bloomy', which all quite accurately describe how they sound. If you want to learn how reverb plugins actually work, this is probably the best one to do it in.
Pro Tip: The damping EQ controls how fast frequencies decay. In a full room (like a packed-out concert hall), higher frequencies decay much faster than low ones, so you can use EQ damping to create your ideal virtual performance space.
Space Designer
Type: stock Price: included in Logic Pro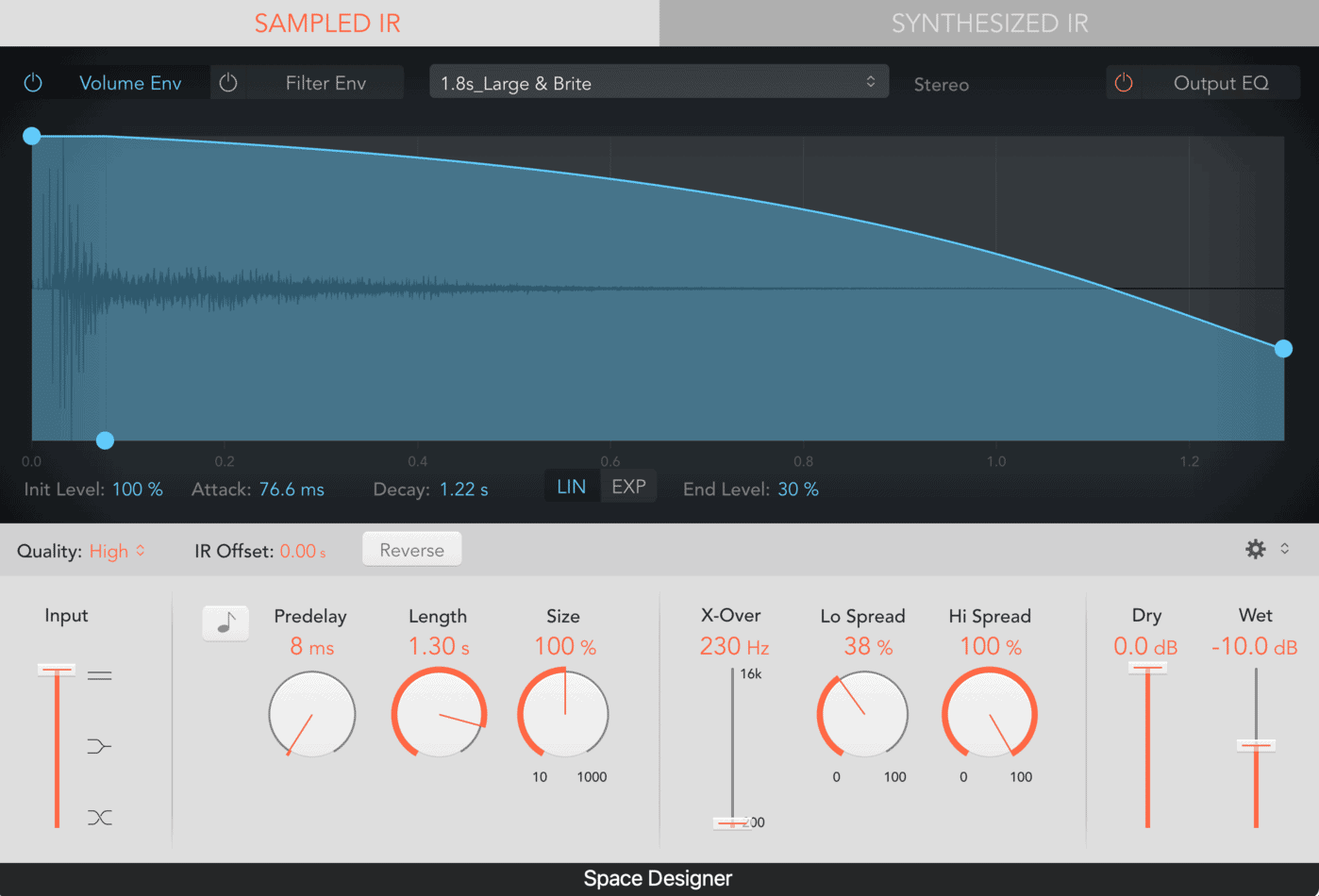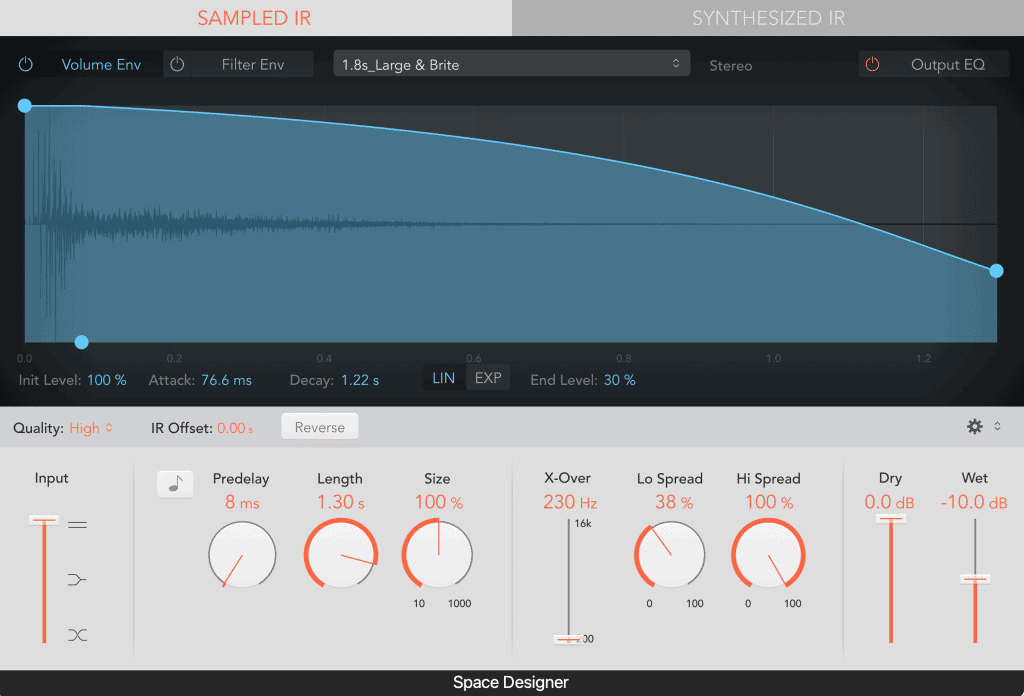 Unlike Chromaverb, Space Designer is a convolution reverb, meaning it models real-world spaces instead of generating them algorithmically. This means it sounds ultra-realistic and can place your audio signal in any acoustic environment which is possible to record in. It has a huge variety of small, medium and large spaces, plus some analog reverbs like plates and springs, and some interesting warped effects.
Space designer also comes with the usual reverb features of envelopes, filters and output EQ.
Pro Tip: you can use Impulse Response Utility to create your own impulse response files to use in Space Designer. This means you can take your microphone out and record the reverb of any space you like to use it in your mix! Check out the tutorial here

.
Lustrous Plates – LiquidSonics
Type: 3rd-party Price: $199 or from $9.99/mo with Slate Digital All Access Pass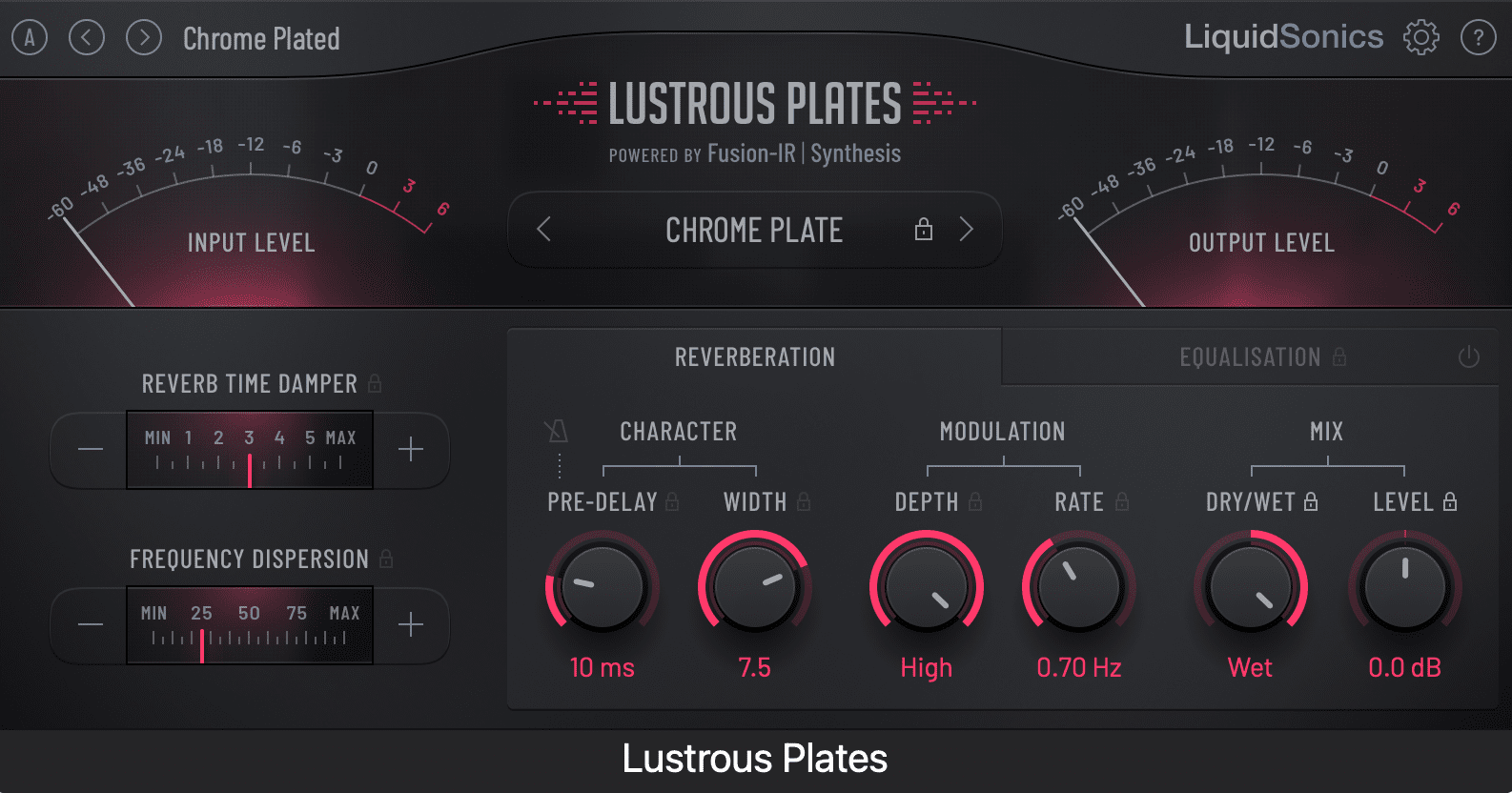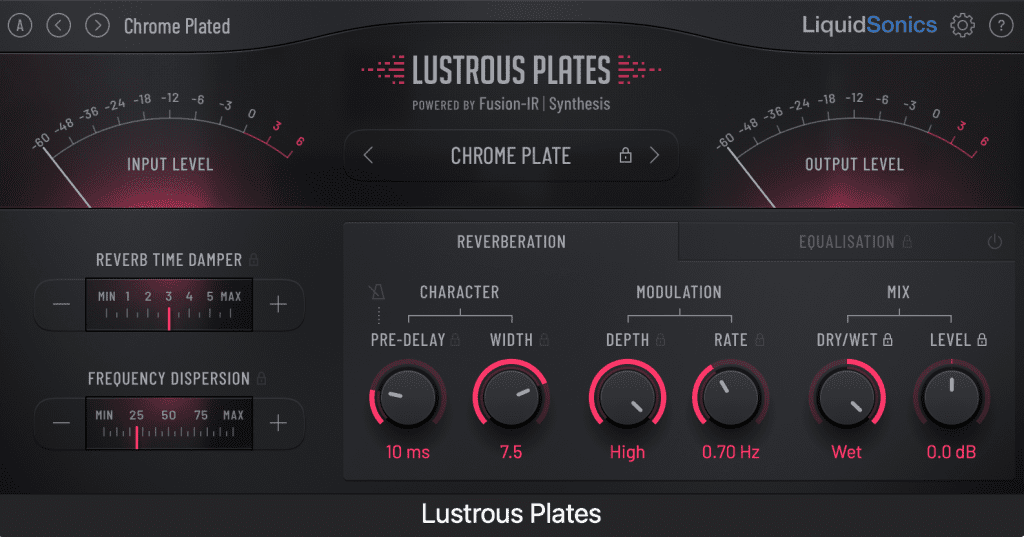 There is just something so rich and luxurious about a plate reverb. Lustrous Plates gives you 10 different types of plate to choose from, complete with an advanced synthesis algorithm which allows the combination of a real hardware sound with the ability to tweak fine parameters like frequency dispersion and modulation.
Each plate has a distinctive flavor, ranging from the very dense 'iridium' plate to the light and airy 'silver' plate.
Pro Tip: plate reverbs sound lovely on melodic instruments such as acoustic guitar or vocals. Their rich, shiny timbre is perfect for filling up space in lighter genres like acoustic pop or singer-songwriter.
Best Other FX
Saturation Knob – Softube
Type: 3rd-party Price: free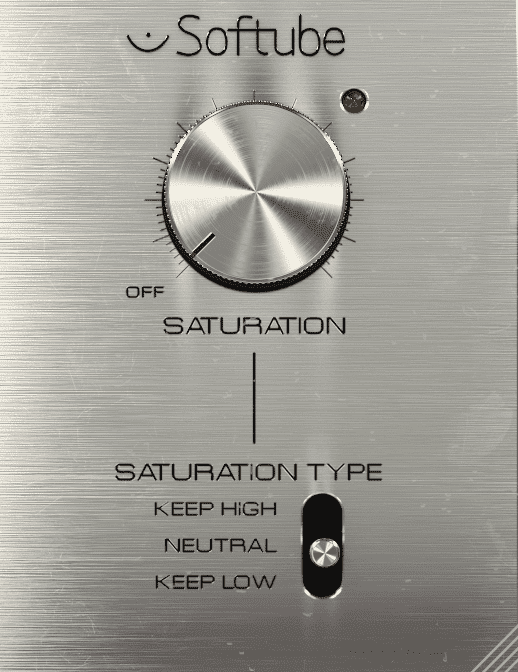 One thing which Logic Pro is distinctly lacking is any kind of saturation plugin. This nifty little saturation knob from Softube is a free plugin and incredibly versatile. Its been around for a quite a while and is certainly a fan favorite for adding an extra 'pop' to main instruments like vocals, drums, guitars or bass.
The dial has three settings to keep frequency response towards the lower, higher or middle ranges.
Saturation is a warm and smooth blend of distortion and compression which adds excitement and depth to an instrument's tone by adding extra harmonic frequencies. It's not essential to use in a mix, but the majority of engineers will complain that a digital-only mix sounds cold and unfeeling, while the saturation created by analog gear (or analog emulations like this one) will make the music feel so much warmer and more vibrant.
Pro Tip: This plugin can be a little bit harsh on its own, so it's a good idea to put it on an aux channel and blend the fader in very quietly so it sits under the unprocessed sound.
Phat FX
Type: stock Price: included in Logic Pro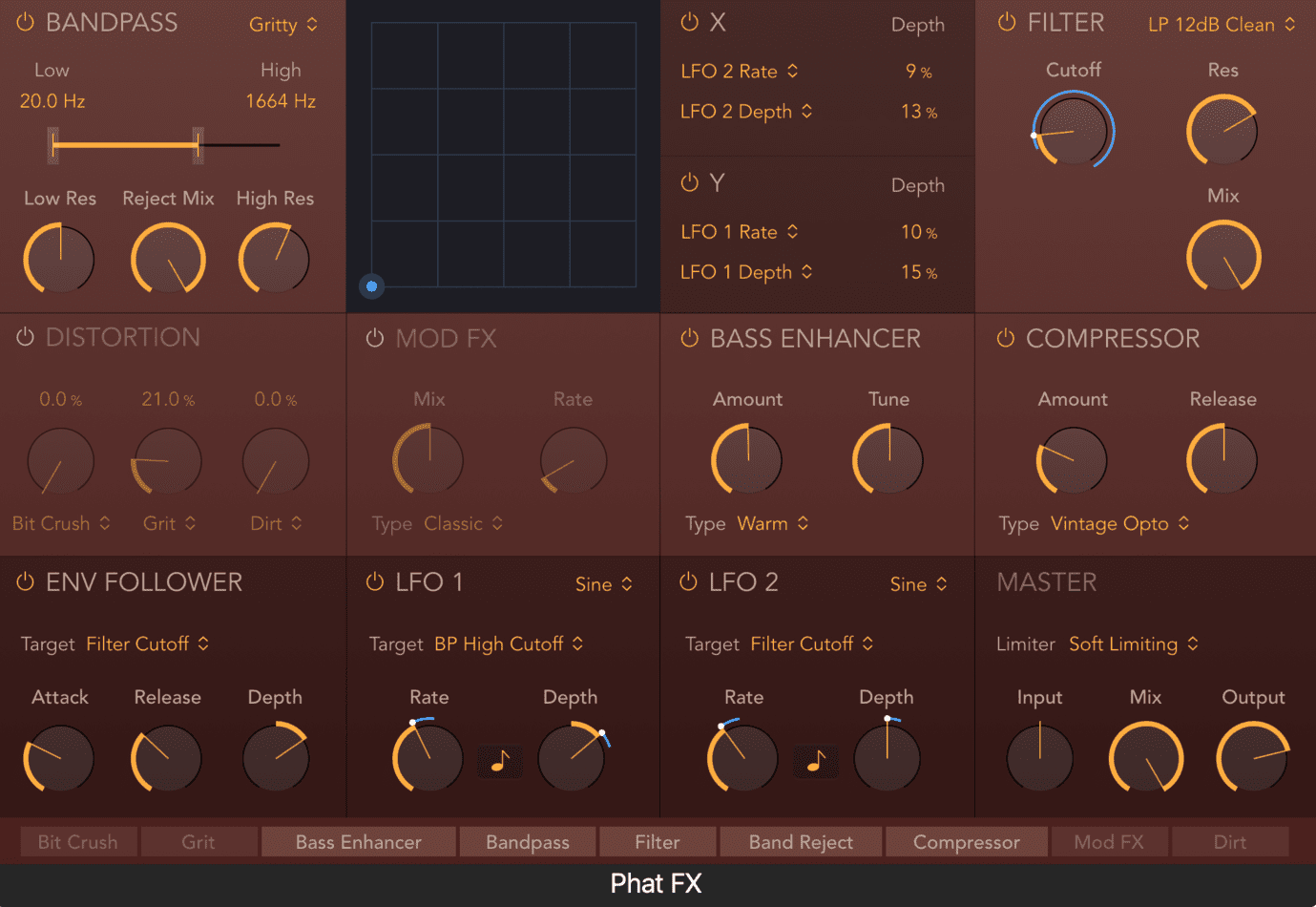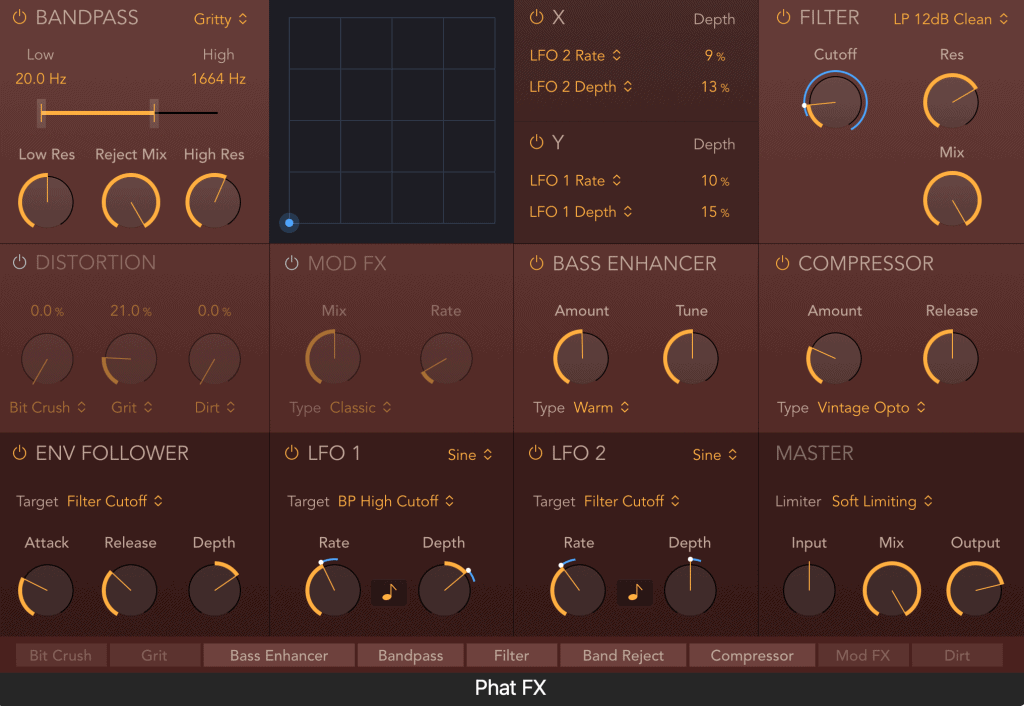 This is a multi-effect plugin from Logic which can be used to add some excitement and flair to your sounds.
Originally from Camel Audio, Phat FX comes with filters, distortion, modulation, bass enhancer, compression, envelope, 2 LFOs, an X-Y pad and a limiter. There's plenty to explore in this multi-effects plugin, and it's the perfect way to liven up some drums or bass.
The original from Camel Audio – CamelPhat – was a favorite amongst EDM producers for adding distortion and bass-i-ness to their drum and bass lines, so it seems fitting that Logic's version would be ideal for similar uses.
Pro Tip: for an interesting evolving sound, try using Latch automation to record movement on the X-Y pad and play around with having different parameters on the X or Y axis.
Virtual Tape Machines – Slate Digital
Type: 3rd-party Price: $149 or from $9.99/mo with Slate Digital All Access Pass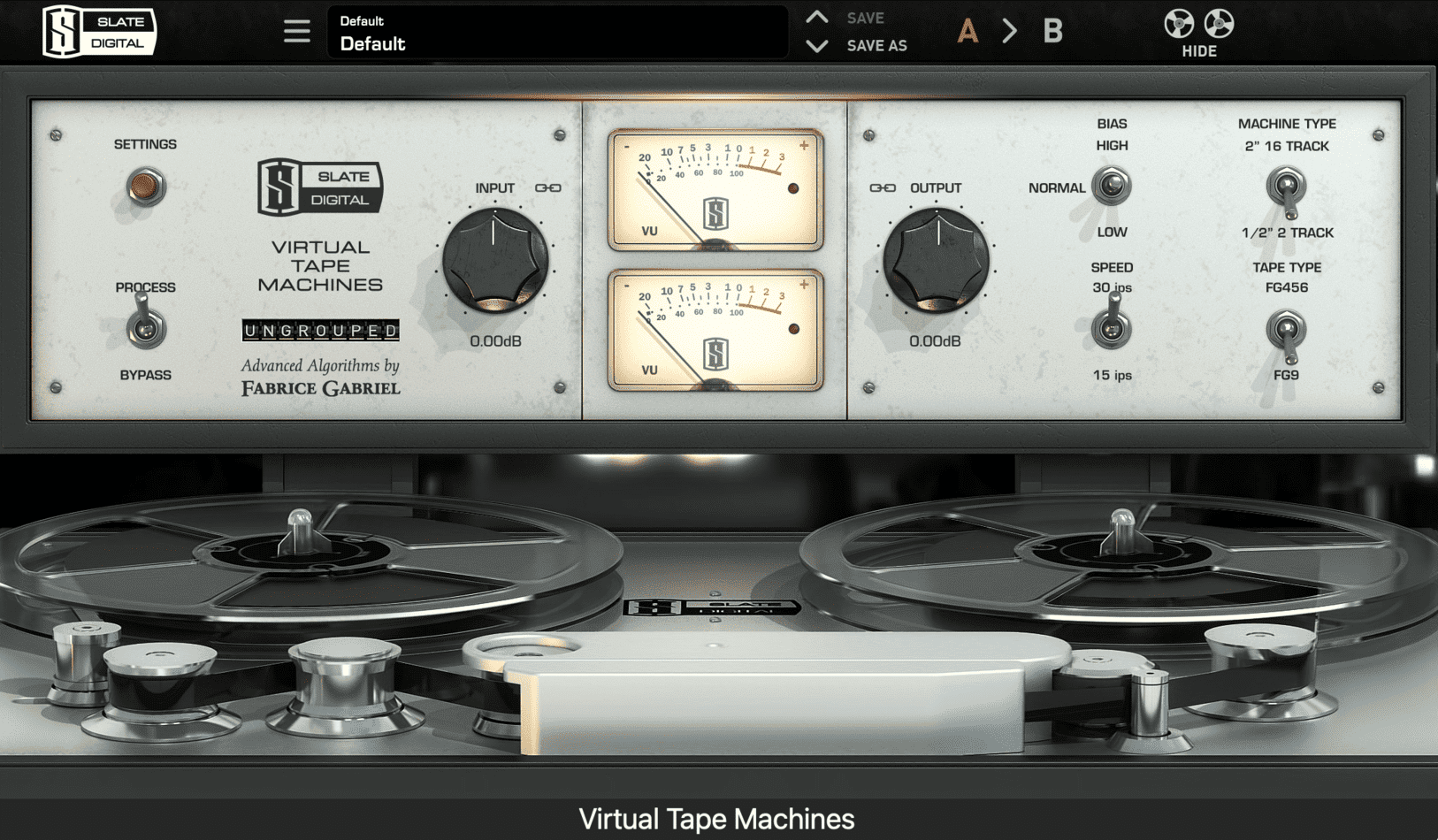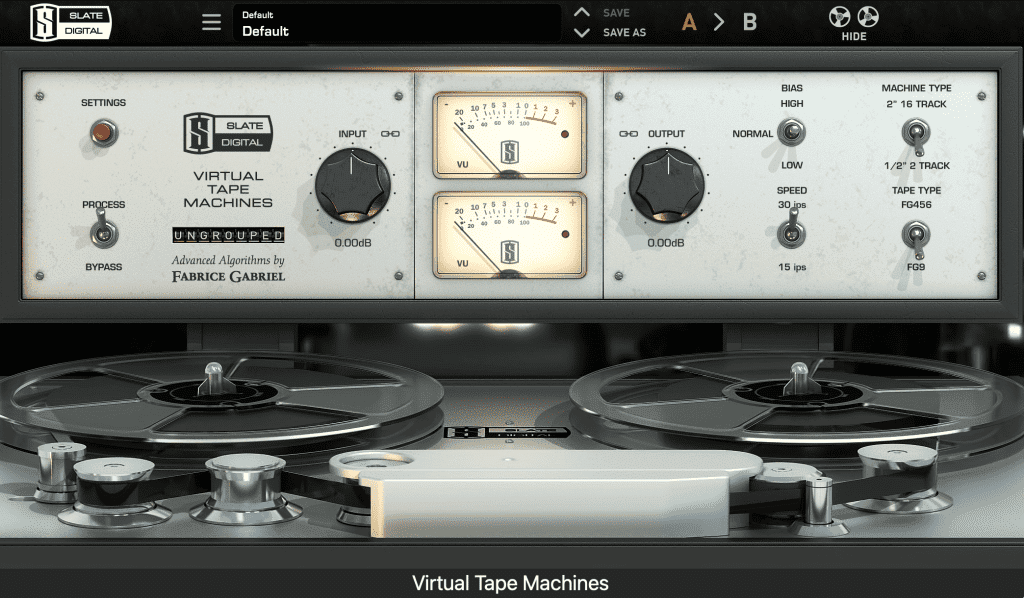 This analog magnetic tape emulator has possibly the most sweet and musical tape sound of any analog plugin. It sounds larger-than-life, with a tone that is simultaneously warm, deep, rich and bright.
The Virtual Tape Machine is well-known for just how authentic it sounds – most pro engineers can't tell the difference from the real thing.
It emulates both a 2-inch tape machine and ½-inch stereo mastering deck, plus the choice of speed between 15 or 30 ips (which can affect the bass response).
Pro Tip: If you're looking for something to put on your mix bus or mastering chain that just makes the whole track sound better, this is probably what you need. It adds a smoother, warmer and punchier analog vibe and works on more or less any genre or style.
Final Thoughts
Logic Pro comes with so many of its own plugins that it's one of the easiest DAWs to create music in without spending anything elsewhere. However, after using it for a while you may feel it's lacking a bit in some departments, so my suggestions in this article could be a great supplement to your Logic Pro workflow.
References
Was this article helpful?
Recent Posts
link to How To Allow QuickTime To Access Microphone 🎙️  
QuickTime is a vital app for many Mac users, and if you've recently bought a new microphone, you might wonder how to use it optimally. QuickTime cannot record audio content if it doesn't have...
link to How Do I Test My Microphone? 🎙️
Every microphone leaves a unique signature on the quality of its output. If you're a podcaster trying to melt your way into your audience's hearts, a muddy, distorted recording won't cut it....