Plugins can help us by enhancing DAWs' functionality by altering or augmenting our recorded tracks' sound. Plugins usually fall into several categories: signal processing or effects plugins (EQ, compression, reverb, delay, etc.), plugins that allow us to play with the pitch or timing of a recorded performance, or even virtual instruments that will enable you to mimic the sound of any instrument in existence. Any modern DAW will come with a healthy list of plugins to use in your tracks–these are known as "stock" plugins, as they are included in the DAW software itself.
So are Logic Pro X stock plugins any good? Yes, Logic Pro X stock plugins are good! They sound great, are easy to use, and make your tracks shine. They give you all the power and control you need to release an album, sell a million copies and compete with anything on the radio.
Today we are discussing Apple's Logic Pro X (recently rebranded to simply Logic Pro) and the plugins it comes with.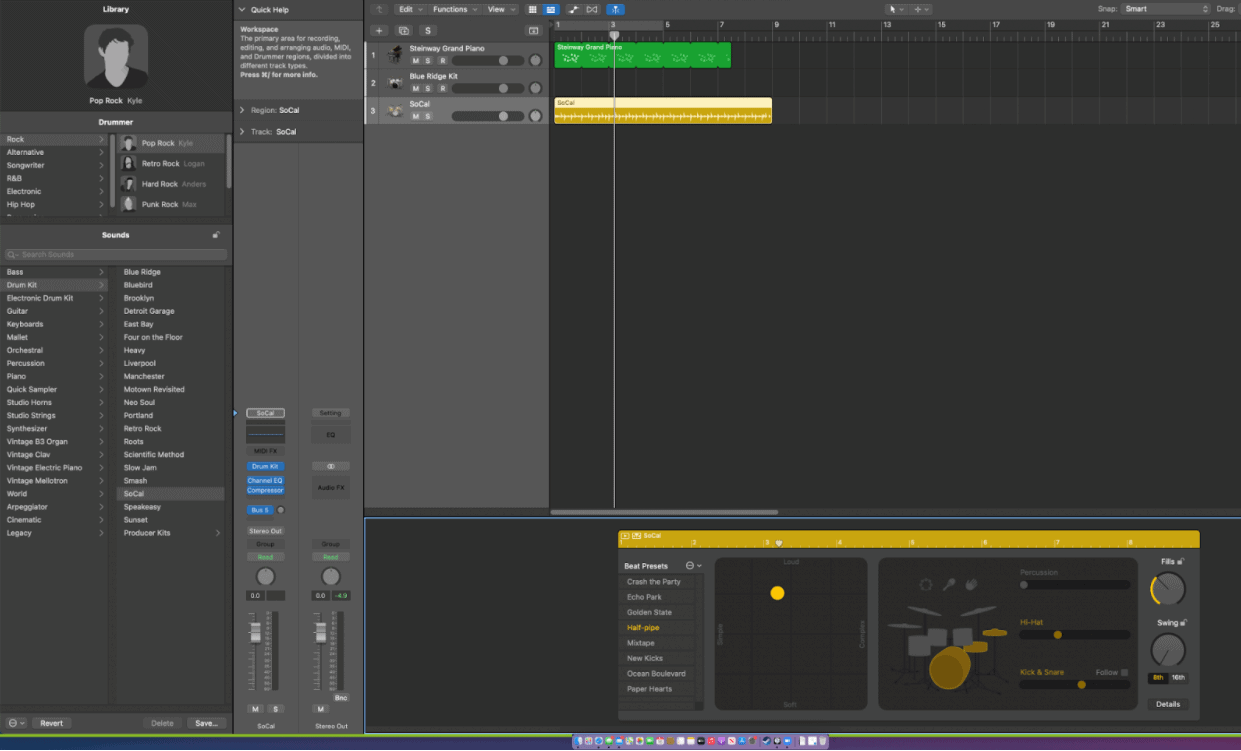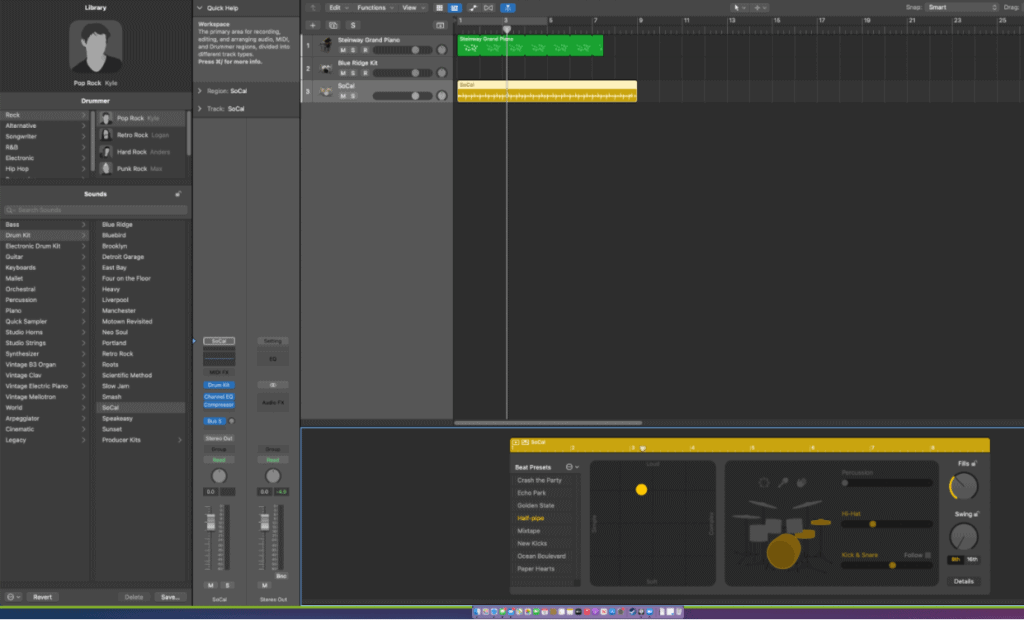 What Are The Logic Pro X Stock Plugins?
The list of stock Logic Pro plugins is vast and contains all the powerful plugins you'd ever need:
Amp Designer
Bass Amp Designer
Pedalboard
Delay Designer
Bit Crusher
Clip Distortion
Distortion II
Overdrive
Phase Distortion
Adaptive Limiter
Compressor
DeEsser 2
Enveloper
Expander
Limiter
Multipressor
Noise Gate
Surround Compressor
Channel EQ
Linear Phase EQ
Match EQ
Single-Band EQ
Vintage EQ Collection
AutoFilter
EVOC 20 Filter Bank
EVOC 20 TrackOscillator
Fuzz-Wah
Spectral Gate
Binaural Post Processor
Directon Mixer
Stereo Spread
BPM Counter
Correlation Meter
Level Meter
Loudness Meter
MultiMeter
Surround MultiMeter
Tuner
Arpeggiator
Chord Trigger
Modifier
Modulator
Note Repeater
Randomizer
Scriptor
Transposer
Velocity Processor
Chorus
Ensemble
Flanger
Microphaser
Modulation Delay
Phaser
Ring Shifter
Rotor Cabinet
Scanner Vibrato
Spreader
Tremolo
Phat FX
Step FX
Remix FX
Pitch Correction
Pitch Shifter
Vocal Transformer
ChromaVerb
EnVerb
SilverVerb
Space Designer
Exciter
SubBass
Auto Sampler
Down Mixer
Gain
Multichannel Gain
Test Oscillator
All of that, PLUS, it comes with over 70GB in its sound library, so you can audition samples for days without getting bored. It really is a super-powerful and all-inclusive list of tools, and you'll find pretty much everything you need, especially if you're just getting started with home recording. To see just how many plugins Logic includes, open a track from the channel strip and pull up this menu:
You can easily see how many plugins Logic includes! Sometimes though, it's hard to see the forest for the trees; too many choices can be paralyzing. I try to limit things whenever I can, and I find myself going back to the same few choices over and over. I like to stick with what works.
What Are The Best Logic Pro X Stock Plug Ins?
My three best Logic Pro X stock plug ins are:
Logic Compressor
Logic Channel EQ
Logic Drummer
STOCK PLUGIN 1: THE LOGIC COMPRESSOR
The stock compressor plugin in Logic is extremely powerful. It can give you a variety of compression styles, from completely transparent, to colorful emulations of several legendary pieces of outboard compressor gear, all in one plugin! Honestly, I believe that if you had only one compressor plugin ever, you'd be all set with this one. It can be smooth, aggressive, and do everything you need a compressor to do, and when I'm working in Logic, this is the only one I ever use.
STOCK PLUGIN 2: THE LOGIC CHANNEL EQ
I love this EQ. It's simple to use and understand, and it sounds great. I especially love that the graphical interface also displays the energy from the various frequency bands, so you can see visually if something is sticking out. While it's ALWAYS important to use your ears when making mix decisions, seeing the display like that can help you quickly find and deal with problem frequencies. Problem frequencies such as that annoying ring in your snare drum or a vocalist making those annoying clicking noises with their tongue.
STOCK PLUGIN 3: THE LOGIC DRUMMER
I'm a guitar player and a singer. I'm not a drummer. I write a lot of songs, and nothing is more annoying to me than when I've got a great idea for a riff and want to lay it down quickly. My process stops cold because I have to search through many drum loops to find a groove that fits what I'm going for.
Enter Logic's slick Drummer plugin. In a word, this thing is AWESOME. Drummer works differently; Instead of making you select and edit grooves to fit what you've played, Drummer FOLLOWS YOU. You can record a quick guitar part to a click track, instantiate a Drummer track, and the plugin will follow along and play a perfect part to the rhythm you played.
It makes putting together scratch drum parts VERY quick and painless. It also allows you to edit each groove region and vary the dynamics by moving a little yellow circle around to make the part being played more or less complex, louder, softer, etc.
And you can quickly and easily switch from high hat to ride, from snare to tom-focused parts, add tambourine, shaker, or handclaps.
All of that, plus you have access to a huge number of different styles of drumming (each with a distinct name, "personality" and sound, which I think is a cool way to do it), and a large number of drum kits to choose from too.
I use it when I'm writing songs, just to sketch out some rhythm parts when doing demos for my band to hear. I'd have to say that Logic's Drummer plugin is easily my favorite tool. Here's more info.
For more information, check out which is better: Logic Pro vs. Cubase.

What Plugins Should I Buy For Logic Pro X? (9 Plugins)
The plugins you should buy for Logic Pro X are: Waves SSL Channel Strip, Slate Digital Lustrous Plates, Waves SSL G Master Bus Compressor, Soundtoys Echoboy, Slate Revival (free!), Fab Filter Pro Q3, Steven Slate Drums Trigger 2, Celemony Melodyne, and Syncro Arts VocAlign Project.
I will preface this next part by saying that I firmly believe you can make and release music solely by using Logic Pro's stock plugins. I'm not one for spending money needlessly. If you've got the essential tools, it's better for your growth as a musician and/or an engineer to REALLY dig into those, familiarize yourself with them intimately, and make and mix music.
It's the finishing projects and moving on to the next one that makes you better, and there is no magic bullet out there that will instantly make a crappy mix sound great. "It's not the tool; it's the carpenter," as the saying goes.
However, sometimes you grow to the point where you start to appreciate the subtle differences between this compressor plugin or that one on your journey. At that point, you may want to look outside the world of stock plugins and see if a third-party option may be right for you.
Here's a list of some of my favorite plugins and ones that I find particularly useful. This list is in no way all-encompassing, as there are, of course, tons of options out there. These are just the ones I use and rely on most frequently. So, in no particular order:
THIRD-PARTY PLUGIN 1: WAVES SSL CHANNEL STRIP
This venerable plugin has been around for a long time; it emulates a channel strip from the Solid State Logic 4000 series large-format analog recording consoles used on thousands of records in the 1980s and 90s. The plugin offers emulations of both the famous "G" and "E" version channels (which are very similar, with only minor differences in the EQ section). It allows you complete control of your signal processing, from gain staging to EQ, to dynamics, all in one plugin. I use it all the time.
THIRD-PARTY PLUGIN 2: SLATE DIGITAL LUSTROUS PLATES
Slate Digital Lustrous Plates is a digital reverb plugin that emulates the sound of seven different vintage metal "plate reverb" units, making for some of the best-sounding reverb you can find. I like that it's extremely simple to use, without a ton of advanced or hard-to-grasp features, and includes many usable presets. It sounds excellent on drums (particularly snare), vocals, strings, you name it.
THIRD-PARTY PLUGIN 3: WAVES SSL G-MASTER BUS COMPRESSOR
The Waves SSL G-Master Bus Compressor is another old-school plugin that I use on pretty much every mix I do. You insert it on your master fader/submix/2-bus (whatever you want to call it, your final stereo mixdown track, the one you send all your individual tracks to), so that all those individual tracks and busses you've got set up flow through it.
It does something magical (again, this is an emulation of a famous piece of SSL hardware so that's not really surprising) and "glues" your tracks together, so they sound more cohesive and well, "mixed". You get deeper bass and a smoother overall sound out of it–I don't hit it hard, just 2-4db of gain reduction is plenty, and it really makes things come together nicely.
THIRD-PARTY PLUGIN 4: SOUNDTOYS ECHOBOY
The Soundtoys Echoboy boasts "decades of echo devices in a single plugin" (per the Soundtoys website. That's undoubtedly true, to be sure! It models over thirty pieces of classic outboard delay gear, and they all sound fantastic. To my ears, delays are best when they are analog models– having a bit of grit and dirt makes them sound like old tape.
The Echoboy really does an excellent job at reproducing that. It's straightforward to use. It instantly syncs up with your DAW's session tempo. The presets give you many helpful starting points to find exactly the kind of thing you need; this is another plugin that gets heavy use in my sessions.
THIRD-PARTY PLUGIN 5: SLATE REVIVAL
Slate Digital's Revival plugin functions as a "plugin within a plugin" as part of their Virtual Mix Rack (VMR) system. It's essentially a modular plugin that lets you mix and match various processors, preamp emulations, compressors, channel strips, EQ modules, etc., all inside one instance of the VMR plug.
The Revival is a great tool that sonically enhances your tracks–it beefs up the lows, gives the highs more clarity, and just makes everything sound "better." And the best part is, it's FREE!! They use it to enter into their ecosphere, and what a great way to do that.
THIRD-PARTY PLUGIN 6: FAB FILTER PRO Q3
This is the best EQ plugin

on the market, hands down. The Fab Filter ProQ3 is powerful; it's easy to use, the waterfall display lets you really tune in and find the frequencies you need to work on, and it is a joy to use. As their own marketing says, you use EQ plugins more than any other kind of plugin, so it's important to use the best. I love this thing.
THIRD-PARTY PLUGIN 7: STEVEN SLATE DRUMS TRIGGER 2
Drums are by far and away the hardest instrument to record well in most peoples' home studios. It's certainly true in mine; to get a great drum sound you really need a nice big, proper room, and I just don't have that. Why not make things easier, and stop fighting the physical limitations and use Trigger 2?
It allows you to augment (or simply replace) the sounds of your recorded drums with samples of real, professionally-recorded, and awesome sounding drums done in massive rooms. The sound is killer, and it makes things SO much easier. Thousands of modern rock and metal recordings use drum samples, so if that's the kind of thing you're into, you need Trigger 2. I use it all the time.
THIRD-PARTY PLUGIN 8: CELEMONY MELODYNE
Celemony Melodyne is AWESOME. It's a pitch (and time) correction plugin that allows you to tune vocals (anywhere from transparently to full-on T-Pain), instruments, adjust the timing of performance, and more. The flagship version even allows you to correct the pitch of individual notes within a CHORD, which is just incredible. Melodyne blows Autotune away, and I use it all the time to give things a little more of that modern production panache that recordings need to compete.
THIRD-PARTY PLUGIN 9: SYNCRO ARTS VOCALIGN
Syncro Arts VocAlign is similar in purpose to Melodyne. It allows you to adjust a performance after it's been captured. It's very useful if you need to line up multiple backing vocal tracks, get them all to start and end simultaneously, hit various notes in unison, and really tighten things up. It automates what would otherwise be a very time-consuming manual process, and it makes editing vocals a snap.
Final Thoughts
And there you have it folks! A long discussion on whether or not Logic Pro X plugins are any good. TL;DR – of course they are! While I listed several third-party plugins that you're certainly welcome to go buy and use, you really don't NEED to do that, especially if you're just starting out in your journey. Logic is a fantastic program, and the stock plugins are MORE than enough to do absolutely everything you'll need in the box! So if you're a Logic user, you have no excuses–get to work! And happy recording!
References
https://www.mathworks.com/help/audio/gs/what-are-daws-audio-plugins-and-midi-controllers.html

https://www.apple.com/logic-pro/plugins-and-sounds/

https://help.apple.com/pdf/logicpro-effects//en_US/logic-pro-effects-user-guide.pdf

https://support.apple.com/guide/logicpro/drummer-lgcpa4324884/mac#:~:text=In%20the%20Logic%20Pro%20toolbar,is%20loaded%20to%20the%20track.

https://slatedigital.com/lustrous-plates/

https://www.waves.com/plugins/ssl-g-master-buss-compressor

https://www.fabfilter.com/products/pro-q-3-equalizer-plug-in

https://www.soundtoys.com/product/echoboy/

https://slatedigital.com/revival/

https://stevenslatedrums.com/trigger-2-platinum/

https://www.celemony.com/en/melodyne/what-is-melodyne

https://www.synchroarts.com/products/vocalign-project-5/overview

https://www.waves.com/plugins/ssl-e-channel

Was this article helpful?
Recent Posts
link to How To Allow QuickTime To Access Microphone 🎙️  
QuickTime is a vital app for many Mac users, and if you've recently bought a new microphone, you might wonder how to use it optimally. QuickTime cannot record audio content if it doesn't have...
link to How Do I Test My Microphone? 🎙️
Every microphone leaves a unique signature on the quality of its output. If you're a podcaster trying to melt your way into your audience's hearts, a muddy, distorted recording won't cut it....