Pro Tools is the industry-standard Digital Audio Workstation (DAW) used in studios worldwide. While third-party plugins are popular (and can be expensive), Pro Tools comes with an excellent array of "stock" (included) plugins that cover most of your basic audio processing and virtual instrument needs.
So are Pro Tools stock plugins any good? Yes, Pro Tools stock plugins are good because they are enough to help you create, mix, and master your tracks and make them "radio ready"! There are many great stock plugins included with Pro Tools to help you create songs that sound just as good as anything else you may hear.
While advanced recording enthusiasts might have the skills to tell the difference between a stock compressor and an expensive third-party emulation of a famous outboard compressor, that's not typically going to be the case for a beginner to intermediate user. So why spend money on something you don't NEED right off the bat?
It's better to concentrate on making music and developing mixing skills. The stock plugins in Pro Tools are more than enough to accomplish those goals.
And which are the best pro tools stock plugins?
The eight best stock Pro Tools plugins are:
EQ III
Dyn3 Compressor/Limiter
D-Verb
AIR Dynamic Delay
BF76 Compressor
AIR Expand! 2
AIR Structure Free
Click II
In this article, I will break down the pro tools stock plugins, why they are good, and how you can best use them to get the most out of your DAW to create music your listeners will enjoy.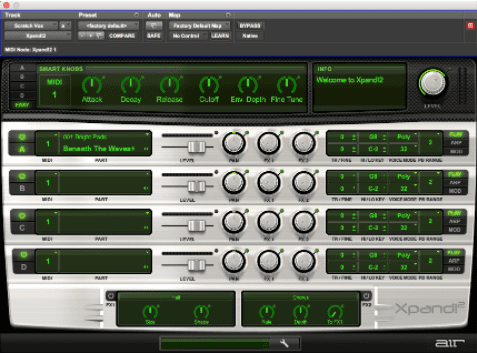 What Are Pro Tools Stock Plugins?
A plugin is a piece of software embedded in your DAW that can help you process recorded audio to enhance it. You can insert a reverb plugin on your track to add depth and space to it or add an equalizer plugin to dial back some lows and enhance the high end, for example.
Plugins usually fall into several categories, like signal processing or effects plugins (EQ, compression, reverb, delay, etc), plugins that allow the user to play with the pitch or timing of a recorded performance, or even virtual instruments that allow you to mimic the sound of any instrument in existence. Stock plugins come included when you purchase your DAW.
Why Are Pro Tools Stock Plugins Good?
Stock Pro Tools plugins are good for several reasons. First of all, they are included in the software, so using them as tools to get your audio jobs done doesn't cost you any additional money.
Additionally, Pro Tools is an incredible piece of audio recording software, which is why it is still used as a standard in professional recording studios worldwide. It is extremely powerful, and the list of stock plugins (over 120 of them are included) was developed by the best software programmers in the audio industry. They know what they are doing, and when you use Pro Tools plugins, you benefit from their knowledge and experience.
Best Pro Tools Stock Plugins (Eight Plugins)
The eight best stock Pro Tools plugins are:
EQ III
Dyn3 Compressor/Limiter
D-Verb
AIR Dynamic Delay
BF76 Compressor
AIR Expand!2
AIR Structure Free
Click II
EQ III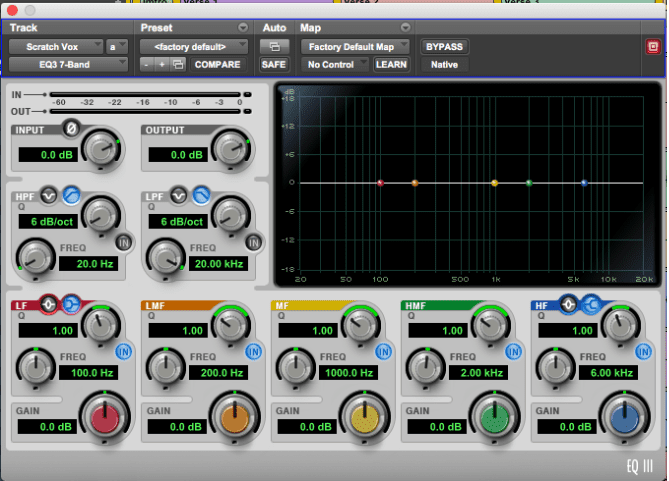 The EQ III plugin is the standard stock equalizer plugin in Pro Tools. It'll probably be your most commonly used plugin, as it's the primary tool to make your tracks sound better. The EQ III is a versatile EQ with shelving, bell, hi- and low-pass filter options, and graphic and virtual knob controls. You can use up to seven adjustment points (which are usually way more than needed on a track) and set them virtually anywhere on the frequency spectrum. The Q control is very handy on each band, as it allows you to be broad or as precise as you need to be in your adjustments.
An equalizer allows the user to increase or decrease the amplitude or "volume" of individual frequencies within an audio track. They are essentially very fancy versions of the bass and treble knobs on your car's stereo system. An EQ plugin

allows you to fine-tune the overall balance of the frequency range of a recorded track, which will help fit an instrument into a mix and reduce unwanted or unpleasant frequencies in a source.
Anyone and EVERYONE will need to use EQ in their mixes, and the EQ III is a great place to start when learning how to use this indispensable tool.
Dyn3 Compressor/Limiter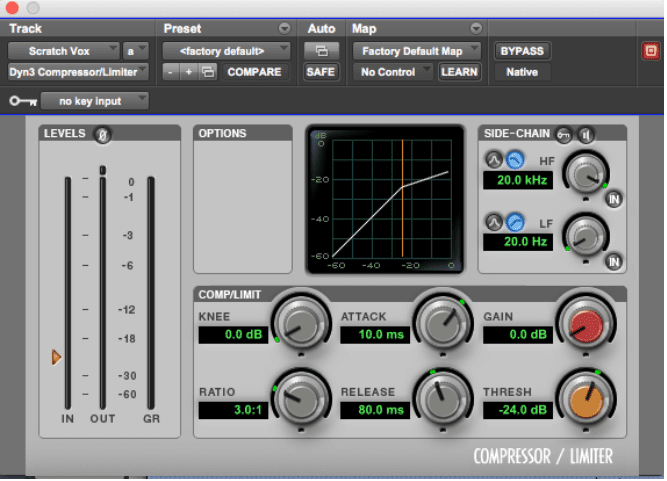 The Dyn3 Compressor/Limiter is another essential tool offered stock with Pro Tools.

Compression can be difficult to grasp, but learning it is made easier by this excellent plugin.
You can think of compression as an automatic volume control at its most basic level. It really is that simple, although terms like ratio and threshold can make it seem more complicated than it is.
When a sound gets too loud (as determined by the threshold), the compressor reacts, turning the volume down by a certain amount (controlled by the ratio). This is done for several reasons. Basically, it allows you to smooth out the recording dynamics to make things sound more consistent and thus easier to mix.
The Dyn3 compressor is transparent in that it doesn't add "color" to the sound–it simply acts as that automatic volume control. This particular plugin is extremely useful because the graphic display and the gain reduction meter allow you to really see what's going on and to dial in exactly the amount of compression you're looking for.
Unlike other compressor plugins that emulate famous outboard gear in both sound and looks, the Dyn3 offers more than a couple of knobs to tweak aimlessly without understanding what's going on. The Dyn3 GUI will make compression easier to learn and understand. I find this plugin essential when looking for transparent compression.
If you're new to mixing and you're trying to learn about the seemingly esoteric art of compression, you'll learn a lot by trying this one out.
D-Verb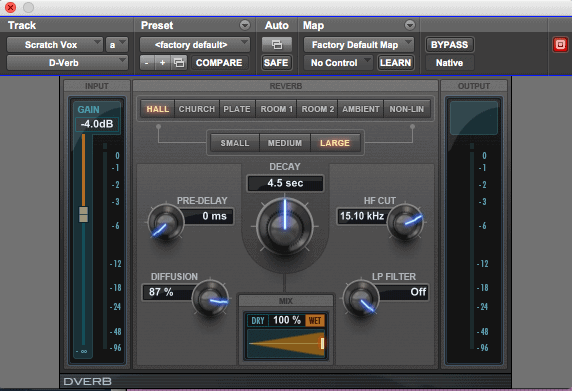 The D-Verb is a simple to use, versatile reverb plugin that can add depth and life to your tracks without using up all your system resources.
Reverb allows you to add a sense of space to your recordings–it makes things sound like they were recorded in a big room and can "glue" a song's tracks together into a cohesive whole.
The D-Verb is a powerful tool because it offers a variety of reverb types: from halls and rooms to plates and non-linear spaces, and it sounds good doing it. Many reverb plugins can be memory hogs, and using several instances of them in your sessions will lead to system crashes. Still, D-Verb requires a small amount of memory and should run easily on most systems.
Anyone who wants to experiment with different reverb types without using a lot of RAM, and without having to worry about a lot of advanced controls and confusing settings will enjoy putting some rich D-Verb reverb on their tracks.
AIR Dynamic Delay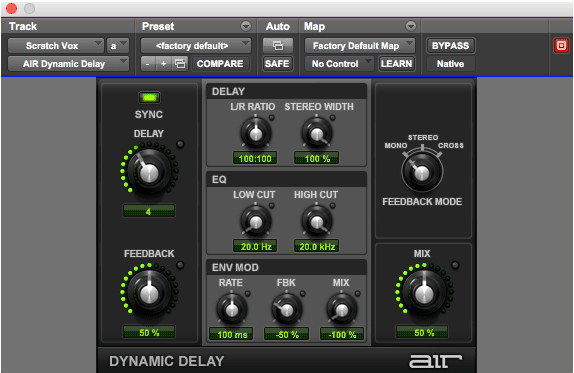 The AIR Dynamic Delay plugin is a simple to use, great sounding digital delay that will get you usable results quickly.
It also has a more advanced function (the "dynamic" part of the name) in that the delay repeats can be "ducked" by an envelope control. This means that the delay repeats (the "echoes") can be reduced in volume, so they don't get in the way of other tracks in your song.
The sync feature is also extremely useful, as it will automatically follow the tempo of your song's session, so the delay repeats are in time. If you're going after something more random, you can turn this feature off.
If you are looking for a digital delay that's simple to use, this is the one for you. It's very easy to dial in exactly what you want, quickly. It's also easy on your system's resources.
BF76 Compressor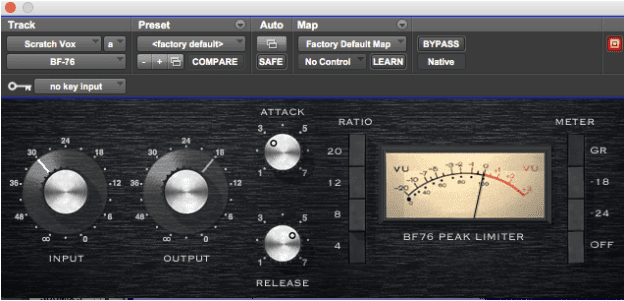 The BF76 emulates a famous piece of hardware– the Universal Audio/UREI 1176 Limiting Amplifier. In addition to doing actual dynamic compression, it imparts color and tone to your tracks, adding harmonics and a sonic richness. This makes the original unit highly regarded for the sonic quality it imparts (even with no compression happening).
The plugin (like the unit it's based on) features four pre-set compression ratios 4:1, 8:1, 12:1, and 20:1) and the famous "all buttons in mode" that gives the user incredibly saturated, over-the-top amounts of compression. This mode can be very useful when processing tracks like drums through the use of parallel compression, which can add a lot of sizzle and punch to kick and snare.
This is a classic go-to plugin for "New York-style" parallel compression and also sounds great on bass and vocals for an up-front, modern sound.
AIR Expand! 2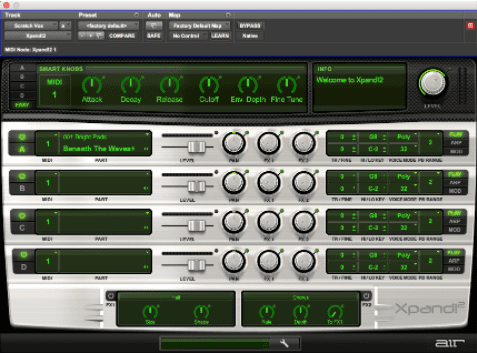 Expand!2 is a multitimbral synthesizer workstation that allows you to sample and play four synthesized voices simultaneously and includes everything from wavetable and FM synthesis to sample playback.
It is a powerful synthesizer that comes with an extensive library of sounds (2500+ pre-sets) to tweak and mangle and change and create whatever sound you're after.
Anyone from hip hop producers to beatmakers to rock musicians looking to add something new to their tracks will find something useful in Expand! 2.
AIR Structure Free
Structure Free is a powerful sample player that allows you to create, playback, and layer samples in your music.
It comes with a massive 37GB library of samples, including everything from orchestral instruments, acoustic and electronic drums and percussion, pianos, keyboards, special effects, and more.
It's very quick and easy to find something close to what you're looking for inside Structure Free, and the infinite tweakability offers an incredible array of options to dial in something more specific from there.
Anyone looking to add MIDI virtual instruments to their music will have a great time searching through Structure Free's sample library. It would be hard NOT to find something that will add special shine and sparkle to your tracks.
Click II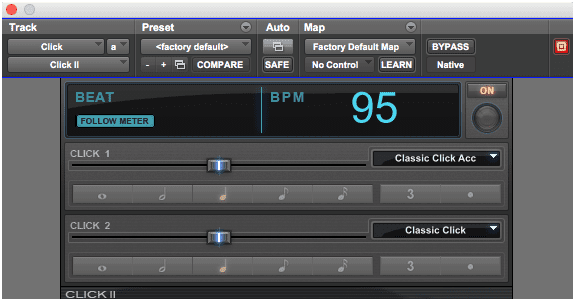 Click II is the most straightforward plugin on the list. It does one thing; it's a metronome. But I'm including it here because it's very important. Without a metronome to play to, your tracks will definitely lack a professional, cohesive feel. If you record any kind of modern music, you really HAVE to use a metronome/" click track" when tracking "real" instruments like drums or guitar or keyboards.
Click II plays a pulse set to the tempo and time signature in your Pro Tools session. It differs from the click tracks in other DAWs, however, in that the user can change the sound of the pulse you're hearing. You can select one sound sample for the downbeat on the first beat of each bar, and then a different sound for the other beats in the bar, so it's both versatile and customizable.
This is incredibly useful, as sometimes it can be hard to hear a default pulse when recording loud drums or guitars. Because you can change to a sound with a sharper attack or a higher pitch, it can become easier to hear the click track in your headphones while tracking and thus play more in time. This is a feature unique to the Click II plugin.
If you are serious about recording quality music, you'll need Click II; it's that simple.
Final Thoughts
Pro Tools' stock plugins are a fantastic way to make your tracks sound great and give your mixes that professional edge. They cover every basic tool you'll need, from dynamics and EQ processing to effects, to virtual instruments. They're included with Pro Tools and cost nothing additionally.
Anyone who takes the time to learn the basics of home recording and Pro Tools specifically will be able to make incredible-sounding music with the stock plugins included with Pro Tools.
References
https://www.avid.com/pro-tools/plugins

https://www.pro-tools-expert.com/home-page/2016/2/8/dan-coopers-top-5-delay-plug-ins

http://akmedia.digidesign.com/support/docs/AIR_Creative_Collection_Guide_80358.pdf

https://www.pro-tools-expert.com/home-page/2016/10/20/pro-tools-tutorial-how-to-mix-with-the-bf76

https://www.airmusictech.com/product/xpand2#features

https://www.airmusictech.com/product/structure-2#.YblfXX3MKfU

Was this article helpful?
Recent Posts
link to How To Allow QuickTime To Access Microphone 🎙️  
QuickTime is a vital app for many Mac users, and if you've recently bought a new microphone, you might wonder how to use it optimally. QuickTime cannot record audio content if it doesn't have...
link to How Do I Test My Microphone? 🎙️
Every microphone leaves a unique signature on the quality of its output. If you're a podcaster trying to melt your way into your audience's hearts, a muddy, distorted recording won't cut it....