Audio interfaces, otherwise known as audio/sound cards, are in simple terms the required technology for allowing sound to be recorded and outputted from a computer or device.
Whether you are recording music in a studio, recording live sound out in the field (for example on a film or TV shoot), or simply recording instruments and vocals in your bedroom, an audio interface is a simple and effective tool for recording and producing sound samples.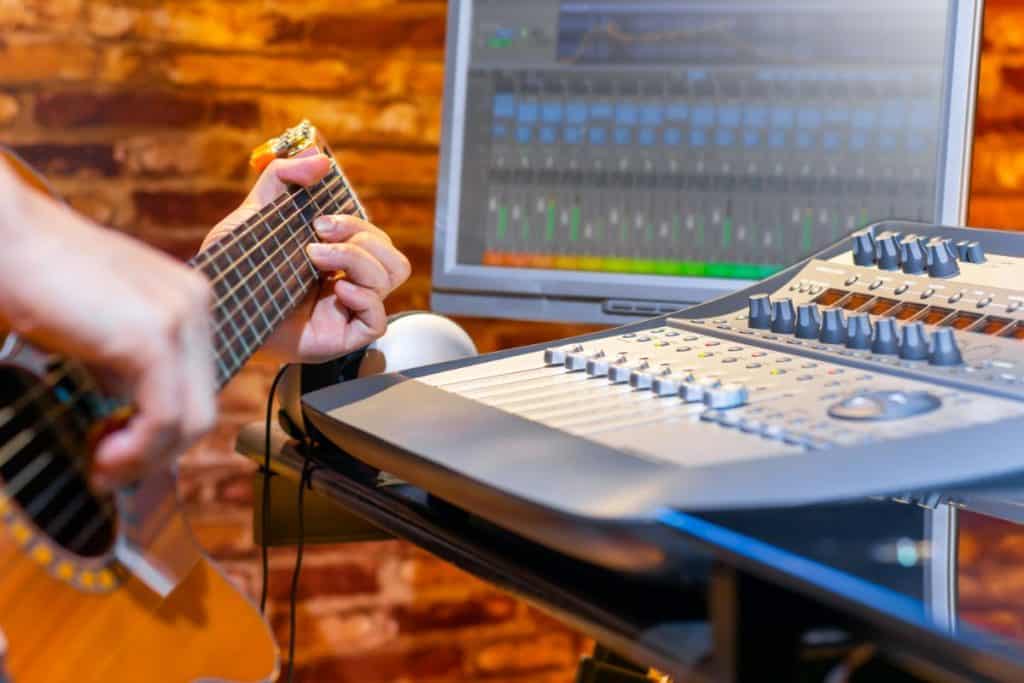 Audio Interfaces
The term "audio interface" is actually a rather broad term, and encompasses a lot of functionally similar but theoretically different pieces of technology.
Whilst it's true that sound cards are the truest example of the technology, due to their ability to input and output sound via a computer/laptop, other pieces of equipment (such as microphones) achieve the same purpose when it comes to recording.
How Do They Work?
Many audio interfaces are controlled and adjusted using accompanying applications or software (such as Pro Tools), allowing the user to take recorded samples and adjust them, or indeed manipulate the settings of the specific interface through the computer itself. 
Why Are They Useful?
Whilst you can make simplistic recordings on your computer, and achieve relatively high quality through smart devices like phones and tablets, truly industry quality, professional recordings require the implementation of an audio interface.
How Do I Connect Them?
The majority of modern audio interfaces are USB based, allowing easy installation and use. Many of these products also include the necessary USB cables, including cross-generational cables (for use with older technology) to allow you to simply connect without any further expense or effort.
Pro Tools
Developed and released by Avid Technology, Pro Tools is an audio workstation available on Windows and macOS.
History
Beginning life under the company name Digidesign, Avid has a long history of producing computer audio design tools, with their first product being Digidrums (1983-1985), and their first real editing tool (and the effective predecessor of Pro Tools), being Digidesign Sound Designer (1985-1989).
Developed by UC Berkeley graduates Evan Brooks and Peter Gotcher, Digidrums started as two friends and music lovers opting to map out some replacement sound chips for the newly released E-mu Drumulator drum machine, a popular drum machine at the time.
Once their series of sound chips became successful, offering customers a series of different drumming sound styles for their drumulators, leading them to then set their sights on Apple, who had recently released their Macintosh computer in 1984.
Seeking to create a more functional and flexible option for the emulator II keyboard, they eventually created their first sound editing keyboard, called the Sound Designer, which became the first ancestor of Pro Tools, becoming available on the market at $995 in 1985.
The Birth Of Pro Tools (1991)
Perhaps the first example of Pro Tools as we now know it was developed in 1991.
Acting as the first multi-track digital recorder designed for a computer, the software was based on the popular Deck program, developed by a small San Francisco company called OSC, who worked in conjunction with Digidesign to create the product.
Based on a modified version of Deck, and incorporating Digidesign's new editing software ProEdit, Pro Tools was first released in 1991, entering the market at a total price of $6,000.
Development
Since then the program has been a popular mainstay of the computing industry, used consistently within the music industry, and is considered an industry standard piece of software.
Going through various iterations over the years, progressing with the computer industry itself, the modern version can be used on both Windows and macOS.
The program works by separating into two windows, Edit and Mix. The timeline of the audio samples can be seen in the edit window, and the mixing of the audio can be seen in the mix window.
Timeline
The timeline itself shows all the samples of music uploaded onto the program, including envelope and waveform for the audio tracks, a piano roll showing the MIDI notes (Musical Instrument Digital Interface), the frame thumbnails for video tracks, and audio levels for the auxiliary, master, and VCA (Voltage Controlled Amplifier) master tracks.
The time of the tracks is displayed and measured in bars and beats, SMPTE time code (Society of Motion Pictures and Television Engineers), audio samples, and film stock feet used for audio for film referencing using 35mm reels.
Edit Window
MIDI and audio clips can be manipulated and copied on the editing timeline, as well as stretched, pitch shifted, and equalized, using Elastic Audio and Clip Effects.
The Clip Gain tool can be used to adjust the gain (either statically or dynamically), and all other audio can be rendered using the AudioSuite function.
Mix Window
The virtual mixer shows all of the components and controls for all of the tracks. This includes inserts, sends, input/output assignments, automation read/write controls, panning, solo/mute controls, arm record buttons, the level meter, the volume fader, and the track names.
It also facilitates and displays the control for the virtual inserted instruments.
Audio Recording
Born from these early pioneers in home recording, musicians and filmmakers now have more options than ever when it comes to studio recording, sound recording in the field, or personal, home studio recording.
Apple and the iPad
The prominence of Apple, and the integration of their products into most facets of our daily lives, means that now more than ever, the average consumer can record and produce their own music or films from the comfort of their own home (or anywhere they choose, for that matter).
With this new wave of accessible technology came a wider marketplace, creating even more variation in terms of quality, price and functionality.
The Best Interfaces
The rise in home studio equipment over the past 30 years has meant that never before has industry quality equipment been so readily available to the public.
Within this article we have found 5 best audio interfaces that can be perfectly integrated into a home system, and used with Pro Tools.
So, in no particular order, here is our list of the best interfaces for Pro Tools.
Compatible with a multitude of devices and formats, including iPhone, iPad, iPad Touch, Android smartphones, PCs and Macs, the iRig is an ideal piece of equipment for those seeking versatility and on the go efficiency.
At an affordable price, this interface is perfect for guitar audio, features high definition audio, and comes with USB type A to micro USB, and micro USB to micro USB cables included, making sure you're all up and ready to go upon arrival.
This makes it perfect for cross-generational integration, as the cables are compatible with older Apple products, as well as more recent editions.
Supported by the free app Amplitude, which is compatible and available for all of the above listed computing devices, this also comes with several free pedal options and emulators within the software for your to incorporate and use.
The device is sturdy and simplistic in design, promoting efficiency and longevity for years to come, and the product features an LED gain indicator, a gain dial on the left hand side, and an FX and THRU switch attached on the right side.
Pros
High quality audio.
Affordable price.
Sturdy, well-designed product.
App supported (Amplitude).
Cross-generational cables included.
Cons
Less effective with Windows PCs.
Sale
IK Multimedia iRig MIDI 2 universal MIDI interface with In, Out, and THRU ports, activity indicators for iPhone, iPad, Android, Mac, PC
Universal MIDI interface for iPhone, iPod touch, iPad, Android, Mac and PC
MIDI IN and OUT activity LEDs
Connect to the device via standard Mini-DIN port (Mini-DIN to Lightning cable included, Mini-DIN to USB cable included)
Last update on 2022-11-26 / Affiliate links / Images from Amazon Product Advertising API
When you consider the low price tag, the sturdy simplistic design, and the wealth of features it possesses, it is easy to see why this interface made the list.
Compatible with Apple devices, such as iPhones, iPads, iPad Touches, and Macs, the iXZ boasts versatility, transportability, and cross-functionality, providing efficiency and quality across the board.
The product features a single XTR (referring to ECSTR, or Efficient and Compact Subgroup Trace Representation) and TRS (Tip Ring Sleeve) output, an interface mode switch, a switch fork enabling/disabling 48v phantom power, as well as a gain/volume knob on the side of the device.
Requiring batteries to operate the volume control and record, the battery life is around 15 hours of continuous use with the phantom power running.
Without batteries, the included 6.3mm plug can be used, but this doesn't allow for volume control, and is thus less effective than the batteries.
Pros
Widely compatible with Apple products.
Versatile functions.
Transportable.
Compact yet sturdy design.
High quality sound.
Multiple modes and functions.
Plug included.
Good value for money.
Cons
Incompatible with Windows PCs.
Requires batteries to operate at full functionality.
Sale
Last update on 2022-11-26 / Affiliate links / Images from Amazon Product Advertising API
With an integrated condenser microphone, the Apogee delivers an audio interface that's somewhat unique when compared against the others on this list.
The omnidirectional microphone enables high quality sound recording that is crisp and pristine in texture, making it perfect for vocal recording, as well as for recording acoustic instruments.
An additional external microphone can also be added to the Apogee, increasing its ability tenfold whilst maintaining the same crisp sound quality that has become synonymous with the brand.
The design of the product is compact, simplistic and sturdy, despite offering multiple different modes, inputs, outputs, and functions.
There are two inlets and two outlets, meaning it is more than accommodating for multiple pieces of equipment at once, and the die cast metal casing ensures protection from the hectic lifestyle of on the go recording, and busy studio environments.
If you are looking for a widely compatible piece of hardware (Mac, Windows, smart devices) that can offer crisp sound quality and versatility wrapped in a compact, stylish package, then the Apogee might just be for you.
Pros
Widely compatible with different formats.
Crisp, high quality sound recording.
Integrated omnidirectional microphone.
Ample inlets/outlets.
Space for additional microphones.
Cons
Last update on 2022-11-25 / Affiliate links / Images from Amazon Product Advertising API
At a more modest price, the Shure MVi offers versatility in a compact, sturdy package.
Made specifically for iPhones and iPads, the Shure is perfect for on the go/home recording, designed with DIY projects in mind, where simplicity and effectiveness are the name of the game.
Featuring a micro USB to lightning port, and a micro USB to type A USB port, the device leaves plenty of room for cross-generational use, allowing you to easily connect to older Apple products.
For more recent releases, USB to USB-C adaptor cables are required to operate, meaning further expense is potentially required.
The design resembles an alarm clock aesthetically, whilst the features include a single XLR (External Line Return) and 6.35mm combination input port, as well as a headphone outlet, and a micro USB port on the rear.
The controls are touch sensitive (with the exception of certain audio options), adding further ease of use, and additional functions and settings can be accessed through the accompanying MOTIV recording app.
If you are looking for simplicity and a no frills experience, then this is perfect for you.
Pros
Sturdy and well made.
Affordable price tag.
Cross-generational cables included.
Versatile functions.
Apple compatible.
Retro design.
Automatically adjusted settings.
App supported.
Touch screen controls.
Cons
Poor compatibility with Windows.
Requires USB-USB-C adaptor for newer Apple models.
Customers recommend buying all new cables.
Sale
Shure MVi Digital Audio Interface with USB and Lightning Cables & 5 DSP preset Modes (Speech, Singing, Flat, Acoustic Instrument, Loud) for EQ, Compression, and Limiter Settings
Digital audio interface connects a professional XLR microphone or 1/4" instrument output to a computer or mobile device
Features include 5 DSP preset modes for EQ, compression, limiter settings, gain control, mute, and volume, and phantom power
5 DSP preset modes (speech, singing, flat, acoustic instrument, loud) for EQ, compression, and limiter settings
Last update on 2022-11-26 / Affiliate links / Images from Amazon Product Advertising API
This product is a little different from others on this list, in that it essentially becomes a portable version of a recording studio.
With touch screen controls for ease of use, a well made, sturdy shell, and a well designed angle (for better ergonomics), this is the perfect product for on the go sound recording and field work outside of a studio setting.
With an XLR input, as well as a ¼ inch input per combination preamp, you also have the option to manually switch between the instrument and direct input settings.
With a docking station similar in looks and design to that of the iPad, a useful monitor knob for adjusting output levels, and a headphone connection for monitoring low latency levels, the Behringer has a well designed user interface that places quality, usability, and efficiency above all else.
For an interface that well and truly "walks the walk", try the Behringer iStudio and prepare to have your game changed.
Pros
Portable studio functionality.
Good value for money.
Widely compatible.
Well made and sturdy.
Ergonomically designed for on the go use.
Touch screen controls.
Cons
Limited availability amongst sellers.
Frequently Asked Questions
What Is Latency?
Latency describes the audible delay between the actual sound and the playback through headphones or speakers.
Although better than their predecessors, modern computers still possess subpar sound cards with very basic functionality, making the implementation of an advanced interface all the more important for aspiring sound recording artists.
Similarly, zero latency monitoring allows the listener to listen on their primary sound source, instead of the secondary recording feedback.
What Is A Pre-amp?
Preamps for "mic pres", are microphone preamplifiers which amplify the generally small signal from a microphone to a level suitable for professional recording.
What Does 48v Phantom Power Mean?
Phantom power refers to DC electric power transmitted through microphone cables to operate the electronic circuitry inside of the microphone.
Some microphones need extra power, either to activate the internal circuitry, or to polarize the plates within condenser microphones, and in those cases, phantom power is implemented.
Balanced Or Unbalanced Outputs & Inputs?
Unbalanced inputs/outputs are made using single-core plus screen cables, while balanced inputs/outputs are composed of two-core plus screen cables.
Unbalanced outputs/inputs are found in cheaper products, and often allow more interference to be recorded by the interface.
Balanced outputs/inputs, with their twin core systems, allow for the cancellation of the interference, leading to a clearer recording overall.
Final Thoughts
And there we have it, our rundown of the 5 best audio interfaces that can be used with Pro Tools software.
It's clear to see just how accessible the market has become to consumers and aspiring sound recording artists, and it seems like this is only going to continue to develop as industry standard equipment becomes more and more integrated into mainstream society.
With such a wealth of options available for consumers, for the first time in history we really do have the power to customize and cater our home recording setups to our own specifications, prioritizing ease and efficacy, and placing the importance of the DIY mindset above all else. 
Why not try it for yourself?
Resources