An audio interface converts signals from microphones, musical instruments, and other sources to a format your computer can recognize. It also allows you to connect output devices such as headphones or studio monitors so you can hear your compositions. But is an audio interface necessary if you have no plans on recording music?
You don't need an audio interface if you have no plans to record your music. However, using one will significantly improve the quality of your audio, aside from allowing you to connect various sound sources. It also enables you to use studio monitors to check the output of your mixes.
This article will explore the benefits of using an audio interface and what to consider when choosing one. I will also cover other essentials for your home studio and what to expect if you decide to forego an audio interface.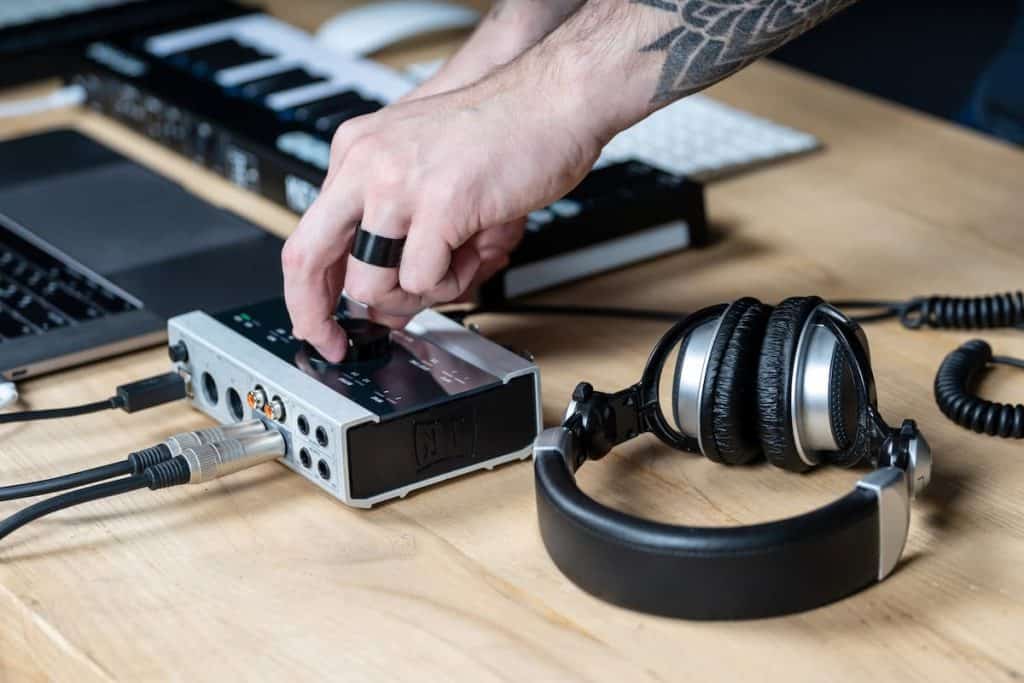 Why an Audio Interface Is Important
How you hear your music dramatically influences the way you produce it. So even if you have no plans to record your music, an audio interface can be an essential tool in obtaining your desired results.
An audio interface can convert analog music signals to a digital format and vice versa. For instance, you can connect a microphone to channel vocals or an acoustic instrument to your computer.
The audio interface converts analog electrical signals sent from the microphone into a digital format so you can record, process, or enhance the sound.
It then reverses the process and converts the digitized audio back to an analog electrical signal, before sending it to an output line where you can hear the sound using studio speakers or a pair of headphones.
Connect Using Multiple Inputs and Outputs
Audio interfaces have multiple input and output ports to connect various instruments and devices, giving you more flexibility on what goes into your music. 
With an audio interface, you can connect an XLR microphone, which generally sounds better than a USB microphone that you would use with a computer. XLR microphones use cables with three wires (positive, negative, and ground) to capture clearer sound by eliminating unwanted noise.
Some audio interfaces will allow you to connect more than one microphone at a time and accommodate musical instruments like guitars, keyboards, etc.
The output ports of audio interfaces will also allow you to connect multiple speakers and deliver better sound quality compared to an output jack of a computer. Some models can even work with a 7.1 channel setup if you want to produce theater-grade surround sound.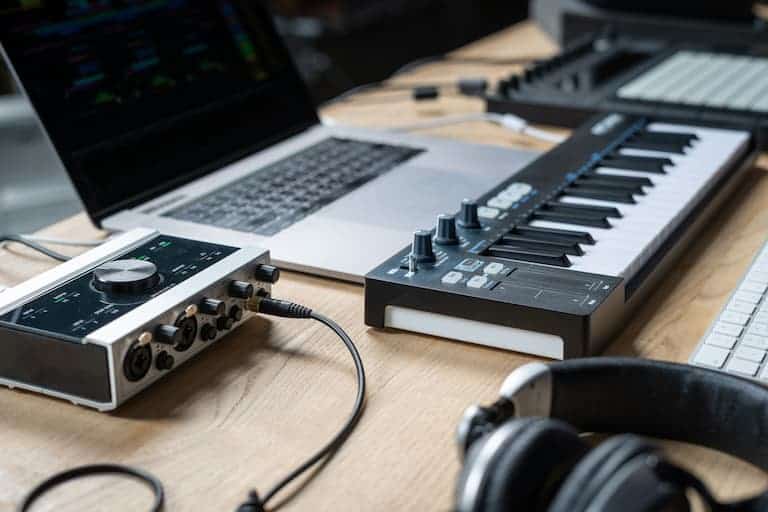 Can You Mix Without An Audio Interface?
An audio interface will definitely enhance the quality of your audio and make your life easier, particularly if you work with external sound sources. However, given how far computers and mixing software have come along, you can still mix and produce great compositions without an audio interface.
You can record and mix music without an audio interface by capturing external sound using a USB microphone that plugs into your computer. The built-in sound card will still process the signal, and you can mix and produce the music using DAW (digital audio workstation) software.
So, a computer with the right software will give you everything you need to make music.  However, your computer has to be powerful enough to run such software. If you need to upgrade your computer, Home Studio Expert has come up with a list of laptops that can get the job done.  
Digital Audio Workstations (DAWs)
Digital Audio Workstation software is an essential tool for any music producer, with or without an audio interface. If you work in the field of music or sound production, a DAW is an essential tool for editing, recording, and producing your compositions.
One of the biggest challenges in making music without an audio interface is capturing sound from external sources. You can use a microphone to record sounds from other musical instruments, but quality may suffer since the microphone will still pick up ambient noises.  
Most DAWs come with VST (virtual studio technology) plugins that replace or complement physical instruments and hardware to produce sound and other effects. VST plugins allow you to mimic the sound of practically any musical instrument and modify sound effects, which will greatly help you overcome the challenges in trying to capture music from external sources without an audio interface.
Do I Need An Audio Interface For Listening?
Listening to your music is a critical step in checking how satisfied you are with your work. An audio interface may deliver better sound quality and allow you to connect multiple speakers, but your computer will still have the essentials for you to listen to your music.
You don't need an audio interface to listen to your compositions since you can connect a good pair of headphones or studio speakers to your computer's audio line out. Most computers have a 3.5mm jack where you can plug headphones in. Sound cards also have an output port which is usually green.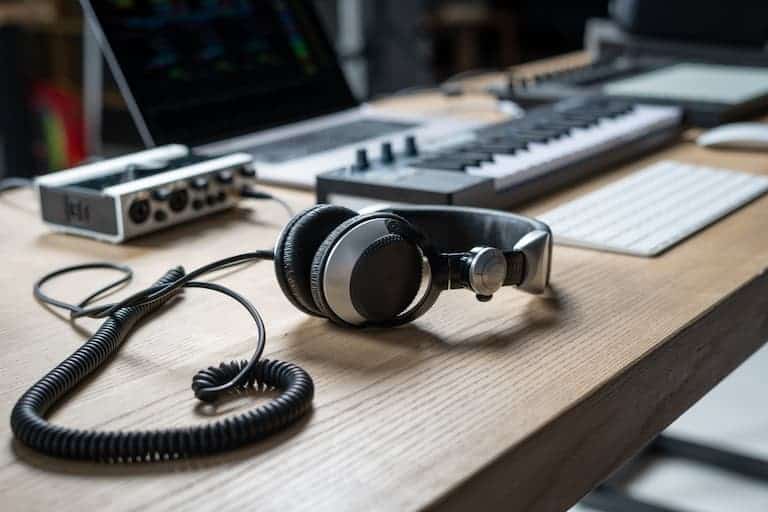 If you want to plug a pair of studio speakers directly to your computer without using an audio interface, you'll need to check the type of cables the speakers come with. Most studio speakers have RCA or 1/4 connectors, but if you need help figuring out what type of connectors your speakers use, here's a guide by soundgearlab.com that shows you the different types of audio connectors.
You will need a cable with a 1/8 connector on one end, while the other end has to be compatible with the connector of your speakers. The end with the 1/8 connector goes into the computer's output line, while the other end goes directly to the speaker or to its input line, if it has a built-in amplifier.
The Oldboytech RCA cables (available on amazon.com), has a 3.5mm tip which will work with almost all output ports of any computer. These cables are made of braided nylon for added durability, so you can expect them to withstand bending, twisting and tangles.
2 Pack RCA Cable, Oldboytech RCA to 3.5mm [6ft/1.8M, Hi-Fi Sound] Nylon-Braided RCA to AUX Audio Cable Compatible with DJ Controller Speaker Turntable TV Car Stereo Hi-Fi Amplifer Phone Gold-Plated
⭐️Bi-Directional RCA to 3.5mm Cable: Oldboytech RCA to AUX(2 pack) delivers music between devices of Red and Black interfaces and Auxiliary interface, such as cell phone to speakers/car stereo radio, smart TV to headphones/ home Hi-Fi system, laptop to amplifier/turntable, DJ controller to mixer.
⭐️Unparalleled Stereo Sound: Our professional RCA Cable offers a remarkable stereo sound experience to you. Oldboytech RCA to 3.5mm combines enameled copper conductors, aluminum alloy casings, 24K gold-plated connectors with double shieldings(TPE jacket plus nylon braid) to protect the audio signal against RF, EM and ground loop interference during transmission and provide noise-free and ultra-clear sound quality.
⭐️Enhanced Durability: Manufactured by evolved braided nylon, Oldboytech Nylon Braided Headphone Aux to Stereo RCA Audio Lead passes 10000+ bend tests and can withstand any twist, tug, and tangle. Gold plated connectors and aluminum alloy casings resist corrosion and ensure optimum sound quality. The extended wire joint design protects the 2 RCA Jack Audio Cable from bending.
Last update on 2022-11-26 / Affiliate links / Images from Amazon Product Advertising API
The Verdict
A computer will have the essential tools to produce music, so you don't have to get an audio interface. However, an audio interface will significantly enhance the sound quality of your compositions while giving you the added versatility of working with multiple instruments and sources.
The ability to connect studio monitors will also have a massive impact on how you produce your compositions, which could spell the difference between acceptable and brilliant.
Source