XLR microphones are some of the best on the market since they offer great adaptability and customization. They are also a lot more durable than regular mics and can last you for a long time. However, can they be used without an audio interface?
You can use an XLR mic without an audio interface by connecting it to a 2.55 mm (0.10 in) USB cable. However, it's recommended to get an interface to utilize the full power of XLR mics. You could also purchase a mixer instead of an interface.
In this article, you'll learn what XLR mics are, how they work, and why they are great. If you are unwilling to invest in an audio interface, I will also give you some other options you can try.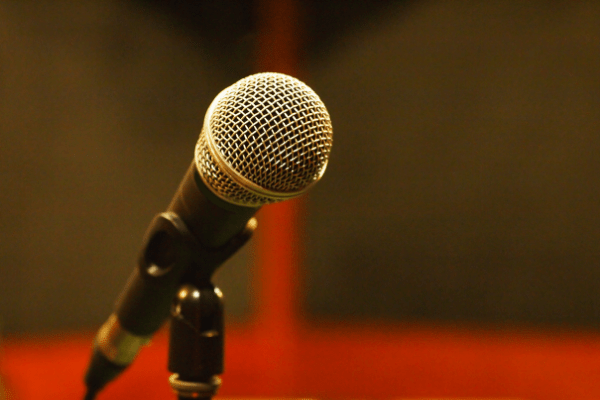 Using XLR Mics With or Without an Audio Interface
An XLR mic looks and works in the same way as any other mic on the market. The only difference is that they have an XLR connector, where they got their name. An XLR connector is used in professional audio, video, and lighting equipment.
An audio XLR connector used in mics comes with three pins and is the most common XLR connector type. It appears in the vast majority of professional microphones. The connectors plug into an audio interface or a mixer, so you can't use the microphone without one. 
XLR mics are the standard for professional studio recording. The reason for that is that they can send clear and balanced audio signals that isolate noise. Additionally, the connector has a locking feature that prevents it from getting easily disconnected.
Using an XLR with a USB cable is quite common. It's much more straightforward than using an interface since all you need do is use the cable and connect the XLR connector to your mic and the USB connector to your computer. However, it's much better to purchase a regular USB mic instead of taking this route. 
The audio interface has both XLR and USB inputs, connecting the microphone with your computer. Additionally, they usually contain more than one port, supporting multiple mics. 
If you plan to use more than one microphone, you should look for an interface with multiple slots available. You can also use the interface to plug another device along with the mic, such as a guitar. 
The interface is very flexible, and you can use it for different purposes like making music, recording a podcast, and everything in between.
However, if you already have an XLR mic and are unwilling to spend extra money on an interface, the HOSONGIN USB Male to XLR Female Converter (available on Amazon.com) will allow you to connect your mic directly to your PC.
Last update on 2022-05-24 / Affiliate links / Images from Amazon Product Advertising API
How To Connect an XLR Mic to Your Computer
If you're keen on getting an XLR mic, let's explain the exact process you have to follow to get it working. First, you'll need two things:
A mixer or USB audio interface.
Recording software installed on your computer.
Here are the steps on how to connect an XLR mic through an audio interface:
Plug the audio interface into your computer.
Wait for the necessary drivers to install. 
Once drivers are installed, you can plug the XLR mic into the audio interface.
Go into "Sound Settings" on your PC, and set the audio interface as the audio input and output device.
Open the recording software and test whether the mic works.
If an error appears when installing the drivers, you'll have to do it manually by visiting the manufacturer's website.
Audio Interface Recommendations
If you're set on buying an XLR microphone, you'll also need to find an audio interface to go along with it. 
The M-Audio M-Track Solo is a good and affordable option available on Amazon.com. It delivers 48khz resolution and has two recording channels.
Last update on 2022-05-24 / Affiliate links / Images from Amazon Product Advertising API
If you plan to use more than one microphone, it's better to purchase a mixer since they allow more customization for multiple channels. I recommend the Mackie Mix Series, 8-Channel Compact Mixer also available on Amazon.com. Mackie has over 25 years of experience designing audio equipment.
Last update on 2022-05-24 / Affiliate links / Images from Amazon Product Advertising API
You could also find a used audio interface on popular marketplaces such as Craigslist, eBay, or Facebook Marketplace. Higher quality interfaces can easily last for over ten years, so you should be able to find some good deals that'll do the job for a long time.
Use USB Mics Without an Interface
Fortunately, if you aren't ready to invest in an audio interface and want something you can directly plug into your computer, there are things called USB microphones.
USB microphones work like any other USB device. They can be used by directly plugging them into the USB port of your computer and using recording software. USB microphones are generally cheaper than their XLR counterparts. However, when it comes to quality, most people prefer to use XLR mics.
In terms of the condenser element, both mics are technically the same. The only difference is that you don't need an audio interface to use a USB mic. 
The Blue Yeti USB Microphone available on Amazon.com is a solid option that you can directly plug into your PC. The Yeti is very popular with podcasters and vloggers and is used in many leading podcasts and vodcasts.
Blue Yeti USB Microphone for Recording, Streaming, Gaming, Podcasting on PC and Mac, Condenser Mic for Laptop or Computer with Blue VO!CE Effects, Adjustable Stand, Plug and Play – Blackout
Custom three-capsule array: This professional USB mic produces clear, powerful, broadcast-quality sound for YouTube videos, Twitch game streaming, podcasting, Zoom meetings, music recording and more
Blue VO!CE software: Elevate your streamings and recordings with clear broadcast vocal sound and entertain your audience with enhanced effects, advanced modulation and HD audio samples
Four pickup patterns: Flexible cardioid, omni, bidirectional, and stereo pickup patterns allow you to record in ways that would normally require multiple mics, for vocals, instruments and podcasts
Last update on 2022-05-24 / Affiliate links / Images from Amazon Product Advertising API
Choosing Between XLR and USB Mics
If you are thinking between buying an XLR mic and audio interface or simply getting a USB mic, here are some key factors to consider:
Price: USB microphones are generally cheaper than XLR ones. On top of that, you'll save extra money by not buying an audio interface or mixer that an XLR mic requires.
Flexibility: The audio interface allows for plenty of flexibility. You can plug multiple mics into it and use them with no issue, or plug another device like an instrument for recording music. On the other hand, even though computers have multiple USB slots, making more than one mic work on a single computer without issues will be complicated.
Setting up difficulty: USB mics are easier to set up since the only thing you need to do is plug them into the USB port on your computer and integrate it with your recording software. With that said, XLR mics aren't too far behind either, as they are also pretty simple to set up.
Customization: XLR mics contain many components that you can later upgrade to improve performance. With USB mics, you get what you pay for. Additionally, the audio interface allows for plenty more voice alteration and customization.
Portability: Since XLR mics require extra heavy equipment, they can be challenging to transport, so USB mics are much better for portability.
In the end, whether you go with an XLR or a USB mic should depend on what you'll use the mic for. A USB mic is ideal for:
Online meetings
Gaming
Solo podcasts
You can use XLR mics for more advanced activities such as:
Larger podcasts
Recording music
Other professional recordings
Check out which mics is better for recording studios: XLR vs. TRS.
Conclusion
You can use an XLR mic without an audio interface by connecting it via an XLR to a USB converter cable. However, an audio interface is a much better option. There are cheap audio interfaces that can do the job or get a used one from an online marketplace.
Alternatively, you can go with a regular USB microphone which doesn't require an audio interface to work. You plug it into your computer. USB mics are cheaper and easier to set up, but they are usually lower quality than XLR mics.
Sources