An audio interface is an essential piece of audio gear if you want to record and monitor an instrument or microphone. They usually have an output jack for direct monitoring with headphones. But is there a way to connect your studio monitors to an audio interface?
Here's how you can connect studio monitors to an audio interface:
Turn down the volume and equalizer knobs.
Connect the audio interface to your computer.
Plug passive studio monitors into an amplifier.
Connect powered studio monitors to the audio interface.
Adjust the volume and EQ settings.
Getting speakers to work with an audio interface isn't as straightforward as it might seem. This article will explain how to connect studio monitors to an audio interface and what to do if it's not working.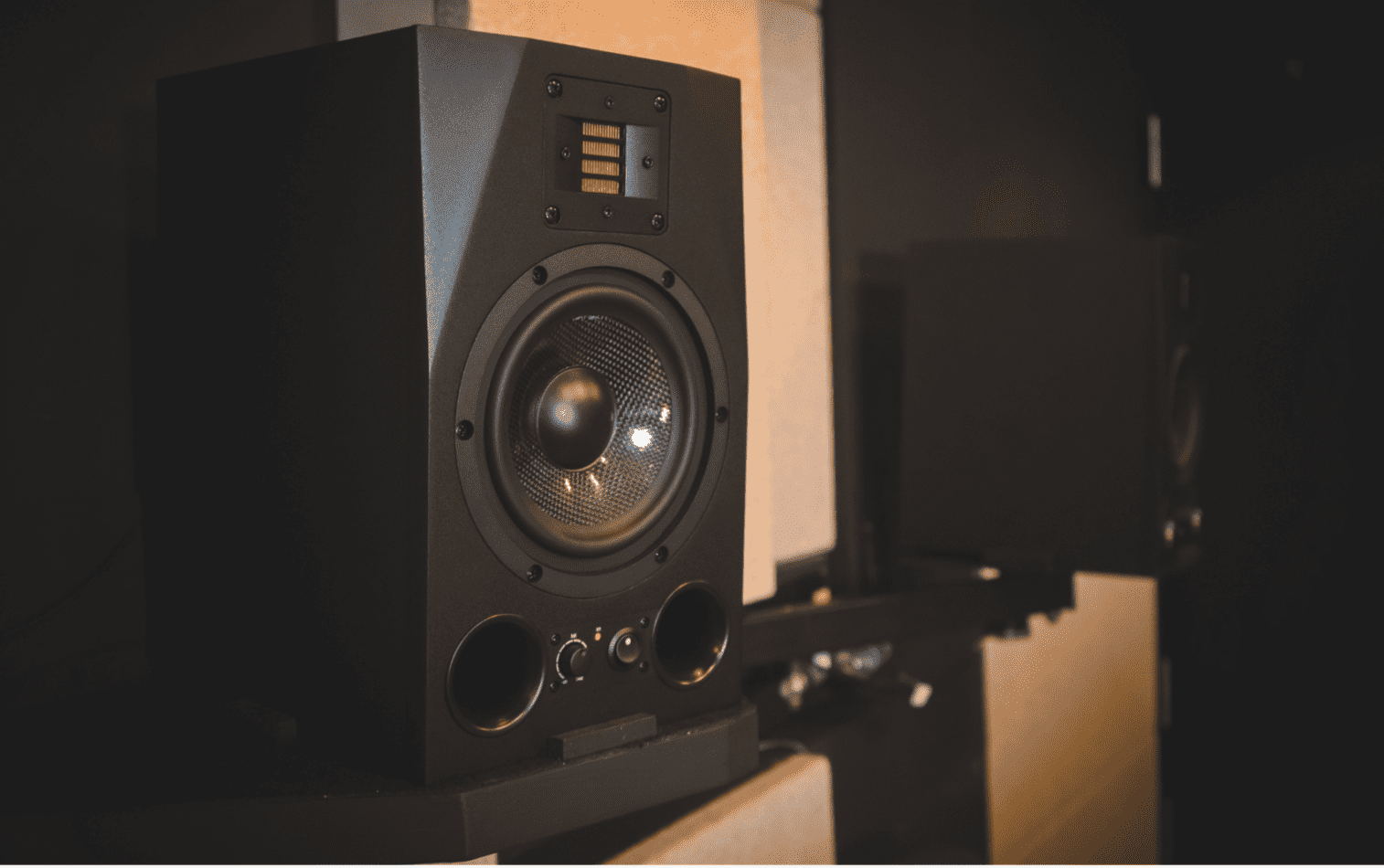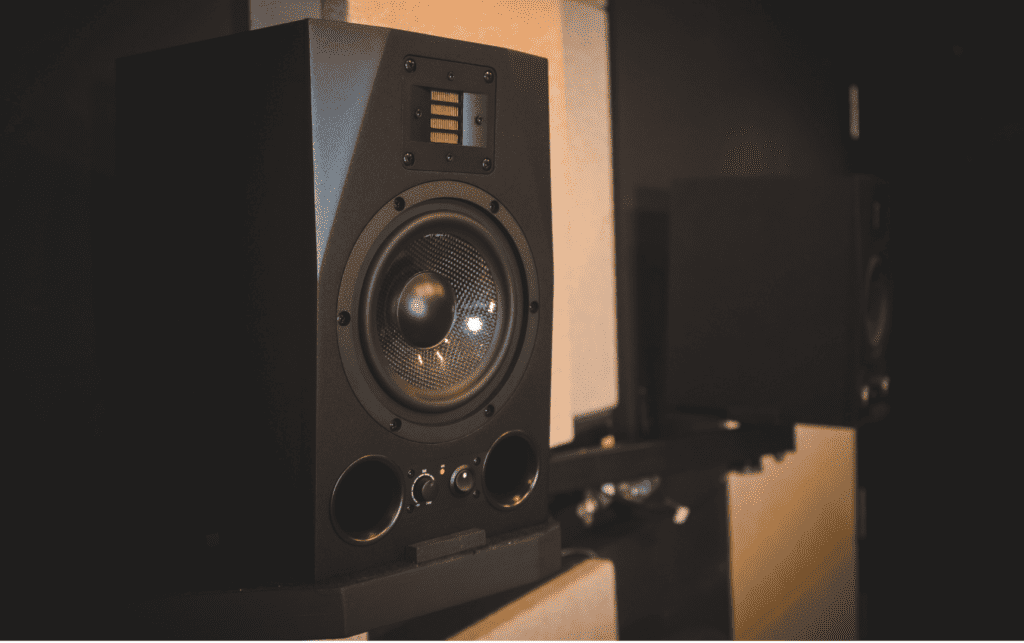 1. Turn Down the Volume and Equalizer Knobs
Virtually all audio interfaces have at least a couple of volume knobs.
You probably have a volume knob and/or a monitor knob in the front. Turn both all the way down.
The same goes for all the different EQ knobs (bass, middle, treble).
If your audio interface has additional volume knobs, turn them all the way down.
You have to do this before connecting the speakers. If the volume is all the way up on both devices, you may tear

the cone of the studio monitors

or cause other permanent damage to the monitors.
Additionally, you may damage your hearing as well.
The reason why you turn the EQ down as well is similar. The vibrations will be too powerful to handle if you turn the lows up too high on a regular pair of studio monitors.
If your amplifier (for passive speakers) or active speakers have volume knobs, you should also turn them down.
2. Connect the Audio Interface to Your Computer
Most audio interfaces plug into your computer using a regular male-to-male USB cable. You probably need a Type-A to Type-B cable, though.
You can use the one that comes with your audio interface. However, if you've lost yours or your audio interface did not have a cable included, I recommend getting the PWR+ 6 Ft USB Type-A to Type-B Cable

from Amazon.com. It's compatible with audio interfaces, DACs, and any other computer equipment with USB Type-B ports.
Sale
6Ft Long USB-2.0 Cable Type-A to Type-B High Speed Cord for Audio Interface, Midi Keyboard, USB Microphone, Mixer, Speaker, Monitor, Instrument, Strobe Light System Laptop Mac PC Type A to Type B

FEATURES / POWER SPECS : Extra Long 6 Feet USB 2.0 Type-A Male to Type-B Male Connection Cable /...
COMPATIBILITY: Ideal for connecting your Yamaha Digital Piano, Roland Music Workstation, Donner DEP...
Also is a good USB Type B replacement cord for devices like Printer, Scanner, Fax, Hard Drive Disk,...
Last update on 2023-12-02 / Affiliate links / Images from Amazon Product Advertising API
The computer should recognize the audio interface. Windows will identify the audio interface and install the correct drivers for it automatically.
If it doesn't recognize the audio interface, download and install the USB drivers for your model. You can find it on the support page on your audio interface manufacturer's website.
3. Plug Passive Studio Monitors Into an Amplifier
Here comes the million-dollar question: Do you need an amplifier for passive speakers if you're using an audio interface?
The answer is yes – the audio interface can't provide enough power for large passive studio monitors.

You may have thought it wouldn't be an issue because your headphones work with the audio interface without an amp. After all, there's probably a dedicated ¼ headphone jack on your audio interface.
However, studio monitors have a completely different impedance rating compared to headphones

. Impedance rating is expressed in ohms, and it describes

how much current the speakers resist.
A lower impedance rating means it's easier to power the studio monitors. At the same time, it also means that they draw far more energy.
So, you should connect your passive speakers to your amp first. You will probably need an RCA cable or regular speaker wire with a banana plug on each end.
If you bought a pair of studio monitors thinking they'd work with your audio interface from the box, you will also need to get a new amplifier.
A good choice is the Pyle Audio Power Amplifier

from Amazon.com. It's a high-quality 2 x 120W receiver box that provides all the power you need for passive speakers. It's also relatively inexpensive.
Sale
Pyle Home Home Audio Power Amplifier System with Bluetooth - 2X120W Mini Dual Channel Mixer Sound Stereo Receiver Box w/ RCA, AUX, Mic Input - For Amplified Speakers, PA, Theater, Studio Use -PTA4

2X120 WATT POWER: The Pyle Dual Channel Stereo Amplifier is perfect for your PA and home theater...
4 INPUTS: This personal digital amp box supports various external sources 3 pairs RCA audio input...
PAGER/MIXING MODE: The mini integrated indoor AV receiver features pager and mixing switch. In pager...
Last update on 2023-12-02 / Affiliate links / Images from Amazon Product Advertising API
Keep in mind that you won't need an amplifier if you have active (powered) studio monitors – they already have a built-in amp.
You can tell that your monitors are active if they have a power cord. If this is the case, all you need to do is plug them into the audio interface.
4. Connect Powered Studio Monitors to the Audio Interface
It's now time to connect your amplified speakers to the audio interface.
The connector you'll use is dictated by the output ports on your audio interface.
If your audio interface has only one type of line output, just use that. For example, the Focusrite Scarlett 2i2

has two ¼ in (0.63 cm) jack TRS output ports for the left and right studio monitors.
TRS stands for

tip, ring, and sleeve, and it's different from a TS cable. Both are large ¼ in (0.63 cm) jacks, so you might mix them up at first.
You can tell the difference by looking at the number of black rings that partition the metal pieces on the jack. If it has one black line, it's a TS cable. TRS cables always have 3 parts, so there are two black lines.
Your audio interface may have RCA or even XLR output ports too. XLR is typically used for microphones, but your audio interface may have it in the back for studio monitors.
The same confusing story repeats itself on the amp or powered studio monitors. XLR and TRS connectors are more common than TS and RCA ones.
That's because they are balanced

. An unbalanced audio signal only has a positive signal wire and a ground wire. This makes the cable prone to picking up interference and noise.
On the other hand, a balanced signal has an added negative signal. It turns into a positive signal at the input. When combined with the positive signal, the noise gets canceled out.
So, use a TRS or XLR cable if possible. The audio quality will be much better than with RCA or TS cables.
If you have XLR on your studio monitors and TRS on the audio interface, use an Amazon Basics XLR Female to ¼ TRS Adapter

from Amazon.com. It's shielded against RF and EMI noise.
Amazon Basics XLR Female to 1/4 Inch TRS Adapter

IN THE BOX: (1) 3-pin XLR female to .5 inch TRS adapter
CRYSTAL CLEAR TRANSMISSION: Protective shielding to prevent noise from radio frequency (RF) and...
COMPACT DESIGN: Slim profile that's great for travel, at home, or at the office
Last update on 2023-12-02 / Affiliate links / Images from Amazon Product Advertising API
Before we move on to the final step, you should also adjust the dBu/dBv rating

. If you don't, you might short circuit your speakers.
Studio monitors and amps typically have a +4 dBu or -10 dBv input sensitivity switch. Use +4 dBu for balanced audio outputs and -10 dBv for unbalanced signals.
In other words, +4 dBu is for TRS and XLR connectors. -10 dBv is for RCA and TS connectors.
The last thing we're going to talk about is the direct monitor button. This allows you to listen to the audio input through the audio interface directly. It skips the computer altogether.
However, it's typically only intended for headphones, which means you should turn it off.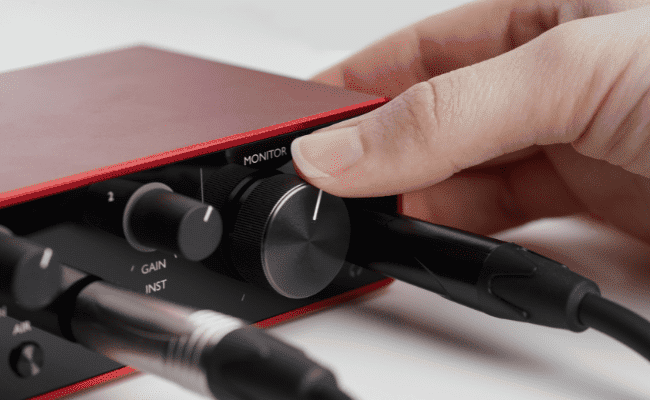 5. Adjust the Volume and EQ Settings
Now that everything is connected and Windows recognizes your audio interface, the studio monitors should be operational.
Adjusting the volume and EQ correctly is essential to get superior sound quality.
First, turn the volume up on your studio monitors or amp. A solid starting point would be to turn the volume knob ⅔ of the way up.
If there's a 0 dB volume option on the monitors, use that. You'll get the most accurate sound from your monitors that way.
There's also stuff

like HF/HP and LF/LP trim/level on studio monitors and amps. This is to adjust the high and low frequencies.
It's best to use 0 dB mode for them too. If there are EQ settings on the monitors or amp, turn the knobs to the middle.
You should use the audio interface EQ instead. It's easier to adjust, and you may get better sound quality.
That's because the EQ is applied before the signal reaches the monitors in the first place.
If you're using powered monitors, ensure that both speakers have the exact same settings.
Once you set the studio monitors

up, don't adjust the knobs anymore. Only use the audio interface for volume.
The sound levels in Windows should be set to 100% as well. You can change it by clicking on the speaker icon in the corner of the taskbar.
Now, play a song on your computer and slowly turn the volume knob on the audio interface up until you get to a comfortable loudness level.
If they don't get loud enough, turn the volume knobs up on your studio monitors.
And if there's no sound in the first place, it's time to move on to the troubleshooting steps.
Troubleshooting Studio Monitors and Audio Interface
Don't get upset if your studio monitors don't work with your audio interface from the get-go.
We'll figure out what the problem is through a few simple troubleshooting steps. Try all the solutions below to figure out what's causing the issue.
Check the USB Drivers for the Audio Interface
If you just got the audio interface, your PC won't recognize it. Newer audio interfaces will usually install drivers automatically.
Your computer identifies the device and downloads drivers from the Internet.
But these automatic drivers aren't always the right ones. Alternatively, there's a chance that the installation got bugged.
If your audio interface doesn't work at all, but the lights are on, it's probably a driver issue.
You can find the drivers by going to the support website of your audio interface manufacturer.
Type in your model number and download and install the drivers. Restart your computer afterward.
If it's still not working, here's what you should do:
Go to Start and type Device Manager.
Expand Sound, video, and game controllers.
Right-click your audio interface and select Uninstall device.
Unplug the audio interface.
Restart your computer.
Plug the audio interface back in.
Your computer will recognize your audio interface and install the drivers again. You can also install the drivers you got from the manufacturer's website before replugging the audio interface.
Note: Some driver versions are bugged. If you can't get the drivers to work, find and install an older version.
Check Sound Settings in Windows
Few things are as annoying as the sound settings in Windows. If you have a startup program that takes over your sound settings, it'll hijack your audio interface.
You can disable startup programs by opening Task Manager (Ctrl + Shift + Esc) and selecting the Startup tab. Disable everything first, just to see if your audio interface will start working.
If that doesn't help, here's how to disable exclusive mode in Windows:
Right-click the speaker cone on the taskbar and press Open Sound settings.
Ensure that your audio interface is selected under Choose your output device.
Press on Device Properties.
Open Additional device properties.
Go to the Advanced tab.
Find Exclusive Mode. Look for Allow applications to take exclusive control of this device. Once you find it, uncheck it.
You can also try changing the Default Format while you're here. It's uncommon, but a bitrate set too high can cause incompatibility issues.
Test the Audio Interface and Studio Monitors Separately
If your studio monitors and audio interface don't work together, try them apart.
Plug your studio monitors into the computer and play some music. They should work without any issues.
Repeat the same with your audio interface. Plug in a microphone or instrument and check that it works in recording software.
If one of them doesn't work, contact the manufacturer's support team to see where the problem lies.
However, if both work fine, the issue has most likely something to do with the cables.
Try a Different Cable or Connector Type
You may have plugged a TS cable into a TRS port on the audio interface. Alternatively, there's a chance that you're using RCA cables instead.
Whatever the case, you should ensure that you're using the correct cable by checking the audio interface and studio monitor manuals.
Both TS and TRS cables use ¼ jacks, but TRS cables have a "ring" piece in the middle. Put simply, TRS jacks have two black lines on them.
If you're using RCA-to-RCA, ensure that you connect both the positive and negative terminals. You need two cables for the left and two for the right channel.
Check the Voltage Settings on the Audio Interface
I explained earlier that studio monitors often have an input sensitivity switch. It goes from +4 dBu to -10 dBv.
Set it to +4 dBu if you're using a TRS or XLR connector. These are the balanced signals.
If it's an unbalanced RCA or TS cable, use -10 dBv instead.
Final Thoughts
Connecting studio monitors to your audio interface isn't easy. You have to adjust various settings, and you must use the correct cables.
If you're using passive studio monitors, you'll also need an amp. Many people forget about this because you can use passive headphones with an audio interface.
Sources
Was this article helpful?
Recent Posts
link to How To Allow QuickTime To Access Microphone 🎙️  
QuickTime is a vital app for many Mac users, and if you've recently bought a new microphone, you might wonder how to use it optimally. QuickTime cannot record audio content if it doesn't have...
link to How Do I Test My Microphone? 🎙️
Every microphone leaves a unique signature on the quality of its output. If you're a podcaster trying to melt your way into your audience's hearts, a muddy, distorted recording won't cut it....