Budding recording artists and sound mixers may balk at the cost of studio speakers, especially when it comes to all the other sound mixing equipment that's out there. It can be tempting to use the high-quality consumer speakers you already have lying around. Is there really any difference between speakers and studio monitors?
You can't use regular speakers as studio monitors if you want your recordings to sound right. Consumer speakers are designed to boost pleasing sonic frequencies so that songs sound better. Studio speakers don't "fix" the sound like this, allowing you to edit your mixes accurately.
This article will go into the reasons that consumer speakers aren't helpful for sound mixing. One of the best things new recording artists can do to get their music sounding just right is getting a studio monitor.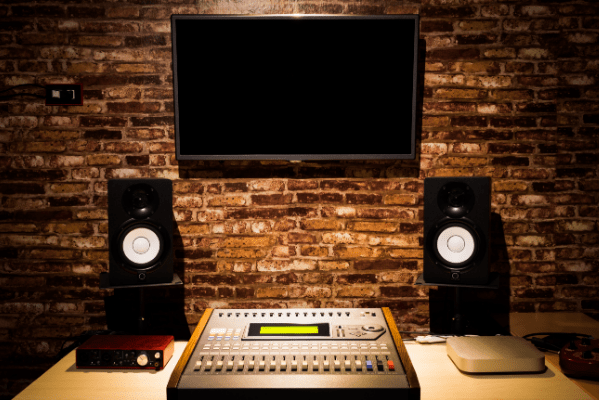 Why Regular Speakers Can't Be Used As Studio Monitors
You may wonder why regular speakers can't double as studio monitors since they sound substantially identical to the untrained ear. However, using these kinds of speakers to mix is actually a critical mistake. Studio monitors might cost more than you intended to spend, but they are actually essential to make a high-quality mix.
Here are the biggest reasons you'll want to invest in studio monitors:
Speakers Use the "Smiley Face Curve"
The most important thing to remember is that regular speakers are designed for the average consumer and enhance the listening experience. Consumer speakers will artificially make music sound better with what's called a "smiley face curve."
The smiley face curve basically takes a mix and boosts it at both its high and low ends while reducing its middle frequencies. The curve makes the bass even more powerful and the top notes brighter and clearer.
When you're mixing a track, you don't want your speakers to be enhancing your highs and lows, especially if the highs and lows need work! You want to hear an unedited sound coming out, so you know what changes you'll need to make in the process.
Speakers Usually Have a Passive Power Source
Another difference between consumer speakers and studio monitors is that regular speakers are usually passive speakers, meaning that they need an external amplifier to work.
Studio monitors, on the other hand, are active speakers. That means that they have an amplifier built directly into their system. They often even have more than one amplifier, each of which supports different frequencies.
The difference between active and passive speakers can get confusing and technical. When it comes to sound mixing, the important distinction is that active speakers are desirable because they operate at a lower power voltage. Higher voltage is preferable for consumer listening since it can handle heavy bass and louder sounds. Lower voltage systems lead to a more precise sound, ideal for sound mixers.
Why Can't I Use Speakers if That's How People Will Listen?
You may read this and think, "Well, if consumers will be listening to my recording on consumer speakers, why does it matter if I use them to mix?" However, you have to remember that consumers don't only listen to music on speakers!
Consumers listen to music on speakers but keep in mind that they also listen through headphones, a surround-sound system, older car stereos, etc. Many of these other kinds of systems won't use the smiley face curve and won't edit the sound at all.
If you've done your mixing on consumer speakers, you aren't taking this into account. Mixing issues that weren't present on those speakers will be obvious on other audio formats.
What if I Have Mixing Headphones?
Even if you have headphones made for sound mixing, you'll still want to use studio monitors to mix when possible. Monitors give you a more accurate, well-rounded sound. Headphones tend to be louder and cut out the depth and resonance of being played out loud in a room. Plus, it allows you to let other people listen and give input as you mix.
Studio headphones are helpful for on-the-go sound editing, but you'll want to run most recordings through studio monitors at least once before finalizing them.
For more information, check out my guide to home recording studio construction.
Best Studio Monitors
If you're ready to purchase studio monitors of your own, don't worry—you don't have to break the bank getting them. Studio monitors can be comparatively priced to consumer speakers, meaning they can be cheap or pricy. It all depends on how much you're willing to spend.
Remember, even a cheap studio monitor will serve you better in your sound mixing than a consumer speaker. Take a look at the best studio monitors for at-home mixing and recording below.
Last update on 2022-11-26 / Affiliate links / Images from Amazon Product Advertising API
These are near field monitors, meaning they're designed to be listened to in close proximity. Keep in mind that studio monitors aren't a good option if you need a room-filling sound.
For one of the most cost-effective studio monitors on the market, though, the Presonus Eris is one of the few models with acoustic tuning. It has 3.5-in (8.89-cm) oven drivers (the round part where the sound comes out), fitted with both an AUX input and a headphone jack.
Besides being the cheapest on this list, they're also one of the most popular available, with over 8,000 five-star reviews on Amazon.
Sale
Last update on 2022-11-26 / Affiliate links / Images from Amazon Product Advertising API
The Rokit G4 monitor comes as a pair or a single unit. This speaker has an exceptional low end without overpowering any other frequencies and promises a "sonic integrity across all frequencies."
The box containing the speaker is a low-resonance design, so any distortion from the cut of the box is minimized.
Sale
JBL Professional 308P MkII Next-Generation 8" 2-Way Powered Studio Monitor (308PMKII) (Pair) (2 Items)
Bundle Includes: Two JBL 308P MkII Powered 8-inch Two-Way Studio Monitors
High-quality: JBL 308P MkII has been equipped with acclaimed 3 Series transducers that now perform even better. Hear deep, accurate, and tightly controlled bass, thanks to a long-throw 8-inch woofer and the patented JBL Slip Stream low-frequency port
Dynamic Range: With 112 watts of total power, the dual, integrated Class-D power amplifiers, custom-designed by JBL for each transducer, give you a generous dynamic range for any project
Last update on 2022-11-26 / Affiliate links / Images from Amazon Product Advertising API
These are one of the more expensive models on the market. The JBL monitor has a unique design, so consider other models if you're looking for a more traditional look.
These monitors use something called boundary EQ, which accounts for the resonance and sound colorization that can occur when the speakers are placed adjacent to walls. They give users a highly accurate, detailed sound.
Sale
Last update on 2022-11-26 / Affiliate links / Images from Amazon Product Advertising API
Yamaha is one of the most trusted audio brands out there and has been producing studio monitors since the 1970s. They have a classic black or white design so that you can match them to your setup better.
These latest speakers are equipped with transducers, which regulate the magnetic response to provide the most accurate, honest sound possible. It has two drivers, with separate amps for the subwoofer and tweeter, the speaker that highlights the upper frequencies. It also has more advanced controls than most of the other monitors listed here.
They are available in 5in (12.7cm), 6.5in (16.51cm), or 8in (20.32cm) sizes. While this option is pricey, all those advanced features may be worth it if you want your mix to sound just right.
Final Thoughts
Even though it can be easier and cheaper to use regular consumer speakers in place of studio monitors, you can ruin sound mixes this way. Consumer speakers will make any music coming out of them sound better by enhancing certain frequencies. For mixing, you'll want a speaker that won't edit the sound at all so that you can make these edits yourself.
Studio monitors are crucial to mixers, especially those who work with other musicians that want a hand in the editing process. Getting just one studio monitor will help you craft high-quality mixes and a professional reputation.
Sources