An audio interface lets you connect equipment, such as a microphone or guitar, to your computer so you can record and produce music. If you're new to the world of music and have seen some of the high prices for this piece of equipment, you might be wondering if you really need one.
Studio monitors need an audio interface to professionally create and produce high-quality music. Without an audio interface, you may experience lagging in the sound, along with increased feedback or background noise. Though not essential, you will notice the difference without it.
To learn more about studio monitors and audio interfaces, read on. This article will discuss how to connect studio monitors with and without an audio interface and if studio monitors are better than regular speakers.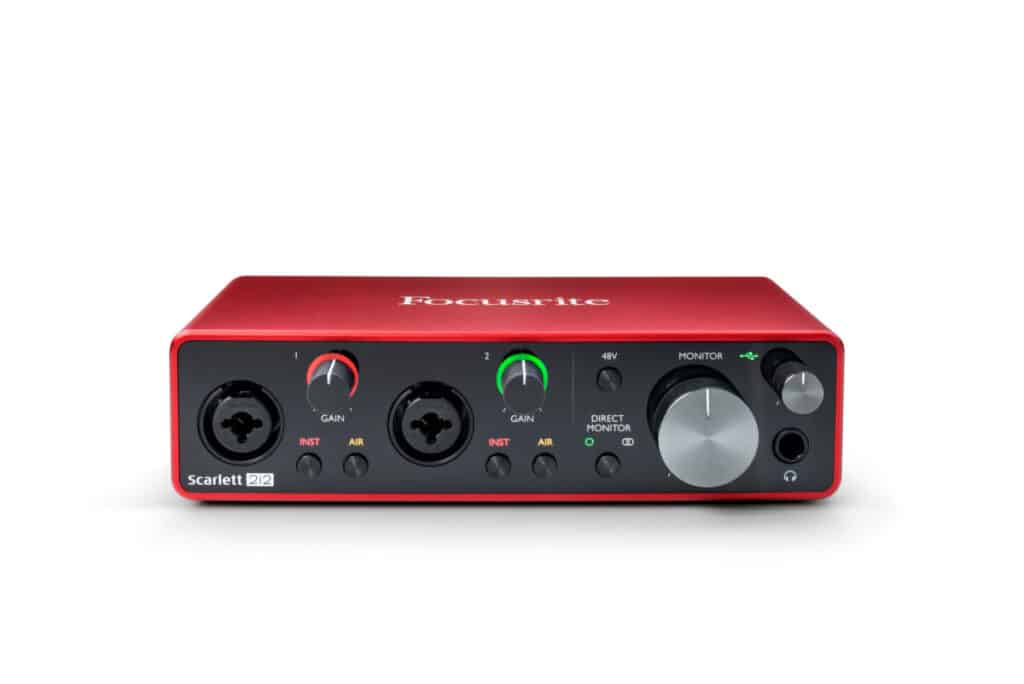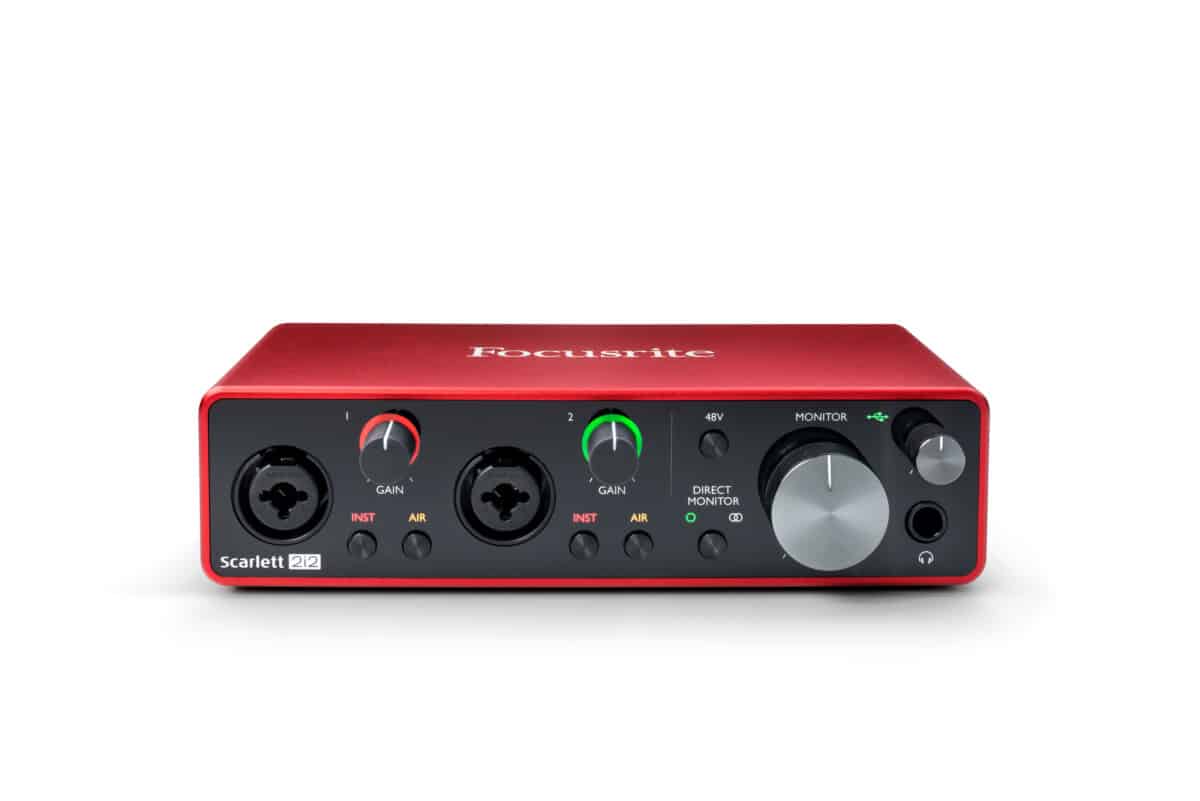 Is an Audio Interface Really Worth It?
Technically speaking, you don't actually need an audio interface for your studio monitors. There's a simple way to just connect the monitors to your headphone jack. However, with an audio interface, you'll be pleasantly surprised. 
An audio interface is much better than just connecting your studio monitors to your computer. The audio quality will come out way better, including no lag as well. Plus, you'll be able to blur out any unwanted sounds that come up in your audio background, such as fan noises and the slight humming of your computer. Overall, an audio interface is a great thing to splurge on.
If you're interested in buying one, be sure to look into the reviews and the specs provided for each model. You'll likely want to consider the following before making your purchase:
Is it just for personal use, or will you be recording full-band sessions? Personal use will not need to be that extensive. 
What connection format do you need? Do you have a Mac or a PC?
How many in/outputs do you need? You'll need one each for vocals, guitar, keyboard, etc.
In case you think an audio interface might not be worth the extra money in comparison to what you already have, let's take a look at some other key factors that might change your mind.
For more information, check out this article about which is best between bookshelf speakers vs studio monitors.
Higher Quality Audio
In short, an audio interface has higher quality audio. The soundcard converts digital signals to an audio signal with no trouble. If you weren't aware, this is known as the digital-analog converter (DAC). The soundcard in an audio interface is literally dedicated to this exact purpose so it can produce the highest quality audio possible. 
The soundcard in regular speakers is designed for many different functions, but the sound card from an audio interface is noticeably better.
Balanced Outputs
An audio interface also has separate balanced outputs – one per speaker. While this doesn't exactly seem to be the best quality to have as you'll need two cables instead of just one, balanced cables may make a really big difference for your audio. This way, you can cancel out any extra noise in the background or anything that you don't want in your recordings. 
Standard cables will typically give you hums and loud buzzing, but an audio interface will give you no loud noises.
Faster Output
With an audio interface, there's no lag. You won't have any gaps between the time it takes for the audio to play to you finally hearing it from your speakers. 
Some common speakers might have a bit of a lag that can be (somewhat) fixed if you look into it on your laptop's controls, but an audio interface will keep the sound perfectly matched up to the audio that's playing.
Readily Available
Audio interfaces are really easy to shop for and integrate into your setup. You don't need much extra research, and you can easily find one on the internet. Plus, you can read customer reviews on the audio interface of your choice so you can get a better idea of what you're going to receive.
How To Connect Studio Monitors With Interface
If you decided to get an audio interface and you have no idea how to connect the monitors, don't fret. You can find all the information you need right here. An audio interface is best known as a type of sound card that helps with recording, and you can get it as an external or internal device. Audio interfaces provide higher quality, which is great for people who need to be at the top of their game.
An audio interface should have one or multiple input channels for certain things, such as guitars and microphones. There will typically be 6.35mm jacks, XLR or RCA, and you can connect your studio monitors with no trouble to the jack or outputs. This is relatively simple and produces much higher quality.
Using a DJ Mixer/Controller and Laptop/Computer Speakers
If you have some sort of DJ controller, you might want to find a way to amplify it with your speakers. While you could easily adjust the audio in your software settings, you might get better quality with studio monitors. However, these speakers won't give you the exact dynamic sound you want to DJ properly.
To connect an audio interface to your new speakers, all you have to do is connect the DJ controllers' Master Output to the monitors with XLR or RCA. Some DJ controllers have Booth Out connectors for jack cables as well, depending on the DJ controller you have.
Using an RCA or Jack
Perhaps you're an aspiring singer or songwriter, and you're hoping to record your newest compositions on your computer. You might add some electric guitar and some killer vocals on your microphone. For that, an audio interface may be best.
To connect your active studio monitors, use an RCA or jack. The jack is usually more balanced and produces better quality sound with no problems, and helps with noise and interference.
You may be surprised by the high quality you'll have with your audio as there won't be a trace of background noises or lag. Either way, it's up to you to decide the quality you want.
How To Connect Studio Monitors Without Audio Interface
If you're going to connect studio monitors without an audio interface, you're going to need a 3.55mm jack to 2x XLR cable. These cables are available almost everywhere and in many different lengths, so if you have a cable that isn't your desired size, you can either purchase a new one or extend it with a microphone cable. Keep in mind that you will need two cables – one for each respective speaker.
All you have to do is connect the chord to the headphone jack. Just make sure that you have purchased the right cables for this. The TISINO TRS Stereo to Dual Y-Splitter Cable is 10ft (3.05 meters) long and high quality, so you won't have to worry about it breaking or being too short.
DISINO 1/8 Inch TRS Stereo to Dual 1/4 inch TS Mono Y-Splitter Cable 3.5mm Aux Mini Jack Stereo Breakout Cable Path Cords - 10 feet
3.5mm trs to dual 1/4 ts cable, this cable is designed to connecting your smartphone, portable media player, laptop/PC or similar device with a 3.5mm mini jack output to a device with 2 x 6.35mm jack inputs such as speakers, mixing console and so on.
This cable can be used to split an 3.5mm unbalanced stereo signal into two 1/4" TS(left/right) unbalanced mono signals, or to combine two 1/4" mono signals(left/right) into a single 3.5mm stereo signal. It splits closer to the 1/4 TS ends, the distance to the split point is about 7.5 inches.
20 AWG 4N OFC Wire, High Density Shielding and Al-foil Shielded to Prevent EMI/RFI Interference ensuring the highest quality audio transfer without static, or popping.
Keep in mind that the audio quality might not be as great if you don't have an audio interface. At the end of the day, though, it's up to you what you want for your speakers.
For more information, check out why you need both headphones and monitors.
Conclusion
If you're still on the fence on whether you should connect your new studio monitors to an audio interface, consider your basic needs. If you're just making music for yourself, it might not be worth the investment. However, for those looking to professionally create and produce music, you can't deny the overall benefits of the added quality. Who knows, it may be the best decision you'll ever make.
Sources
Last update on 2021-05-10 / Affiliate links / Images from Amazon Product Advertising API