Until only a few years ago, most creative souls, whether it was for graphic design or music production, were told to stick to Apple. However, in recent years, other companies have engineered top-quality laptops that meet the demands of any music producer.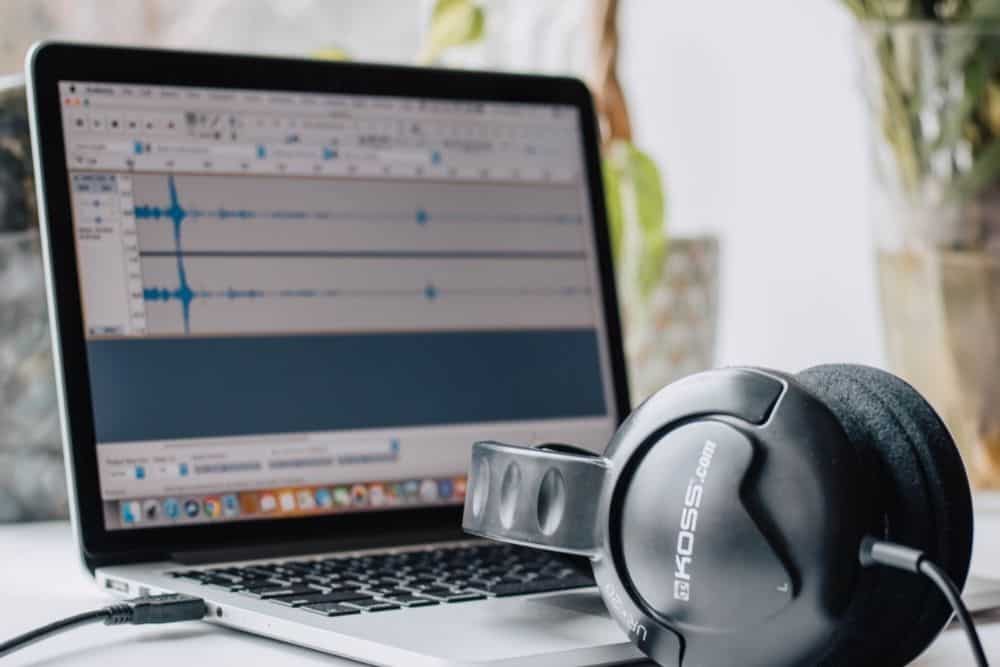 When it comes to using Pro Tools, it can be difficult to decide which laptop is best for the software. You will need one that is powerful enough to run Pro Tools without glitching or slowing down but also not too expensive.
Balancing all of the laptop's requirements at an affordable price is never easy. However, there are options to choose from without you having to dip too far into your pockets.
Unlike a few years ago, more Windows laptops have begun to meet the demands of music production, especially with music software such as Pro Tools.
Today, we are going to discuss the best laptops for Pro Tools. We have researched countless laptops and come up with the top 5 to make your life and decision a little easier.
With pros and cons on each product alongside in-depth reviews, you will be able to make an informed choice on which laptop you want to use when creativity peaks.
Product Reviews

The Asus ROG Strix G15 Gaming laptop meets all of the requirements for powering Pro Tools. With its sleek design and powerful performance with Windows, the Asus ROG Strix G15 laptop has a combination of excellent hardware and an ergonomic design that is ideal for music production.
This beastly laptop has an Intel Core i7-10750H processor with a clock speed of 2.6GHz. This will easily meet the demands of all Pro Tools users. Delving deeper inside we find 16GB of DDR4 standard RAM and a generous 512GB of full SSD-based storage.
And if that's not enough, you can upgrade the RAM to 32GB. Along with an efficient cooling system, this laptop does everything you would want it to do with hardly any noise.
When you're working on multiple tracks, you are met by a crisp and vivid 15.6-inch Full HD screen. Yes, the gigantic 240Hz refresh rate screen is aimed at high-end gaming but it is also perfect for editing away for hours on end.
There are an array of ports such as USB Type C, Ethernet, and full-sized HDMI to save you from buying any adaptors in the future. And weighing only 5.28 pounds, the Asus ROG Strix G15 laptop is easy to transport to different locations.
The battery should also last a good few hours without needing to be charged.
Pros
Boasts customizable controls – You can adjust the controls of this laptop to suit your preferences and needs
A range of ports – There are ample ports available for all requirements
A 240Hz screen refresh rate – Enjoy smoother images on the screen with seamless visual displays, especially for gaming
Cons
Battery life is not the best – The battery could last longer, especially when compared to other laptops in this price range
Sale
ASUS ROG Strix G15 (2020) Gaming Laptop, 15.6" 144Hz FHD IPS Type Display, NVIDIA GeForce RTX 2060, Intel Core i7-10750H, 16GB DDR4, 512GB PCIe NVMe SSD, RGB Keyboard, Windows 10 Home, G512LV-ES74

NVIDIA GeForce RTX 2060 6GB GDDR6 with ROG Boost (Base: 1005MHz, Boost: 1560MHz, TDP: 115W)
Latest 10th Gen Intel Core i7-10750H Processor
15.6" 144Hz Full HD 1920x1080 IPS-Type Display
Last update on 2023-09-26 / Affiliate links / Images from Amazon Product Advertising API
Our second choice is another gaming laptop that offers everything you need to seamlessly run Pro Tools. When you compare the Acer Predator Helios 33 Gaming Laptop with others on this list, it is undoubtedly heavier.
Therefore, it can be classified as a desktop replacement laptop. Nonetheless, if you have a studio space set up, this could be the ideal option.
This Acer Predator features an Intel Core i7 processor which clocks at 2.6GHz. This is certainly enough for basic Pro Tools tasks and much more. This laptop also includes 16GB of DDR4 RAM and provides an ultra-smooth multitasking experience.
With 512GB of SSD storage, you have plenty of space to save your music files and other important documents.
When we consider the connectivity desk of the Predator Helios 300, it doesn't stand out from the rest. However, there are enough ports to connect to a range of different devices.
Included are USB 3 and 2.0 ports, an HDMI and RJ45 ethernet port, as well as a Type C port that has a charging capacity as well. When working off of a network, the connectivity is superb.
The battery backup lasts for up to 6 hours which is excellent when you consider the heavier weight of the laptop at 5.07 pounds.
A 15.6-inch Full HD display panel has a resolution of 1920 x 1080 which gives a crystal clear image, whether you're hard at work or playing your favorite video games.
Pros
Excellent graphics – The screen display is exceptional making those long days in front of the screen just that little bit easier
Backlit keyboard – The variation of colors that sparkle from the keyboard are quite the spectacle as you work or play
Good battery life – Considering its significant size and weight, a battery life of 6 hours is very impressive
Cons
Not the strongest performer – Other laptops are a little more powerful but this can be expected for its price

It wouldn't be a laptop best-of without mentioning the Apple Macbook Pro. Although other laptops have improved dramatically over the years in terms of performance, Apple Macbooks remain some of the best performers, especially when using Pro Tools.
With power and a sleek design, there is no surprise that these laptops have been the creative person's favorite for many years.
The Macbook Pro is powered by an Intel Core i7 9th Gen H-series processor. It has a base clock speed of 2.6GHz but is capable of reaching 4.5GHz. While the 16GB RAM may not sound like enough at first, it is worth remembering that Apple manages its RAM very well.
When you combine this RAM with the 512GB of SSD storage, the Macbook Pro truly shines. The only downside is that you can not upgrade the RAM if required.
The Full HD Retina screen has a resolution of 3071 x 1920 which, as you can expect, is phenomenal to experience. Also included is a dedicated graphics card (AMD Radeon Pro 5400M) and this comes with 4GB of GDDR6 VRAM.
So, if you want to watch movies or play games, your experience will be like no other.
When it comes to connectivity, the Macbook Pro 16-inch is one of the most friendly laptops from Apple. It sports four USB Type C ports as well as Thunderbolt 3 support. Therefore, you can easily connect to different devices..
Pros
Sleek design – Slim and stylish, this Macbook looks great wherever you take it
Long battery life – The battery can last for a whopping 10 hours and 55 minutes so you don't need to worry about finding a power outlet if working in different locations
Universal connectivity – The wide range of ports allows you to connect to different devices with data, power, and MIDI inputs
Cons
Pricey – As with all Apple Macbooks, you may have to save up a bit of cash before purchasing this model
Sale
Apple 2019 MacBook Pro (16-inch, 16GB RAM, 512GB Storage, 2.6GHz Intel Core i7) - Space Gray

Ninth-generation 6-Core Intel Core i7 Processor
Stunning 16-inch Retina Display with True Tone technology
Touch Bar and Touch ID
Last update on 2023-09-26 / Affiliate links / Images from Amazon Product Advertising API
Professional audio engineers will always require a powerful laptop to run all of their software and devices. One laptop that covers all of your bases is the MSI Creator 15M. Not only is this laptop stylish but it contains some of the best specs we have seen.
To begin with, it possesses an Intel Core i7-10750H processor which is more than powerful enough to handle any digital audio workstation and its associated devices. As for Pro Tools, the MSI CReator 15M is the perfect match.
Its featured CPU is down to the laptop's impressive turbo boost frequency of 5GHz. This means it is ideal for synths, presets, audio mixing, editing, and MIDI.
On top of this, there is the Hexa-core processor that manages the hardware impeccably so you won't have to put up with any stutters as you use the laptop.
What excites many creative professionals is the 16GB of RAM. This lets you work with synths in real-time resulting in an excellent laptop for live audio mixing. The storage is just as impressive with its 1TB solid-state drive.
And we can not forget that the SSD helps the laptop boot up faster when using Windows 10 OS.
The display is quite conventional with a 15.60-inch screen sporting a resolution of 1920 x 1080 pixels. While this doesn't jump out at you, the inclusion of stereo speakers with HD audio enhancements will make music production an even more enjoyable experience.
The connectivity of the MSI Creator 15M is pretty standard with Type-A, Type-C, Wi-Fi AC, HDMI, and Bluetooth 5.1 ports. And weighing only 4.1 pounds, this laptop is easily portable and will run for 6 hours from a single charge.
Pros
Top-quality speakers – The stereo speakers give a crisp, clear sound that are ideal for music production when you want to hear the intricacies of different tracks
Lightweight – The laptop is easy to carry and transport when needed
Huge storage space – With a 1TB solid-state drive, you will never run out of storage
Cons
No Thunderbolt 3 – Not able to connect all docks, displays, or data devices to the laptop
Last update on 2023-09-26 / Affiliate links / Images from Amazon Product Advertising API

Having a laptop that is thin and light is sometimes at the top of people's wishlists. And that is above the performance of the laptop. Well, Asus has taken this a step further with one of the slimmest laptops on the market. The Asus Zenbook 15 Ultra-Slim Laptop may be small but it certainly packs a powerful punch.
Powering this feisty little machine is an Intel Core i7-10510U CPU with a clock speed of 1.8GHz. On Turbo speed, this can increase to 4.9GHz. This device holds 16GB of DDR4 RAM which can easily take care of most tasks.
For faster boot-up times and data transfer speeds, 512GB SSD storage is also included. It may be small but its performance management is incredible. This is thanks to Asus' state-of-the-art cooling system.
With its 15.6-inch UHD panel that has a top resolution of 3840 x 2160, you can enjoy a full audio workstation experience without connecting to another display. Unlike most lightweight laptops, the Asus ZenBook 15 laptop has superior connectivity.
It has USB Type C, Type A, and HDMI ports as well as a dedicated media card reader. However, no Thunderbolt 3 support is included.
Weighing just 3.6 pounds, the battery can last up to 10 hours. However, when working tirelessly on editing audio, this battery life may be a little shorter.
Pros
Lightweight – Due to its slim design, there is no surprise that this is one portable machine
Touch supported back pad – This makes it easier to work on, especially when mixing tracks on Pro Tools
Long battery life – With up to 10 hours of battery life available, you can work from anywhere for long periods of time with ease
Cons
No Thunderbolt port included – Unable to connect several devices to the laptop at once so you can't get as much done as you may like
Sale
ASUS ZenBook 15 Ultra-Slim Laptop, 15"FHD Touch Display, Intel Core i7-10750H, GeForce GTX 1650 Ti, 16GB RAM, 1TB SSD, Innovative ScreenPad 2.0, Thunderbolt 3, Windows 10 Pro, Pine Grey, UX535LI-XH77T

Innovative ScreenPad: 5.65-inch interactive touchscreen trackpad that adapts to your needs for...
App Switcher on ScreenPad: easily move docked windows between your main display and ScreenPad...
Handwriting on ScreenPad: Take note or jot down your ideas by writing on the ScreenPad
Last update on 2023-09-26 / Affiliate links / Images from Amazon Product Advertising API
Buyer's Guide
Choosing a laptop is a complicated process at the best of times. When it comes to choosing one that can run Pro Tools sufficiently, there are a number of specifications and features you need to look out for.
Below are some of the key criteria to keep in mind when searching for that new laptop so you can create new music on Pro Tools without any issues.
SSD vs HDD memory
When it comes to memory, you should choose SSD (solid-state drive) over HDD (hard disk drive). SSD provides higher speeds and has superior fragmentation. If HDDs begin to fill up, information can begin to scatter throughout the disk.
Therefore, it will take longer for the laptop to access different files and data. SSDs, on the other hand, do not fragment as the files are not stored in any physical location.
Even if your dream laptop doesn't come with a solid-state drive, you can easily upgrade it. Furthermore, solid-state drives produce less noise than HDD. Even the quietest hard disk drives emit some sort of noise because of the spinning disk inside or the read arm moving.
This can become a distraction when trying to record music where you need absolute silence around your studio space. SSDs have no moving parts and, therefore, create no noise.
Connectivity
You need to ensure you have the right connectivity. Your laptop should at least have a USB and a FireWire/Thunderbolt connection. This is so you can connect audio equipment such as an audio interface

without any issues.
Other features to look out for include VGA and HDMI. However, these are more important if you intend to use a secondary screen for making your workflow a little easier. You should also think about a PCI express expansion port (PCIe). This is if you want to make a bigger audio studio with a PCIe card.
There are so many connectors to consider. Some others include:
eSata
RJ45 Ethernet
Card readers
The more connectivity options you have, the better your recording and user experience will be. We recommend avoiding manufacturer-specific ports and choosing international standards (as above) so you have a better chance of connecting more devices.
CPU and RAM
You should focus on the CPU and RAM, especially the performance of the laptop's RAM, the speed of the processor, and how fast the DAW can access storage from the SSD or HDD.
While a good graphics card is always useful, it is not a priority when using Pro Tools. What you do need is a speedy CPU performance, ideally across different cores. You will also need RAM but not too much.
We believe 16 to 32GB is more than enough for most music producers. Don't worry too much about the speed of the RAM unless you intend to game frequently on the laptop too.
Frequently Asked Questions
What are some of the "must-have" features for music production?
This depends on how and what you record. One thing you will certainly need is good connectivity. You will need different ports to connect various audio devices and MIDI. Without enough ports, you will struggle to record different instruments and use various devices.
For audio recording, we recommend a laptop that also supports HDMI for extended screens. This makes the process much easier in the long run. Unsure if you need the internet to run Pro Tools? Learn more in my article about it here.
Are Pro Tools laptops more expensive?
Compared to standard laptops, Pro Tools models are more expensive. Why? This is mainly down to the hardware that is installed in these products. Pro Tools is software that needs multiple resources to function. One being, a strong process power.
When you include an i7 processor, the whole package can cost a lot more than your regular work laptop.
Is Mac or Windows better for Pro Tools?
There used to be no competition as Mac was unbeatable. However, recent years have seen other laptops improve significantly.
A Macbook is best if you don't game, prioritize your privacy, and you are happy to spend more.
Windows is best if you want to play games regularly, don't mind compromising your privacy, and want cheaper services.
Was this article helpful?
Recent Posts
link to How To Allow QuickTime To Access Microphone 🎙️  
QuickTime is a vital app for many Mac users, and if you've recently bought a new microphone, you might wonder how to use it optimally. QuickTime cannot record audio content if it doesn't have...
link to How Do I Test My Microphone? 🎙️
Every microphone leaves a unique signature on the quality of its output. If you're a podcaster trying to melt your way into your audience's hearts, a muddy, distorted recording won't cut it....