Universal Audio is arguably the most popular manufacturer of some top-of-the-line plugins and audio hardware. Their classical instrument-inspired physical modeling, while not so revolutionary, has become synonymous with quality within the audio industry. Their products have a reputation for being easy to use while still offering powerful sound processing capabilities on par with high-end signal processors.
Universal Audio plugins are so expensive for many reasons, including partner licensing and costs of research & development investments that don't reflect directly on the price tag. But all things considered, UAD plugins are some of the best sounding plugins of our time.
Unfortunately, almost nothing about their product line comes cheap. Some of their plugins (and hardware) can cost as much as the increasingly rare classical instruments themselves – which might initially seem a little bit outrageous. In this article, I'll try to help you see why UAD products are so expensive and if they're actually worth it.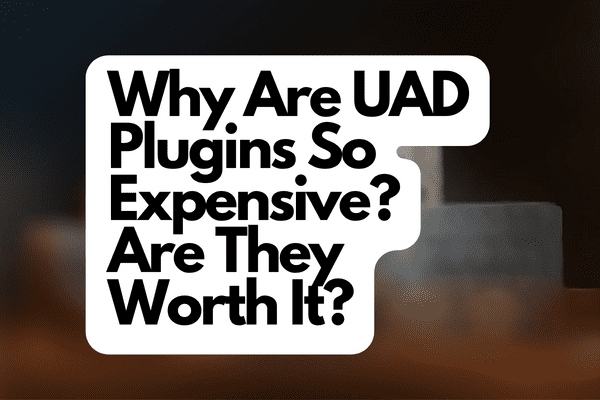 Reasons Why UAD Plugins Are So Expensive
UAD plugins

aren't cheap, and there are many reasons why. Unfortunately, when it comes to high-quality audio equipment, you have to expect to pay a pretty penny.
However, before investing in this costly equipment, it's essential to understand why it's so expensive and determine if the price is worth it to you.
UAD Has a Good Reputation and Market Position
While Universal Audio is a rather smaller company than you would expect it to be, it has become incredibly successful due to the high-end audio industry's thirst for quality audio gear. And, because of the company's reputation and position in the market, it's easy to see why it charges higher prices for its products to cover the cost of research and development.
That's right. Universal Audio employs a lot of research and development (R&D) to make its products as great-sounding and natural as possible. Behind the scenes, UAD seeks partnerships with original manufacturers to design plugins that sound exactly like the original instruments (which we'll get to in a moment).
While R&D doesn't directly translate into a product's price tag, it does cost the company money, and they need to charge enough to cover it.
UAD Products Include High-Quality Audio Equipment and Development Investments
UAD plugins are largely expensive because of the high-quality audio equipment and heavy investment in the development that goes into them. Real audio equipment (guitars, amps, compressors, instruments, etc.) can be costly alone, especially when hunting for quality above the price. But beating the high-end audio that UAD plugins are known for is even more expensive.
Let's take an example: the UAD-2 DSP Accelerator

– the one that does almost all of the heavy lifting in processing audio – costs a little over $1200 alone. That's the price of the inputs and outputs included, along with the data transfer paths and other special circuitry that makes UAD stand out from the rest.
The price of audio interfaces, like the Apollo series

, which is compatible with UAD plugins, can also vary widely depending on how many channels, preamps, inputs, and outputs are included. Because these are all necessary parts of high-end audio production, they cost a lot of money to produce.
Licensing and Partnership Costs With Original Instrument Makers
Another reason UAD plugins are so expensive is the process of bringing older hardware into the digital world. When a company develops actual hardware, they design it to their specifications, making it their own unique product.
When switching the hardware to a digital format, the company has to either design a new piece of hardware or create plugins that mimic the functionality of the hardware. The latter is a long, expensive process that costs a lot. This is probably why many hardware manufacturers have not yet started creating plugins for their physical gear. It's also why plugins that imitate hardware are so expensive — they need to be designed from scratch.
And that's where UAD thrives. If you're keen on UAD press releases, you probably saw the release of the Neve Summing Extension

developed in partnership with AMS Neve. The extension emulates the Neve 80 series console circuit, including its vintage appearance. Many other plugins have been produced this way, and we are yet to see how full-scale physical modeling will impact professional audio as we know it.
UAD Plugins Are Based on Original Hardware
UAD plugins are based on the original hardware. The company's mission was and still is to preserve classic and vintage equipment and provide plugins that can give you the same sound as those classic pieces of equipment, guitars, and compressors.
Their plugin line-up includes everything from vintage guitar amps to high-quality reverb units. If you're looking for something specific, there's a good chance that UAD has it covered. For instance, the 50-watt Friedman Buxom Betty

guitar amp UAD plugin took significant time and effort to design, keeps your tunes latency-free and adds filters, overdrive textures, and a bunch of other amazing features.
The only problem is that these plugins can be quite expensive to purchase individually since they cost anywhere from $50-$600, and a complete bundle

goes up to $10,000!
UAD Plugins Aren't Just Software; They're Part of an Ecosystem
Remember that the original hardware was a modular system that could be configured in various ways? Until recently, many plugins had limited features, and the configurations were predetermined. The user couldn't change the setup as they wished. But when UAD transitioned from hardware to software, they wanted to ensure that the same functionality was available.
This meant creating a modular platform that allowed users to change how the software functioned. Doing so would require the plugins to work intimately with the accompanying – and this doesn't come cheap. This would also mean that every single UAD plugin would be different depending on the instrument it was emulating.
The plugins would also have to be fully customizable like the instruments they emulate. New features would be added to the plugins as time passed, and the designers wouldn't be done with the plugins. The result? A UAD ecosystem that would see plugins work in tandem with the incorporated DSP and interfaces.
UAD Includes a DSP Acceleration Feature
UAD DSP acceleration is a feature that can be activated to increase their efficiency in the digital world. What is DSP acceleration doing for you? Well, it's drastically reducing the time it takes for your computer to process the plugin by performing certain calculations without eating up too much computer space.
And since UAD plugins can be tasking in the processing phase, the DSP acceleration makes them more efficient by "supercharging" your system to run larger calculations. You'll also notice that your computer isn't running as hot when you're using DSP-accelerated plugins. This means fewer fans spinning, which results in quieter sessions and extended computer life.
As you may have guessed, this sheer quality, efficiency, and performance also add to the price.
UAD Computer Hardware Requirements
Although this doesn't add directly to the cost of the plugins, failing to meet these requirements can throw you off-budget in the long run. When purchasing UAD plugins, you'll notice that some have specific computer hardware requirements

. These are necessary to ensure that your computer can handle the plugins efficiently.
In fact, if you don't have the correct computer hardware, your plugins won't work at all. If you want to purchase your first UAD plugin, you'll have to ensure that your computer meets the minimum hardware requirements. It's important to consider this when buying plugins, as you may need to upgrade your computer in the future.
Keep in mind that the more plugins you have, the more processing power you'll need. This can reduce the lifespan of your computer and cause it to overheat — and that's not good for anyone!
UAD Plugins Are Totally Worth It, but Only for Certain Producers
Now we've explored all of the reasons why UAD plugins are so expensive, and you may be wondering if the cost is worth it. Well, when you compare the price to the functionality and quality of the plugins, there's no question.
Let's look at a few examples of why UAD plugins are worth the investment. The Realverb plugin

is designed to sound like real spring reverb units. The designers had to break down real spring reverb units and understand how they work. Again, this process took a lot of time and resources, but the result is a plugin that sounds just like a real spring reverb unit.
It's important to remember that performance also depends on the producer. If you're a beginner producer just starting out, UAD plugins are likely not worth it.
However, if you're a seasoned audio engineer or producer who knows how to make the most out of UAD plugins, they're almost definitely worth it.
If you're a beginner producer, you likely don't know enough about audio engineering and how to make the most out of UAD plugins. This means you won't be getting your money's worth out of the plugins. A beginner producer would likely get more bang for their buck by buying a cheaper but still high-quality plugin.
Other UAD Plugin Alternatives
There's no doubt that Universal Audio plugins are some of the most (if not the most) popular audio plugins out there. They're widely used in many homes and professional recording studios. These plugins are not only capable of adding a lot of character to your mixes but also provide you with high-quality processing with minimal noise and distortion.
Each UAD plugin has its own set of parameters that can be tweaked to change its sound. Their user interfaces are simple, intuitive, and easy to understand, which is why using UAD plugins for mixing is so great. Unfortunately, not everyone can afford the cost of their licenses or their hardware implementation.
Thankfully, there are many alternative options out there to give you the same incredible UAD sound at a more affordable price.
Built-In DAW Plugins
DAW built-in plugins come in wide varieties. You can find plugins that can serve as reverb, compressor, distortion, equalizers, and many more. These plugins come with a variety of parameters that you can tweak to control the reverb's sound, such as the reverb length, dampening, and decay.
For example, if you use Logic Pro

, then you're already using Logic's built-in EQ and compressor plugins since they come included with the software. If you're using Ableton Live, then their built-in EQ and compressor plugins will suit your needs just fine. The same goes for any other DAW software that comes with its own built-in plugins.
The only problem here is that these stock plugins may not give you the best possible sound quality compared to third-party options. At least when it comes to compressors, some experts always recommend using third-party options, as they offer a more transparent sound when compressing audio tracks compared to their built-in counterparts.
UAD Alternatives for Compressor
One of the best compressor alternatives would be the FabFilter Pro-C plugin. FabFilter Pro-C is a high-quality compressor plugin that's easy to use and gives you professional results fast. It includes:
Interactive MIDI Learn.
Up to 4x oversampling.
Metering with real-time displays.
The metering options give you a clear overview of the dynamics, while the interactive display helps you find the perfect setting.
UAD Alternatives for Delay
One UAD delay alternative that might just be the secret sauce to your tracks is the Soundtoys EchoBoy

. It may not have a complicated interface like other premium delay plugins, but it has 30 different styles of echo effects modeled on vintage gear that are enough to get the ball rolling.
It's also easy to use, versatile and houses a deep library of classic echo box tones, including:
EchoPlex.
TelRay.
Memory Man.
DM-2.
Space Echo.
UAD Alternatives for Reverb
If you're looking for UAD alternatives for delay and reverb, the Valhalla Room

might just be what you're looking for. ValhallaDSP is the universe's most versatile reverb processor.
With a rich collection of twelve original algorithms, it's easy to find the perfect reverb sound for your project. ValhallaDSP provides a traditional hall, room, and plate sounds with a few special effects thrown in for good measure.
UAD Alternatives for EQ
If you're looking for UAD alternatives for EQ, there are many options that you can choose from. One of the best choices would be the Melda Production EQ

plugin. The five-band equalizer offers more control over different types of EQ devices. It's cheap, though, so the output quality won't stand up to UAD plugins.
Conclusion
While UAD plugins are worth it for certain audio engineers, they can be way too expensive for someone who just got into audio. If you're a beginner producer, you might want to start with a cheaper, albeit less powerful, option.
However, if you're a serious audio engineer, UAD plugins could be the perfect addition to your studio.
References
Was this article helpful?
Recent Posts
link to How To Allow QuickTime To Access Microphone 🎙️  
QuickTime is a vital app for many Mac users, and if you've recently bought a new microphone, you might wonder how to use it optimally. QuickTime cannot record audio content if it doesn't have...
link to How Do I Test My Microphone? 🎙️
Every microphone leaves a unique signature on the quality of its output. If you're a podcaster trying to melt your way into your audience's hearts, a muddy, distorted recording won't cut it....