We all know that there are gears which are a must for a recording studio. And there are those which are not a must for a studio.
Then, there are those gears which can help you improve your home studio and enhance the capabilities of your gears.
So, I will be listing the best 15 products for your home recording studio which will surely help you a lot.
I can guarantee you that the products that I have listed will help you improve your studio as much as possible. You will also learn how they can help you in improving your studio.
Note: This is not a guide on improving the studio. It's just a list of the products that can help you do it.
The Best 15 Products
1. Power Attenuator
Are you an owner of an electric guitar? If you are then it can be quite annoying when you play the guitar.
I think you can relate to what I am talking about. Yes, I know it sounds good for you and your ears.
But, it is very annoying to the ears of your neighbors and other family members. And you need to do something about this.
On the other hand, let's say you have a well-soundproofed home studio – you will still need to remove the excess signals coming from your amp.
As it can be quite annoying sometimes. And I think for most of the cases you won't have a well-soundproofed studio.
This is where the Power Attenuator comes in. It will help you cut off the excess or unneeded signals from the amps before going into a speaker.
The best part is that it will still maintain the maximum tonal potential of the signals coming from the amp while keeping the volume at a lower level.
So, it's a win-win situation for you and your studio.
One of the best Power Attenuator is Riveria Rockcrusher Power Attenuator. It is an example of one of the most commonly used Power Attenuators.
2. Diffusers
It is a critical part of the puzzle when you build a studio. Many a person leaves out this thing when they built their own thing.

Yes, you can forget about this and not include it in your setup if you use only headphones.
But it is a must if you are using a pair of monitors. A poorly treated environment while using monitors will amount to nothing good.
It's even safe to say that the monitors won't do its job at all.
You should use Diffusers to make the sound reflections distribute evenly inside the room. And should be kept at the live end region of your room.
Even distribution is very necessary for a good recording studio. You can build diffusers yourself by mimicking the features of a diffuser – like using a bookshelf.
But, it won't be that effective as that of a dedicated one.
3. DI boxes (Direct Injection)
DI boxes are used mainly to convert an unbalanced signal to a balanced signal.
It can convert the high or instrumental level signal to mic-level signal which can be fed directly to a mixing console.
If you go to gigs or perform live, this piece of box can help you a lot. As it can split the instrumental level signal into two outputs.
One to an amp and the another to a mixing or recording console.
It will also remove the humming and buzzing effects created by the interference of the magnetic fields of the live wires.
We highly recommend the Whirlwind IMP 2; check out the review here!
4. Reflection filters
Reflection filters are the piece of gear that you can put on the rear of your mic.
It is to prevent unwanted sounds reflected from the back walls or elsewhere from entering the mic. As this will mess up everything while recording.
Vocals mics nowadays are very sensitive and can pick up even the slightest change in the characteristics of the waves.
So, this is a recommended piece from my side. Yes, you can still manage without this using the unidirectional mics.
But, still you can't prevent others coming from the other sides.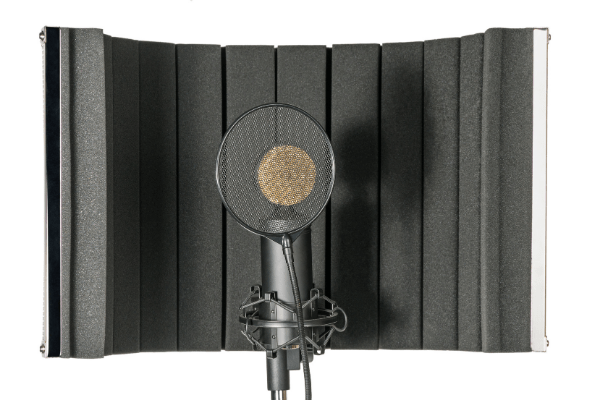 5. Virtual Instruments
You may be thinking that it's not that of a big deal, but to be honest this is a must for your studio.
If you are multi-talented then it might be ok for you. But I think that it won't be the case for most of us. I am not multi-talented.
I can't play all the instruments effectively. So, this is where virtual instruments can play a very important role.
You can always get these virtual instruments for the price of a single original instrument. It will be easier for you too.
Just choose the instrument you need and get a virtual instrument of it. It is also too easy to get hands-on with one of them as there are plenty of them.
Check out our picks for the best acoustic guitars for recording here!
6.Cross Feed Plugin for Headphones
This is a must for those who use only a pair of headphones to produce a mix or record.
If you want to produce a mix that will sound great on any playback device or in any situation, then you should get one of these.
Mixing only on a pair of headphones is very easy to mistake the quality of the track. It is because in headphones the music is pumped right into our ears.
And this won't be the case for other listeners. Some of them will listen on different devices, so you need to experience your music like that of a real-life scenario.
That's why monitors are there. As you don't have monitors, we have to try and mimic the situation.
This will mix the right and the left audio channels to mimic the effect produced by that of a pair of monitors.
It won't be the full 100% effect but still it's better to have it.
7.Bass Traps
Bass traps are added inside the studio mainly to fight the low frequencies that are present inside the room.
They are placed at the corners of the room as these are the regions where the low frequencies build-up happens.
Low frequencies are also quite difficult to pick up with our naked ears and you need to combat this type of frequencies when you are treating your studio.
The good thing is that Bass Traps are not expensive and you can always add a couple of these at the corners.
8. Snake Cables
This is a must if you have many input cables inside your studio. If you don't have that much gear then you don't need this.
A snake cable with 8 or 16 channels will be enough for your home studio. You will see snake cables with more than 16 channels.
This type of cable with more than 16 channels will be common at big studios, pro studios, and live concerts. You might have seen them too.
To put it simply, it is a single audio cable that is used to connect audio devices together. One of the main things you should consider for your cable management.
Seismic Audio Speakers 12 Channel Low Profile XLR Send Circuit Board Snake Cable, XLR Splitter Cable, 50 Feet
Low Profile Snake Cable: These Snake Cables from Seismic Audio Speakers feature a low profile stage box, reducing the footprint. This snake cable is rugged enough to handle whatever you throw at it - road ready and built to last.
Circuit Board Snake Cable: With circuit board technology you are ensuring a solid connection with your connectors. Each pair of heavy duty conductors is individually shielded, yielding crystal clear sound while rejecting outside noise.
XLR Splitter Cable: The nickel plated XLR connectors on the returns make this snake cable fit right in with professional power amps and mixing consoles without the need for converters or couplers.
Last update on 2022-12-07 / Affiliate links / Images from Amazon Product Advertising API
9. U.P.S (Uninterruptible Power Supply)
You all know this thing and if you live in a place where there are constant blackouts you will know the importance of having one.
Yes! I live in one of such regions and I had to combat these constant blackouts.
Even if you don't experience this kind of thing, you should really have one of these. It will become your lifesaver if blackouts occur out of nowhere.
This will help you save your work in progress if something happens to the power at your home. Think about it if you happen not to have one of these.
You have to start all over again and you might lose some of the originality too.
UPS acts as a Backup power supply for a short period of time, during which you can safely shut down your gears by saving your work.
So, better get one of this when you have some extra cash.
Want to Setup your Home Recording Studio Under 400$ or Under 1000$! Then you can Learn More about Some of the Best Setups for different price ranges we have prepared for you!
10. Power Conditioner
Well UPS will provide backup power, but what about the uneven power supply. There can be sudden spikes, surges, and decrease in the power supply.
This is a nasty thing and it could damage all your devices. You don't want this to happen to your gears.
They will also protect your devices from other disturbances such as electro-magnetic interference and radio frequency interference.
Which will harm your audio devices and create unwanted noise at your records.
There are a number of Power Conditioners out there. You can just check the price and get an idea of the price range.
Rockn Stompn 2022 RS-4 Power Sequencer and Conditioner
2022 RS-4 is a guitar amp power strip, 8-Outlet, 15 Amp, 2150 Joule Surge Protector, Power Conditioner, Power Sequencer with heavy duty Hubbell receptacles in a indestructible steel enclosure with a 17 foot power cord.
Engineered to be the best home sound studio power management system, that loves to go out on gigs.
In the Studio, you can choose from four sequencer modes of operation. Standard Mode, Instant On Mode, Receptacle One Always On Mode, Timer Mode. You configure the RS-4 unit to meet your studio's current power needs , and in the future as your studio changes and evolves.
Last update on 2022-12-07 / Affiliate links / Images from Amazon Product Advertising API
11. Multiple Output Monitor management system
If you are a small home recording studio, you are planning to upgrade your studio.
And one thing you should include is a Multiple Output Monitor Management System so that you can do a cross-reference check on different playback devices.
As I mentioned above on the crossfeed plug-in part, having a check on different payback devices is a must for your recording or mix.
You need to make sure it sounds good. And most of the Audio Interfaces don't have this, but it's an important piece for your studio.
There are various types of them for a wide range of price. I will list two of them which are commonly used :
Behringer Minimon MON800, one of the best for the price range.
Mackie Big Knob, a little bit expensive but has a better layout and user-friendly
Last update on 2022-12-07 / Affiliate links / Images from Amazon Product Advertising API
12. Isolation Pads
It is a basic pad to separate the monitors from the desk. It will help us prevent the transfer of low-frequency vibrations form the monitors to the desks.
A small, but still significant thing that you should take care of if you want accuracy in your recordings.
13. Weatherstrip
One of the most commonly and widely used soundproof material for doors. It is a soundproofing device that are kept under the doors.
The little region that is open under your door will be your enemy when you soundproof your room.
Moreover, the thing is that you can't completely fill that portion too as you have to use the door. So, you need something that you can put there and take it off whenever you like it.
Therefore, a Weatherstrip which you can plug in and plug out whenever you like it, is a must to block that portion.
Last update on 2022-12-07 / Affiliate links / Images from Amazon Product Advertising API
14. Soundproof Fibre Glass for windows
You read it correctly, soundproof fiberglass for your windows. If you don't have a window(s) on your studio, then you don't need this.
If you are someone who needs light from outside to get the feels or you might have windows as your room is not a professional one.
The simple window glasses are not meant for soundproofing. And you need to get a soundproofed one.
When you replace the glasses, let an expert do it and make sure they don't leave behind any openings on the edges of the windows.
15. Soundproof Blanket
A soundproof blanket can be used on your doors or windows or even walls (though I don't recommend it).
If you have a solid core door, then it's ok as most of the sound will be naturally blocked by itself.
But if you don't have a solid core door, then you should hang one of this on the door and make it cover the door region.
It will prevent the unwanted sound waves from entering the room and also prevent the inside sound from leaving.
It's more of a DIY way to soundproof your doors if you don't have a solid core door.
Get a Soundproof Blanket that can entirely cover your door and then cut it to the dimensions of your door. After that, you can just hang it in front of the door.
If you want to know more about soundproofing, you can check my article on Soundproofing a Home Studio
Last update on 2022-12-07 / Affiliate links / Images from Amazon Product Advertising API
Audio interfaces are worth looking into too! Check out how the Native Instruments Komplete Audio 2 compares to the Focusrite Scarlett 2i2 here!