Hello everyone! I hope this finds you well! Today I'm super excited because this article is a little different… I get to talk to you about one of my favorite subjects—ACOUSTIC GUITARS!
Obviously, I am very into recording, and I love that subject matter and anything having to do with it, but I am a musician first. I grew up playing the guitar, I still play professionally, and I've played for over 30 years. Sometimes in the excitement of learning about recording, getting into gear, and all of that, we lose sight that the instruments themselves are, of course, KEY to getting a good recording.
For me, nothing is better than the sound of a well-performed acoustic guitar. I LOVE watching quality players, especially intricate right-hand work in Tommy Emmanuel or Chet Atkins' vein.
Guys like that are just monsters, and I am in awe of their technical prowess, skill, and creative ability. Players like that can make ANY guitar sound good. It's like the golf analogy I used recently in an article—Tiger Woods would be fantastic with any set of golf clubs—it's the skill and talent, not the gear.

BUT… that having been said, if you want to capture a quality recording, you're going to need a quality instrument. As we discussed last time in the article about the best microphones to record an acoustic guitar, the guitar is a really complex-sounding instrument.
Capturing it isn't easy, and at the very least, it will require a lot of experimentation with placement in your room, mic choices, placements, and techniques.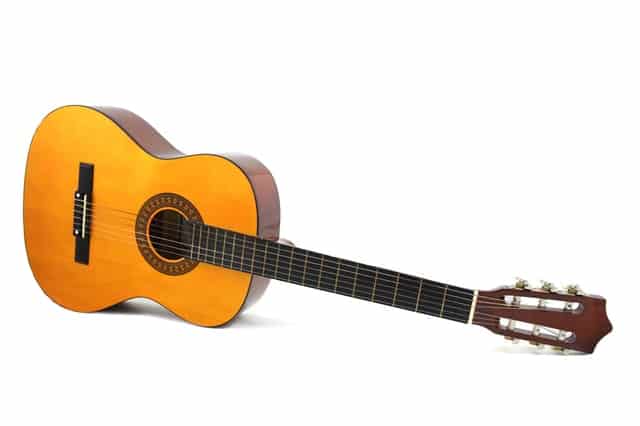 Best Acoustic Guitars For Recording for Different Price ranges
For our comparison, I want to limit things to guitars under $1,000. (All of my choices are actually under $800.)
Last update on 2023-12-08 / Affiliate links / Images from Amazon Product Advertising API
The idea is that we want to limit things to the best AFFORDABLE guitars for the home studio. Because there are just SO MANY choices, I'm going to limit things further. All the guitars in this list will be:
Under a grand
Steel string models
Six string models
With a focus on UNPLUGGED sound. Some of them might have pickup systems, but my opinion is that those systems are for LIVE performances, and I never use the pickup sound when recording. They sound like crap and there's no point to it.
Those are my criteria. A great acoustic guitar should have the best unplugged sound you can find, it should be comfortable to play, and it should of course be within your budget.
I never advocate that someone go into a ton of debt and buy a nicer instrument than they can afford—it's not necessary and it's irresponsible to do otherwise.
So, here we go!
Budget Acoustic Guitars
In this category you can actually find some pretty nice deals! I worked in a guitar store for several years and sold a lot of these particular models.
This is a popular basic model that features a Sitka spruce top, nato/okume back and sides, and a nato neck.
It's a fine example of what manufacturers are having to do now—supplies of mahogany are becoming increasingly harder to find, and newer wood sources are being used.
To be honest I have no idea what nato/okume wood is, but since it's replacing mahogany (the wood of choice for decades) I have to assume it's close in feel and tone.
If you're just starting out as a player and recordist, this is a great model. It has a nice balanced tone, is punchy and it'll cut through a mix. The FG series is the best-selling series in the world. A nice starter guitar.
Sale
Seagull S6 Cedar Original Slim Acoustic Guitar, Rosewood Fingerboard, Natural Semi-Gloss

New Deep Dark Custom Stain on Wild Cherry Back and Sides
New Custom Pick Guard
Solid Cedar Pressure Tested Top
Last update on 2023-12-08 / Affiliate links / Images from Amazon Product Advertising API
What We Don't Like
As with any guitar in this price range, you're going to sacrifice in quality. The low end is a bit boomy and uncontrolled. But that's what it is
Takamine GD-20 NS
Moving up a notch brings us to this wonderful Takamine. I LOVE Takamine guitars—I bought mine in 1989 and have used it ever since. They are really nice and easy to play, they sound great, and they are popular with pro players all over the world.
A real workingman's guitar. This particular model has a cedar top (which sounds a bit warmer than spruce), mahogany back and sides and a rosewood fingerboard.
It is a classic in the "dreadnought" style, with a nice big body for clear projection, good bass resonance and a solid clear tone.
Guitars like this (modeled on the famous Martin D-28 which isn't on our list because they cost thousands of dollars!) have a classic tone that you'll recognize instantly and that will fit into your mix easily without a lot of fuss. For three hundred bucks you can't go wrong here I think.
What We Don't Like
Not that it's applicable here, but I've never been a big fan of the basic Takamine pickups, unless you get their more expensive Fishman models.
Washburn Festival EA-15
This fancy guy has a flame veneer maple top, catalpa back and sides and a mahogany neck. This is a "mini jumbo" body style and shape, which is known for its punch and projection.
This one features a "cutaway" lower horn, which means you can access the upper frets for some awesome lead work. I'd like to think of it as a "high end budget guitar".
Washburn is a great brand that has been around for over a hundred years, and they know how to built a great guitar. You'll really enjoy playing this one!
What We Don't Like
I'd rather get actual mahogany than replacements for it, like catalpa.
Mid Range Acoustic Guitars
In this category we take it a step further price-wise and look at guitars a little further up the ladder, if you will. Guitars in this category likely have slightly better woods and construction, more extensive electric packages and some fancier detail work.
Epiphone Hummingbird Pro
This model is based on the Gibson company's far more expensive flagship Hummingbird model, which sells in excess of $4,500.
It features a solid spruce top, mahogany back and sides, a mahogany neck and a rosewood fingerboard. The inlays and pickguard are instantly-recognizable and classic in design, and the guitar not only plays well but is a total looker as well.
Plus it has the onboard Shadow ePerformer preamp system, which has active electronics and an onboard EQ section as well. Hummingbirds (both Gibsons and Epi models) are known for their rich, warm tone, and they sound really great for strummed work and singer-songwriter applications.

This is a beautiful guitar and is great value for the money.
What We Don't Like
Honestly, despite the great look of this guitar, the Epiphone headstock look has never been my favorite. I wish they'd do an "open book" look like the classic Gibson.
Fender CD-140SCE
This model is the only Fender on the list. Known more for their electrics, obviously, Fender still makes a nice range of acoustic guitars.
This model features a spruce top, ovangkol (another mahogany replacement) back and sides, mahogany neck and rosewood fingerboard. Onboard Fishman-brand electronics complete the package.
It's a classic dreadnought-style axe that has a nice full midrange and solid low end, and is very playable. The Fishman pickup is a nice add-on for doing live gigs.
The Fishman is great! I also like that you can get a 12-string model (none other on our list has this option) for the SAME PRICE, which is an insanely-good deal.
Fender CD-140SCE All-Mahogany Dreadnought Cutaway Acoustic Guitar, with 2-Year Warranty, Natural, with Case

Single-cutaway dreadnought body style
Solid mahogany top with scalloped "X"-bracing
Mahogany back and sides
Last update on 2023-12-08 / Affiliate links / Images from Amazon Product Advertising API
What We Don't Like
As I've mentioned earlier, I prefer actual mahogany. But the fact is, that's getting harder and harder to find and use these days.
Ibanez AE245JR
This guitar is the only one on the list that is a 3/4 scale model, which means it's slightly smaller and easier to play for younger people or folks with smaller hands.
3/4 models still put out great tone, like this one. It's pretty much all mahogany—top, back, sides and neck, so it'll put out a deep, resonant tone. Call it "mellow", if you'd like. It is REALLY easy to play, as a 3/4 scale length means you don't have to press the strings down quite as hard—great for beginners and people not meant for the NFL haha.
It's a great-looking guitar, reminiscent of a Taylor, and is nice and compact.
What We Don't Like
Mellow tone doesn't work in all situations, and I wouldn't pick this guitar as an all-rounder.
Seagull S6 Cedar Original
Seagull makes some great guitars, and their work with cedar wood is the industry standard. This guy has a cedar top, cherry back and sides, maple neck with a rosewood fingerboard.
This one doesn't have electronics which is actually nice, since it means 100% of what you're paying for is the wood and construction of the actual acoustic guitar.
The cherry back and sides give this guitar a nice warm, detailed sound, which sonically comes in somewhere between the darkness of mahogany and the brightness of maple. The modified dreadnought style of the guitar reduce the bass boominess that body style can sometimes overdo.
The cherry wood really gives a balanced tone that's great for a variety of different styles of music.
Sale
Seagull S6 Cedar Original Slim Acoustic Guitar, Rosewood Fingerboard, Natural Semi-Gloss

New Deep Dark Custom Stain on Wild Cherry Back and Sides
New Custom Pick Guard
Solid Cedar Pressure Tested Top
Last update on 2023-12-08 / Affiliate links / Images from Amazon Product Advertising API
What We Don't Like
This guitar features a "TUSQ" nut, which is a plastic meant to replace the more expensive bone nuts regularly found in more expensive models.
I've found the TUSQ to be too soft and have had all of mine replaced with real bone for better tuning stability and action.
Top Shelf Acoustic Guitars
This category features the most expensive of my recommendations to you, although all of them are relatively inexpensive at under $800. Nicer (and solid) woods, some handmade constructions and prettier accoutrements begin to reveal themselves at this price point.
Epiphone Masterbuilt DR-500MCE
This model is ALL solid wood, which is a departure from a lot of the laminated sides and back that usually feature in less-expensive models. It has a distinctly vintage (read: rounded top end) tone that is big and balanced, and sounds great for both strumming and fingerstyle.
It has a premium electronics package too, with a spruce top, mahogany body and a glued dovetail neck joint. This is a really nice guitar, with a big sound that is a real workhorse.
Quite a bit, actually! This guitar sounds and plays great, and will do a fantastic job in a number of studio applications where an acoustic is called for.
What We Don't Like
Not too much!
Martin DSR2
This is a great entry-level Martin, the king of the acoustic guitar makers. This guitar has a sitka spruce top, solid sapele back and sides. Bright, clear trebles, a warm midrange and punchy lows are the order of the day here.
You can't go wrong with a Martin, even at the lower end of their catalog, and this guitar will be a nice affordable substitute until you've gotten your law career off the ground and can afford a D-28.
It's a Martin! It's a great, balanced guitar and is going to be great no matter what you're recording.
What We Don't Like
This particular model can be hard to find.
Taylor 114ce
This guitar is really great. Solid sitka spruce top, layered walnut back and sides, maple neck, ebony fretboard.
This is an example of Taylor's distinctive Grand Auditorium shape, and will really project an awesome balance of both warm lows and sparkly top end. I like to think of this tone as "lively", and have always been impressed with how versatile it is.
Taylor guitars are SUPER easy to play. The action on them is always great, they stay in tune and they are just so so comfortable. Plus they sound awesome.
What We Don't Like
There's not much to dislike about a Taylor! I guess I'll say the electronics, which I've found to be particularly fussy, but that doesn't matter much in a recording setting.
Our Overall Winner for the best acoustic guitar
So which of these guitars "reigns supreme"? Which would I personally choose as my desert island guitar? Keeping in mind the purpose of the list is to choose a guitar for RECORDING,

I'm going with…
The Taylor 114ce.
I LOVE Taylors. They sound great, they look great, and they are just so so versatile. The 114 is a great entry into the world of Taylors, and if you had one acoustic guitar in your studio, I'd make it this one.
Acoustic Guitar Buying Guide
As a little bonus, let's talk quickly about how to go about buying an acoustic, choosing one you want and not overpaying for it.
There are obviously a lot of considerations that go into buying any guitar. Like a car or a house, they can be really expensive and are thus worth taking some time over.
For me, nothing beats actually trying them out before you buy. While online shopping has become the standard for a lot of things, it's still nice to go to an actual guitar store (preferably a little shop and not a big box store like Guitar Center) and sitting down and playing.
Keep these things in mind when you buy:
Does the guitar fit your price range? First and foremost, if you can't afford it or get someone to buy it for you (joking, mostly), there's not much upside in buying a really expensive guitar. Find something that works for you in your price range.
What is the purpose of the guitar? Are you going to be doing fingerstyle playing? Are you a heavy strummer? Pick a guitar that is strong for the type of performer you are.
ASK QUESTIONS. That's definitely the bonus with going to a real shop. Talk to a real expert. Ask them if this combination of woods is good for what you want to do. If you have smaller hands ask if a given model is appropriate. Leverage their experience and get their advice to choose the right guitar for you.
Don't be hesitant to bargain a little, especially at a mom and pop shop. Sticker price is usually at least somewhat negotiable in these places. Don't be rude and ask for half off or anything, but sometimes you can get a free set of strings and a gig bag thrown in, if you ask nicely enough.
The important thing is to take your time, and find the guitar that SPEAKS to you. Believe it or not, often times it seems a guitar chooses the player, rather than the other way around.
Find that one that's easy to play and resonates with YOU, and I guarantee it, you'll know it when you find it.
Good luck, happy picking and happy recording!
Was this article helpful?
Recent Posts
link to How To Allow QuickTime To Access Microphone 🎙️  
QuickTime is a vital app for many Mac users, and if you've recently bought a new microphone, you might wonder how to use it optimally. QuickTime cannot record audio content if it doesn't have...
link to How Do I Test My Microphone? 🎙️
Every microphone leaves a unique signature on the quality of its output. If you're a podcaster trying to melt your way into your audience's hearts, a muddy, distorted recording won't cut it....