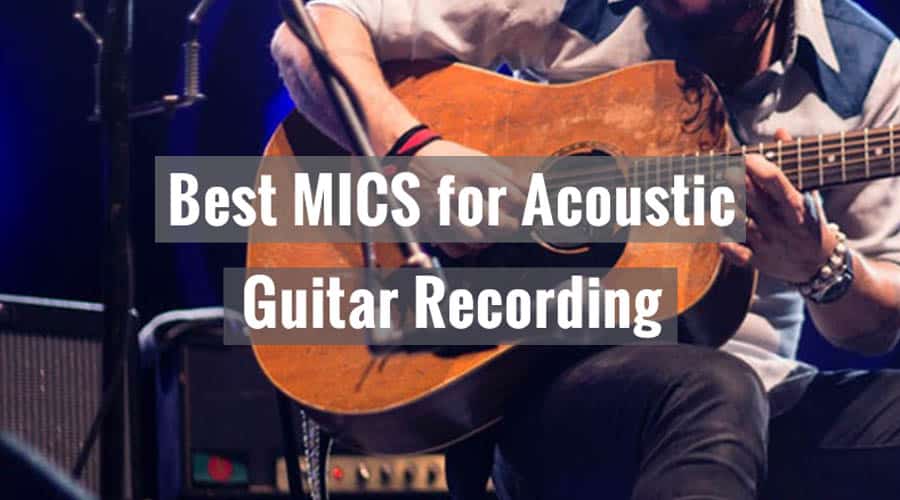 In this article, I'd like to take some time to talk to you about specific mics that I find help get a great acoustic guitar sound. We'll take the techniques we learned in the last article and apply them here, using specific microphones to fit our own best situations.
As we usually like to do, I'll divide the mics into three categories, based on price.
The first category is for mics that cost less than $150.
The second category lists some mic choices between $300-400, and
The third and final category gives you some mic choices in the $500 and over category.
I've given choices for both small and large-diaphragm condenser microphones, as well as a dynamic model that you should all be familiar with by now! (If not then, you can check our post by clicking here

)
And here is a quick rundown of the microphones that we are listing:
Of course, there are a lot more mics out there to use, many of which cost a LOT more money than even my top category here. I am not focussing on those mics, not because they aren't worthy choices (of course they are, they would be found in world-class studios everywhere), but because average people like us who record in our basements and bedrooms, and people who are just starting out, usually can't (nor SHOULD we) add those to our mic locker. This guide is for the home studio warriors who work hard for the love of the hobby and the music.
As usual, I want to emphasize that it's NOT the gear that gives you a great recording! Yes, gear is cool and is always desirable. But in the hands of someone who doesn't know what they're doing, a really great mic isn't going to give an advantage over a budget mic.
Tiger Woods will still be an awesome golfer even playing with a set of clubs from Dick's Sporting Goods, and conversely, you'll probably not be as good as he is even if he lent you his clubs to use (if you ARE a world-class golfer in addition to being a hobby recordist than my apologies of course!).
Nothing replaces experience; if you're brand-new and super-rich, by all means, go blow five grand on a Neumann U-87. At least you'll learn that you don't need a Ferrari when you're learning to drive a car, right?
Anyway, on to our list…
BEST BUDGET MICROPHONE CHOICES FOR ACOUSTIC GUITAR RECORDING
I've said it before, and I'll say it again. The Shure SM-57 is the Swiss Army Knife of the recording studio, and EVERYONE should have one, from those people just starting out, to major studio owners (major studios usually have a dozen or more of these mics; they are THAT handy).
Why We Choose it
They are affordable to ANYONE with the desire to set up a studio and the wherewithal to do so, and if you can afford only ONE mic, this should be the one you choose.
It's very versatile, can handle many different sources from loud drums

to vocals to both electric and acoustic guitars, and they are basically the toughest mics you're going to find. I currently own several, one of which I've had since high school, which for me was over 25 years ago haha.
Instrument Dynamic Mircophone, SM57-LC (SM57-LCE)

Contoured frequency response for clean, instrumental reproduction and rich vocal pickup
Professional-quality reproduction for drum, percussion, and instrument amplifier miking
Uniform cardioid pickup pattern isolates the main sound source while reducing background noise
Last update on 2023-03-28 / Affiliate links / Images from Amazon Product Advertising API
They give a nice clear, present sound (it's the only dynamic mic on this list, for that reason). For acoustic guitar, I really like the way they sound mic'ing the lower bout of the body, and they sound especially nice on really aggressively-strummed chordal parts.
They also have really good off-axis rejection, which means they are ONLY going to pick up what you point them at. So if you have a noisy heating or air-conditioning system, set up your recording so that your SM-57's rear is pointed AT that, and the capsule is pointed at your guitar.
What We Don't Like
While it's a great mic, it's of course not perfect. As a dynamic mic, it's going to need a lot of gain from your preamp, which can introduce noise floor problems if you're using a stock pre in your interface. You might need to really crank it.
A small- or large-diaphragm condenser mic is going to be WAY more detailed than an SM-57, and will do a much better job at picking up a nuanced, fingerpicked guitar part.
For a newer model, check out this article on recording guitar with the Shure SM 58 microphone.

This is a versatile mic at a great value. It's a cardioid mic, so it's good at rejecting noises it's not pointed at (like that AC system you just can't turn off while you record), and comes with a high-pass filter switch for a roll-off at 80Hz.
Why We Choose it
It has a decently smooth sound which will allow you to capture the complex sound of your acoustic guitar from a variety of positions, and even comes with a handy custom shock mount and carrying bag.
Last update on 2023-03-28 / Affiliate links / Images from Amazon Product Advertising API
It also has a nice -10db pad switch, which can help if you have a performance with a lot of loud strumming on it or a lot of dynamics. This can help prevent digital clipping. The mic also features really small amounts of noise, which is great.
What We Don't Like
It has a pretty obvious peak at around 12kHz on its frequency response, which can make an acoustic sound kind of harsh. You'll definitely have to EQ judiciously on this mic to get your recording to sit right in your mix, but that's certainly doable.
3. Avantone Pro CK-1
Honestly this mic features a LOT of bang for the buck (and not a lot of bucks, at that!). For less than $150 you get an amazing array of features, including switchable capsules to give you not only a cardioid polar pattern but hypercardioid and Omni-directional as well. It also comes with a shock mount and a wooden box.
Why We Choose it
So so much! This a great little mic and is priced so affordably, you can even get two and do some stereo mic'ing. It's really easy to get a great sound, and I don't think I've ever heard my acoustic sound as good, from a mic at this low price point.
They catch all the details of the guitar and even the preamp as well if you've got some nice outboard gear, and they really make acoustics sparkle and come alive.
What We Don't Like
I know this is probably an unpopular opinion, but their bold red and silver color scheme "Metallic Cabernet Wine Red" isn't my favorite. It reminds me of cheap lipstick. Obviously, that's not going to affect the sound at all, but there you have it!
BEST MID-PRICED MICROPHONE CHOICES
The smaller brother to the WA-47 at less than half the cost. This large-diaphragm condenser features a transformerless FET design, which basically means it will give you a nice, detailed sound, but doesn't have the "warmth" that a tube mic has.
Warm Audio WA-47Jr Large-Diaphragm Condenser Microphone - Nickel

FET Transformerless '47 Style Condenser Microphone
Capsule Makeup: Gold Sputtered, Dual Large Diaphragm, Single Backplate, 6 Microns NOS Mylar (PET...
Polar Patterns: Cardioid, Figure-Of-Eight, And Omnidirectional
Last update on 2023-03-29 / Affiliate links / Images from Amazon Product Advertising API
This one is based on the legendary Telefunken U-47 mic, and its design has been around for decades. if you want to capture the fast transients of your acoustic guitar, this mic really does a great job.
Why We Choose it
This guy features three polar patterns to choose from (cardioid, Omni-directional and figure 8), so you can use it in a stereo mid/side mic'ing set-up. It has really low noise (only 9dbA) and a high dynamic range so you can get a lot of sound into it without worrying about clipping.
What We Don't Like
Honestly, there isn't much NOT to like about this mic. Having to grasp for this… it's a little SHINY. I mean physically, not sonically. So I dunno… don't look at it much? In all seriousness, it MAY lack a little body in the low mids so you'll have to pay attention using compression and EQ, but that's not really a deal-breaker for me. This is an awesome mic.
This mic is famous for drum overheads, choirs and all sorts of things, but I find it really shines on acoustic guitar. It has a cardioid pattern, low noise, and high SPL levels. Comes with a nice plastic box, mic clip, and windscreen.
Why We Choose it
This is a great mic that will allow you to capture both the warmth and the clarity of an acoustic guitar at the same time. It has a REALLY flat frequency response, and even two different roll-off curves to choose from and eliminate low-end rumble.
Shure SM81-LC Cardioid Condenser Instrument Microphone for Guitar, Piano, and Cymbals, Includes Swivel Adapter, Attenuator-Switch Lock, Windscreen, Carrying Case, No Cable Included (SM81-LC)

This microphone requires phantom power and performs best with a 48 Vdc supply (IEC-61938). However,...
The SM81 is ruggedly constructed. It operates on phantom power and performs over a wide range of...
20 Hz to 20 kHz frequency response. Flat response curve for accurate reproduction of sound sources.
Last update on 2023-03-29 / Affiliate links / Images from Amazon Product Advertising API
It's a classic for a reason. For acoustics, it'll work really well on both steel-string and nylon-stringed guitars, and it has amazing detail that you're really going to love.
What We Don't Like
Another mic that it's hard to find a negative for. At $350 it's not a CHEAP mic, but it really shouldn't be. It gets amazingly good reviews online, and I've found little wrong with mine. Maybe it's a bit LONG compared to other SDCs, but really that's about all I can say negatively!
This is a large-diaphragm condenser that is good on a lot of sources. Very versatile, with three polar patterns (cardioid, Omni and figure-8), and comes with not only a shock mount, cable and carrying bag, but also with a neat tutorial DVD! I have admittedly not seen the DVD so I won't comment on that.
Last update on 2023-03-28 / Affiliate links / Images from Amazon Product Advertising API
Rode make really great mics, and this one is certainly no exception to that rule.
Why We Choose it
This mic sounds GREAT on acoustic guitars, especially nylon strings, as the warm, detailed results just sound really silky smooth. Even without EQ or compression it's pretty easy to get a great sound right at the mic, and getting the guitars to sit in a mix is easy too, and they sound fantastic as a result!
What We Don't Like
I have heard bad things about the polar pattern functionality on this mic, and my own tests showed that while they do FUNCTION, I get better results from Omni- and figure-8 patterns on other mics.
GOOD UPPER-RANGE MICROPHONE CHOICES
This mic is one of the world's all-time go-to classics. It's an updated model of the C 451, which was so popular AKG had to bring it back. It has a cardioid pattern, switchable pad, and roll-off, and has a nice robust aluminum body.
Why We Choose it
Pretty much everything! This is a quality mic from a quality manufacturer with a time-tested design. On acoustic guitar, they really shine, with a nice, open, airy sound that really makes themselves known on fingerstyle performances. If you're doing acoustic guitar mic'ing, this one will really deliver.
AKG Pro Audio Condenser Microphone, Nickel, 3.50 x 5.90 x 11.70 inches (C451B)

Small-diaphragm Cardioid Condenser Microphone with Selectable Pad Highpass Filter
Last update on 2023-03-28 / Affiliate links / Images from Amazon Product Advertising API
What We Don't Like
I don't particularly like that it doesn't usually come with a nice box. They are compared to the original C 451s and are usually found to be "dull" or "lacking in the upper mids" in comparison, but the original mics cost thousands, and no one is going to compare your guitar sound to what it MIGHT have sounded like on another mic when listening to your recording anyway.
This mic is a bit more specialized than the others on our list, and is the only stereo mic choice I'm offering here. It features two closely-matched capsules permanently arranged in an X-Y stereo pattern and is touted as being an affordable way to do stereo mic'ing without having to buy two mics. It comes with a custom cable and carrying case.
Why We Choose it
On acoustic guitars, this mic gives a nice airy, roomy sound that allows all the rich transients of the instrument to come through. It is a good choice for an affordable stereo mic setup and eliminates a lot of the phase problems that using two mics can inherently cause. Plus you only need to use one stand!
Sale
Rode NT4 X Y Stereo Condenser Microphone

Cardioid Condenser XY Stereo Microphone
Last update on 2023-03-29 / Affiliate links / Images from Amazon Product Advertising API
What We Don't Like
The stereo spread can be rather underwhelming, which is an inherent disadvantage of the X-Y pattern. I've also heard that the custom cable can be frail, although I've not had any problems with mine.
This SDC is an industry-standard, both as a single mic and in a pair for stereo. The most expensive mic on our list, it can be thought of as a "wish list" item—it's not something you NEED when you get started recording, but eventually, it sure is a nice inclusion in any mic locker.
Neumann KM 184 Small Diaphragm Condenser Microphone Satin Nickel

Cardioid Polar Pattern
Transformerless circuitry
Trouble-free operation even with unbalanced equipment
Last update on 2023-03-28 / Affiliate links / Images from Amazon Product Advertising API
Plus it comes in both silver and matte black. Cool! Oh, and it's a NEUMANN.
Why We Choose it
It's a NEUMANN! That's pretty much the Mercedes-Benz of microphone brands. It's also extremely quiet, and makes capturing those subtle nuances of a delicate acoustic performance absolutely a joy. This is the real deal. It's really an investment-quality mic.
What We Don't Like
Unfortunately, I don't own one. I don't like that. I also don't like that I'm probably not going to own one anytime soon. But sonically, there's really nothing NOT to like about this mic. It's versatile, sounds fantastic and you'd use it on a ton of sources.
Find out whether an omnidirectional or a cardioid microphones is better for a studio in this article here!
The Overall Winner
If I had to choose ONE mic from this list, then I find myself gravitating to the one pretty much right in the middle, cost-wise.
The Shure SM-81 would be my go-to mic for recording acoustic guitar.
It's versatile, it's hardy and robust, it makes capturing a great tone easy on both delicate fingerstyle work AND heavy strumming, and it's going to last for years and years.
And That's All She Wrote!
There you have it, folks! That's my list of go-to mic choices for acoustic guitar recordings. I think really you'd be able to get a great recording out of ANY of these mics, so make your choices based on what sounds best to YOU, and what works best for YOUR budget.
You do NOT need the most expensive mic to get the job done. Pick a mic, take your time setting it up and placing it properly, recording it in different placements and listening to the results until it sounds the BEST it can sound, and then get to work!
Happy recording!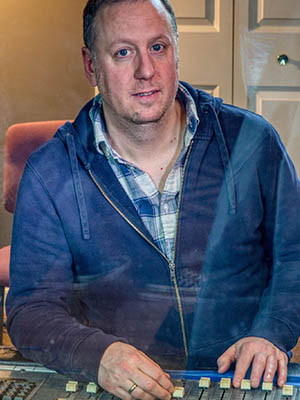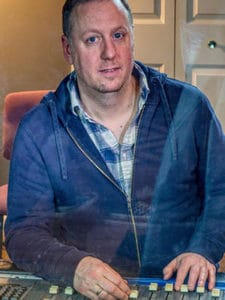 Author: Adam Coolong has been playing with his band Wild Colonial Bhoys full-time for over fifteen years and has recorded dozens of albums through his studio business, Varsity Audio Recording Services.
Was this article helpful?
Recent Posts
link to How To Allow QuickTime To Access Microphone 🎙️  
QuickTime is a vital app for many Mac users, and if you've recently bought a new microphone, you might wonder how to use it optimally. QuickTime cannot record audio content if it doesn't have...
link to How Do I Test My Microphone? 🎙️
Every microphone leaves a unique signature on the quality of its output. If you're a podcaster trying to melt your way into your audience's hearts, a muddy, distorted recording won't cut it....