The Shure SM58 is a popular dynamic microphone and one you've certainly seen before, whether you know it or not. They're very common among singers and often seen in recording studios. But can they be used by guitarists when recording guitar tracks?
You can record guitar with a Shure SM58 microphone. While some guitarists prefer condenser mics, the Shure is one of the best dynamic mics on the market. For acoustic guitars, angle the SM58 toward the guitar. For electric guitars, place the mic about 1 cm from the amp about ⅓ way across the face.
This article will cover the advantages and disadvantages of recording a guitar track on a Shure SM58. This is one of the most popular microphones out there, and for a good reason, so if you're a recording artist, you should test out the SM58!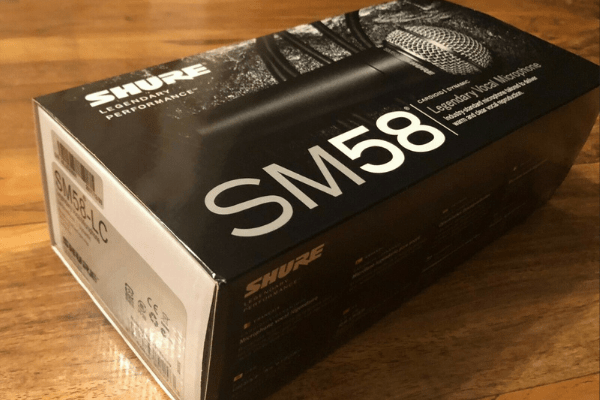 What Is the SM58?
The Shure SM58 mic

is one of the most common dynamic microphones on the market. This mic is featured on so many "Best Microphone" lists online that it's hard to keep count. This Music Critic guide

is just one of the most recent lists topped by the SM58.
But guitarists love the SM58 as well! In fact, in 2011, it was recognized by Acoustic Guitar Magazine's Acoustic Guitar Player's Choice Awards, as shown in the video below:
That said, most of these lists will show the SM58 as a vocalist's mic. The microphone is indeed tailored for vocalists, brightening its bass and midrange tones. The same things that make this microphone work so well for singers make it just as desirable for guitarists.
Why Should Guitarists Use SM58?
There are plenty of reasons that every musician should have an SM58, and not just because it's a regular award-winner! Consider the following:
Cost-Effective
First of all, as far as high-quality dynamic microphones that continue to be popular go, the SM58 is extremely affordable. On Amazon, this Shure SM58 microphone runs for under $100. You may find models that run cheaper, but you won't find any that compare to the SM58 in quality.
High-Quality
Yet, for this relatively low price, the SM58 is extremely sturdy and will produce great sound for a long time.
You shouldn't go around throwing your microphone, but if you happen to drop it, the SM58 probably won't break. It's known for being nearly indestructible. This is probably the biggest reason for this mic's staying power.
The SM58 also uses what is known as a unidirectional polar pattern, also known as a "cardioid" pattern. Cardioid mics pick up sound only from the front of the mic instead of all around, like an omnidirectional pattern.
In other words, it isolates the primary source of sound and cuts out on background noise. Not all dynamic mics can record unidirectional patterns, making the SM58 one of the more advanced models.
Ideal for Vocalists
As stated above, the SM58 is constructed with vocalists in mind. Condenser mics won't pick up vocals nearly as well.
Acoustic players who sing will find this dynamic mic very useful since they can cleanly pick up both guitar playing and singing.
Popular & Common
Above all, the SM58 is extremely common. If you're recording in a studio, chances are you'll come across an SM58 mic somewhere in the room. If you want to replicate the true studio experience, you should probably own an SM58.
Sale
Shure SM58 Cardioid Dynamic Vocal Microphone with Pneumatic Shock Mount, Spherical Mesh Grille with Built-in Pop Filter, A25D Mic Clip, Storage Bag, 3-pin XLR Connector, No Cable Included (SM58-LC)

EXEPTIONAL VOCAL PERFORMANCE - The SM58-LC delivers high-quality vocal reproduction, thanks to its...
INDUSTRY STANDARD - The first choice for performers around the globe, the SM58 Dynamic Vocal...
CLARITY & CARE - The uniform cardioid polar pattern reproduces every note as it was intended,...
Last update on 2023-03-28 / Affiliate links / Images from Amazon Product Advertising API
How To Record With SM58
If you've decided to record with an SM58, here's how to use the microphone to record your guitar playing:
Place Microphone To Pick Up Sound
First, you'll need to place your microphone in the best spot in the room to pick up your playing. This will largely depend on whether or not you're using an acoustic or an electric guitar.
If you're using an acoustic, you'll want to place the microphone on a stand somewhere near you. Since the SM58 is a cardioid mic, you'll want to make sure it's pointed directly at the guitar. It should be able to pick up the sound of you playing while filtering out background noise.
Meanwhile, if you're recording an electric

using an SM58, you'll want to work with both the mic and the guitar's amplifier. Take the mic and set it up so that it's only 1 cm (0.39 in) or so away from the amp. You won't want to orient it dead-center, but probably more like a third of the way across the amp's face.
Connect to Computer
To record your playing, you'll need to connect your SM58 to your computer. To do this, you'll want to find the right adaptor.
The SM58 connects to an XLR cable; therefore, you'll need a USB-to-XLR adaptor cable. Your SM58

may have come with this cable. If you opt to purchase on Amazon, some options include the cable (all of which cost a little more than just the microphone).
If not, this HOSONGIN USB-to-XLR Mic Link Converter Cable

is among the most popular on Amazon, with over 1,000 five-star reviews. It's 10-ft. (3.05-m) long, and under $20, so you won't need to spend too much extra on an extra cable.
HOSONGIN USB Microphone Cable 10Ft, USB Male to XLR Female Mic Link Converter Cable Studio Audio Cable Connector Cords Adapter for Microphones or Recording

HOSONGIN USB to XLR Female Microphone Cable help you recording high quality digital music. Package...
HOSONGIN USB to XLR Female Microphone Cable support plug and play. supports USB 2.0/1.1, no driver...
HOSONGIN USB to XLR Female Microphone Cable compatible with Mac OS X, Windows...
Last update on 2023-03-28 / Affiliate links / Images from Amazon Product Advertising API
Once the microphone is connected, open up an application that'll hold recordings. Some programs are pre-installed into some computers, such as Apple's GarageBand

. There's other software that you can purchase, but chances are you already have your favorite program.
Check out my guide to the Proper Mic Placement for Recording Distorted Guitar

Play!
Finally, find your program's "Record" function and play!
Make sure you carve out some time in your recording schedule to perform a soundcheck since you may need to adjust your mic's position to get the best sound. Test out placing it on different spots on your amplifier, if you're using electric, or other parts of your room if you're playing acoustic.
Check out this article on the best acoustic guitars for recording.

Dynamic vs. Condenser Mics
The SM58 is a dynamic microphone. Much of the advice you see online is that instrumentalists, including guitarists, should stick to condenser mics.
You shouldn't let that "catch-all" piece of advice discourage you from using your SM58 as a way to record your guitar playing.
Dynamic
Dynamic mics are made up of a thin plastic or polyester diaphragm, a metal coil, and two magnets. The SM58 is a dynamic mic.
These mics are better for picking up the sound of an electric guitar coming through an amplifier. This is because dynamics can handle sudden shifts in volume and intensely loud noises.
Condenser
Condenser mics are made similarly to dynamics, but the diaphragm is usually made of metal and comes with another piece called a backplate.
Condenser microphones are much more sensitive than dynamic mics and pick up a much higher range of frequencies. They also often have adjustable polar patterns, meaning they can be cardioid, omnidirectional, or any pattern in between.
The sensitivity of condenser mics means that they are very well-suited to acoustic instruments since they cover a wide range of tones. On the flip side, it means they can occasionally blow out when used with electrics.
For more information, check out this article of the different microphone types

for recording different instruments.
Final Thoughts
It's easy to record your guitar tracks with a Shure SM58 microphone. This dynamic mic is among the most popular globally and can be used to record in several different ways.
That said, you may want to consider using a condenser microphone if you are making an acoustic recording. While it may not always be the best fit for your situation, you can easily make the SM58 work for your recording needs. Since it's one of the most common pieces of recording equipment, you may be better off familiarizing yourself with it anyway!
For more information, check out the best mics for recording guitars.

Sources
Was this article helpful?
Recent Posts
link to How To Allow QuickTime To Access Microphone 🎙️  
QuickTime is a vital app for many Mac users, and if you've recently bought a new microphone, you might wonder how to use it optimally. QuickTime cannot record audio content if it doesn't have...
link to How Do I Test My Microphone? 🎙️
Every microphone leaves a unique signature on the quality of its output. If you're a podcaster trying to melt your way into your audience's hearts, a muddy, distorted recording won't cut it....