Playing the guitar on a recorded track can be frustrating as it is. Playing a guitar part that's meant to be distorted is even more of a challenge. How can you record a distorted electric guitar through a microphone without giving it a booming, too fuzzy sound?
The proper mic placement for recording distorted guitar is in front of the amp, several feet from the speaker (at least 10" or 25.4cm), slightly to the side of the center, and at a 45-degree angle. Take the time to experiment with different angles and placements to secure the perfect distorted sound.
With this guide, you'll be able to find your microphone's "sweet spot" as compared to their amp. By taking the time to find the proper microphone placement, you should get a great sound on your recording no matter what.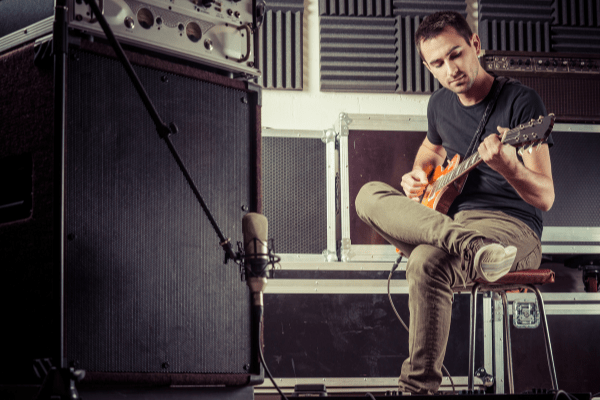 What Kind of Microphone To Use
The first thing you need to decide is what kind of microphone you should be using.
You'll hear a lot about condenser mics and dynamic mics when researching recording electric guitar parts. What's the difference between a condenser and a dynamic microphone, and which is better for recording guitar?
The difference between dynamic and condenser microphones comes down to how the devices create sound from electromagnetic induction. Both of these are useful for different kinds of musical instruments, but there are no hard and fast rules. 
Ultimately, you should use whichever mic you think sounds best.
A dynamic microphone works with a magnet and induction coil to create sound. Dynamic mics usually have cardioid or unidirectional patterns. That means that they sense sound only from directly in front of the microphone, where it's pointed.
A condenser microphone uses two charged metal plates to transmit vibrations, creating a changing voltage that translates them into sound. Condensers are often omnidirectional, meaning they pick up sound from all around them, not just the noise from directly in front. They also have adjustable patterns so that you can switch between omnidirectional and cardioid depending on your needs.
Dynamic mics are usually the preferred microphone for loud, "sharp" sounds like vocals and the electric guitar. However, when recording distortion, you may prefer condenser microphones.
Condensers are more sensitive than dynamics, which results in a muddier sound than is desirable for artists who require a clean sound. However, when recording a distorted electric guitar part, condensers can produce a unique, interesting sound. They pick up more low end and the way that the sound resonates within the room you're in, giving a song an "atmosphere."
If you're making a grunge-inspired or shoegaze-style song, you might find that a condenser mic gives you the kind of sound you want. You may have to experiment with several different positions in the room before you get it just right.
Best Condenser Mics
If you want a quality condenser microphone to record electric guitar, here are several models that come in a wide range of prices. 
All of these are omnidirectional mics, so they pick up as much sound as possible.
Audio-Technica Condenser Microphone: This microphone works with batteries or something called phantom power, which works through cables. It has low sensitivity to overload, provides maximum ambient pickup, and offers a smooth, clear sound. This mic is one of the most expensive models on the list at nearly $170 on Amazon.
Neewer 2-Pack Pencil Stick Condenser Microphone: If you want to use two microphones instead of one, these Neewer microphones might be a great choice for you. They include cardioid and omnidirectional patterns, so you can choose which kind of sound pickup you want for different situations. It's made of aluminum, making it extremely durable. Even though this comes with two microphones, it's only about $100.
Blue Yeti USB Mic: The Blue Yeti mic plugs directly into a computer via a USB connection. It supports four pickup patterns: stereo, bidirectional, cardioid, and bidirectional. It can also pick up frequencies from 20 Hz – 20,000 Hz, the whole range of human hearing. This mic is nearly $130 on Amazon.
Sale
Logitech for Creators Blue Yeti USB Microphone for PC, Podcast, Gaming, Streaming, Studio, Computer Mic - Blackout
Custom three-capsule array: This professional USB mic produces clear, powerful, broadcast-quality sound for YouTube videos, Twitch game streaming, podcasting, Zoom meetings, music recording and more
Blue VOICE software: Elevate your streamings and recordings with clear broadcast vocal sound and entertain your audience with enhanced effects, advanced modulation and HD audio samples
Four pickup patterns: Flexible cardioid, omni, bidirectional, and stereo pickup patterns allow you to record in ways that would normally require multiple mics, for vocals, instruments and podcasts
Last update on 2022-06-24 / Affiliate links / Images from Amazon Product Advertising API
Neewer 2-Pack Pencil Stick Condenser Microphone with Interchangeable Omni, Cardioid and Super Cardioid Capsules, Foam Windscreens, Mic Clip and Portable Carrying Case for Acoustic Woodwind Instruments
SUPERIOR SOUND QUALITY: Adopts Φ 16 high quality headgrille and electric circuit, ensures high sensitivity and ultra-low noise
INTERCHANGEABLE CAPSULES: Includes cardioid, omni and super capsules for use in virtually most recording situation. You can get the sound you want, whether its subtle nuances of a studio recording or the dynamic sparkle of a live orchestra. Easy to mount and remove
WIDELY USE: Widely used for recording studio vocals, acoustic, instruments, strings, horns, orchestras and choral groups, ambient instrument audio, and many live sound applications
Last update on 2022-06-24 / Affiliate links / Images from Amazon Product Advertising API
Last update on 2022-06-24 / Affiliate links / Images from Amazon Product Advertising API
Where To Place the Microphone
Now that you have a microphone or set of microphones that work for your electric guitar, it's time to place the microphone in front of the amp. Don't just place the mic right up in the grill of the amp; test out the best spot in the room to put it.
Don't be discouraged if you need to try out several spots for your mic! Each amp and mic setup will be slightly different, but there are very general rules of thumb that you can follow to get the best sound from your distorted guitar parts.
Distance From Amp
You usually want to place dynamic microphones closer to the amplifier, but with condenser mics, which are much more sensitive, you need to have them more than ten inches (24.4cm) away from the amp. Try setting the microphone up from various distances from the amp, from one foot to the room's full length.
With an omnidirectional condenser mic, a good place to start if you're recording in a standard square room is to place the amplifier a few feet from the wall, then put it in the center of the room. This set-up guarantees all the room ambiance and environmental sounds, leading to a distorted sound you might want.
That said, you still might find that a closer orientation to the amp gives you more of the sound you want, especially if you're going for a heavy fuzz sound. That's why you want to try out various placements yourself.
Making Sure Mic Is Off-Center & Angled
Even if you have your microphone four or five feet away from your amp, you don't want to point the mic straight at the amplifier! Angling the mic to 45 or so degrees will help you pick up more bass and lighter frequencies as well, instead of just the harsh mids.
You also won't want to have it oriented dead-center in front of the mic, which, again, can be much too intense for sensitive condenser mics. Put it three or four inches (7.62 or 10.16cm) to either side of the amp. You may find that the bass is stronger on one side than the other.
Multiple Mic Setup
If you have two microphones and want to use them to give your distorted guitar part an even richer sound, try placing one of them behind the open back of the amp and the other somewhere in front of it. Place one of them slightly to the right and one to the left.  
You can use any kind of microphones on hand with this method, including dynamic microphones. If you're using a condenser microphone, set it to cardioid. Using two omnidirectional mics is unnecessary and can make your sound muddier than you want.
Experiment with these positions until you get a sound you like! With a careful setup, two mics can give you a much richer sound.
For more information, check out my Complete Guide to Building a Home Recording Studio.
Final Thoughts
When recording a distorted electric guitar part with a microphone, you'll want to place it a foot or two in front of the amplifier. You'll also want to place it slightly to the left or right of the center and angle it so that it picks up more frequencies. You may want a condenser mic over a dynamic one.
Recording distorted guitar doesn't have to be difficult if you know where to place the microphone in the room. With some experimentation, you'll be able to find the best way to set up your mic.
Sources