The Blue Snowball is an affordable, high-quality USB microphone that has recently gained popularity. However, you'll need to remove the stand if you prefer using an arm stand or a different tripod with your Blue Snowball. But how do you do this?
You can remove the stand on a Blue Snowball by loosening the screw on the bottom of the microphone using a Phillips-head screwdriver. Then, untwist the bottom of the stand, followed by the upper half of the tripod.
Keep reading for a detailed guide on how to remove the Blue Snowball stand. I'll also give tips on mounting it on other accessories.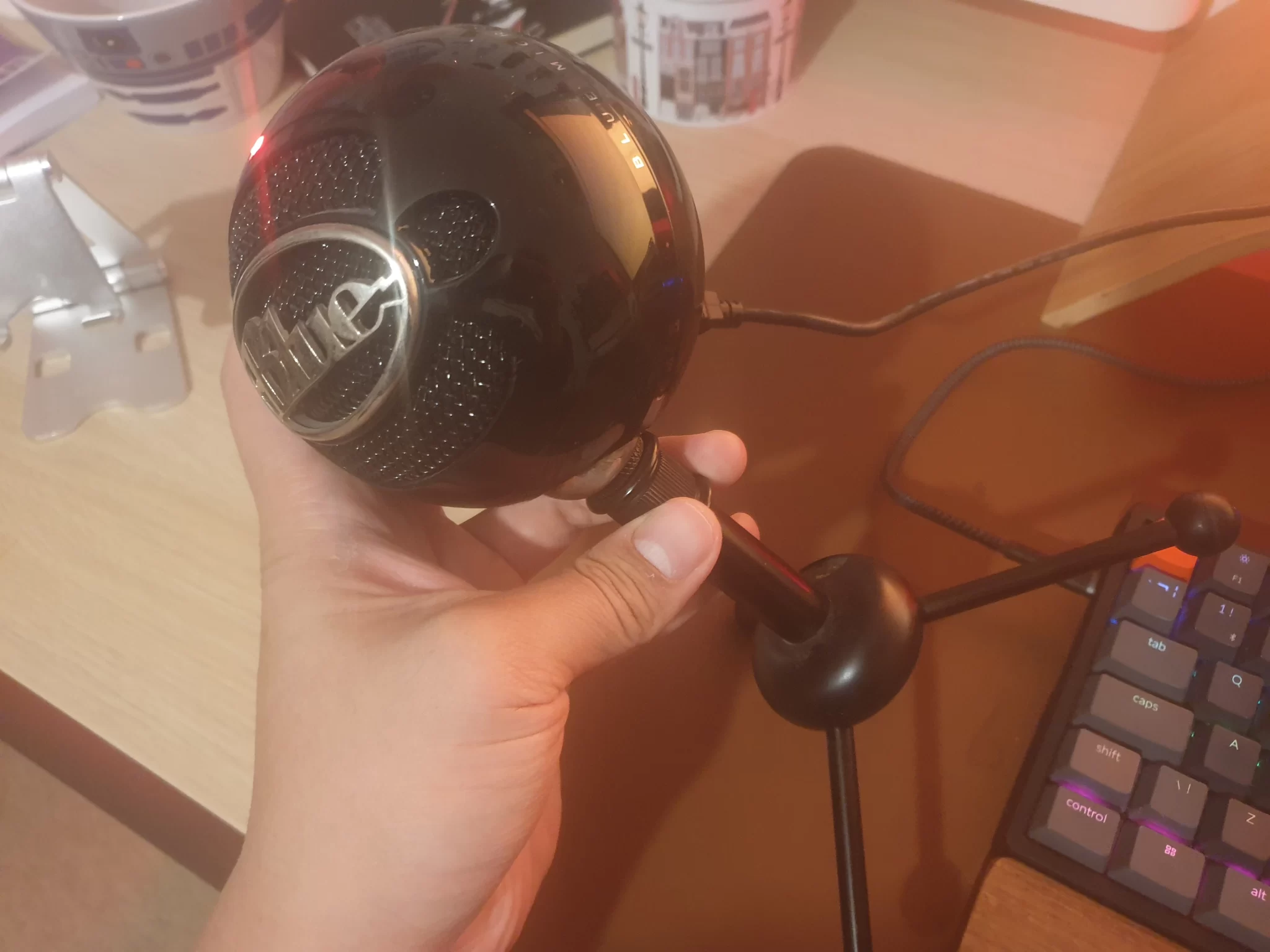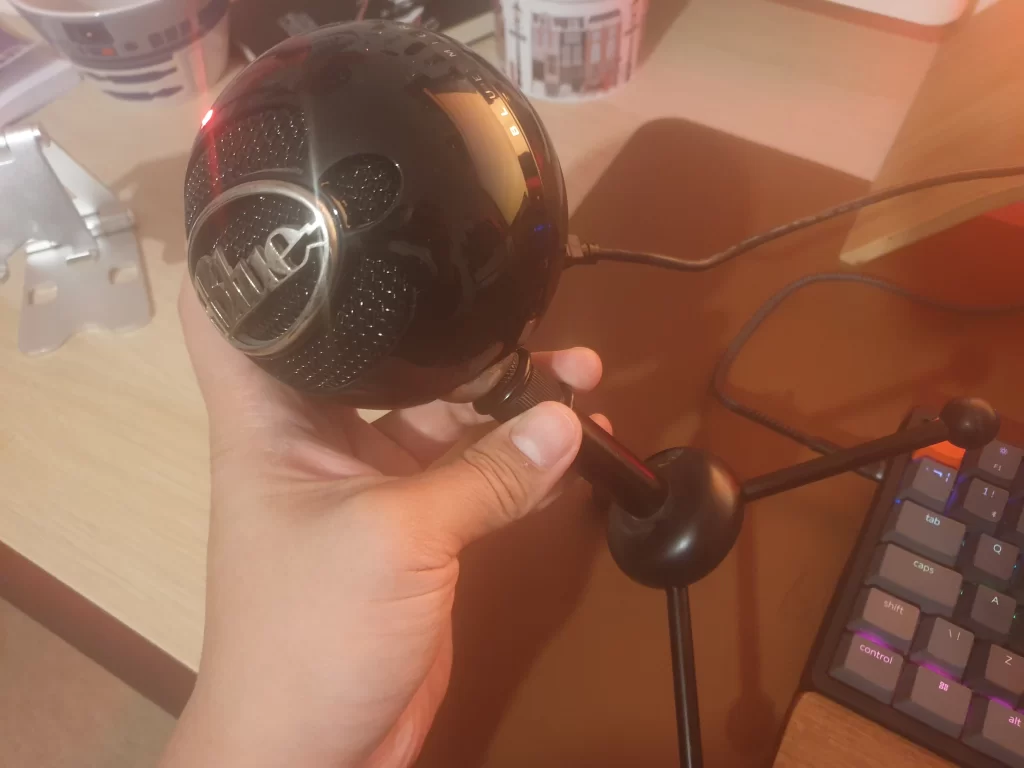 1. Gather Your Tools
When you first get your Blue Snowball, you might notice that it's firmly attached to its tripod. Many assume that this means the tripod and microphone are permanently fixed to each other, and there's no way to remove one from the other. However, the process is more straightforward than you think.
The only tool you'll need for removing the stand from your Blue Snowball is a Phillips-head screwdriver

, which is probably lying around in your junk drawer even if you aren't particularly handy. If you happen to own an electric drill, the process will be much faster (and easier), but it's not necessary because it's only one screw you'll need to loosen and fasten.
2. Loosen the Mounting Screw
Tilt your microphone over and find the center screw underneath it that's holding the tripod in place. Loosen the screw using a Phillips-head screwdriver. It may feel too firm initially, but keep trying, and it should loosen. An electric drill helps in this step if you don't have the wrist strength to loosen the screw. Remember, turn it counterclockwise to loosen it.
3. Remove the Tripod Legs
With the screw loose, you should be able to detach the tripod legs from the central column. Do this by removing the part holding the screw and pulling the legs upwards and off the column. Be careful when handling the mic, and don't press too hard when you're detaching the tripod.
Replacing the mic parts can be expensive, and it might be more feasible to buy an entirely new microphone if it's damaged.
4. Remove the Column
Untwist the bottom half of the column. You can do this easily by hand, but you'll need to twist it firmly. If you're having trouble gripping it to twist, I suggest holding the parts using a dry cloth.
Once the bottom half is detached, you can untwist the top half in the same way.
Now that you have completely detached the microphone from its tripod stand, you can mount it on any accessories you need to use in your project.
Additional Tips When Removing the Stand on a Blue Snowball
When you remove the stand on a Blue Snowball, I suggest keeping all the parts that you detached (the tripod, screw, column parts, etc.) in a safe place so that you can reassemble the microphone if needed.
Additionally, ensure that the Phillips-head screwdriver (or drill bit on your electric screwdriver) is appropriately sized. Otherwise, you risk damaging the screw, making it practically impossible to remove the tripod from the microphone. The screw is a standard ⅜" mounting thread

.
If you're having trouble twisting the column parts (bottom or top) to remove them, you might consider using pliers. However, keep in mind that pliers could scratch the surface of your microphone, which is why I suggest wrapping the column with a pot holder or cloth first.
Should I Mount a Blue Snowball on a Different Stand?
You might be thinking that the original tripod on your Blue Snowball is sufficient and that you don't need to replace it with a different type. Well, that may be true for many, but it certainly isn't true for all applications.
The original tripod on the Blue Snowball is a desktop tripod. Depending on your specific microphone settings, you may need to lean toward the microphone to get a high-quality, crisp, clear audio recording.
However, sitting at a desk in this position for too long might not be comfortable. So, for a long podcast session, the desktop tripod might not be the best choice for some users. As such, using an arm stand may be more suitable.
On the other hand, recording vocals sometimes requires the singer to be standing

for better control of the diaphragm and to open the throat completely. The Blue Snowball is an excellent option for recording

vocals, but mounting it on a floor tripod helps you position yourself better so you can sing your lungs out.
Camera tripods are lightweight options that have become popular in recent times. More and more people are using their phones in content creation– often using affordable microphones (such as the Blue Microphone) to ensure they have high-quality audio in their content.
Mounting the Blue Snowball on an Arm Stand
One of the most versatile ways to mount a microphone is on an arm stand. It's also called a suspension boom or a boom arm. This configuration allows for total control of the mic's position without causing discomfort for the speaker. You can move it in all directions as per your preference.
Using a boom arm means you don't need to be sitting awkwardly to reach the microphone for a clear recording. All you need is a Phillips-head screwdriver (⅜") or an electric tool with a drill bit of the same size.
Below are the steps to mounting the Blue Snowball on an arm stand:
Remove the tripod stand by following the steps mentioned above.
Reserve the screw (mounting thread) and the bottom half of the Blue Snowball tripod stand. You'll need them to attach the microphone to the armstand.
Take out the screw from the tripod base. You should have already loosened it, so you can simply push it out using your finger.
Untwist the microphone clamp from your boom arm. You can do this entirely by hand.
Using a Phillips-head screwdriver (or power tool), unscrew the hinge attached to the microphone clamp. You'll need to attach this part to the microphone column parts. This screw won't be fastened too tightly, so it's easy to unscrew.
Take the screw you took from the Blue Snowball tripod. Feed the screw through the hinge from your arm stand.
Secure the bottom half of the Blue Snowball tripod column onto the other side of the screw.
Fasten the screw into the column part using a screwdriver until it's tight and secure.
Connect the microphone ball of your Blue Snowball to the column part and twist it until it's secure in place. Make sure that it's fastened properly, but don't overtighten it to avoid breaking any of the parts. The microphone is already mounted now.
Reposition the microphone, ensuring that it faces the correct direction. You can also attach a pop filter, which is a popular option because the boom arm allows positioning the mic very close to your mouth.
Use velcro strips to secure the Blue Snowball's cable to the armstand. This will prevent the wire from moving around and getting stuck while repositioning. Keep the wire very close to the arm stand but leave a little leeway around the elbow to avoid damaging the wire.
This guide should work for most boom arms that are compatible with the Blue Snowball. Before you purchase an arm stand or begin to mount your microphone on it, make sure that it's compatible. You can consult the user's manual or contact the manufacturer to verify compatibility.
If your armstand is slightly different, look at the user's manual for specifics on mounting a microphone onto it, but the basics should generally be the same. I found the InnoGear Adjustable Mic Stand

on Amazon, which was very easy to install. It's a durable model and comes with all the bells and whistles, such as a pop filter and a windscreen

.
Sale
InnoGear Adjustable Mic Stand for Blue Snowball and Blue Snowball iCE Suspension Boom Scissor Arm Stand with Microphone Windscreen and Dual Layered Mic Pop Filter, Max Load 1.5 KG, Medium

All-in-one combo: package includes all the items you need for studio recording and live sound, a...
High quality acoustic foam material for Blue Snowball: high density, good elasticity, durable for...
Heavy duty construction mic stand: super-strong spring of the boom arm protects microphone from...
Last update on 2023-12-08 / Affiliate links / Images from Amazon Product Advertising API
Mounting the Blue Snowball on a Mic Stand
For those who need to record vocals or even for recording music from various instruments, a floor tripod or mic stand is usually more suitable than the standard desktop tripod that the Blue Snowball comes with.
Mounting your Blue Snowball to a floor tripod is very straightforward, and it can be easier than mounting it on an arm stand. Because the Blue Snowball has a standard ⅝" hole at its base, it's compatible with standard mic stands (floor tripods). Here's what you need to do:
Unscrew the microphone from the original tripod stand by twisting the top half of the tripod column. This means detaching the ball part of the mic from the rest.
Thread the mounting screw of your mic stand (⅝") into the hole at the base of your microphone ball, ensuring that it is fastened tightly.
Now you have a Blue Snowball microphone mounted on a standard microphone stand. You can adjust its height according to your needs and preferences, but floor stands are generally unsuitable for desk use. You might get away with sitting down while playing some instruments (such as a piano), but it's not the best option for recording a conversation.
As you can see, mounting your Blue Snowball on a mic stand is by far the simplest mounting method you'll find.
Mounting the Blue Snowball on a Camera Tripod
For those who don't have access to a professional floor tripod, it's a well-known trick that you can mount your Blue Snowball on a camera tripod instead. The microphone is very lightweight (under a pound or less than half a kilogram), so any regular camera tripod should work if you want to use your Snowball standing up.
All you need is an ⅝" inch (1.59 cm) screw adapter and a cold shoe mount

. Here's what you need to do:
Unscrew the original tripod stand by twisting the top half of the tripod column.
Replace the tripod stand with the adapter screw, ensuring that it's fastened securely in place.
Attach the cold shoe mount to the adapter screw.
You can now stretch the cold shoe mount to the camera tripod or on top of your camera as it's mounted on the tripod.
This trick comes in handy if you want to take videos using your phone but need better audio. You might be pleased to find out that Blue Snowball is also compatible with iPhones, iPads, and android phones. For that setup, you'll need to use an adapter with a phone holder or other specific adapters.
So, using your phone, a cheap camera tripod, a couple of adapters, and of course, the Snowball, you'll be equipped to film whatever you'd like and add the best audio you can come up with.
Do You Need a Shock Mount for the Blue Snowball?
A shock mount

isn't necessary for using the Blue Snowball, but you can get more out of this affordable microphone if you do use one. This is a type of mounting system where the microphone is suspended in elastic when connected to the boom arm or mic stand.
When connected to a shock mount, the Blue Snowball will register less background noise and less mechanical noise from moving the boom arm or mic stand. Also, you won't need to remove the stand on the Snowball to attach it to most shock mount models, making installation a simpler process.
Also, shock mounts add durability to the Blue Snowball, which is why many prefer to use this complex mounting system over traditional methods that require unthreading and threading.
Final Thoughts
Removing the stand on your Blue Snowball is a relatively simple process. If you're careful while unscrewing it, there's no reason to worry about breaking the microphone. Remove the stand to attach your mic to an armstand or tripod, and use it more comfortably according to your preferences.
Make sure to keep any parts you aren't using after mounting the Snowball because you never know when you might need to change its configuration and mount it differently.
Sources
Was this article helpful?
Recent Posts
link to How To Allow QuickTime To Access Microphone 🎙️  
QuickTime is a vital app for many Mac users, and if you've recently bought a new microphone, you might wonder how to use it optimally. QuickTime cannot record audio content if it doesn't have...
link to How Do I Test My Microphone? 🎙️
Every microphone leaves a unique signature on the quality of its output. If you're a podcaster trying to melt your way into your audience's hearts, a muddy, distorted recording won't cut it....