Blue Yeti mics are market leaders in the USB condenser microphone industry and are the weapon of choice of many streamers, podcasters, and voiceover artists. However, they only come with a small desktop stand, which might be fine at first but is far from ideal in the long run.
To put a Blue Yeti on a mic stand, remove it from its desktop stand and use the thread provided on the bottom of the mic to screw the device in place. In some cases, you may need a special adapter to achieve this result.
Read on for a step-by-step guide on how to fit your Blue Yeti

to any mic stand. It's a relatively simple process depending on the mic stand you have available and whether or not you're adding accessories like pop filters and shock mounts.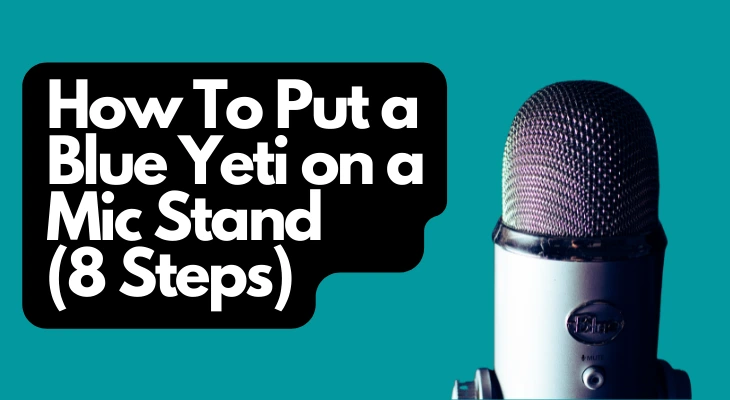 1. Plan Your Setup
While you might want to get your Blue Yeti off your desk post-haste so you have a little extra room, you should think ahead and carefully consider the following:
The Mic Stand – If you already have one, you might need to buy a special adapter to get your Blue Yeti to fit.
Mic Stand Style – there are various form factors available. Some have desk clamps, while others are designed to rest on your desk.
Shock Mounting – Bumping your desk or typing on your keyboard can be distractingly loud without a shock mount.
Other Accessories – You may want to add a pop filter to reduce the mic's sensitivity to fricatives.
Mic Positioning – Some stands are more versatile than others allowing you to experiment with your setup.
Cable Length – Depending on where you plan to do most of your recording, you might want to consider which cable length best accommodates your preferences.
It's common to see the Blue Yeti positioned overhead using a boom stand, but you won't be able to achieve this result with some mic stand styles. Moreover, some tabletop stands may not be heavy enough to balance the mic and tend to tip over when fully extended.
If you haven't purchased your stand yet, it may be best to hold out and save for one with (or that is at least compatible with) a shock mounting since this will dramatically increase the quality of your audio by dampening pesky background noises.
Pros and Cons of Different Mic Stand Styles
For those who haven't decided on a mic stand yet, let's take a look at the different options available and their use cases.
Desk-Mounted Boom Mic Stands
For most people, the desk-mounted boom stand is an excellent choice since it offers a wide range of different positions, allowing you to experiment and tweak your setup almost endlessly.
The main drawback of a desk-mounted mic stand is that you will need a sturdy desk or table to clamp the stand on. If you favor portability, you're probably better off with a free-standing or tabletop mic stand.
Tabletop Mic Stands
Similar to the cradle that you get with your Blue Yeti, these stands are designed to occupy a table. Some have boom arms, while others bear similarities to the cradle, only offering a telescopic height adjustment.
If all you really want is your Blue Yeti to be a little taller and are okay with it occupying your desk, a height-adjustable stand should suffice.
If deskspace is your concern, consider one with a boom — but be aware that it needs a base that is heavy enough to hold your mic and any accessories

you may want to add.
Free-Standing Mic Stands
If you plan to use your Blue Yeti in locations other than your desk, traditional free-standing mic stands offer the most versatility.
That said, they also occupy the most space, which may make them inconvenient for those who have a small apartment or studio. You may also need special adapters to attach your Blue Yeti to a traditional free-standing mic stand.
2. Remove Your Blue Yeti From Its Cradle (if Installed)
While it may have done the job until now, it's time for the stand supplied with your Blue Yeti to go.
To remove your Blue Yeti from its cradle, unscrew the mounting screws holding it in place. They are knurled, so you should be able to get them out with your fingers, but you may need a screwdriver to do this.
Place the screws, washers, and other small items in a packet and tie or tape it to the cradle for safekeeping, in case you ever want to put it back on its original cradle.
3. Attach the Adapter (if Necessary)
You won't need an adapter to attach your Blue Yeti to most mic stands – many options, like the Blue Compass, are designed to fit into the socket found on the bottom of your mic.
The mic stand socket located on the bottom of your Blue Yeti is a ⅝" (16 mm) female socket. Some mic stands will have a bigger or smaller attachment, necessitating an adapter.
You can attach the adapter to your microphone using a screwdriver. Afterward, you can place it on the stand.
If your mic stand fitting is too small for the Blue Yeti socket by default, you likely have a ⅜" (9.5 mm) thread. Pick up an Anwenk Mic Screw Adapter

(Amazon) to solve this incompatibility. It features solid nickel-plated brass construction and smooth threads for a simple and hassle-free fit.
Anwenk Mic Stand Adapter 5/8 to 3/8 Adapter Male to Female Mic Screw Adapter Microphone Stand Adapter Compatible with Blue Yeti/Blue Snowball/Blue Yeti XTripod Stand Mic Microphone Stand Mount

Precision made mic stand adapter 5/8"-27 Male to 3/8"-16 Female.
Mic screw adapter for use with mic stand/tripod stand with 3/8"-16 threads.
Material: Nickel Brass.Solid and durable.
Last update on 2023-12-08 / Affiliate links / Images from Amazon Product Advertising API
If you're in the market for a shock mount, the Blue Radius III Custom Shockmount

(Amazon) is compatible with most standard mic stands, while the tried and true vintage-style suspension system will elevate your audio quality by handling pesky noises created by shock.
Sale
Logitech for Creators Blue Radius III Custom Shockmount for Yeti and Yeti Pro USB Microphones

Blue Compass PREMIUM MICROPHONE BOOM ARM is not included and sold separately.
Blue Radius III custom shockmount is designed especially for Yeti and Yeti Pro Microphones,...
Elevate your audio recordings with Radius III custom shockmount to shield your microphone from...
Last update on 2023-12-07 / Affiliate links / Images from Amazon Product Advertising API
4. Set Up Your Mic Stand
Before you start attaching your Blue Yeti mic to the mic stand of your choice, it is best to get it in position first. Depending on the style of the stand, the setup may differ slightly.
Desk-Mounted Boom Mic Stands
If you have a clamp-style mic stand, ensure that it is firmly clamped to your desk before attempting to attach your Blue Yeti to it. Failing to do so could result in your mic falling and becoming damaged.
If you have a Blue Compass mic stand and want a more permanent mounting solution for your desk, the Blue Microphones Desk Insert Bushing

(Amazon) will offer a much sturdier mount than the default clamp. Keep in mind that with this option, a hole will have to be drilled in the desk, so you will have to be sure about where you want it positioned.
Last update on 2023-12-08 / Affiliate links / Images from Amazon Product Advertising API
Free Standing and Tabletop Mic Stands
While they may offer more flexibility than fixed stands, it's still important to consider where exactly you want your mic and ensure that it's not in danger of tipping over or falling off your desk.
Position your free-standing or tabletop mic stand and adjust it according to your preference. Make sure your tabletop mic stand is not too close to the edge of your desk, or if you're using a free-standing mic stand, ensure it is firmly positioned so that you will not accidentally bump it during use.
Whether you're using a desk-mounted, free-standing, or tabletop mic stand, ensure that any joints in the system are firmly tightened.
5. Attach Shock Mount (if Applicable)
Before you attach the mic, it's good practice to ensure that the shock mount is firmly attached to the stand.
Screw your shock mount into your microphone stand but take care not to force it in. It should screw on smoothly and tighten firmly by hand.
If the threads on the mic stand are too big or small for your shock mount, you may need an adapter – in this case, refer to step 3 since the considerations are the same for attaching a shock mount even if your mic is compatible with it.
6. Attach Your Blue Yeti to the Stand or Shock Mount
It's finally coming together! At this point, you're ready to attach your Blue Yeti to its stand.
Screw the Blue Yeti (with or without an adapter, as required) onto your stand or shock mount. If it starts to bind, unscrew it and ensure you're not cross-threading the mic. Damaging the threads on the mic socket can make it difficult or impossible to attach it to a mic stand again. Firmly tighten by hand.
If You Damage the Threads, Don't Panic
If you're struggling to get your Blue Yeti to bite onto the mic stand, it might suddenly make sense why you got such a good deal on it.
While it's not a perfect solution, depending on how badly your threads are damaged on your Blue Yeti, you can use thread tape to bulk up the threads on your mic stand, adapter, or shock mount (as applicable) so your mic will grip more firmly.
Pop down to your local hardware to get a roll, or invest in this Dixon Valve TTB75 PTFE Industrial Thread Tape

(Amazon) to bulk up the male threads of whichever component is attaching directly to your mic. Wrap the thin white tape flat over the threads in a clockwise direction. Usually, 3-4 layers are enough.
Sale
Last update on 2023-12-08 / Affiliate links / Images from Amazon Product Advertising API
Keep in mind that you will have to reapply thread tape if the mic is ever removed again and that you may damage the threads further with repeated removal and installation.
7. Route Your Cable
The penultimate step in setting up your mic is to get it connected. Depending on your mic stand of choice, there may be different methods of doing this.
Some mic stands have clips on the outside that you can use for routing your cables, while others may provide a means of routing the cable through the stand. Plug your cable into your computer first, then follow the mic stand manufacturer's cable management recommendations.
It's best to start at the computer so that you don't inadvertently pull on the cable and cause the mic stand to topple over. The cable should not be tight — if you need a longer one, this Toniwa Replacement Micro USB Cable

(Amazon) is available in 6-ft (1.8m) and 10-ft (3m) lengths and has a 12-month free replacement warranty.
Micro USB Cable Replacement for Blue Yeti X, Yeti Nano Microphone Mic USB Cord (10 Feet)

[Compatibility] USB Cord Replacement for Blue Yeti X; Blue Yeti Nano Mic Professional USB...
[Convenient to Use] 10 Ft USB Cable Meet Your Needs of Long-distance Use, It's Convenient to Connect...
[Premium USB Cable] Durable & Flexible, It Can Stand the Wear and Tear, Longer Service Life.
Last update on 2023-12-08 / Affiliate links / Images from Amazon Product Advertising API
Once you are satisfied with your cable management, the micro USB cable should be plugged into the bottom of your mic firmly.
8. Make the Final Adjustments
Now that everything is connected, you can tweak your setup to ensure you get the most out of your Blue Yeti mic. Keep in mind that Blue Yeti mics diaphragms are aimed towards you rather than upwards like traditional microphones.
While adjusting the stand, hold the mic firmly in one hand and gently loosen the adjustment screws, moving the arm and retightening them in turn. If you fail to securely hold the mic, it could fall and get damaged. Don't try to adjust more than one arm at a time if you have multiple.
The mic should be mouth-level while sitting comfortably upright, allowing you to project your voice directly at it for optimal performance and sound quality. Firmly tighten any connectors to ensure they can bear the weight of the mic and any accessories, but be careful not to overtighten them as they can strip or break.
Closer Is Better
You'll want to have your Blue Yeti mic as close to your mouth as possible to get the best sound out of it, but like many other mics, it may seem overly sensitive to hard fricative sounds — you know, the hard "s" "p," and "th" sounds.
It's recommended that you use a pop filter to help dampen fricatives and also protect your mic from saliva droplets expelled from your mouth as you talk. This PEMOTech Mesh Pop Filter

(Amazon) is easy to install and affordable, featuring a 3-layer filter to protect your mic.
Last update on 2023-12-07 / Affiliate links / Images from Amazon Product Advertising API
Final Thoughts
It may seem difficult initially, but setting up a Blue Yeti on a mic stand will improve your recording experience. You may need a special adapter to get it to fit, and once you have everything you need, it's crucial that you work carefully to avoid damaging your mic or its stand.
The most important thing to remember is never to force or over-tighten a thread. By doing so, you risk damaging or destroying it. In most cases, a firm hand tightening should be enough to keep your mic where you want it.
Check out: Best Blue Yeti Mic
Sources
Was this article helpful?
Recent Posts
link to How To Allow QuickTime To Access Microphone 🎙️  
QuickTime is a vital app for many Mac users, and if you've recently bought a new microphone, you might wonder how to use it optimally. QuickTime cannot record audio content if it doesn't have...
link to How Do I Test My Microphone? 🎙️
Every microphone leaves a unique signature on the quality of its output. If you're a podcaster trying to melt your way into your audience's hearts, a muddy, distorted recording won't cut it....