Blue Snowball mics are sensitive little things. They can pick up the slightest sound in the room – from your typing to a dripping faucet in the kitchen. But nothing can ruin your audio more than a continuous blasting wind from your computer fan. 
Here are a few ways to stop a Blue Snowball from picking computer fans:
Reduce computer fan noise when recording.
Move the mic away from your computer.
Add a windscreen on the mic.
Make your mic less sensitive to lower sounds.
Use a noise-canceling plugin for your Blue Snowball mic.
This article provides valuable tips on stopping a Blue Snowball from picking up computer fan noise.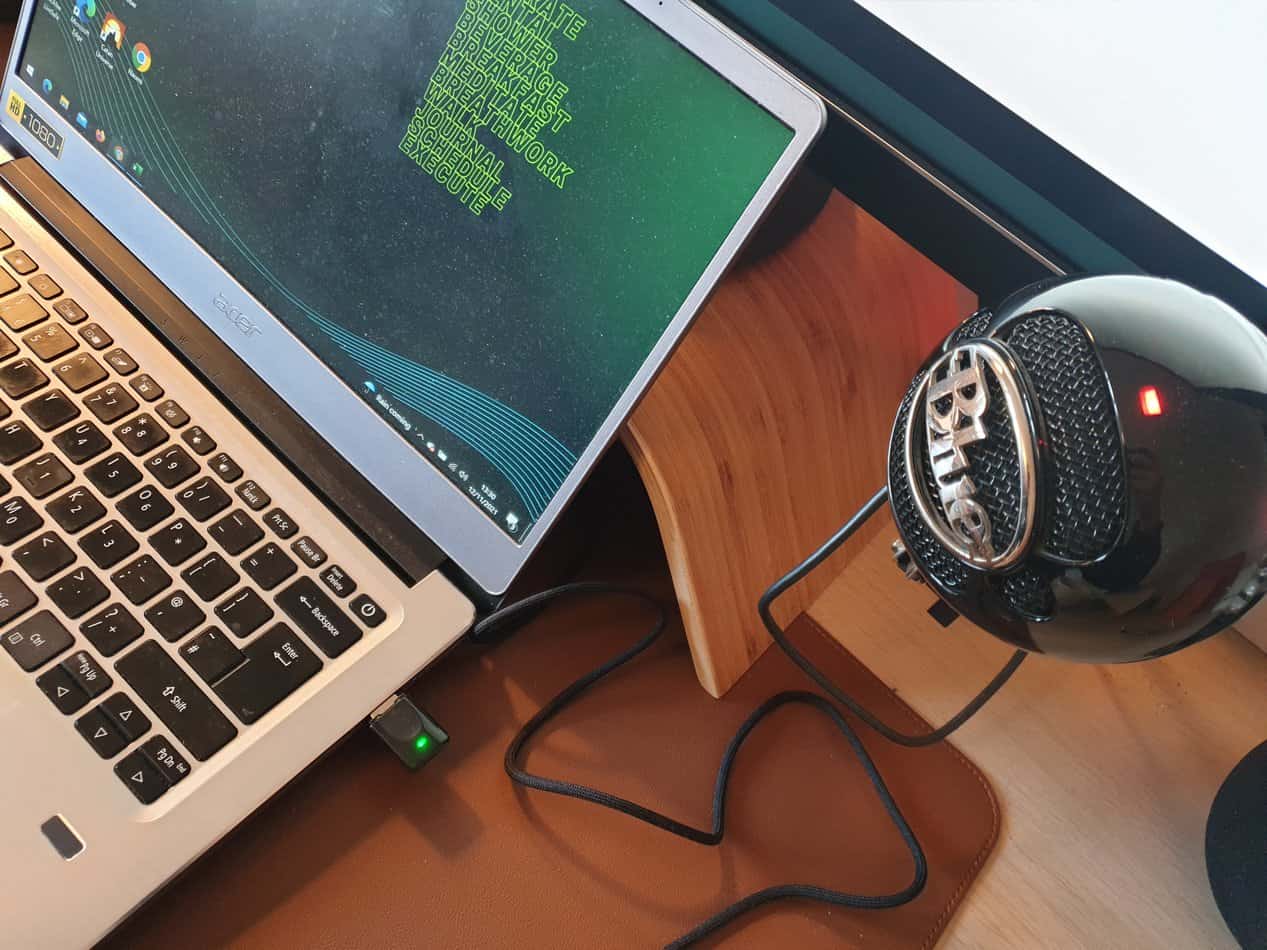 1. Reduce Computer Fan Noise When Recording
Most laptops and some PCs operate with little fan noise – you won't even know they're there. 
However, if your snowball mic happens to be close by, it might pick these little sounds and amplify them into loud, annoying background noise. 
To fix this, try reducing the fan noise from the computer first.
Shut Down Apps That Consume Lots of Battery Power
Shutting down certain apps that demand a high power boost from your battery is the first easy step. These apps can make your desktop or laptop overheat in consuming more power. In response, the fan rotates faster to cool down the CPU, generating more fan noise. 
Shutting down these apps can help reduce fan noise. 
Search for "Task Manager" and open the program on the taskbar. It should take you to a window with a list of all the running processes. Then, find the applications with the highest CPU usage. 
These apps are the ones consuming more power and overheating your computer. Close the apps by clicking on the task, followed by "End Task."
Clear the Dust From Your Fan
Dust puts a strain on your fan, especially when left to accumulate for months. 
Here's how to clear the debris:
Use a screwdriver to open up the laptop's outer case. 
Use a can of compressed air to blow over the fan and other elements inside. 
Put everything back and listen to the fan in action.
Replace the Fan
If nothing seems to work, there's always the option of replacing your old fan with a new one. 
Loud, noisy fans may sound overworked after years of abuse. Consider replacing them with new ones. 
This will require you to dig a little deeper into your pockets. But, with a brand new fan, you could significantly reduce the amount of noise that gets picked by your mic.
If you want to learn more about fixing a noisy fan, read this article.
For more Blue Snowball issues, check out some of my other articles:
2. Move the Mic Away From Your Computer 
Often we put the computer close to the mic for easy reach. However, if you don't want to edit out the computer fan noise every time you record, play video games, or create content for YouTube, consider putting both devices far from each other.
Add a CPU Compartment for Your Desktop
If you're using a desktop, consider adding a compartment for your CPU below the desk's surface. 
Next, place your mic a few inches in front of you. This should eliminate the fan noise since the mic and fan are not near each other. 
Buy a Mic Boom Arm for Your Snowball
If you're using your laptop, you're not going to separate the CPU from its motherboard. Instead, you're going to move the mic. 
Find a good boom arm and mount your Snowball mic. Remember to keep it at a safe distance, not too close to the pc. 
The bottom line is, keeping the computer and snowball apart from each other can significantly reduce fan noise.
3. Add a Windscreen on the Mic
Things can quickly take a turn if you place your mic in line with the wind coming from your computer fan. Luckily, that's a problem a windscreen can help with. 
Windscreens are foam or faux fur covers specially designed to prevent wind from blowing directly into your mic.
Get a high-quality windscreen for your Blue Snowball and cover it from the computer fan's blowing and also, peoples' breathing. 
Here are our top two windscreens for Blue Snowballs:
This multi-purpose windscreen is available on Amazon.com and acts as a pop filter. The Blue Snowball Furry Windscreen is made of top-quality materials that protect your mic from dust and saliva.
It snaps into place so you know it won't budge as you move around, and it's super affordable.
Last update on 2022-06-24 / Affiliate links / Images from Amazon Product Advertising API
This windscreen is specially designed for Blue Snowball mics and is available on Amazon.com. I loved this windscreen's ability to filter out various kinds of noise, including white noise. 
It's used for various purposes, including vocals, interviews, and podcasts.
Note: Although a windscreen isn't designed to filter out fan noises completely, it can help prevent the fan's wind from hitting the mic and causing further problems.
Last update on 2022-06-24 / Affiliate links / Images from Amazon Product Advertising API
4. Make Your Mic Less Sensitive to Lower Sounds
As mentioned before, Blue Snowball mics can sometimes be very sensitive to the little noises around them. If your laptop happens to be close by, it is highly likely to pick up the noise. 
Adjusting the gain control on your Blue Snowball mic is simple. The mic itself is a plug-and-play device with no external controls. 
There is, however, a switch at the back to help you get the correct sensitivity setting.
Slide the switch to setting number three for cardioid with a -10 dB pad. This setting reduces the mic's sensitivity and allows clear sound to pass through. 
At a higher sensitivity, your mic listens keenly for more quiet sounds, including the rotation of the computer fan. Your mic focuses on a more critical, louder sound like your voice with less sensitivity. 
5. Use a Noise-Canceling Plugin for Your Blue Snowball Mic
Anything that isn't your voice or isn't meant for your audience counts as noise – including the sound from a rotating computer fan. 
Luckily, you can edit it out with a bit of processing from high-end editing software like Adobe Audition. 
You want to ensure that the Blue Snowball is your default input mic on your computer. Here's how:
Go to "Start" and type in "Control Panel" on the search bar at the bottom. 
Navigate to sound and select your Blue Snowball mic as the default mic. 
If you're having further issues with the installation, read this article for a more detailed explanation.
Since there are several noise-removing software in the market, we took the liberty of finding two noise removers worth a try.
Krisp – Best AI-Powered Noise Cancellation
Krisp is an AI-powered noise filter for background noise and echoes. It offers an AI-based noise-cancellation feature that removes noise from the surrounding room to focus only on human voices. 
It works with any mic on Windows or Mac.
SoliCall – Best for Voice Focus
SoliCall is a dedicated noise-removing & noise-canceling software for Windows. 
SoliCall "listens" to the speaker's voice and attempts to remove anything that doesn't originate from them. This feature comes in handy for podcasting, YouTube, chatting, and other Blue Snowball applications that require the user's sound.
Final Thoughts
No matter how small, computer fans can degrade the quality of audio from your Blue Snowball. 
To prevent this;
Keep the mic far from the rotating fan.
Put a windscreen on your Snowball.
Use noise-canceling software to cut out fan noise from the feed.
Following these few tips should set you on the right track to quality audio for streaming, gaming, podcasting, and so much more.
Sources