To create high-quality, well-edited video content you can share online or monetize through YouTube, you need an excellent video editing tool like PowerDirector. PowerDirector allows you to layer and blend your footage, promote smooth transitions from one shot to another, and add graphics, text, and special effects. The only problem is PowerDirector can be slow and sluggish.
Here are 6 reasons why PowerDirector is so slow:
Your computer does not meet the system requirements.
Lack of recommended memory and hard drive space.
Video files are not in the ideal format.
You need to adjust certain preview settings.
You need to tweak Windows 10 virtual memory.
Small adjustments need to be made on your computer.
In this article, I will discuss in more detail 6 of the most common reasons that PowerDirector could be running slow, including the required system requirements for both Mac and Windows, and a few of the small things that could be slowing things down on your computer. I'll also share some simple solutions that should help your video editing software run faster.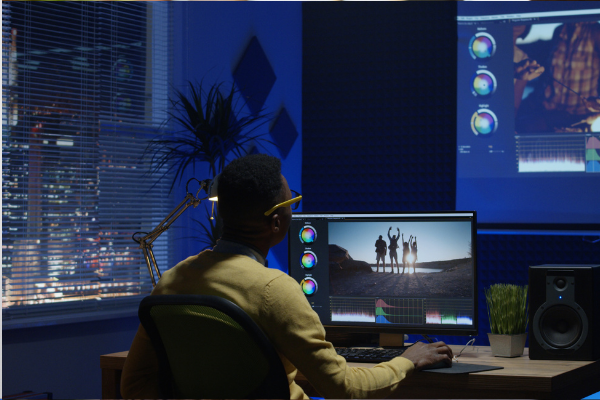 1. Your Computer Does Not Meet the System Requirements
First, make sure your computer meets the minimum system requirements before downloading Cyberlink PowerDirector

. It's best to get the latest and most updated version of Cyberlink PowerDirector, which is PowerDirector 19 or PowerDirector 365, released in 2020. 
While PowerDirector has always been known for being one of the best video editing software on Windows

, Cyberlink has now made it available for Mac

users, too.
Here are the recommended system requirements for Macs and Windows:
Mac System Requirements: For Mac, PowerDirector requires a Mac OS X 10.14 operating system and an Apple M1 (with Rosetta support) or an Intel Core™ i-series CPU.
Windows System Requirements: For Windows, PowerDirector requires a 64bit Microsoft Windows 10, 8, 8.1, or 7 operating system. However, only Windows 8 to 10 with Windows inbox codec supports importing or exporting videos with Dolby Digital audio.
The Solution
For the CPU, you need to have at least an Intel Core (TM) i-series or AMD Phenom (R) II. For full-HD video editing, it is recommended that you have at least an Intel Core i5 or AMD Phenom II X4.
Meanwhile, for 2K, 4K, 3D, or 360-degree video editing, at least an Intel Core i7 or AMD FX series is recommended.
You will also need a hard disk space of at least 7 GB and memory of at least 4 GB.
For a more detailed list of Windows system requirements, you can refer to Cyberlink's detailed list

.
2. Lack of Recommended Memory and Hard Drive Space
It's one thing to meet minimum system requirements to download and install PowerDirector successfully.
However, the recommended specs, especially memory and hard drive space, necessary to perform certain tasks may be way more.
For instance, an SSD drive

with 250 GB will allow you to use PowerDirector 15, but some users would tell you that it is not enough to get it running smoothly. The free space on this drive is considered low.
The Solution
I recommend an SSD drive with at least 500 GB, though just one hard drive might not be enough.
You will also see on the system requirements page that PowerDirector 19 will need a memory of 4 GB to run. However, it is recommended that you have at least 8 GB to do anything with it.
The minimum required hard disk space is also 7 GB, but to do DVD production, 20 GB and above is recommended, with 10 GB as the minimum.
For Blu-ray Disc or AVCHD production, the minimum required hard disk space is 60 GB, but what's recommended is 100 GB.
As such, don't just go for the minimum required memory and hard drive space.
3. Video Files Are Not in the Ideal Format
On the question of which format is the best for quality output, users on Cyberlink's community forum

say that it's the format that matches your original recorded video, whether it is AVI, H.264 AVC, MPEG-2, MPEG-4, MKV, or MOV.
So, produce a video that is as close as possible to the original properties of the clips. You can just tweak the settings to customize the video bitrate.
However, some long-time PowerDirector users also say that editing video files in MOV format tend to be very slow. As such, if the original clips from your camera are in MOV, they recommend that you use shadow files.
The Solution
By enabling shadow files, PowerDirector creates MPEG-2 cache files. It also downgrades the preview quality of your video to free up some memory for editing.
You can enable the shadow file function

by selecting the checkbox in Preference > General > Enable HD video processing (shadow file).
If shadow files have already been generated, you can remove them by going to Preference > General > Manual Delete and then delete all the temporary files.
4. You Need To Adjust Certain Preview Options
Try to select a lower resolution for your preview to lessen the lag during playback. It's also wise to pre-render those sections of your video that are complex by using "Render Preview."
Another thing you can do is choose a non-real-time preview mode.
The Solution
Non-real-time preview mode mutes the audio and displays the preview at a lower speed, making editing smoother and more fluid. This is useful when you are editing a high-definition video on a low-performance computer is a low-performance one, or when you get dropped frames as you preview.
Slowing down your video and muting its sound will allow you to view more frames per second on PowerDirector.
5. You Need To Tweak Windows 10 Virtual Memory
Another thing to consider when using Windows 10 is your virtual memory. IN some situations, tweaking this may enable your computer to handle page files better.
The Solution
Go to the Control Panel, then System, and then go to Advanced System Settings. You can then change the numbers on Virtual Memory.
Here's a PowerDirector tutorial on how to make the program run faster and cleaner by changing the size of your Windows 10 virtual memory:
And here's a more detailed step-by-step guide on how to increase the page file size in Windows 10:
6. Small Adjustments Need To Be Made on Your Computer
Sometimes, our computers get stuck. For one reason or another, they may crash or close programs when we don't want them to, or make programs, such as PowerDirector run slow.
But the good news is that some of these issues are quick fixes and fixing the problem can be done via trial and error.
The Solution
Here are the things Cyberlink suggests

you try to do:
Close other applications: If you have other applications open or running on your computer while you are editing via PowerDirector, it could contribute to a lag. As such, try closing your other apps while editing so your system can concentrate on the task at hand.
Close tracks not in use: Disable the tracks that you are not currently using and only leave the ones you need in your editing. Having several tracks enabled all at once can become an added burden for your system.
Close PowerDirector and open again: You can do a restart of your PowerDirector to free up some memory. You can do this by saving your editing project and closing your PowerDirector, then opening the program again to continue working on the project.
Sources
Was this article helpful?
Recent Posts
link to How To Allow QuickTime To Access Microphone 🎙️  
QuickTime is a vital app for many Mac users, and if you've recently bought a new microphone, you might wonder how to use it optimally. QuickTime cannot record audio content if it doesn't have...
link to How Do I Test My Microphone? 🎙️
Every microphone leaves a unique signature on the quality of its output. If you're a podcaster trying to melt your way into your audience's hearts, a muddy, distorted recording won't cut it....