At one point or the other, you would need video editing software to work on your videos. The PowerDirector created by CyberLink is one of the most famous video editing software around. With the popularity of video editing software, is it possible for one person to install it on multiple computers?
The PowerDirector can be installed on multiple computers and devices by a single user. However, when installed on multiple devices used by one person, the PowerDirector cannot be used on those devices at the same time. The user is only allowed to make use of the software on one computer at a time.
In this article, I will be shedding light on if one license can work on two devices. I will also be discussing if two is the limit to the number of devices that can share a single license. I will also be looking at CyberLink's PowerDirector as a whole and giving you all the information you need to decide if it is the right video editing software for you. I will also answer the question of whether the PowerDirector slows down when installed on more than one computer.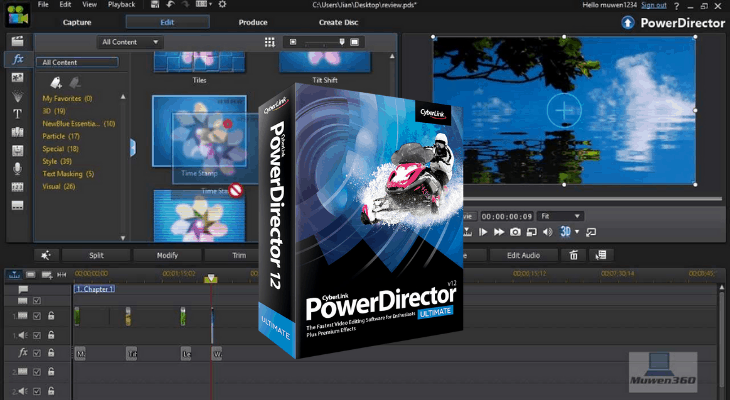 Can a Single License Be Used On Two Computers?
In short, a single license can be used and installed on two devices. For example, you can install the PowerDirector on both your laptop and desktop or even install it on a Windows computer or Mac. The only condition to using or installing a PowerDirector on more than one device is that you remain the only user of that license. Also, it is important that PowerDirector is not being used on both of the devices at once.
Is There a Limit To The Number Of Computers?
Generally, most people install the PowerDirector on two computers without finding out if there is a limit to the number of computers it can be installed on by one user. Occasionally, when you have to travel or are away from your device and install the PowerDirector on another device, the software might begin to slow down. It seems like there is a hard limit of three or four installations for the PowerDirector.
After the third or fourth installation, you will receive a warning that you cannot install the software program on another computer. If you want or need to install it on another device or computer, you have to remove it from one of the others computers or devices that it is currently installed on. This means that there is a limit to the number of computers that the PowerDirector software can be installed on.
What is The PowerDirector?
The PowerDirector is a full-featured and fast video editing software that is at the consumer level. The PowerDirector offers all the forms of technology support you can imagine while also maintaining great ease of use. The program is available to be installed on both Windows and Mac operating systems.
What Are The Pros And Cons of The PowerDirector?
My experience with the PowerDirector, just like every other program, has its own merits and demerits, strengths, and weaknesses. First, let us look at the pros of the PowerDirector:
Clear Interface: The PowerDirector has a very clear interface, making it very easy to use and understand.
Fast rendering: The PowerDirector does not waste time at all in rendering.
Effects: There are a lot of effects to pick from on PowerDirector to suit whatever needs you might have.
360-degree video capability: out of all the video editors available, the PowerDirector has the most video capabilities for 360-degree.
Multi-cam editing: with the PowerDirector, it is possible to edit from different cameras.
The PowerDirector has 4k and 3D capability.
There is an option for screen recording on the PowerDirector.
The PowerDirector is enabled with motion tracking.
Now, let us look at the cons of the PowerDirector:
The color matching is very weak.
Sometimes, the interface can become pretty overwhelming to use because of the high amount of options available.
For more information, check out which is better between PowerDirector vs. Adobe Premiere.

How To Install The PowerDirector The Requirements
For Windows, the PowerDirector can work from Windows 7 to Windows 10, even though it requires the 64-bit version. To install and run the PowerDirector, 4GB RAM, and a graphics card with a minimum of 128 MB is required.
For Mac, a version was released in 2021. This version needs OS X 10,14 or above before it runs, and it does so on both Apple and Intel silicon M1-based Macs. You can use a trial version for 30 days, which is downloadable, but 4K is not supported, and a brand watermark is added. There are two standalone editions of the video editor available at $99.99 and $129.99 for the Ultra and Ultimate editions respectively.
It is also possible to buy the PowerDirector alongside CyberLink's PhotoDirector, AudioDirector and ColorDirector in a bundle called Director suite. This bundle is available in the form of a monthly subscription of $29.99 or a yearly subscription of $129.99. You can also get the PowerDirector alone at $19.99 every month or $69.99 yearly. With the subscription, you get regular updates of music samples, plug-ins and effects.
Before you install the PowerDirector on your computer, make sure you have a lot of space. The installation of the program can take more than one gigabyte of space on the hard drive. As a result of this, you must check your computer to see that there is enough space to complete the installation.
There are a lot of special effects from third-party apps like proDAD, NewBlue and BorixFX added on the high-end options. The PowerDirector's pricing is competitive compared to that of Magix Movie Studio at $79.99, Corel VideoStudio at $99.99 and Premiere Elements at $99.99.
An annoying part of the PowerDirector software is that the start menu has a lot of program icons on display. Also, it is impossible to upgrade to the PowerDirector's Paid version from its free trial version. The user has to uninstall the free version, re-download, and then reinstall. 
Already have the Powerdirector installed? Learn how to make it run faster in my article here.
Does the PowerDirector become slow on the computer when installed on more than one computer?
From my experience with the PowerDirector, since you cannot use it on more than one computer at a time, no evidence points to it slowing down or rendering at a slower pace when installed on more than one computer. However, many people have claimed that they noticed that the PowerDirector slowed down after they added other devices or computers.
I installed the PowerDirector on one computer, then later installed it on a second computer to evaluate the performance. I can boldly state that the performance was the same when it was just installed on one computer and when it was installed on two computers.
For more information, check out my solutions for when PowerDirector is slow

.
Conclusion
If you are going to choose PowerDirector as your video editing software, or you are already using it. There is no need to worry about your other computers or devices, as the PowerDirector can be installed on multiple computers or devices as long as the program is not used at the same time on all devices.
Sources
Was this article helpful?
Recent Posts
link to How To Allow QuickTime To Access Microphone 🎙️  
QuickTime is a vital app for many Mac users, and if you've recently bought a new microphone, you might wonder how to use it optimally. QuickTime cannot record audio content if it doesn't have...
link to How Do I Test My Microphone? 🎙️
Every microphone leaves a unique signature on the quality of its output. If you're a podcaster trying to melt your way into your audience's hearts, a muddy, distorted recording won't cut it....