CyberLink PowerDirector is software for creating and editing video content. In recent years there is a development in audio and photo edit, video trimming, and splitting. Using high-quality video editing tools enhances content creators' ability to pass a message across to viewers.
PowerDirector 12 is one of the latest video editing versions by CyberLink. It includes an easier mode of operation than the former, making it suitable for beginners. Its main menu involves the improved theme, background music application, style, and color.
Quality video editing tools help an organization to create standard presentations and stunning content. I realized the impact of quality software like CyberLink PowerDirector, which has a wide range of tools to offer from my research. Hence, this guide is a compilation of CyberLink PowerDirector 12 and other information, including why you need the video editing software and how to create a video.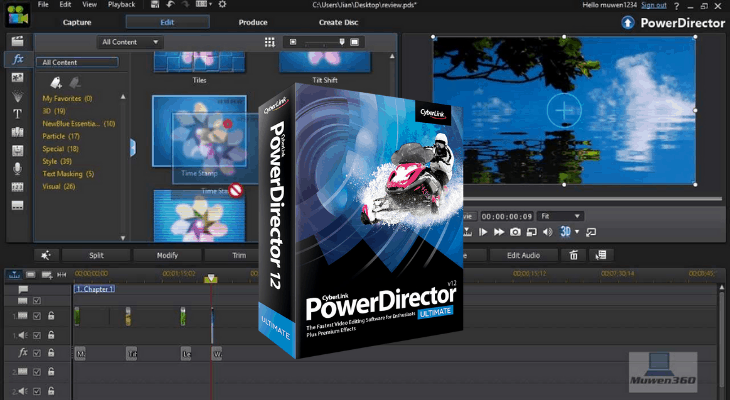 What is CyberLink PowerDirector 12?
Asides from providing premium video editing tools, it enhances productivity in a workspace. CyberLink PowerDirector 12 includes all editing processes, like basic editing, creating menu, subtitles, effects, and burning discs. More so, it is user-friendly and operates at a fast speed.
I recommend CyberLink PowerDirector

for any user that hurries and wants to get the video editing done as fast as possible. To enhance a faster rate, set your saving option to automatic from the main menu.
As you edit, the software saves your work automatically. You only need to export to phone storage after finishing up.
Also, it has various editing modes, ranging from Easy Editor to Full Feature Editor, allowing users to edit based on skills level.
Three Editing Modes of PowerDirector
Here is a description of the three modes of PowerDirector editing:
Easy Editor
Easy Editor involves video creation and editing through the selection of preferred media. You select the media to merge, then include audio and text.
Full Feature Editor
Full Feature Editor is a complete video editing tools mode. It is often for advanced skills since users will make use of unlimited features. You can choose up to 100 tracks and select clips by dragging them from your phone media.
Also, it includes more transition and effect control. You can choose to trim, cut or split your video. Likewise, you can generate multiple videos from a single file to create different smaller file size.
Slideshow Creator
The Slideshow Creator is the best way to create a dynamic slideshow with your photos.
The layout of this software makes it really easy for you and anyone else who might be helping, as well!
You can turn your photos into an impressive slideshow in just four steps. After importing them, you choose a stylish template and background music to make the presentation more interesting before uploading it onto YouTube or Facebook for all of your friends to see!
Why Do I Need PowerDirector 12?
Tools like Particle Designer and PiP designer are a big plus because they allow users to have fun with animation and graphics by being in control of your media. Users have the full responsibility to create a theme, background color, fonts, and videos in general. Hence, you will discover the degree of creativity you can have with these tools.
Another feature of CyberLink PowerDirector is MultiCam editing. With MultiCam editing, you can open more than one camera simultaneously while you keep editing to select the most suitable one. Hence, you can create and edit videos in the comfort of your house while producing professional videos of high quality.
It is cheap and includes tools for editing 360 videos. Sometimes, spending hours creating a perfect video is frustrating. CyberLink PowerDirector solves this with suggestions from professionals.
CyberLink PowerDirector is safe from virus attacks, and you can download and run it on your software without delay. Also, you can enjoy the free 30-day trial while you familiarize yourself with the software operations and tools. You can access crucial features, but the software watermark will remain at the lower end of your video, and their music is not copyright free.
The software is compatible with Windows, and you may want to consider other editing tools if you are running a different operating system.
Furthermore, PowerDirector provides advanced features, which are;
3D-2D conversion
High-quality new features
New effects, transition, and PiP objects
Intuitive interface
Hardware acceleration
Particle designs
4k editing
Subtle room
Motion blur effect
How to Use CyberLink PowerDirector 12
As mentioned earlier, the PowerDirector application is simple. The steps below are easy, as long as you follow instructions. Hence, if you are a newbie, it is high time I welcomed you on board.
Before creating a movie, you should select the suitable editing mode for you.
With any editing modes, you can create a movie in a few minutes, including the basic Easy Editor. The first thing you should do is identify the pictures and videos to edit and import them to the main menu.
After downloading CyberLink PowerDirector, you may only see the Action Style. To optimize your edits, you can download many freestyles and templates. Download the Magic Style for basic editing.
Since new users are likely to have the Action style, I will be using its features to explain how to create a movie.
After selecting your clips, include background music from your phone using the adjustment tab. If you do not have preferred music in your library, you can use any default song on PowerDirector. Here, you would see the popular music downloaded by other users.
Go to the settings bar, and select the features you want. After adding music and choosing a template, cross-check your work via the preview tab. Here, you cut your video to your desired length.
Name your video in the theme designer and choose a title. Also, edit the default text, and include any inscribe text you did want. However, I recommend a creative text.
Please select the right font for the video, and ensure it does not block its content. Also, the text color should blend with the video theme and background. Your video transition can be fast or slow, depending on how you want it.
As soon as you are satisfied with your editing, click the ok button to save it. Just like that, you have a complete project already. During the exportation, choose a resolution for the video, such as 1920×1080/30p or 640×480/24p.
Now, let us go to the Full Feature Editor.
Select your media, and let it be in the content tab. To add a new clip, select and drag from the media to the content box. Editing takes place from the top right side of the screen.
The capture tab then allows you to capture your videos and audios. From the produce tab, share with your friends and families directly or any video platform such as YouTube.
I recommend you bring your video into the disc from the create disc tab. By so doing, you protect your data from virus or malware attacks.
With these tabs, you can achieve your desired video creation and editing quality.
At the top left side of your screen, scan through the features available for editing. When you scroll through the tab, you can preview what each entails.
From the color edge feature, you can apply changes to your video.
Many of us may get carried away with video content, leaving away the subtle parts. To produce a professional video, make sure to pay attention to every detail.
The Slideshow Creator tool often appears as the simplest model, but it has added features. The added feature is the ability to arrange your selected clip in order of appearance.
Also, if you have two clips to merge, you can use the transition feature. However, these features are free, and you can download more from the CyberLink website.
Check out whether you should use Cyberlink YouCam.

Conclusion
Easy Editor, Full Feature Editor, and Slideshow Creator all have almost the same video editing ability. However, the main difference exists in the number of features available in each. In general, Full Feature Editor and Slideshow Creator have more feature options than Easy Editor.
For more information, check out whether you can install PowerDirector on multiple computers.

Sources
Was this article helpful?
Recent Posts
link to How To Allow QuickTime To Access Microphone 🎙️  
QuickTime is a vital app for many Mac users, and if you've recently bought a new microphone, you might wonder how to use it optimally. QuickTime cannot record audio content if it doesn't have...
link to How Do I Test My Microphone? 🎙️
Every microphone leaves a unique signature on the quality of its output. If you're a podcaster trying to melt your way into your audience's hearts, a muddy, distorted recording won't cut it....