PowerDirector is a video editing software with an intuitive user interface and advanced editing features used mainly by YouTubers. If you are familiar with PowerDirector, you'd know that its previous versions didn't come with a music directory. But thanks to the Magic Music tool, users can connect with one of the most famous soundtrack directories, SmartSound. The newer version, PowerDirector 365, comes with a music directory. However, is it copyright-free?
PowerDirector 365 music is not copyright-free. A monthly or annual service fee has to be paid in other to have access to its limitless music library. Moreover, soundtracks that are free rarely have a decent beat or sounds cool. 
As a YouTuber, I'd suggest you stick with PowerDirector music library even though it's a paid directory, so you don't have copyright issues. Whether you are a new or old YouTuber, you need to know as much as you can about copyright law. As such, I put this article together, including a little of everything about copyright and using PowerDirector. So, let's start with a guide to music copyright and proceed from there.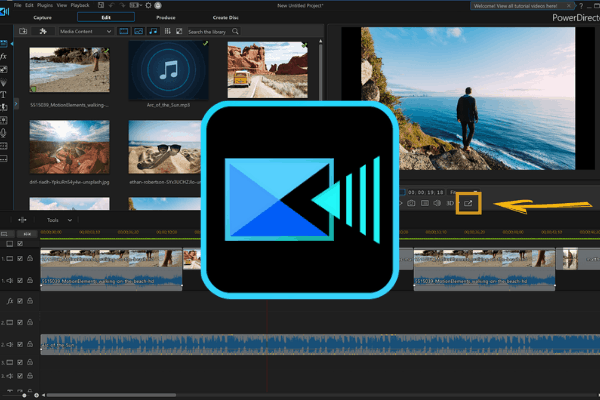 A Guide to Music Copyright 
Creating and uploading a video on a platform like YouTube needs to be 100% unique. YouTube strictly enforces Copyright, also known as intellectual property. This is why YouTube has remained one of the biggest platforms to learn several skills in so many ways. This is because nobody is allowed to use someone else's work without permission. 
Truth be told, the subject of copyright is pretty complicated. Yet, it is a topic of interest to many vloggers. So, why is copyright so important? Copyright is so important because it protects creators of content so that their content doesn't get stolen. So, as a YouTuber, it is important you upload videos that are 100% created by you. 
YouTube follows a strict copyright policy such that if anything as little as the background music of your video is flagged as owned by someone else, the video will be marked as copied content. As you can see, you will achieve nothing attempting to publish a video using copyrighted music other than a colossal waste of time. 
What Are Creative Licenses? 
If you want to use a popular soundtrack, you must get permission from the creator first. This permission you are requesting is called a creative license. In simple terms, a creative license is an agreement between a copyright owner and someone that wants to use the copyrighted material. 
So, how do you get one of these agreements? Truth be told, there are some creators you can't simply call up and say you are asking her for permission to use her music for your YouTube video. And sometimes it may be that you don't have enough money to pay off the composer. 
To get access to a popular composer, you can start by organizing a protracted negotiation, a bigger paycheck, and complicated contracts. However, please take note that carrying out these steps they are quite expensive and irritating. 
PowerDirector does not offer its users a soundtrack when editing. This is a little bit strange as PowerDirector is a very famous video editing app. One will only expect that such a massive software developer will have a directory of everything you'd ever need for editing. But this is not the case with PowerDirector. 
Nevertheless, PowerDirector didn't leave its users out to dry as users can use the Magic Music tool. When it comes to editing audio on PowerDirector, the Magic Music tool comes in handy. With this tool, professional video editors can create stunning videos with high-quality soundtracks. And the intuitive user interface of the Magic Music tool makes using this tool simple and straightforward. 
Adding a soundtrack to a video project using the Magic Music tool is as simple as dragging and dropping the soundtrack of your choice to your timeline. After adding it, you can do anything with it in PowerDirector, like use it as a voice-over, commentary, or to describe the video. 
The best part about adding a soundtrack in PowerDirector is that the Magic Music tool gives you access to the SmartSound directory. SmartSound gives PowerDirector's users a host of soundtracks they can choose from to edit their video. Embedded in SmartSound is a technology that automatically edits the soundtrack to fit the video with a perfect beginning and end.  
Moreover, SmartSound contains a spectrum of music from different genres. However, the downside of using SmartSound is that you may likely encounter copyright issues because of the way SmartSound sources for their soundtrack. Some composers who sell soundtracks on SmartSound often go ahead to sell the same soundtrack on other platforms. This often causes a misunderstanding between the different avenues the composer sells the soundtrack, making one feel as though they are breaking copyright law. 
All in all, PowerDirector's lack of a music director is a major problem. What is even more concerning is that with the new update of PowerDirector, Magic Music no longer supports SmartSound. As such, to add a soundtrack while editing a video, you need to find other directories that will best suit your needs.  
For more information, check out Cyberlink PowerDirector 10.
Where to Find Music for Your YouTube Videos 
Since asking for permission from the creator of a video is quite expensive. I will address a couple of places you can find the ideal music for YouTube without having to dispute copyright all the time. 
Most times, when you decide to pay for a soundtrack you can use for your YouTube video, you'd often find yourself using royalty-free music. You can either choose to get the soundtrack from a subscription site or a single purchase site. But if you are a prolific YouTuber, a subscription site says fantastic ways to ensure you get the right soundtrack anytime. 
Suppose you'd prefer not to pay anything for the soundtrack you want to use for your YouTube video. The downside of this feature is that there are strict limitations around how you can use the music. Note, most providers that produce free copyright soundtrack also offer a paid subscription. 
For more information, check out which is better: PowerDirector vs. KineMaster.
Is PowerDirector 365 Music Copyright Free? 
PowerDirector 365 comes with royalty-free download music. This means that the music copyright feature in PowerDirector 365 is not entirely free. But as we would have it, before the update of this app, PowerDirector does not patronize creating its music but depended on other directories like SmartPhone. 
YouTubers often complain of their videos being flagged as a copied content. One of the main reasons for this is because SmartSound gets some of its soundtracks on a non-exclusive basis from some of the top composers in the industry. And these composers may also be selling the same soundtrack through other avenues that are not Royalty-free. 
This means that if another company that represents the music to some degree may have uploaded the soundtrack to YouTube content ID which may end up flagging other videos that use that soundtrack falsely despite they have a license.
For more information, check out which is better: PowerDirector vs. Adobe Premiere.
Conclusion 
In conclusion, PowerDirector is a vital video editing tool that has refused to fade away. Whether or not PowerDirector provides you with a soundtrack to use, they are still a great app to use. But if you want the full package, I recommend you use PowerDirector 365. 
Sources:
https://creativecommons.org/licenses/
https://www.cyberlink.com/products/powerdirector-video-editing-software/overview_en_US.html
https://www.cyberlink.com/downloads/trials/powerdirector-video-editing-software/download_en_US.html