Thanks to developments in smart devices like Chromebook, producing music is easier and faster than ever. You can use various tools for making music on your Chromebook offline or online. But what are the best DAWs for producing music on your Chromebook?
Here are 7 of the best DAWs for making music on a Chromebook:
BandLab
Music Maker
Flat.io
Soundtrap
Splash
JAMBL
FL Studio mobile app
Producing music on a Chromebook isn't limited to DAWs or apps, and you can also use several web-based tools. If you're interested in making music and start doing it at home, keep reading! This comprehensive article will talk about the best DAWs

and their online counterparts.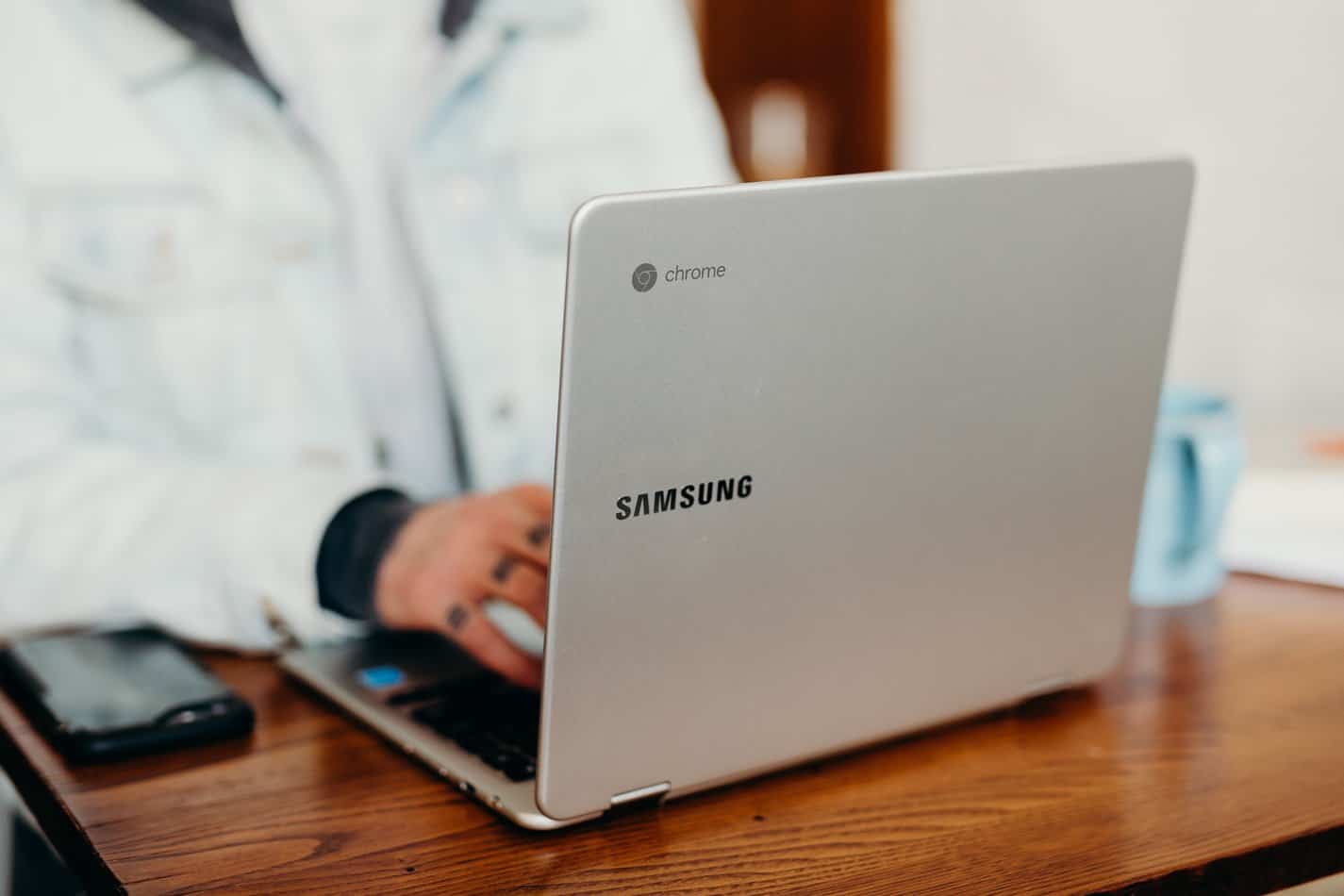 1. BandLab
Bandlab

is a free Digital Audio Workstation that works efficiently with Chromebook, which has a phone version, too. It's effortless and straightforward to work with.
Although it's rare for DAWs to use cloud storage, BandLab offers this great feature at no cost. It allows you to save all of the projects you create on cloud to reduce the space they take up on your device as much as possible. Besides, it increases the speed of content sharing and allows people from everywhere to work together.
At the moment, you can produce up to 16 tracks simultaneously on BandLab and record tracks that are 15 minutes long. You can also work with up to 50 people at the same time. It also offers the following:
Some professional functions like tap-tempo, lyric editor, magnetic timeline, and tracking version.
It allows you to invite your "band" and collaborate with them. You can create a session and invite your peers to work on a piece of music together–to listen and edit.
2. Music Maker
Music Maker

is one of Magix's products, along with other music products like Samplitude, Sound Forge, and Acid Music Studio / Acid Pro.
However, Magix's Music Maker is compatible with Windows and Chromebooks. It's a simple DAW that targets amateur musicians or those who like to make music as a hobby. So, it may sound elementary for a semi-pro or advanced user.
There are also four versions of Music Maker, each covering your different needs–the Free Music Maker, the Plus Edition, the Live Edition, and the Premium Edition.
Here are the key features:
The MAGIX Audio Remote is a second-screen app that lets you have control over the live pad mode, your tools, and conveyance functions.
Music Maker's live pad mode features 30 Live Sets for Trance, EDM, Hip Hop, and more. It also enables you to set up and play live music with the pads it provides.
3. Flat.io
Flat.io

music production app provides you with all sorts of resources that you may need for making music. It allows you to compose, upload, read, or find music scores on your Chromebook.
Using this app, you can share your music with your peers and get feedback on it. It offers a host of features like the following:
Multiple people can edit a music sheet at the same time, just as several people can have access to one Google doc and edit it simultaneously.
You can choose the type of permission–read or write–when you share your music with someone.
Google Hangouts is integrated into it, allowing you to hold video chats and at the same time collaborate with your peers on your music.
4. Soundtrap
Soundtrap

is one of the most functional DAWs for making music on a Chromebook. It's super easy to work with and provides you with a handful of helpful features. To use the Soundtrap app, you need to sign up first and create an account on its website.
After you've created your account, Soundtrap will give you a trial period for using its great premium features. However, at the end of the trial, they'll switch your account to a free version that would entail some limitations.
Here are some of the most significant features of Soundtrap:
A large number of instruments and loops that you can play around with and create music.
Recording music to the app by connecting a MIDI-compatible device.
Networking apps that allow you to share your music or ideas with other people. On the other hand, they can listen to your works and even edit them.
5. Splash
Splash Digital Audio Workstation

is one of those DAWs you want to have on your Chromebook. It's a totally free app, and there are no annoying ads. You can make beats and music with Splash and share it.
Here are some great things about Splash:
The incredible thing about Splash is that your music is 100% copyright-free, meaning you can share your music everywhere and everywhen. You can send it to a friend, upload it on Spotify, or do it on your YouTube channel.
Splash frequently updates its sound packages, so you'll always have new ideas and new musical compositions to create.
6. JAMBL
Another great but free DAW for Chromebook is JAMBL

. While it offers several advanced features for the users, working with JAMBL isn't hard at all! Its toolkit is designed in a simple, delightful way that makes music production so fun.
You can use JAMBL to create tracks, mix music, or play tracks. What's more, you can make excellent music videos too! Just add your video to the music and let JAMBL do its magic.
Below are some of the key features:
You can choose a jam pack with the theme you'd like and enjoy more than one hundred tracks from incredible musicians that are accessible for you.
The Smart-note Looper System allows you to create beats and loops limitlessly. No ready-made loop is available on JAMBL.
Live sessions of jamming with other mates are also possible.
It gives you full control over the tempo, volume, effects and combines sounds to make different styles and genres of music.
7. FL Studio Mobile App
FL Studio

is doubtlessly one of the best Digital Audio Workstations developed so far. It offers many premium features that would help you write, design, film, cut, mix, and master music.
While FL Studio isn't compatible with Chromebook, its mobile version

is. However, it's not a free DAW. Here are some of its key features:
Making loops and sequences just in seconds.
Adding melodies and harmonies to your music.
Quick maneuvering between the step sequencer and performance mode.
You can do multi-track music projects on FL Studio and save them on your device.
Recording, sequencing, editing, mixing, and rendering complete songs are just some of its possibilities.
Online DAWs You Can Try
In addition to what we mentioned here, there are some web-based Digital Audio Workstations (DAW) that you can use for music productions and work as efficiently as their offline counterparts.
Because they're web-based, you don't need any installation, and there will be no clutter on apps on your device. Let's check them out.
Song Maker
Song Maker

is another simple DAW compatible with Chromebook. It was initially a free sequencer and part of the Chrome Music Lab project. Everybody can use this fun, super easy DAW and create music–loops, actually–and others would share it. Just hit on the grid–easy peasy!
Because Song Maker is a web-based tool, there's no need to install it. Another great thing about it is it allows you to make musical compositions with different instruments and share them with others.
Soundtrap
Soundtrap

is a revolutionary web-based platform for music production and teaching it around the world. It's so good that in 2015, the American Association of School Librarians awarded

it "The Best Website For Teaching and Learning."
It's free to use, and you can even invite your friends to collaborate on your project. You can use it to make music, record vocals and instruments, and so much more.
Soundtrap is so easy to use that anybody of any age and musical ability can make music with it.
Online Sequencer
Online Sequencer

is another easy-to-use web-based tool that you can enjoy on your Chromebook to create cool beats and songs. You can also share what you've created here on different social media.
It's free and provides several handy features. For example, you can choose among various instruments and produce, cut, mix, or edit music. Besides, there's a great library of ready-made sequences that you can use and save your projects on cloud storage.
Looplabs
Looplabs

is also a free online and cloud-based tool for music-making on Chromebook. It allows everyone to get creative with music, regardless of their skills. Its library also contains a lot of royalty-free sounds that you can incorporate into your music production.
Looplabs' interface is like GarageBand–an advanced music production tool that isn't compatible with Chromebooks–and so easy to work with, even for an amateur person. However, whatever you make on Looplabs will go under their license, and you can only use it for personal use.
AudioTool
Audio Tool

is another free online music-making platform that allows you to produce and publish creative music tracks. It's the most similar platform to the Mac's popular DAW app, GarageBand.
This online DAW also has a built-in publishing platform for sharing your music projects, and working with AudioTool can be a fun and pleasing experience overall.
Just drag the instruments to the desktop and connect them with some virtual cables. You can save the settings as a preset; that's why over 50,000 samples are now available for different devices.
What's more, you can save all your creations in cloud storage, which means you can access them from anywhere without additional app installation.  
Soundation
Soundation

is free, but you must pay for its premium features, which are worth the money. You can try it out for yourself by signing up for a 7-day free trial.
Its free plan allows you to make 10 projects, provides 10 GB of storage space, and allows you to export your music in MP3 with high quality.
Soundation is one of the best online DAWs available for use on a Chromebook. It provides a massive library of more than 20,000 sounds to mix and offers software instruments like samplers and synthesizers.
You can benefit from a wide range of audio effects for shaping your music, and it allows you to collaborate with your friends and peers in real time. 
DAW Is Music on the Go
DAW stands for a "digital audio workstation." Originally, they were supposed to replace tape recording, but now they're the fastest and simplest way for music production.
In simple words, a DAW is a virtual studio that you can have on whatever platform you wish–PC, laptop, notebook, or even smartphone–to create your own music. You can record, edit, and mix tracks to make a single audio file or a song

.
The great thing about DAWs is the possibility of multiple-track recording and editing. Besides, you can team up with other people and work on a track at the same time.
Are Chromebooks Good for Making Music?
Chromebooks can be good for making music, though they may not be the first choice of professional musicians and artists for making music on the go. Still, they're fast, reasonably priced, and come in various models and prices.
As we mentioned, the two available options for Chromebooks are using Android and web-based applications. However, you can't install and run apps on your Chromebook unless they're on your Web Store or Google Play Store.
While you can solve this issue by enabling the Linux mode, that wouldn't be enough for supporting more complex DAWs. For example, you won't be able to install or run DAWs like Audacity, Logic Pro, Cubase, Sonar, and Reason. 
Besides, the audio created on a Chromebook may not have the quality you wish, and you may need to buy devices that are compatible with the Chromebook.
All in all, Chromebooks can be great as side Workstations to use on the go when you don't have access to your home setup.
Sources
Was this article helpful?
Recent Posts
link to How To Allow QuickTime To Access Microphone 🎙️  
QuickTime is a vital app for many Mac users, and if you've recently bought a new microphone, you might wonder how to use it optimally. QuickTime cannot record audio content if it doesn't have...
link to How Do I Test My Microphone? 🎙️
Every microphone leaves a unique signature on the quality of its output. If you're a podcaster trying to melt your way into your audience's hearts, a muddy, distorted recording won't cut it....