A DAW is one of the most critical items in any studio. But since there are tons of options to choose from, it can be challenging to zero in on the perfect one for you. Now, which DAW is best for recording vocals?
The best DAW for vocals mixing and recording vocals is Logic Pro X, which delivers professional-sounding vocals, offers an aesthetic layout, high-end MIDI editing, and virtual instrument plug-ins. Other high-quality DAWs include Cockos Reaper and GarageBand. Your mic also plays a critical role in sound quality.
Read on for the factors to consider when choosing DAW software, the best DAWs for recording rap vocals, and how to make the most out of your workstation software.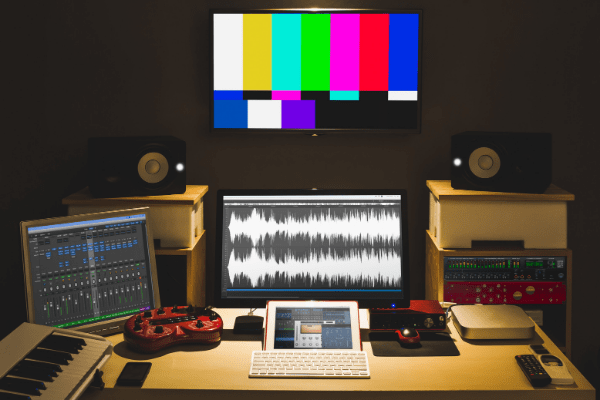 What To Consider When Buying DAW Software
Here are some of the factors to consider when picking software for your workstation:
Your Goals
Your aspirations, budget, and priorities should be the main criteria to use when choosing DAW software. No specific software can be objectively said to be the best. Later in this article, we'll review the pros and cons of different DAWs on the market. That way, you can make a choice based on your own needs and goals.
The OS
DAWs come with different software, hardware, and driver requirements. Therefore, your computer's operating system (OS) is a critical determinant of whether you'll have an enjoyable, seamless vocal recording experience when using a specific DAW.
For instance, some DAWs are only compatible with specific operating systems. For example, the Logic Pro x and GarageBand — two DAWs produced by Apple — are designed to only run on iOS and macOS, locking out Windows and Linux users. Similarly, there are other DAWs that run exclusively on Windows. Others are cross-compatible

, meaning you can use them on any OS.
Therefore, it's better to consider whether a Mac-specific, Windows-only, or cross-compatible DAW would serve you better.
Lifetime Access
With technological advancements, DAWs are bound to be upgraded regularly. After all, musical tastes keep evolving, and new tools continue to emerge. For that reason, you should consider whether free, unlimited access after the initial payment would suit your needs more or whether you'd be willing to pay for updates to get a leg up on the competition.
It's better to think about this aspect keenly to avoid shifting to a different DAW before knowing the previous one's ins and outs. That's because it would take you time to learn about the replacement, slowing you down.
The Interface
A DAW's interface is the most significant divide when it comes to user-friendliness. Arguably, you need a DAW that's easy to use and offers speed and fluidity. You could also look out for unique features, such as those that allow you to record into different takes and choose your favorite from a simple menu, as this article describes

.
Tip: Suppose you consider a DAW the most suitable for your needs. In that case, it's best to download a free demo or limited subscription and test it out first.
Check out: 7 Reasons Why DAWs Are Expensive

Best DAW for Recording Rap Vocals
Let's say you ask 20 vocal producers about the best workstation software for recording vocals. Chances are, you'd get 20 different answers. Nonetheless, there's a high chance they'd mention some of these DAW software:
This DAW delivers professional-sounding vocals. It features high-quality virtual instruments and plugins, solid MIDI

editing, and shortcuts that make it the best choice for recording rap vocals. You can also use Logic Pro X

for nearly anything: music production, composition, scoring, mixing, and sound design.
Pros
Quality virtual instruments and stock plugins
East to learn
Aesthetic layout
Cons
Only compatible with macOS
This DAW earns a spot among the best, thanks to its intuitive layout and beginner-friendliness. Learning this software is easy due to the tons of online tutorials that can show you the ropes.
Recording vocals using the Reaper is as easy as clicking the red button on the left and pressing the master Record button. To hear some reverb

in your headphones during recording, you can set up monitoring effects. That allows you to make recorded vocals as natural as possible and add effects, depending on your musical vision.
Pros
Cross-compatible with macOS, Windows, and Linux
Beginner-friendly
Customizable layout
Quality stock plugins
Powerful routing
Cons
Less flexible than other DAWs
GarageBand removes hassles from your recording, thanks to its easy-to-use design that allows you to arm a track and record it. It enables you to record multiple takes, while Flex Time lets you massage your audio's groove. Groove Matching allows you to match the timing, tempo, and feel of other audio tracks to the ones you've set up, making this DAW worthwhile.
Pros
Professional interface
Easy to use
Comes with free lessons
Supports third-party plugins
Cons
Only compatible with macOS
Magix Music Maker is designed for both beginners and expert producers, as evidenced by its Easy Mode feature that protects you from being overwhelmed by its 1500 effects. It has an intuitive layout that allows you to easily lay drum loops, add sounds, and mix audio.
You can import sounds and export finished files. You'll also gain access to a library of voices, drum loops, and sound effects once you're verified on the platform.
In my opinion, this is the best bargain for Windows users.
Pros
Free trial version
Eight virtual instruments, including pop drums
Less taxing for beginners, thanks to the Easy Mode feature
The editing suite features a channel mixer, previewer, cue points, frequency turner, and an equalizer
Cons
Poor at batching, making repetitive tasks burdensome
Incompatible with macOS
Pro Tools

has been around for a long time, making it a household name.
Recording and editing rap vocals on this DAW is a breeze. It comes with sample-level editing for loop recording. It also allows you to comp tracks, assemble, and edit them using Apply Crossfades and the unique Smart Tool cursor.
Clip Gain lets you adjust volumes using a pop-up slider without a plugin. Even better, Beat Detective picks up grooves and lets you fix timing issues.
Pros
Free trial version
Fast 64-bit recording
Excellent factory and plugsound packs
Cons
Monthly fee required for patches after the initial 12 months
Working with MIDI is time-consuming
Check out whether Pro Tools stock plugins

are any good.
Check out to see if FL Studio is good for beginners.

Ways To Get Better Vocal Recordings From Your DAW
Use a pop shield: A pop shield can help avoid the plosive sounds, such as "b" and "p," which come with singing. I recommend that you use this Aokeo Professional Isolation Shield from Amazon.com. Its inner side is made of cotton to absorb reflected sounds for clear recording. Place it midway between you and the mic, ideally 3 to 4 inches from either side.

For more information, check out this article on the best isolation shields for recording studios.
Sale
Aokeo Professional Studio Recording Microphone Isolation Shield,Suitable for Blue Yeti and Any Condenser Microphone Recording Equipment(AO-403)

ELIMINATE INTERFERENCE: The inner side of the microphone isolation shield is made of absorbing...
FLEXIBILITY & CONVENIENCE: The folding panel design features enables angle adjustments, giving you...
DURABILITY: Constructed out of premium steel with high-quality screws to ensure sturdiness, and long...
Last update on 2023-12-08 / Affiliate links / Images from Amazon Product Advertising API
Get the right mic: A decent mic should capture all the recordings. For better results, select one with a cardioid pattern. In this case, I recommend the SM58-LC Cardioid Microphone from Amazon.com. Its frequency response is tailored for vocals, and the uniform cardioid pattern minimizes background noise by isolating the primary sound source.
Shure SM58-LC Cardioid Dynamic Vocal Microphone with Pneumatic Shock Mount, Spherical Mesh Grille with Built-in Pop Filter, A25D Mic Clip, Storage Bag, 3-pin XLR Connector

EXEPTIONAL VOCAL PERFORMANCE - The SM58-LC delivers high-quality vocal reproduction, thanks to its...
INDUSTRY STANDARD - The first choice for performers around the globe, the SM58 Dynamic Vocal...
CLARITY & CARE - The uniform cardioid polar pattern reproduces every note as it was intended,...
Last update on 2023-12-08 / Affiliate links / Images from Amazon Product Advertising API
Use a decent shock mount: A quality shock mount reduces vibrations and rumbles during recording for clear sound.
For more information, check out this article: Is It Better To Record Quiet or Loud Audio?

Final Thoughts
Some DAWs come with tutorials that make it easy to get their ins and outs if you're a beginner. Others allow fast recording, feature virtual instruments, and come with professional-grade editing features that let you refine tracks.
However, objectively, your workstation, mic, and whether you use shielding determine your recorded rap vocals' quality, so you should pay more attention to them.
Check out this article about how to make room for vocals in a mix.

Sources
Was this article helpful?
Recent Posts
link to How To Allow QuickTime To Access Microphone 🎙️  
QuickTime is a vital app for many Mac users, and if you've recently bought a new microphone, you might wonder how to use it optimally. QuickTime cannot record audio content if it doesn't have...
link to How Do I Test My Microphone? 🎙️
Every microphone leaves a unique signature on the quality of its output. If you're a podcaster trying to melt your way into your audience's hearts, a muddy, distorted recording won't cut it....