FL Studio won't compare to Ableton for music production, it won't compare to Pro Tools for pure mix engineers, and it's not as great as Logic Pro for recording instruments and vocals.
FL Studio is a versatile DAW that music producers and musicians use to make every genre of music, but is it good for recording and mixing vocals? If you're mainly just recording and mixing vocals, FL Studio compares very similarly to every other DAW. For both recording and mixing vocals you can't go wrong with FL Studio because of its quality mixing view and straightforward recording process. There's no point to switching DAWs from FL Studio if you're mostly just recording and mixing vocals in FL Studio because, while there are better DAWs for this, the differences are slight.
But what about the more fine details of FL Studio

for recording and mixing vocals?
In this article, we'll give you the verdict and go over the positives and negatives FL Studio for recording and mixing vocals. We'll also offer some alternative options just in case there is a better DAW out there for your needs.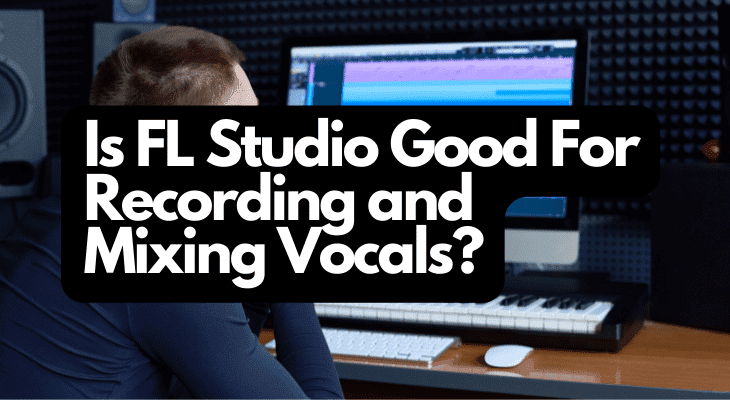 Is FL Studio Good For Recording And Mixing Vocals? Pros and Cons
2 Reasons Why FL Studio Is Good For Recording And Mixing Vocals
FL Studio Has An Incredibly Intuitive User Interface
One of FL Studio's strengths is its simplicity of design. It's a relatively easy DAW to learn compared to some others including Ableton and Logic Pro. With a less steep learning curve, you can more quickly get to recording and mixing vocals at a professional level, and you can almost everything you can in other DAWs inside FL Studio. However, while it is intuitive, it is not as smart and thoughtful as some other DAWs, so once you learn it, the benefits start to decrease.
Great For Mixing Effects
Adding effects such as reverb and delay is super simple with FL Studio with it's mixer channel view. The way it's set up is great for mixing vocals because of its intuitive user interface. Mixing effects such as distortion, reverb and delay is awesome with FL Studio. However having a bigger session can complicate things a little more.
Check out:
3 Reasons Why FL Studio Is Not Good For Recording And Mixing Vocals
Crashes Are Devastating
One issue with FL Studio is not that it crashes more often than other DAWs, but that when it crashes it's likely you totally lose all of your work. In terms of long-term productivity, it is a real pain in the 'you know what' because losing all of your work happens quite often. Alternatively, DAWs like Ableton and Logic Pro have advanced Autosave features that save sessions before the DAW crashes or your computer

turns off.
The Workflow Isn't Great
While the strength of FL Studio is an intuitive design, the weakness of FL Studio is the slow workflow. You may experience longer times to implement certain ideas. And while this issue is more pronounced for music production, it still lingers for mixing vocals. For example, the DAW lacks extensive hotkeys and has a lot of minor annoying flaws, so if you want to add reverse reverb to a vocal, for example, you can't use a hotkey, you have to readjust the timing of the track because it doesn't auto-adjust for you, and you have to go back and forth between windows while you do this.
Stock Plugins Aren't Very Good
While some of FL Studio's stock plugins are great and unique in their own way, overall they don't beat other DAWs like Logic Pro X, Ableton, or Pro Tools. For example, Fruity Parametric EQ 2 can't EQ side frequencies nor get very precise. FL Studio lacks some quality utility plugins, too.
Also, the stock features for recording and mixing vocals aren't as good either. FL Studio misses a comping feature and the ability to minutely adjust and warp the timing for precise editing of vocals.
For more on problems with FL Studio, check out:
Alternatives to FL Studio For Recording And Mixing Vocals
1. Logic Pro X
While Logic Pro X isn't the best DAW for music production, nor is it the best DAW for pure mixing, Logic Pro X in my opinion is the best DAW for recording and mixing vocals for most music-makers.
First of all, Logic Pro comes with the best stock plugins on this list. Their stock EQ is more intuitive, visual, and just overall better than FL Studio's Fruity Parametric EQ 2. It allows you to EQ the mids, sides, left, and right separately and EQ in a much more precise manner, which is ideal for vocals.
Logic Pro comes with a ton of plugins that cover everything you need: amps and pedals

, delay, distortion, dynamics, EQ, filter, imaging, metering, modulation, multi-effects, pitch-correction, reverb, and utility.
Logic's stock plugins are so good that you can very easily learn all of the basics and create what you want without buying any third-party plugins for a while.
Comping vocals is made super easy with Logic Pro because they give you a dedicated feature in the DAW that streamlines the comping workflow.
If you want to edit the precise timing and pitch of your vocals, flex mode allows you finely to work with timing and pitch in a way that many other DAWs simply don't allow.
For more information check out: Is FL Studio Worth Buying? 9 Things To Consider

2. Pro Tools
Pro Tools is widely considered the best overall DAW for recording and mixing, however, it was not designed for production.
Pro Tools is excellent for dedicated mix engineers because of its mixing-optimized workflow, advanced automation functions, and optimized editing and recording functionality.
It's laid out like a mixing console, routing is flexible, and it's easy to incorporate outboard gear.
Back in the day, Pro Tools was the first DAW that allowed users to monitor in real-time, record multiple tracks simultaneously, and a bunch of other things. But in 2022, while they don't have the one-of-a-kind features like they used to, Pro Tools is still the industry standard for dedicated mix engineers.
3. Cubase
Elements 12 is their stripped down version which offers 64 MIDI tracks, 48 audio tracks, and 24 instrument tracks. The mid-tier version, Artist 12 offers unlimited tracks and a multitude of samples/plugins. Pro 12, their highest version, includes a more advanced score editor and lots of mixing and mastering upgrades.
Cubase is not the most popular DAW compared to the other DAWs on here. One of the problems with using Cubase is that there simply aren't a lot of tutorials on YouTube compared to other DAWs. Overall, it excels at MIDI scoring for TV and film and is actually quite good at recording and mixing vocals if you do that exclusively.
Like FL Studio, it features a mixer, but instead of the mixer and the insert plugins being all-in-one, they are separate, which is a downgrade in terms of pure mixing.
The stock plugins aren't bad but also don't compare to Ableton's, Logic Pro's, or Pro Tools.
4. Ableton Live 11
Ableton is not as specifically designed to record and mix vocals, but I think it is neither better nor worse than FL Studio when it comes to recording and mixing vocals. The main downside to Ableton is that the learning curve is fairly steep, so, if you're not serious about using it for the long-term, it may not be a great option.
Another downside to Ableton is that it does not have a dedicated mixing window. Instead it has an arrangement view and session view, where the arrangement view is designed for music production and the session view is more geared for live performances.
Ableton is made more exclusively for music producers and/or live shows, so if you don't use your DAW for music production and/or live shows, it probably won't be the right DAW for you.
Ableton also has a comping window and a very useful warp feature which allows you to extend and finely edit audio tracks.
Overall Ableton is a great and innovative DAW for music production and live performance, but for mixing and recording vocals, it doesn't compare to some of the other DAWs on this list.
Conclusion:
When it comes to recording and mixing vocals in a DAW, the differences between each one are insignificant. FL Studio and every DAW on this list will be able to record and mix vocals very easily. If you only use a DAW for recording and mixing vocals, and you already use a DAW (such as FL Studio), there's no reason to switch DAWs and learn a new one because the differences are so slight. However, if you are a pure mix engineer and work with mixing full tracks, I'd highly recommend Pro Tools. If you are a music producer or do a lot of live performances, I'd highly recommend Ableton. If you want the best DAW for purely recording and mixing vocals, I'd recommend Pro Tools. Again, if you already use a DAW and you only record and mix vocals, it's best to stick with that DAW instead of learning a new one.
Frequently Asked Questions
How Long Does It Take To Learn FL Studio?
It will take everyone different amounts of time to learn FL Studio, but relatively speaking, FL Studio is the fastest full-fledged DAW to learn. FL Studio is a lot more intuitive than other DAWs so you don't have to spend excessive amounts of time and hard mental energy.. Personally, it took me around 1-3 months while I was in college working almost every day in my free time on it to really start to understand most of what FL Studio has to offer, but I had never used a DAW prior to that.
Can You Mix Vocals In FL Studio?
Yes, you can mix vocals in FL Studio. FL Studio has a mixing window and an arrangement window which allow you to record, edit, and mix vocals at a professional level.
How Do You Record Vocals In FL Studio?
To record inside FL Studio, the first thing you want to do is go into the options menu at the top left corner and select audio settings from the drop-down menu. Under the input/output section, select your device (your audio interface), then make your buffer size as small as you can. This decreases the amount of delay you receive from the microphone to the playback device such as your headphones. Generally, if you're producing, you want the buffer size as high as possible, but if you're recording, you want this as low as possible. Next, close your settings menu and open up an empty insert in the mixer. Select your input device at the top (the mono version).
Now, arm your track in the mixer by clicking the red "arm disk recording" symbol. The next step is to go into your playlist, select a track, click the record button, then click "audio, into the playlist as an audio clip" and it will record your audio until you disarm the record button again.
What Effects Make Vocals Sound Better?
The best effect plugins to improve or enhance the quality of your vocal could be delay and reverb, but it always depends on the vocal. It's easy to overdo delay and reverb and take away from the naturalness of the performance. It's also easy to overdo any vocal effect because they can make a vocal sound overprocessed. All in all, most mix engineers and vocalists agree that what's most important is the voice that is recorded. Making sure that you deliver a quality vocal performance is crucial and often underlooked with beginner mixers. Making sure that your voice is in-tune can also go a long way in making your vocals sound better.
References
https://www.image-line.com/

https://www.ableton.com/en/

https://www.steinberg.net/cubase/

https://www.avid.com/pro-tools

https://www.apple.com/uk/logic-pro/

Was this article helpful?
Recent Posts
link to How To Allow QuickTime To Access Microphone 🎙️  
QuickTime is a vital app for many Mac users, and if you've recently bought a new microphone, you might wonder how to use it optimally. QuickTime cannot record audio content if it doesn't have...
link to How Do I Test My Microphone? 🎙️
Every microphone leaves a unique signature on the quality of its output. If you're a podcaster trying to melt your way into your audience's hearts, a muddy, distorted recording won't cut it....