If you're an aspiring musician, producer, or songwriter, you've heard of the Digital Audio Workstation known as FL Studio

. The program is said to be quite user-friendly and a commonly recommended option for beginners. But is it the right choice for your creative needs, or does the cost exceed the value?
FL Studio is worth buying, whether you're a beginner or an expert producer looking to put your creative talents to work. FL Studio features a wide selection of plugins, an easy-to-use interface, and an intuitive channel rack, all packed in a price-friendly DAW.
If you're on the fence about purchasing FL Studio

, read to the end of the article to learn more about its pros and cons and decide if this program is right for you.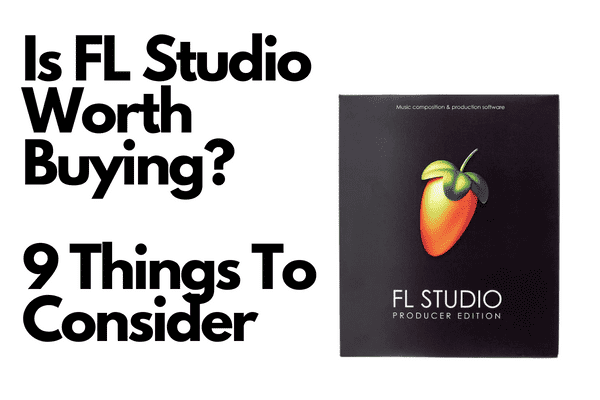 What To Consider Before Buying FL Studio
Whether you're a professional music producer or want to explore your inner creative genius, some things are necessary to make your music-making experience enjoyable. We understand how overwhelming it can get if you're searching for the best DAW. There are so many options out there, and each of them comes with its own features.
That said, before making a final decision about which DAW to buy, there are a few factors that you need to take into account.
1. What You Need From FL Studio
Before you even consider what features are important, you need to understand what you're trying to achieve with your music.
What kind of music do you make?
What instruments do you play?
Will you be creating music for live performance or just to be listened to in the studio or in headphones?
What kinds of audiences will you be producing music for?
All of these things will help you narrow down what features you need from FL Studio.
2. How Much You're Willing to Pay
Upfront payment is the standard for most DAWs out there, which is a big consideration if you're not ready to set up your professional studio yet. Some people are willing to pay the full price in advance to get the software immediately, while others are only willing to pay a monthly installment plan or subscription fee.
FL Studio does not charge in installments for its software. However, paying the full price upfront means you don't have to worry about being charged anything else by the company. However, it also means you are instantly putting more money out of your pocket.
3. How Much Time You're Willing To Spend Learning
If you're just looking to create a few tracks now and again, you can probably get away with using a super simple DAW like GarageBand

. If you're serious about music, though, you will want something a bit more robust. FL Studio is a professional-grade DAW, and unlike several other DAWs, you don't have to face a pretty steep learning curve.
However, you'll still need to be willing to invest time into learning how to use it properly. And the more time you are willing to put in, the more you'll get out of the software.
For more information, check out:
4. If There's a Free Trial Available
For many people, testing a product before buying it is incredibly important. It helps them decide if the product is right for them and lets them see whether the company offers good support and has frequent updates.
FL Studio offers a long, free trial period. This way, you can test the software and see if it's right for you before buying it.
5. If There Are There Any Recurring Costs
One thing you want to be aware of before buying a piece of software is whether there are any recurring costs associated. This can come in the form of a subscription fee, per month, or per-year maintenance cost. If there are recurring costs, ensure you know what they are and that you're willing to pay them.
The good news? FL Studio doesn't have those. Once you buy your edition, that's pretty much it!
6. If It Is Compatible With Your Other Systems
You might be using other programs or plugins alongside your DAW. Maybe you're using a third-party plugin from a different company. If you want to use these programs alongside your new DAW, you want to make sure they integrate. This is important because you don't want to have to do everything manually.
FL Studio integrates with any system, and you can use it on
7. If It Has Good Quality Presets and Samples
Your DAW is meant to help you create music. As such, it should come with many samples and presets to help you create what you want. However, not all programs are created equal. Some come with a ton of high-quality samples and presets, and others don't. If you're looking for a program with high-quality samples and presets, FL studio is a great place to start.
8. What the Most Important Features Are to You
Deciding which features are the most important to you will help you narrow down your options. You probably won't find any one piece of software with every feature you want. So you must decide which are most important and which you're willing to compromise.
9. If You'll Be Able To Find Help When You Need It
As with all products, you want to ensure the DAW you choose has good customer support. You don't want to buy a piece of software and then have no idea what to do when you come across a problem.
You want to make sure that the company behind the software has ways for you to get help when you need it. Whether that's a knowledge base, tutorials, or a forum where you can ask questions, you want to ensure you'll have help when you need it.
FL Studio Pros and Cons
Now that you've thought about what's important to you and what isn't, let's discuss some pros and cons of FL Studio.
Overall, FL Studio is an excellent option for those who are looking for a robust DAW that can do it all. It has a ton of built-in features and plugins that can make the creative process easier. It's also pretty user-friendly, so it's a great option for beginners. However, it is a relatively expensive program, so it may not be suitable for everyone.
Here's a brief breakdown of FL Studio's pros and cons:
Pros
The learning curve: FL Studio is surprisingly easy to use. It's definitely one of the easiest DAWs to learn. This program is great for beginners and is a wonderful place to start your journey as a musician or audio engineer.
Affordability: This software is available at a lower price than several other workstations. It also features a lengthy free trial. This makes it a great option for people on a budget or who are just getting started with music production.
Access to an online community of fellow producers: These online communities can be great sources of information and can help you get your foot in the door with your music career.
Cons
Occasional crashes: Despite the program's stability, it still faces occasional, annoying crashes caused by the built-in plugins and CPU overload.
Limited access to tutorials and other learning materials for beginners: Unfortunately, FL Studio might be a little difficult for beginners to learn. Some tools and plugins are dug deep into the menus, making it difficult for beginners to find them.
Why FL Studio Is Worth Buying
There are many DAWs out there that you can use to record, produce, and mix your own music. Some of these options are free (with fewer features), while others cost money. If you're on the fence about which option is right for you, here are a few solid reasons why buying FL Studio is definitely worth it:
1. Stability: Newer FL Studio Versions Are Stable and Reliable
No piece of software will work perfectly 100% of the time. But, after years of re-engineering, you can expect a high degree of stability from FL Studio. Newer versions of FL Studio have been reliable and stable from version 20 onward. The legacy version

12 and earlier has a reputation for being crash-prone. But this was mainly because old versions were unstable when handling large projects.
Moreover, the earlier versions were not well-documented, which meant many users didn't know how to use critical features properly. That's why so many people had trouble with it. Today, if anything goes wrong, you can always contact the support team or find helpful answers from FL Studio's knowledge base or one of its many QA forums.
2. FL Studio Design & Interface
FL Studio's design interface has been tweaked and adjusted over the years to make it as user-friendly and intuitive as possible. The software's intuitive design means you'll be able to create music without needing to read a user manual. It is well-organized and feature-rich. It has everything you need to create and produce music and all of the features you would expect from a professional audio DAW program.
You'll love how easy it is to generate tracks on the piano roll by simply loading your plugin instrument. If you have a MIDI keyboard, you can easily create tracks directly on the piano roll and change several properties of each note, including pitch, volume, and the length of the note. And instead of creating an entire track note by note, FL Studio allows you to create a section of the track on one pattern and copy and paste it onto the next pattern.
3. FL Studio Has Great Audio Quality
FL Studio deserves its place among the top DAWs for its high-quality native plugins

. It barely cuts out mid-note, sounds incredibly clear, and offers a host of usability features that suit every producer's needs. It's worth noting that quality matches for both the demo and the full version. The only difference is that the audio quality is better in the full version because no restrictions unencumbered it.
FL Studio provides access to various parameters to tweak your plugins to whatever you like. For instance, clicking the plugin on the channel rack allows you to change parameters such as:
EQ
Pitch
Echo
Volume
Delay
Time-shift
(This depends on the plugin)
4. You Get Lifetime Free Updates
With many software programs, especially ones made by larger companies, you may notice that they have a few bugs. You might also see that the software has a few shortcomings and isn't up to date with modern systems. In these cases, you have to hope that the company behind the software is still around and that the software is still being supported.
When you buy FL Studio, you get lifetime free updates. This means that you don't have to worry about the software not being up to date – because it always is. If any bugs or issues need to be addressed, you can be sure that Image-Line, the company behind the software, will release an update soon.
5. It Comes With a Lot of Great Features Out of the Box
If you decide to buy the full version of FL Studio, you'll get a ton of great features out of the box. For example, you'll find:
A built-in synthesizer.
A built-in sampler.
A piano roll editor (similar to a pattern sequencer).
A channel rack for all your favorite patterns.
An audio editor (EDISON) for vocal editing.
If you have the trial version, you'll still have a lot of things at your disposal right away. You may wish to spend a little more to get the producer edition, though, as this will give you a few more features that can also be loaded onto other DAWs.
6. You Own All of the Software's Features
If you own your own copy of the software, you'll be able to use all of its features to their full extent. This means you'll be able to use all of the plugins, the audio samples, and the other tools that come with it.
You only get a limited selection from each category in the free trial. You get some good stuff, but there are also a lot of things you can't use in the free version. You can't use all of the plugins, you can't use all of the samples, and you can't even record your own audio straight into the software and sell it without buying a license.
There are many good reasons why purchasing your own copy of FL Studio is worth your while. FL Studio has a user-friendly and intuitive design, it's easy to use, and it's designed to be efficient in terms of workflow. Whatever your skill level, you'll be able to make music hassle-free and get straight to being creative.
Sale
Image-Line Audio Software, (5391502517901)

Audio recording, musical instrument digital interface (MIDI) multi-track recording Mac/Windows.
Installation:
Live Music Performance.
Last update on 2023-12-08 / Affiliate links / Images from Amazon Product Advertising API
Conclusion
If you want to make professional-sounding music, you will need to invest some time and money in the process. While you can get away with spending almost nothing by using FL Studio's free version, many people choose to buy the software and make it their main DAW.
References
Was this article helpful?
Recent Posts
link to How To Allow QuickTime To Access Microphone 🎙️  
QuickTime is a vital app for many Mac users, and if you've recently bought a new microphone, you might wonder how to use it optimally. QuickTime cannot record audio content if it doesn't have...
link to How Do I Test My Microphone? 🎙️
Every microphone leaves a unique signature on the quality of its output. If you're a podcaster trying to melt your way into your audience's hearts, a muddy, distorted recording won't cut it....