As a musician, you probably get the urge to create simple beats and melodies when away from your home studio. FL Studio allows you to do that, and like every other mobile DAW out there, it has its pros and cons.
FL Studio

Mobile has several pros and cons. It's affordable, has great features, such as advanced sound creation, audio recording, step sequencer, MIDI Control, and a mixer. Unfortunately, it has a cluttered interface, doesn't have a free version, and the performance falls far short of FL Studio.
FL Studio Mobile is one of the greatest music producing and DJ apps available. This article looks at its pros and cons and covers the features which make this app ideal for you.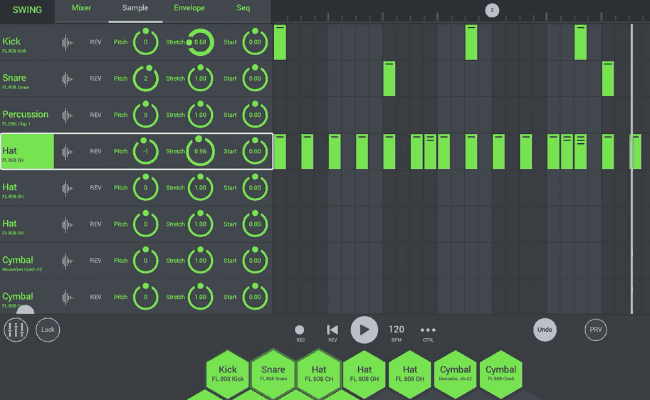 The Pros of FL Studio Mobile
The FL Studio Mobile has many things going for it. If you're contemplating getting it but wondering if it's worth it, here are a few reasons you should go for it.
Create a Full Track on Your Mobile Device
When your creative mind comes up with an idea, you want to work on it right away. FL Studio Mobile allows you to act on your creative impulses and create tracks on your phone,
Chromebook, or tablet. Even better, you can create and modify the beats in multiple ways. You can also create multiple tracks and save them on the app.
Produce Music Quickly
The FL Studio Mobile has made it easier for amateurs to get into the music world faster than they would have if they followed the traditional route. While FL Studio Mobile, anyone can learn how to create beats, mix, and equalize sounds using the range of effects available on the app.
FL Studio Mobile Has High-Quality Effects
FL Studio Mobile has great effects which you can use to enhance your audio mix. The effects include a graphic equalizer, delays, compressor, chorus, distortion, reverb, auto ducker, flanger, phaser, limiter, and parametric equalizer.
Available as Free Plugin on FL Studio Desktop Version
If you already have FL Studio, you can get the fl studio mobile as a plugin. So, you don't need to purchase the FL Studio for the mobile app.
Multiple Mixer Options
The FL Studio Mixer has several properties which you can explore. They include the per-track mute, effect bus, solo, pan, and volume. These tools are great for cleaning and sharpening the sounds, and you can do this from any location.
FLStudio Mobile Is Affordable
The price of FL Studio Mobile for Android

and IOS is $15 and $14, respectively. Initially, many artists, DJs, and music enthusiasts were skeptical about paying this much for a mobile DAW when there were other cheaper alternatives.
Even worse, FL Studio Mobile did not have a free trial version, so paying for the app was mainly an act of faith. Fortunately, FL Studio Mobile has become quite popular and is considered one of the best mobile DAW apps.
Compared to the price of the FL Studio, which costs $100-$700, depending on the features and plugins you need, $15 is a great price.
Simplified Mixing for Beginners
Mixing can be overwhelming for beginners.

However, FL Studio for Mobile

is simplified, and the step-by-step tutorial makes it easy for first-time mixers to get started. Upcoming DJs can also easily use the FL Studio Mobile to perfect their skills and prepare to join the big league.
Supports WAV, FLAC, MIDI, and MP3 File Formats
You can export the tracks you create on FL Studio Mobile in WAV, FLAC, and MP3 Formats. You can also import music files in these formats to FL Studio for mobile to improve the mix. You can also save up to 16 tracks in one MIDI file.
Compatible With Multiple Devices
You can easily share the track you create with up to three compatible devices. You can sync with IOS, Android, Windows devices.
Audio Recording Feature
You can use the FL Studio Mobile app to capture live performances or record your music when away from your studio.
Optimized to Low CPU Load
The audio engine of the FL Studio Mobile is optimized to low CPU load. This means you need not worry about hearing pops, clicks, or stuttering in your recording. In contrast, a high CPU load interferes with your live recordings. Also, your exported audio develops hard-to-fix glitches.
Create Multiple Sounds Using the Step Sequencer
The step sequencer is awesome for creating a beat and turning it into a loop. You can also use this feature to create multiple sounds and adjust the tone and speed of each step.
Available in Various Versions
FL Studio mobile has undergone various changes since the first version was introduced in 2011. The first few versions were unstable and were characterized by lags and crashes. However, the latest version of the FL Studio for Mobile has addressed these challenges and improved the performance.
For example, FL Studio Mobile 3

was an overhaul of the previous versions. It offers greater music control, has better UI visualizations, a spacer plugin to enhance the stereo effect, and better export capabilities of files straight to the playlist.
It Has a Flexible Interface
The flexible screen resolution on FL Studio Mobile allows you to use this app on devices of different sizes. You can comfortably use it on your phone, tablet, or even Television.
It Has Virtual Drum Pads and Keyboard
The virtual keyboard and drum pads on FL Studio Mobile are configurable. If you have an instrument playlist, the keyboard will be visible, while the drum pads will appear if you have drum tracks in the step sequencer.
Features of FL Studio Mobile
| | |
| --- | --- |
| Step Sequencer | Fast percussion sequencing. |
| Touch Controllers | Configure virtual keyboard and drum pads. |
| Mixer | Volume fader, per track mute, solo buttons, pan knob, song signature, tempo. |
| Resizable and Stackable Keyboard and Drum Pads | Full screen support, loop recording, velocity, pitch-bend. |
| Real time effects | Chorus, compressor, auto ducker, distortion, limiter, flanger, graphic equalizer, parametric equalizer, delays, phaser, reverb, and filters(high pass, band pass, low pass, formant) |
| MIDI Control | Play and link instruments to sliders and knobs. |
| Audio recording | Live performances. |
| Advanced sound creation | High quality samples and synthesizers available. |
| Export formats | MP3, FLAC, MIDI, WAV, AAC |
| Easy sharing | Synchronize with three mobile devices |
| Flexible interface | Multiple screen resolutions available for different screen sizes |
| Support Forum | Active forum, free content, support staff. |
This video gives a great guideline for beginners on how to use these features when creating music:
The Cons of FL Studio Mobile
Although FL Studio Mobile is one of the best DAW apps, it has its downsides.
No Free Trial Available
A free version of the app would have given artists a chance to explore some of its capabilities before buying it. This will have helped them decide if FL Studio Mobile is worth the investment.
The absence of the free version meant it took a little longer for the app to be accepted, especially for people who were not using the L Studio software.
Even though FL Studio Mobile is today seen as the best mobile DAW, some people still find the $15 too steep a price to pay for an app they may never use.
The Interface Appears Cluttered
The Interface of the FL Studio Mobile takes some getting used to since it has many hidden components.
Even a professional would take hours to assimilate some of the features of this app. This can be frustrating for beginners and first-time users who may not have the time or the patience to make multiple clicks to get to the feature they want to use.
Performance Isn't Comparable to FL Studio
When comparing FL Studio to its mobile version, it's like bringing a knife in a gunfight. Many expect each to complement the other, yet the two are worlds apart. Thus, some people who enjoy using FL Studio may not enjoy using the app because they expect its performance to be close to the desktop version.
Delayed Auto-Saving
The auto-saving feature of FL Studio Mobile does not kick in immediately when you record. This means you can easily lose your track or the changes you make to it if you don't wait for it to be auto-saved.
Is FL Studio Good on Mobile?
FL Studio for Mobile has been a game-changer in music production. It has become a favorite, not just for upcoming artists but also with the big names in the industry.
FL Studio Mobile is a complete music-producing app with multiple instruments, including DirectWave, MiniSynth, Groove Machine Synth (GMS), and Transistor Bass. The Interface also has several workspaces, such as the playlist, main mixer, editor, MIDI Controllers, and the effects rack.
The features and performance of the FL Studio Mobile app have elevated it to be one of the most popular mobile DAWs in the market. Not only can you create music with great effects, but the quality is also unrivaled.
Check out: Common FL Studio Crashes

Differences Between FL Studio and FL Studio Mobile
FL Studio and FL Studio Mobile are similar in many ways. However, some differences make them unique, especially in their performance.
FL Studio has more plugins than FL Studio Mobile.
You can only create a few loops of FL Studio Mobile, while the theoretical limit on FL Studio is 999.
The sound quality is better and more professional on FL Studio compared to that of FL Studio Mobile.
FL Studio Mobile has no access to third-party plugins, unlike the FL Studio desktop version.
Notably, the FL Studio Mobile app is the same across the Android, IOS, and Windows systems at $15. At the same time, the FL Studio software is available in four editions, fruity ($99), Producer ($199), Signature ($299), and All Plugins ($499). The editions have different features, with the all plugins version being the best of the four.
You can get the Image Line FL Studio 20 Producer Edition

for Mac and Windows from Amazon.com. This product has great automation, mixing, and piano roll features.
Sale
Image-Line Audio Software, (5391502517901)

Audio recording, musical instrument digital interface (MIDI) multi-track recording Mac/Windows.
Installation:
Live Music Performance.
Last update on 2023-12-08 / Affiliate links / Images from Amazon Product Advertising API
Before buying any of the editions on FL Studio, find out if you need the features or not. This Image Line FL Studio 20 Signature Bundle

, also from Amazon.com, has more functions than the Producer Edition. Some of the features include a Digital Audio Workstation, mixing, mastering, music producing, and remix software.
Sale
Image Line - FL Studio 20 Signature Edition Software

Multitrack Mac/Windows midi audio recording.
Installation:
Live Music Performance.
Last update on 2023-12-08 / Affiliate links / Images from Amazon Product Advertising API
For more information, check out some of my other articles:
Common Challenges of FL Studio Mobile
Although FL Studio Mobile is a great music creation app, you may experience some challenges when using it. Some of the common problems include:
Lagging and sluggish performance.
The app sometimes fails to load.
The app sometimes crashes.
Connecting difficulties.
Causes of Problems When Using FL Studio Mobile
If your FL Studio Mobile is underperforming or not working, there are several reasons behind this. Find out if the following have contributed to the problems you're experiencing.
You could be using the older version of FL Studio Mobile.
If you're sharing the plugin from FL Studio, it may not be updated.
Your mobile device and computer may not be connected to the same Wi-Fi network.
Your device may have processing difficulties.
The track and sound effects may be complex, and they may be overwhelming your device.
Limited libraries in FL Studio Mobile.
Tips on How To Improve FL Studio Mobile Performance
You can easily fix some of the problems you're experiencing when working with the FL Studio Mobile app. Here are some easy ways to improve the app's performance:
Optimize your device's processor to reduce latency challenges.
Switch to ultrasafe sound mode to reduce the pressure on your device's processor.
Disable your phone's power-saving plan to boost CPU performance.
When sharing the plugin from FL Studio, ensure your phone and computer are connected to the same Wi-Fi network.
Enable Multi-Core Processing to improve CPU speed and performance.
Conclusion
FL Studio Mobile has many things going for it. This is why millions of people prefer it. The price may be higher than most mobile DAWs, especially since some are available at no cost, but the features make up for it.
If you're new to recording and mixing but wish to learn the trade, the FL Studio Mobile is a great place to start. The Interface takes some getting used to, but the tutorials online will help you overcome the hurdles. Not only will you make great music, but the quality is good enough for you to sell.
Sources
Was this article helpful?
Recent Posts
link to How To Allow QuickTime To Access Microphone 🎙️  
QuickTime is a vital app for many Mac users, and if you've recently bought a new microphone, you might wonder how to use it optimally. QuickTime cannot record audio content if it doesn't have...
link to How Do I Test My Microphone? 🎙️
Every microphone leaves a unique signature on the quality of its output. If you're a podcaster trying to melt your way into your audience's hearts, a muddy, distorted recording won't cut it....