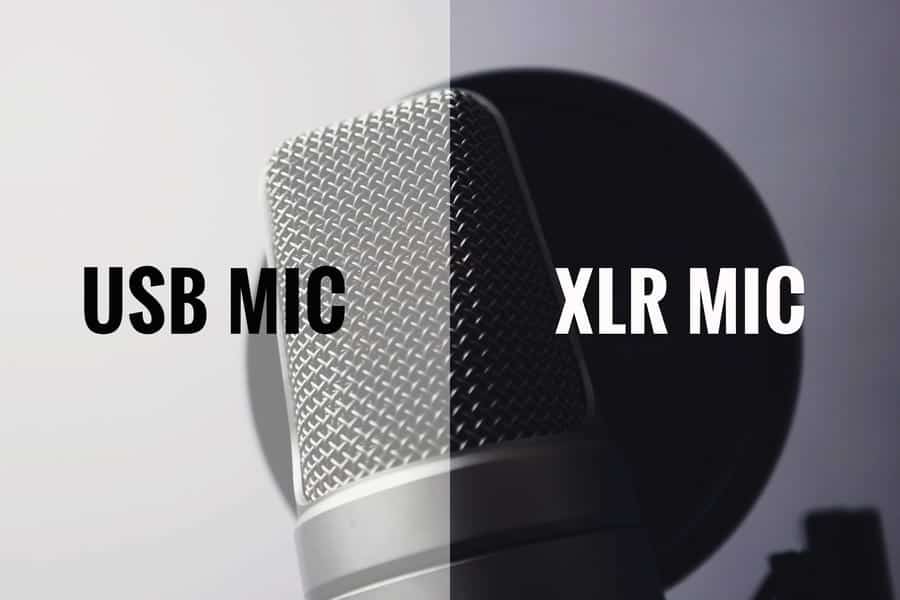 Each and everything has its own pros and cons. I will discuss the differences between a USB mic and an XLR mic, how they differ from each other, when to use them, and how they can be useful depending on the situation you are in.
"USB mic is not very applicable" – it is not always true, and there are times when it is beneficial as it is straightforward to set up.
"USB mics are very different from Xlr mic" – I am not saying that these two are the same, and on the other hand, it's not always true. I will tell you why.
Some USB mics have the same feature, such as the condenser mic element as that of the XLR mic. It can also provide high-quality sound. The main difference will come with the audio interface. The analog to digital converter will play a big role in the quality of the recording.
Note: Some USB mics have built-in headphone amps that can directly monitor the input signal before the conversion of analog to digital.
Before we dive into the details, it will all come down to where and how you want to use it. ( And of course your budget too )
USB Mics
They have a capsule and an interface built into one; you can plug in one USB on the microphone and the other on a computer or a laptop .. all are set now, and you are ready to start recording.
You can control the microphone volume, and some other basic controllers may be included or maybe not. But Usually, it does include. You may also need a driver to run the microphone on your desktop or laptop.
It will have a voltage requirement of 5V or less but not more than that. Your Pc should perfectly supply the required voltage as all USB 1, 2, and 3 are made into that category.
Can You connect a USB Microphone to an Xlr based Audio Interface?? ( I see a lot of people asking this question )
Absolutely not; you cannot connect a USB Microphone to an XLR based Audio Interface.
Pros Of a USB Mic
It's a plugin and plays. Very easy to use, you don't need anything.
USB Microphones are not expensive. You can get a decent one for about 100$-200$.
You can carry it around here and there; no fancy things needed to go with it and start recording.
If you are on a tight budget, this is the one to go with as it will work for you.
Cons Of a USB Mic
It would help if you had a computer or a laptop to record into, and it's a must.
It is not convenient when upgrading; you have to repurchase a whole new microphone if you want to upgrade.
Troubleshoot – it is not easy to sort out the problem or where the problem is when something is not working. Suppose you don't know where the problem is, what can you do about it. It always leads to buying a new one.
When recording multiple USB mics on a single computer, it gets very confusing. ( When podcasting with two or more persons – if you are into it )
If you want to record multiple USB mics on different computers, the intro clocks on the computers will be slightly different, which would lead to syncing issues and others.
For more information, check out why USB microphones are considered bad quality

.
Our favorite USB microphone is the Blue Yeti:
Sale
Logitech for Creators Blue Yeti USB Microphone for Gaming, Streaming, Podcasting, Twitch, YouTube, Discord, Recording for PC and Mac, 4 Polar Patterns, Studio Quality Sound, Plug & Play-Blackout
Custom three-capsule array: This professional USB mic produces clear, powerful, broadcast-quality...
Blue VOICE software: Elevate your streamings and recordings with clear broadcast vocal sound and...
Four pickup patterns: Flexible cardioid, omni, bidirectional, and stereo pickup patterns allow you...
Last update on 2023-12-08 / Affiliate links / Images from Amazon Product Advertising API
XLR Mic
These types of mics have a capsule, too, just like a USB mic, but I would say better quality than a USB mic. They don't have an Audio Interface built into it.
Therefore, XLR mics need an Audio Interface, which would, in turn, connect to a computer. It will need various other cables too for different types of processes. It is a little bit complex than that of a USB Mic ( Don't be afraid when I say this- not that hard, you can get the hang of it once you start it ).
But with this type of Mics, you can do a wide variety of things and record a wide variety of sounds with different options included in it. And it would help if you had a bit more other equipment for it to function properly.
Check out which is better between TRS vs XLR microphones here!

Pros Of an XLR Mic
There are different types of XLR Mic; you can grow with it as you upgrade your studio. They can be made to suit any of your needs.
It is convenient when troubleshoot occurs. We can pinpoint where the problem is and fix it very easily without any hassle. We can change the cables, interface, microphones and upgrade very easily down the line.
It is much better when we want to record multiple mics on a single computer using a USB interface with multiple inputs.
It is not tied down to a computer. You can record anywhere using a portable recorder or record to a camera using an adapter
Cons Of an XLR mic
It is expensive – if you are on a tight budget, it may not be for you.
It gets a little bit confusing for first-timers with all the cables, interfaces, phantom powers, etc. ( overwhelming in nature )
Not easy to carry around here and there.
Our favourite XLR microphone is the Audio-Technica AT2020:
Audio-Technica AT2020 Cardioid Condenser Studio XLR Microphone, Ideal for Project/Home Studio Applications,Black

The price/performance standard in side address studio condenser microphone technology
Ideal for project/home studio applications; The noise level is 20 dB SPL
High SPL handling and wide dynamic range provide unmatched versatility
Last update on 2023-12-08 / Affiliate links / Images from Amazon Product Advertising API
You can check out our Recommended Microphones from our resource page
Conclusion (My Opinion)
It all comes down to where and how you want to use it. If you are going to use it for Youtube videos, podcasting, etc. – simple ones, then there will not be much of a difference between the two.
On the other hand, if you will use it to record different sounds of different instruments and all, you should go with the XLR one. The Xlr Mic has more options, expandability, upgradability, and a lot more versatility.
I would recommend for you to get an Xlr Mic if you can.
Check out this article to see whether I think an XLR vs. TRS is better here!

Was this article helpful?
Recent Posts
link to How To Allow QuickTime To Access Microphone 🎙️  
QuickTime is a vital app for many Mac users, and if you've recently bought a new microphone, you might wonder how to use it optimally. QuickTime cannot record audio content if it doesn't have...
link to How Do I Test My Microphone? 🎙️
Every microphone leaves a unique signature on the quality of its output. If you're a podcaster trying to melt your way into your audience's hearts, a muddy, distorted recording won't cut it....