Ableton Live and FL Studio are two of the most popular digital audio workstations (DAWs) in the music industry. Both are powerful tools that can create beautiful sounds in the hands of a skilled performer or producer. But if you don't have the newest or most expensive computer equipment, you have to be concerned about which one demands the most from your CPU. 
While both Ableton Live and FL Studio will gladly use all the computing resources you throw at them, FL Studio is less CPU-intensive than Ableton Live and can run on slightly less powerful machines.
If you're trying to decide which DAW will work best with your older computer, you're in luck. We'll give you the rundown on their resource requirements and even provide some pointers on how you can minimize CPU usage when using these programs.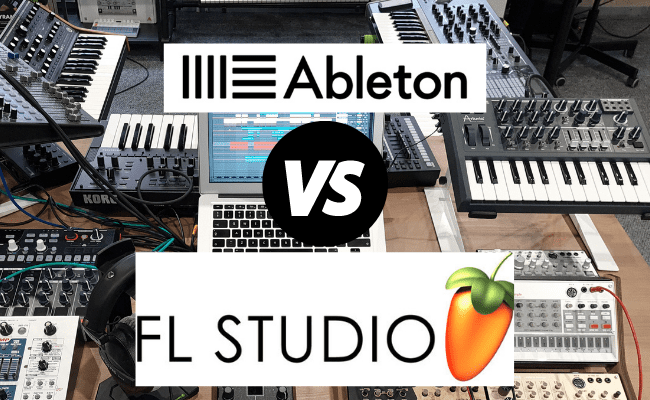 System Requirements: Ableton Live vs. FL Studio
One way to get an idea of a DAW's CPU usage is to check its minimum system requirements and see if your computer meets those criteria. While the minimum system requirements may not give you the best performance, a computer that does not meet those requirements is guaranteed to run your DAW poorly if it runs at all. 
Ableton Live 
Windows
OS X
Live 10
Windows 7, 8 or 10 64-bit
Intel® (Intel® Core™ i5 processor or faster recommended) or AMD multi-core processor.
4 GB RAM (8 GB or more recommended)1366×768 display resolution
ASIO compatible audio hardware for Link support (also recommended for optimal audio performance)
macOS El Capitan 10.11.6 to Big Sur 11 (as of 10.1.35)
Intel® Core™2 Duo processor.
Intel® Core™ i5 processor or faster recommended
Apple silicon using Rosetta (as of 10.1.35)
4 GB RAM (8 GB or more recommended)
1280×800 display resolution
Core Audio compliant audio interface recommended
Live 11
Windows 10 (Build 1909 and later)
Intel® Core™ i5 processor or an AMD multi-core processor
8 GB RAM1366x768 display resolution
ASIO compatible audio hardware for Link support (also recommended for optimal audio performance)
macOS High Sierra 10.13 to Big Sur 11
Intel® Core™ i5 processor
Apple Silicon using Rosetta
8 GB RAM1280x800 display resolution
Core Audio compliant audio interface recommended
According to Ableton, these are the minimum system requirements for Live 10 and Live 11, their previous and current versions. Ableton recommends more powerful computers for optimal performance. While you can run Live 9 on a single-core processor (though Ableton warns that performance will take a hit), Live 10 and 11 require a multicore CPU. 
Many Live users report excellent results from AMD Ryzen CPUs like the Ryzen 9 5900X (available on Amazon). Whether you build or purchase your PC, get the most powerful CPU you can afford. Also, include as much RAM as possible (16 GB or more is preferable) and a solid-state drive (SSD) to ensure Ableton Live has quick access to data.
Sale
Last update on 2022-06-25 / Affiliate links / Images from Amazon Product Advertising API
For EDM performers and DJs using Macs, Ableton Live is their go-to software. Live plays well with OS X, Apple Silicon, and popular performance tools like the Novation Launchpad (available on Amazon). Check your third-party plugins, as they may not work on M1 Macs. 
Novation Launchpad Ableton Live Controller with 64 RGB Backlit Pads (8x8 Grid)
Launchpad integrates with Ableton Live, after a quick and easy setup, giving you the ability to create and perform your own music. If you already have Ableton Live it must be version 9.2 or greater to work with Launchpad
64 RGB pads light up to match the color of your clips in Live; see at a glance what's loaded, playing, and recording
Bright, colorful pads make the unit stand out just from USB power - when you're on stage or creating an exciting Launchpad light show video for YouTube
Last update on 2022-06-25 / Affiliate links / Images from Amazon Product Advertising API
Ableton Live is a powerful DAW, to take advantage of its many capabilities, you need a powerful CPU. Older Macs and PCs will soon become a drag on your creativity and limit what you can do with Live.
FL Studio 
Windows
OS X
FL Studio
Windows 8.1, 10 or later
4GB free disk space
4GB of RAMIntel and AMD CPUs.
ARM not supported
macOS: 10.13.6 (High Sierra) or later
4GB free disk space
4GB of RAM
Intel or Apple Silicon (M1) CPU
FL Studio does not give a specific CPU requirement, stating simply, "the more powerful your CPU, the more instruments and effects you can run." 
It has many effects and instruments (between 82 and 103, depending on the version you purchase), so you will want a decent CPU. But a quick look at FL Studio's system requirements suggests FL Studio is a better choice for those with more modest computers.
FL got its start as Fruity Loops, a highly-regarded Windows DAW. While many users find Ableton plays better on Mac than Windows, FL Studio works smoothly with both operating systems. And M1 users can use FL Studio in Rosetta or native Apple Silicon mode. This comes in handy when dealing with plugins that only work in one or the other.   
While FL Studio's many effects and plugins do not overtax your computer, they may try your learning capacity. FL Studio's interface is more cluttered than Ableton Live, and many complain it has a steeper learning curve. But once mastered, FL Studio offers producers a world of sound-transforming opportunities.
Which Is Better: Ableton Live or FL Studio?
If your PC or laptop has at least a ninth- or tenth-generation i7 (or an AMD Threadripper) and 16 GB of RAM, you should have few difficulties running either Ableton Live or FL Studio. Computers with less RAM or older processors will probably fare better with FL Studio. 
Apple users with an M1 Mac or one of the more recent Intel Macs should have no CPU issues with Live or FL Studio, though Intel Mac owners may want to make sure their machine has sufficient RAM. FL Studio will run more smoothly on older Macs with less RAM.
While FL Studio has less stringent minimum system requirements than Ableton Live, neither DAW will work very well with the bare minimum. Adding effects or editing passages becomes an exercise in tedium, and frequent crashes mean lots of lost samples and ideas. 
Given a system powerful enough to run the machine to suit your creative needs, the question of which DAW is better comes down to personal taste. The more tracks and effects you add, the greater the system demands.
A machine that meets the specs listed above will give you adequate performance for most recording and performing purposes with Live or FL Studio.
For more information, check out to see if FL Studio is good for beginners.
Is Your DAW Overloading Your CPU? Try These Tips!
If your DAW is overtaxing your old computer, here are some things you can do to lessen the load while you save up for a new machine. 
Lower the sample rate. Recording at 48kHz instead of 192kHz will cut the demands on your CPU by 75% and still give you better-than-CD quality audio. 
Disable unused filters and effects. Bypassing unneeded plugins on a track will not free up CPU power. For that, you must either deactivate or remove them. 
Increase your buffer rate. Increasing the buffer provides more latency and gives your CPU time to process all your effects. The lag this increase produces means it may be better suited to production than live recording or performance.
Scan for malware and viruses. Is your DAW causing the issue – or has your computer been recruited for a botnet or cryptocurrency mining? 
Close background programs. Check Task Manager (Windows) or Activity Monitor (Mac) to see what your CPU is doing and shut down unnecessary threads.
Check your third-party plugins. Malfunctioning plugins can get stuck in loops that eat up memory and processor time. 
Final Thoughts
Digital audio editing is a processor-intensive activity. A DAW allows you to manipulate sound in innumerable creative ways, but that creativity comes at a computing cost. And each manipulation adds to the CPU labor expense.
As you master these DAWs, you will test your computer's limits. But you will also find that with effects, a little goes a long way. One of the most important lessons is learning how to get the best sound out of your available resources when learning production.  
Check out to see if Ableton Live Lite is any good.
Sources