Learning any music production software can be a daunting affair. When you need your productions to sound top-notch, you've likely heard of Ableton Live, a popular digital audio workstation (DAW). But you're probably asking: How easy is Ableton Live to learn?
Ableton Live is easy to learn. The DAW has an intuitive workspace that makes it easy for beginners to jump in and create basic beats. At the same time, Ableton Live has an extensive suite of onboard instruments and effects that make it powerful for advanced music producers.
In this article, I'll be going over the basics of what Ableton Live can do, how it works, and how tough it is to learn on basic and advanced levels.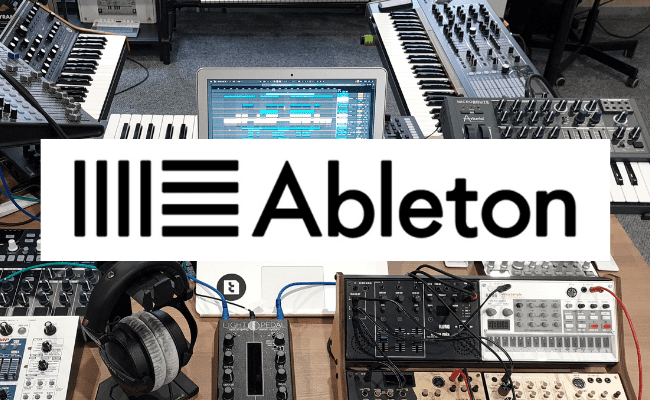 How Hard Is Ableton Live To Learn?
Ableton Live is pretty easy for beginners to learn. Someone who uses the software for the first time can quickly grasp the basics of how to create their own music and productions.
The more in-depth and advanced aspects of the software might take months or longer to use effectively, but Ableton Live is very intuitive at a basic level. The core interface of the DAW is all there in one screen, lending itself well to basic and advanced productions alike.
Right off the bat, you can start dragging and dropping instruments and effects to create a sound without needing advanced education in audio engineering to make it sound decent. Anyone can use Ableton and grasp what most options do.
In addition, Ableton Live comes with a great variety of onboard instruments that make customizing your tracks easy; Skrillex famously used Ableton's onboard instruments to create his signature sound early in his career. With a little messing around, it's not difficult to find pleasing melodies and ways to customize your tracks.
However, Ableton isn't just for beginners. It has all the powerful and advanced options that more complicated DAWs have, too. It's just more accessible on a surface level.
As with learning any DAW, having previous music production experience makes learning Ableton Live easier. This is because you'll immediately know what most of the interface and available features mean. However, Ableton has a different interface and workflow from other DAWs. Learning its idiosyncrasies will take some time, even if you're familiar with FL Studio

, for example.
Check out my article on whether you can produce music with a Chromebook laptop

.
How Long Does It Take To Learn How To Use Ableton Live?
If you're familiar with other DAWs and the fundamentals of how they work, you can probably boot up Ableton Live and make some beats. Although Ableton isn't interchangeable with other software, such as FL Studio, there's a significant amount of overlap in features. If you already know how to use DAW software, you should be able to pick up Ableton pretty quickly.
Someone with no experience in music production should take a few hours to a week to understand the software's interface and basic features. More advanced features like customizing the onboard instruments will take longer. Someone serious about learning it can probably do so within a year.
This will give you time to understand the strengths and weaknesses of the software and how you can best use it to create your ideal tracks.
Do I Need To Know Music Theory To Use Ableton Live?
You don't need to know music theory to use Ableton or any other DAW; many producers without a day of music theory classes to their name have created tracks you've probably heard on the radio.
But does music theory help? Absolutely.
Learning even a little music theory can help you understand what goes on during music production. Many simple problems and weird noises can be intuitively understood by someone with a background in music theory.
Lots of research has been done to understand what makes music sound good; one study found that beats that are harmonically related sound pleasing to the ear. While you could play around with the settings in Ableton to figure it out, it would probably take much longer.
So while music theory isn't essential to use Ableton to create your own productions, it is very useful in understanding the nuts and bolts of music production and what makes music sound good or bad. A solid foundation in music theory could take your music to the next level, but you can also make great music without it.
How To Learn Ableton Live
As with any DAW or piece of software out there, learning Ableton Live is a process. Before you can do anything, of course, you need to understand the interface and basics. Then you can graduate to track manipulation and layering instruments.
Here are some steps to take to master Ableton Live:
Learn How the Interface Works
Ableton has a very easy-to-understand interface from a layperson's point of view. This makes it easy to jump in and create basic beats. The workspace has five core elements you need to familiarize yourself with at the beginner's level before anything else.
These elements are:
Browser. It is located on the left of the screen, the browser gives you access to your onboard instruments, sounds, and effects.
Arrangement view. It is the largest portion of the screen and where you will build and structure your tracks.
Track view. It is on the right side of the arrangement view and is where you can view and edit the various clips layered together to create a single track. Includes .mp3 and .midi files.
Information. It's at the bottom of the screen and allows you to view the specific details of your track. It includes instrumental and effects info.
Top settings bar. It's at the very top and is a variety of fundamental settings used to alter an entire project's parameters.
Learn How To Manipulate Tracks
Now that you know how the interface works at a core level, you should learn how to manipulate audio tracks and build MIDI tracks.
MIDI tracks are created within Ableton Live using its onboard instruments and effects. For example, this includes basic hip-hop beat tracks as well as EDM tracks. You can create a track's chord progression, structure, and other effects.
Audio tracks imported from external recordings of physical instruments can be edited using Ableton's suite of audio effects to create the perfect unique sound for your production. Examples of an audio track are guitar, drum, other physical instrumental recordings, and vocal recordings.
While each can be edited separately, many people use both MIDI and audio tracks together to create their productions. They're just named differently to easily separate the two types of recordings for mixing and production.
You can select 'Create' from the top bar to create either track type within Ableton Live.
Learn How To Build Layers
The next step in learning Ableton is to learn how various instrumental layers work together to create a track. For example, use a drum preset and experiment with using Ableton to create your track's drumline. Then, you can move to a bass preset, and so on.
Most songs are composed of various separate layers of recordings combined as a single track within a DAW like Ableton. Once you're happy with the way one aspect of your song sounds, it's time to learn and work on the other parts of the track!
Check out to see how Ableton Live Lite is

.
Final Thoughts
Ableton Live is an extremely versatile digital audio workstation that both music production newbies and professionals can use with years of audio engineering expertise under their belts. Its wide variety of tools and intuitive workspace make it perfect for anyone looking to create music.
Sources
Was this article helpful?
Recent Posts
link to How To Allow QuickTime To Access Microphone 🎙️  
QuickTime is a vital app for many Mac users, and if you've recently bought a new microphone, you might wonder how to use it optimally. QuickTime cannot record audio content if it doesn't have...
link to How Do I Test My Microphone? 🎙️
Every microphone leaves a unique signature on the quality of its output. If you're a podcaster trying to melt your way into your audience's hearts, a muddy, distorted recording won't cut it....