Ableton Live is a Digital Audio Workstation (DAW) software created by the German music company Ableton. Like other DAWs such as Logic Pro and FL Studio, audio engineers use it for recording tracks, mixing, mastering, and creating sound libraries. But why is Ableton Live so popular?
Here are 9 reasons why Ableton Live is so popular:
Session view workflow
Intuitive interface
Powerful and versatile
Plenty of tutorials online 
Free sound packs
Warp markers
Non-linear composition
Works on Both Macs & Windows
Free 90-day Trial
In this article, I'll discuss why Ableton Live is the top choice for producers and musicians. Read on for further details on these and answers to frequently asked questions on this topic.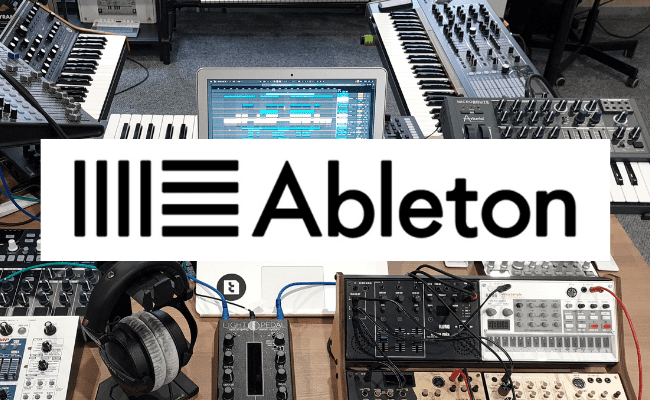 1. Session View Workflow
Ableton Live's Session View is what makes it stand out from other DAWs. The Session View interface allows users to create clips and "remix" them on the fly using non-linear editing (NLE).
Essentially, Ableton Live is like a virtual recording studio that is constantly playing and looping.
Tracks can be triggered, tweaked, and manipulated in the Session View, allowing users to experiment with their music. Additionally, clips can be played back automatically or programmed so that loops cycle at different speeds.
Also, the Session View allows users to rearrange their clips and draw in automation curves spontaneously. All of this can be done without interrupting the current workflow.
2. Intuitive Interface
Ableton Live is a feature-rich DAW, but it's still easy to use!
Its interface is very logical, and most commands include on-screen help. For example, to insert a new MIDI track, users can press command + shift + T (Mac) or CTRL + shift + T (Windows).
Also, the simple design of the interface makes it easy to learn and use, so you can spend less time learning and more time creating music.
In the same vein, the interface is also flexible and modular, allowing users to customize their setup as they see fit. The tailored workflow will enable producers to focus on what's truly important: creating music.
Check out my article to see which is better for recording: Adobe Audition vs. Pro Tools.
3. Powerful and Versatile
Ableton Live is considered one of the top DAWs because it has an extensive library of effects, virtual instruments, and samples that are easy to use yet offer endless possibilities for sound design.
In a nutshell, Ableton Live offers fast audio editing, mixing, and mastering capabilities that include:
An intuitive MIDI editor
High-quality sound effects
Built-in synthesizers and instruments
Easy automation of controls via key commands
Quantization tools for warp markers and much more
Tip: To make the most of Ableton Live's features, I recommend using quality audio production hardware, like this PreSonus AudioBox 96 Studio from Amazon.com. Besides the Audiobox, you get an Ableton Live DAW, quality HD7 headphones, and a condenser microphone for seamless recording of vocals and acoustics.
Last update on 2022-05-24 / Affiliate links / Images from Amazon Product Advertising API
4. Plenty of Tutorials Online
There are many tutorials online for Ableton Live, which makes it easier to use. Tutorials range from simple tips to more in-depth videos on music production.
Some of these tutorials are made by Ableton, and others are created by talented users who want to share their knowledge.
This wide variety and availability of tutorials make it easy for beginners and intermediate users to learn how to use Ableton's to produce quality music.
Here's a YouTube tutorial you'd be interested in:
5. Free Sound Packs
Ableton Live comes with a library of sound packs that provide drum samples, instrument loops, and much more. And, in addition to the installation package, there are thousands of user-generated free sound packs online.
Many producers upload sounds to websites such as Splice, which allows other users to download them for free. Additionally, several third-party sites offer large libraries or exclusive sounds made by professional musicians and producers.
Ableton Live allows you to download files from those third-party sites, providing endless possibilities for sound design.
6. Warp Markers
Warp markers allow producers to change the tempo and pitch of audio files without affecting their overall quality when they're stretched out or compressed.
Ableton Live's "warping" feature is beneficial because it saves time chopping up samples and adjusting their timing.
Additionally, it's possible to change the tempo in real-time and sync your beat to different songs in different keys/tempos without creating audio artifacts such as clicks or pops.
Producers use warp markers when creating remixes, mash-ups, and other edits so they can switch out different loops in their samples while keeping the sound quality and beats steady.
As a result, Ableton Live lets producers create endless combinations of their favorite songs and sounds without worrying about the quality of the finished product.
7. Non-Linear Composition
Ableton Live is a non-linear, or "live," music program in which the user composes and edits songs by adding and removing loops in real-time. Producers can create music in non-linear ways with Ableton Live because each song section is not limited to a specific bar count.
Users can add, delete or alter bars to make their tracks sound precisely how they want them. As a result, producers can create music in their unique way without worrying about starting from scratch every time they want to add new elements or instruments.
This feature makes Ableton Live perfect for when users are on stage because they don't have to worry about exactly when certain sounds play–it's all up to them!
Therefore, Ableton Live makes music creation more flexible. This gives producers the ability to stay creative and "remix" their songs on the fly.
8. Works on Both Macs & Windows
Many music production software companies create programs that only work on specific operating systems. Fortunately, Ableton Live works on both Mac and Windows computers, making it so popular among producers.
That means producers don't have to spend extra money purchasing another DAW to switch operating systems.
Check out my article about whether you can produce music on a Chromebook.
9. Free 90-Day Trial
It's easy to get started with Ableton Live because there's a free trial period of 90 days that you can take advantage of without any limitations. This means that producers can become familiar with the software before fully committing to buying it.
This can save you from dealing with the frustration of figuring out a new software by yourself. It makes it much easier for you to practice and become accustomed to Ableton Live before deciding whether or not it's the right fit for your production needs.
Caveat: Although Ableton Live comes with these impressive features, your creativity is the only limiting factor. The program can't write a song for you; it simply provides you with the tools to create your music. Therefore, don't hesitate to experiment and have fun with the software.
Frequently Asked Questions
Can You Record Vocals in Ableton Live?
You can record vocals with Ableton Live. This software features a set of effects that are perfect for adding color to vocal tracks. For instance, adding delay or reverb to your voice is possible without making these effects overpowering or sounding unnatural in the mix.
Check out my article reviewing whether Ableton Live Lite is any good.
Do Professionals Use Ableton Live?
Most professionals use Ableton Live because of its intuitive interface, versatility, non-linear composition, to mention but a few. DAW is frequently used in live performances because of its ability to warp samples and stay in sync with other tracks.
Many producers and DJs use Ableton Live because it gives them the creative freedom to develop their ideas. This DAW also provides extensive editing capabilities for when users want to get really detailed with their work.
As a result, this software is used by professionals in every field of music production, including sound design, recording sessions, and live performances.
To see and hear the possibilities for yourself, here's a video of David Guetta using Ableton and a Talkbox to make music:
Sources