Ableton first launched Ableton Live in 2001, designed specifically for electronic live performances. Today, Ableton has several different versions available for professional studios and at-home sound editing. Ableton Live usually comes with a fee, though there's a Lite version available at no cost, but is it any good?
Ableton Live Lite is good and worth incorporating into music production. Live Lite features eight input channels, sufficient for a professional sound. The Lite edition also supports five audio file formats to edit tracks from multiple sources. It's essentially a watered-down version of Ableton Live.
This post will explain what Ableton Lite is and how it differs from the standard edition. Additionally, we'll explore whether Ableton Lite is suitable for complete beginners in music.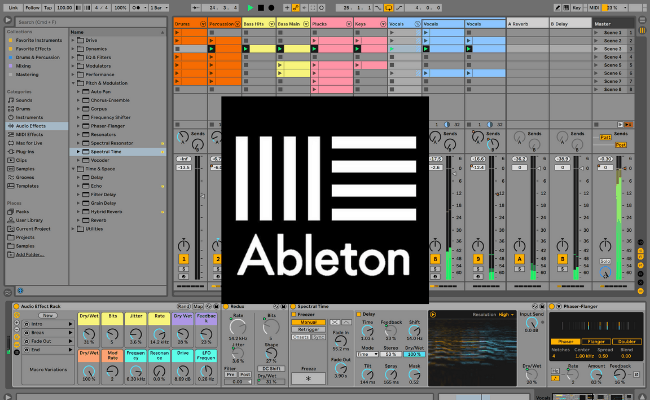 What Is Ableton Live Lite?
Ableton Live Lite

is a digital audio workstation that combines the ability to compose, create, and execute music into a single intuitive GUI

. It shares many of the same workflow spaces as the standard Ableton version, such as "Arrangement View" and "Session View," but with additional constraints.
Since Lite 10 is the most recent version available and the focus of this post!
As with other Ableton Live models, Live 10 Lite features real-time editing, enabling you to play and edit your tracks simultaneously. Additionally, it includes a diverse range of instruments, effects, templates, and loops for making flawless music of any genre.
Check out my article about why Ableton Live is expensive.

Key Features of Ableton Live 10 Lite
Ableton Live Lite limits you to eight audio and MIDI tracks. With these limitations, you can combine many sounds to produce a final piece, but you can only use eight tracks in all.
There's also a sound library with a vast selection, including

:
1249 drum hits
513 multisamples
268 instrument racks
172 audio effect presets
117 audio effect racks
109 MIDI effect presets
84 loops
50 instrument presets
48 drum racks
However, the advantages of Live 10 Lite don't stop there. Let's review some additional features that both beginner and experienced producers will appreciate!
Non-Destructive Sound Editing With Limitless Undo
Ableton Live Lite is a non-destructive

sound editing application. In other words, the program doesn't change the original audio files in any way.
The editing toolbar in Lite is a representation of the actual audio files. All edits serve as instructions to your hard drive about where to search for data and how to organize it for playback.
This feature is useful when your edits don't produce the sound you're imagining. You can modify the track directly without having to alter the audio wave data manually.
Additionally, you can undo modifications at any time. You also have written documentation of the changes if you like the sound and want to replicate it in the future.
Group Track Editing
Additionally, Live 10 Lite includes group track editing

with the advantage of allowing you to adjust several tracks using a single fader. Inside the program, it's possible to apply effects to a whole set of tracks or to silence them all at once. This function is beneficial when dealing with groups of instruments or voices often processed in unison.
Real-Time Time Stretching
Another practical aspect of Lite is live time-stretching, which comes in handy while editing. Time stretc

hing

is the method of adjusting the speed or length of an audio signal without changing its pitch. Live 10 Lite's time-stretching technology manipulates the timing of the beats using sophisticated algorithms, math, and artificial intelligence.
Matching beats per minute between multiple samples without changing pitch is the most obvious use for Lite's time-stretching functionality. Because you won't be changing the pitch, this feature removes the difficulties of replicating samples for your songs.
Check out my article about why Ableton Live might keep crashing.

Ableton Live Lite vs. the Standard Version
The primary distinction between Ableton Live Lite and Live Standard is the track restriction. Live 10 Lite has an eight-track limit, while Live 10 Standard supports an infinite number of sounds. Additionally, Ableton Live Standard supports up to 256 input and output channels

, while Lite supports up to eight.
Apart from that, the regular edition offers a vast audio library and additional features not found in the Lite version, including the following:
Audio slicing
Audio to MIDI conversion
Analog and bass software instruments
Drum synthesizer
Besides these and other differences

, Live Lite is on par with the standard version and is an excellent choice for those looking for a free alternative.
For more information, check out my article about why Ableton Live is popular.

Ableton Live Lite Limitations (updated for Live 11 Lite 2021)
The Ableton Live Lite has limitations, they are:
Limit of 16 scenes (updated for Live 11 Lite)
Limit of 8 audio and MIDI tracks
Limits to 8 mono input channels
Limits to 8 mono outputs channels
Is Ableton Live Lite Enough for Absolute Beginners?
Ableton Live Lite is an adequate editor for complete beginners. Novice producers benefit from developing foundational production skills that can help them advance throughout their careers.
Furthermore, Ableton Lite is an essential precursor to the Ableton Live program, one of today's most popular

music editing programs.
Lite users also gain access to the EQ Three

equalization setup, the simplest equalizer to use. It divides the sound into Lows, Mids, and Highs and enables you to make individual sounds completely quiet, if desired.
Many believe that EQ Three is more suitable

for beginners because it enables you to distinguish bad frequency components by ear, a valuable ability in music creation.
Will Lite Benefit Advanced Sound Producers?
Ableton Live 10 Lite users report

using the app to create whole albums. This proves that despite its track limitations if artists are innovative, the possibilities in Lite are limitless. This characteristic makes it an excellent choice for both beginners and professionals.
Certain advanced users may believe that Lite's sound bank is tiny. However, this is conveniently fixable with external plugins.
We suggest the following free plugins for musicians seeking to expand their sound bank:
Check out this article to see whether Kontakt Factory Library is any good.

What Equipment Do You Need To Use Ableton Live Lite?
It helps to review your device specifications before downloading a version of Ableton Live 10 Lite. Lite is only available in 64-bit mode and isn't compatible with Linux. If you're using a Mac or a Windows PC, the computer should meet the following minimum requirements:
The requirements for Mac

devices are:
Mac OS X 10.11.6 or later
4 GB RAM
Intel Core Duo Processor
The Windows PC system requirements

include:
Windows 7 SP1 or later
Intel Core or AMD multi-core processor
4GB of RAM
You'll also need a MIDI controller

to communicate with the program. A MIDI controller is any hardware that transmits or receives data to or from a digital audio workstation.
Additionally, if you want to deal with raw audio, you'll have to purchase an audio interface that communicates with Ableton Live 10 Lite. If you're recording a single melody, opt for an interface with a single audio input. However, if you want to capture several sounds, such as a band, you would need several inputs.
Check out how Komplete compares with Ableton

here.
Final Thoughts
Ableton Live Lite is impressive software that you can use during performances or while editing tracks at home. Though it lacks some of the standard version's functionalities, Lite is an excellent option for beginners interested in learning music composition. It's a good idea to start with the free version and upgrade once you master beginner techniques!
If you'd like to see Ableton Live Lite in practice, InspirAspir has a tutorial demonstrating how to use the app to edit tracks:
Sources
Was this article helpful?
Recent Posts
link to How To Allow QuickTime To Access Microphone 🎙️  
QuickTime is a vital app for many Mac users, and if you've recently bought a new microphone, you might wonder how to use it optimally. QuickTime cannot record audio content if it doesn't have...
link to How Do I Test My Microphone? 🎙️
Every microphone leaves a unique signature on the quality of its output. If you're a podcaster trying to melt your way into your audience's hearts, a muddy, distorted recording won't cut it....