Having access to multiple sampled instruments and sounds is essential to creating music in the music production world. No doubt you've heard of Kontakt Factory, as it's used globally. However, there are many software products similar to Kontakt, so you might be left wondering what makes it unique, and is it any good?
Kontakt Factory Library is not only good, it's one of the most popular software products for sample-based instruments. The newest version includes over 1,000 instruments and over 43 GB of pre-recorded sounds, making it an excellent option for music producers who need access to various sounds.
Read on to learn more about the Kontakt library contents, the difference between the free and full version, the overall best libraries included, and how to navigate the library and get the most benefits out of it.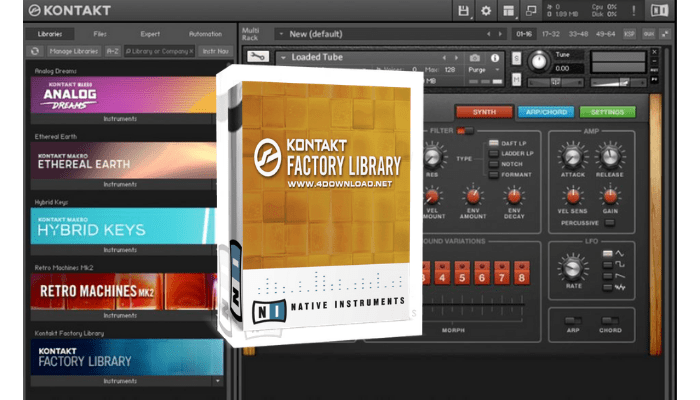 What Is Kontakt?
Native Instruments, a developer, manufacturer, and supplier of music software and hardware, created the software "Kontakt" in 2002. They have been producing software for music production and sound design worldwide ever since.
Native Instruments developed several other pieces of software along with Kontakt, the first being Generator in 1996, which later formed their product Reaktor. Along with Kontakt, Reaktor is one of the most popular Native Instruments software options.
The main difference between Kontakt and Reaktor is that while Kontakt's primary purpose is a sampler, Reaktor offers sampling along with the ability to build your own ensembles.
Though it is not as advanced, Kontakt is an excellent option for people who need access to several sounds and instruments but don't want to delve too deeply into sound design.
What Makes Kontakt Factory So Good?
Kontakt Factory Library's full version contains seven different categories containing pre-recorded samples and instruments. The program separates the categories into Kontakt Instrument collections, and each collection offers additional features. With these vast collections, a producer and creator can access an incredible number of instruments and legendary sounds to help make their music more rounded and rich.
This is Kontakts biggest draw – having access to such a wide variety of sounds. If you are a music producer looking to make all kinds of sounds and beats, you'll definitely find what you're looking for within these collections.
Let's take a closer look at these features below:
Band Collection
The band collection contains various standard band instruments, including acoustic and electric, that cover all genres you would find in a band ensemble. These genres range from rock, funk, jazz, hip-hop, or soul. Instruments included in this collection include:
Acoustic pianos: Includes three versions; a concert grand, an upright, and an upright variation.
Electric pianos: Includes four versions; a clavinet, Mark I, Mark II, and a wurly.
Guitar: It contains a variety of electric guitars, as well as a nylon-strung guitar.
Bass: Includes two upright basses and three electric basses.
Drum kits: Contains 13 different kits with acoustic drum kits and electric options.
Organ: There was one organ used to create samples; a Hammond C3 from 1957. It includes controls on an actual organ such as percussion and vibrato.
Horns: Includes several solo and section horns, including the Baritone Saxophone and Trombone.
Choir Collection
The choir collection includes every vocal range and provides a wide variety by recording each vocal voice in two groups. This collection contains the following voices:
Orchestral Collection
The orchestral collection contains several essential orchestral instruments, most of which include both solo and ensemble options. The collection includes:
Strings: Includes solo and ensemble instruments, such as a harp.
Woodwinds: Includes both solo and ensemble instruments, such as a clarinet and an oboe.
Brass: Includes both solo and ensemble instruments.
Percussion: Contains various percussion instruments such as the Marimba.
Keyboard Instruments: Includes two concert grand pianos and church organs.
Synth Collection
Synth sounds are vital for many electronic music producers, and Kontakt's Synth collection provides many synth sounds within the following:
Choir
Pad
Bass
Lead
Drums
Sequencer
Arpeggiator
Urban Beats Collection
The Urban Beats collection contains various pre-made sounds that are exclusive to Kontakt. The program allows users The Urban Beats collection contains various pre-made sounds and numerous exclusive instruments to Kontakt. The program allows users to create their own beats on a MIDI keyboard. It allows as many as 64 steps and eight tracks, and you can work with both individual sounds or design crazy loops for something special.
Vintage Collection
The vintage collection includes numerous electronic instruments from the 1960s to the 1980s, including analog synthesizers. Here are some instruments included in this collection:
Electone Organ
Digital Machines
Drum Machines
Electronic Pianos
Electronic Toys
World Collection
The world collection is unique because it offers various instruments worldwide, giving the user the ability to work with exotic instruments and sounds. Some of these instruments include, but are not limited to:
Flutes: Includes instruments such as the Bansuri from India and the Irish Flute from Ireland.
Recorders: This section contains recorders such as the High and Low whistles from Ireland and the Piccolo from Europe.
Reed Instruments: Contains instruments such as the Duduk from Armenia and Shenai from India.
Bagpipes: This collection consists of the Highland bagpipes from Scotland and Tulum from Turkey.
Strings/Plucked Instruments: Includes the Kora from West Africa and the Oud from Turkey.
Percussion: This section includes percussion instruments such as the Bongos from Cuba and Gongs from East Asia.
Looking to Customize Your KONTAKT Library Collections Even More?
In addition to the above instrument collections, you'll find the following customizable features within your KONTAKT Library:
Options
For each instrument you find in the KONTAKT Library, there is an Options page that lets you adjust MIDI (Musical Instrument Digital Interface) performance parameters, including the following:
Keyrange: Acts as a sort of MIDI filter, ensuring that any note that is not between the preset Min and Max value is ignored by the instrument.
Velocity: Easily add a value curve to MIDI velocity by clicking on one of four Velocity Curve buttons, as well as setting the volume and minimum and maximum values.
Pitch Bend: Set your Pitch Bend control range between a fraction of a tone, to a full octave with the Down and Up controls.
Transpose: Change the tonal range of an instrument on your keyboard without messing with the preset pitch of the samples.
Tuning: The Tuning option gives you several different tuning options in order to adjust the scale you are playing.
Randomize: This feature gives you the option to randomize Volume, Velocity, Pan and Pitch as you play the instrument, as well as giving you control over the  amount of randomization for each.
Drum and Percussion Kit
While you'll find the drums extremely similar in the Band, Synth and Vintage Collections, you can edit each individual drum from KONTAKT's performance view. In order to edit any drum instrument, you can use the following methods:
Select the drum from the drum kit you wish to edit from the drop-down menu.
Turn on SEL BY MIDI and press the MIDI key on the instrument.
Use the NOTE knob to choose your instrument by its MIDI note assignment.
Is There a Free Version?
Several free libraries are offered on Kontakt that contain many of the instruments and sounds from the Kontakt Factory Selection Library.
For example, the Kontakt Factory Selection includes 650 MB of instruments and sounds but only five categories, rather than the seven categories provided by the full version.
The Kontakt Factory Selection contains band, contemporary synth pads, urban beats, vintage, and world collections from Kontakt 3. While this free Kontakt library is an excellent selection for free, it doesn't have everything offered in the full version.
For people just starting, the Kontakt Factory Selection is a wonderful option to get a feel of the program. However, Kontakt Factory Library is a better option if you want a more extensive range of sounds and instruments.
Looking for more free libraries for KONTAKT? We've got you covered. Check out the following list of list of free libraries for Kontakt Player:
Are There Better Libraries Than Kontakt Factory Library?
Kontakt Factory Library contains plenty of basic sounds that many people will want and enjoy while producing their music. However, other libraries might be more beneficial than the Kontakt Factory Library if there is specific music you want to make.
For example, if you're going to create an orchestral ensemble, the Factory Library offers many great orchestral sounds, but other libraries might focus solely on the orchestra.
While I wouldn't say other libraries are better than Kontakt Factory Library simply because they offer a larger variety in one sound library, some libraries are better for specific needs.
Several companies, such as Spitfire Audio and Output, work with Kontakt to make great libraries. There are libraries for every genre that you might need, but we're just going to discuss a few favorites:
Spitfire Audio Albion One
This collection, made by Spitfire Audio, is a beautiful orchestral library. It's one of Spitfire Audio's most well-known libraries because it comprises a 109-piece orchestra. This library is known for being versatile across many genres and includes a substantial percussion section.
Output Exhale
The Exhale Library includes numerous vocal sounds and is perfect if you're looking for a library with a more versatile vocals section focusing on R&B and electronic production. This library's key features include its 500 unique presets and 10 GB of raw material.
Embertone Joshua Bell Violin
Embertone's Joshua Bell Violin library is one of the best violin libraries out there. Embertone made the library by sampling the famous classical musician Joshua Bell. It offers many features that make it better than the rest, including impressive legato and vibrato, and the option to control the vibrato is a plus. This collection is great for personalizing your own sounds.
Evolution Hollowbody Blues
The Evolution Hollowbody Blues Library by Orange Tree Samples is a unique collection full of classic electric guitar samples. This library has 13.4 GB of timeless samples, including legato samples for slides, hammer-ons, and pull-offs, as well as many other unique key features.
Check out this article about how to record a song with background music.
Final Thoughts
Kontakt Factory Library is a good option if you're looking for a versatile library with a wide range of sounds and instruments. For those just starting in music production, it offers many benefits and is helpful for various genres.
While other libraries are excellent and focus on specific genres, the Kontakt Factory Library is a basic, everyday option that you can use for any production needs.
Sources