Cubase, developed by Steinberg, is a music and MIDI sequencer used for editing, arranging, and recording music. When it comes to a DAW (Digital Audio Workstation), notation app, audio editor, and plugins, Steinberg got you covered. Cubase Element is a powerful DAW that is versatile for any music genre. But like any other DAW, Cubase Element has its unique quirks and workflow to navigate. So what is Cubase Elements? 
Cubase Elements is an entry-level music production software. It is a comprehensive and affordable DAW with limited features but ideal for beginners. Its limits include limited audio tracks, few physical inputs and outputs, and so on. So, whether or not Cubase Element is enough despite its limits entirely depends on what you want to do.
Cubase Elements is a good choice for composers who want to make use of few synthesizers. This makes you wonder if Cubase Elements is any good or if it is enough on its own. In this article, I'd address these questions as well as if Cubase Element is good for beginners or if it is free. With that being said, let's just right into the details of this article.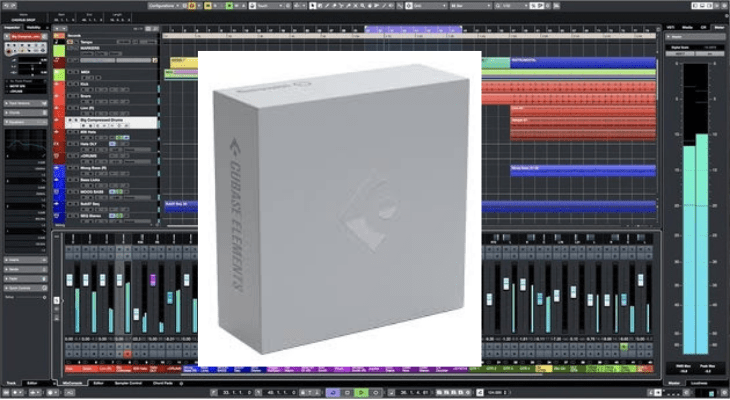 What Is Cubase Elements?
Cubase Element is the most basic DAW

from Steinberg. Cubase Elements is the most limited version of the Cubase DAW programs. If you are setting up a small home recording studio, bands, and songwriters, Cubase Element is ideal. So, if you aren't doing any major sound recording, perhaps all you do is for personal use, then purchase the Cubase Element.  
Cubase Elements is one of the three versions of the Cubase software developed by Steinberg. These three software all offer a basic Digital Audio Workstation and other features, but Cubase Elements have limitations. Steinberg limited the features of Elements to create software that'd hit a particular price point, especially for beginners.
Moreover, the price of the Cubase Element is as attractive as its workflow. Although the reason Cubase Element is so affordable is that it is not full-featured. This is one of the few software I found to not be full-featured and still offers you a decent amount of tools to create music as a beginner.
Cubase Element has an intuitive user interface, and it also includes all the editing and production tools you need to make complete arrangements for any genre. You can record and mix up to 48 audio and 64 MIDI tracks with Cubase Element. Cubase Element also comes with a video engine and music notation tool, which you can use to make amateur footage that looks and sounds professional.
Is Cubase Elements any Good?
Cubase Elements are good, and generally speaking, the newer version is always better. But when they are first released, there are usually some bugs, so the older versions are sometimes slightly better as they are more stable. And even though Cubase Elements may be limited in its features, they are one of my best choices for composing with MIDI in particular.
Ultimately, whether Cubase Element is any good for you depends on what you want to do. To help you determine this, I've compiled a list of pros and cons of Cubase Element below:
Pros of Cubase Element
My favorite thing about Cubase Element is the fabulous intuitive interface that makes it easy to operate. Generally, Cubase Element is a powerful music production system that allows you to create some sick beats. Here are some key features worth noting:
Record up to 64 MIDI and 48 audio tracks
An amazing 16 group channels MixConsole with global bypass, integrated channel strip, and full drag and drop support.
24 physical inputs and outputs for recording
Each chord management and chord pad
Powerful drum editor to create and edit beat
3 virtual instruments with over 1000 beats
44 audio effect plug-ins
Supports all common audio formats
Real-time pitch shifting and time-stretching
Affordable
Cons of Cubase Element
On the cons side, there are only a few cons that you can live with eventually.
Because Cubase Elements isn't a full version, it's not going to have some audio processing option you might need in the long run.
Also, Cubase Elements doesn't give you as many effect slots as you may want.
The biggest problem I see using Cubase is that there aren't many times stretch and pitch shifts to create something professional.
With the pros and cons of Cubase Element being highlighted in this section, it's clear that Cubase Element is worth its price. However, it wouldn't take much from you to add a few extra bucks to purchase Cubase Pro, the full version with no limitations.
Is Cubase Elements Enough on its Own?
Cubase Elements is enough if you're a Cubase fan, planning on doing more recording than producing. This is because Elements are very limiting. If you are not a Cubase fan or you need something powerful, then I'd recommend you try out Cubase Pro.
One of Cubase Elements' limitations, as far as I know, is that it does not support sidechain compression. But if you must have a sidechain, they are only available via plug-ins. The selection of plug-ins in Cubase Elements is quite decent. However, Cubase stock plug-ins aren't great.
One thing that might get to you is the track limit. Although it's a bit generous with 64 MIDI and 24 audio tracks, when you start to feel too restricted, there's an option to update to Artist or Pro anytime.
Is Cubase Element Good for Beginners?
For beginners who want to start with Cubase software but don't want to spend much, Cubase Elements is a good place to start. Elements have a lot to offer, and it's worth checking this comparison chart

.
Elements is a powerful DAW, and with its intuitive user interface, beginners can easily find their way around the software. But note that Cubase Element is quite complicated with different ways to navigate it to do the same thing and with several buttons and menus.
Is Cubase Element Free?
Cubase Element is not free. However, Steinberg offers a| free version of Cubase in its #StayHome Elements bundle for Mac and PC. The #StayHome bundle comprises Cubase Elements, WaveLab Elements, Dorico Elements, and the Absolute Collections of plug-ins.
While it's possible to use Cubase Elements for free, it is only available for the first 60 days. The Absolute Collection contains more than 100GB of content, including drum plug-ins, synths, and more. Getting the #StayHome bundle is an easy way to sign up for an account on Steinberg; use the software to be sure it's compatible with what you need before paying for it.
Frequently Asked Questions
Is Cubase Elements 11 good?
Cubase Elements 11 is a great choice for music producers who are looking for a powerful and affordable DAW. It offers a wide range of features and is compatible with a variety of audio interfaces and controllers.
What is included in Cubase 11 elements?
Cubase Elements 11 includes 45 audio effect plugins, 3 instruments with 1000 sounds, 48 audio tracks, 64 MIDI tracks, 24 instrument tracks, and basic score layout and printing.
Conclusion
In conclusion, Steinberg Cubase is a world-class DAW, no doubt, which you can use to record and sequence music on your computer. Nevertheless, the cost of using the full version of this software can be a bit above most users' budget. Before making such a commitment, most users tend to want to know if this software is worth it.
Cubase Pro is worth its price if you intend to do a lot of recording and producing. But if you only after doing some minor recording with a few tracks and wouldn't mind the limitations attached to Cubase Elements, then you can go for it.
Sources:
https://new.steinberg.net/cubase/compare-editions/

https://new.steinberg.net/cubase/

https://new.steinberg.net/cubase/new-features/

Was this article helpful?
Recent Posts
link to How To Allow QuickTime To Access Microphone 🎙️  
QuickTime is a vital app for many Mac users, and if you've recently bought a new microphone, you might wonder how to use it optimally. QuickTime cannot record audio content if it doesn't have...
link to How Do I Test My Microphone? 🎙️
Every microphone leaves a unique signature on the quality of its output. If you're a podcaster trying to melt your way into your audience's hearts, a muddy, distorted recording won't cut it....