Cubase is arguably the industry standard in Digital Audio Workstations (DAW). Cubase comes in various versions, and this article will be looking at the top two premium options. 
Cubase Artist delivers pro-grade mixing, mastering, scoring, and production capabilities, while Pro adds features that allow for professional composing and advanced post-production. The price difference is $250 to upgrade from Artist to Pro. 
Both versions share the same award-winning 64-bit Steinberg audio engine. So whether you're songwriting, film scoring, mastering, mixing, or beat taking, you can start on any version. While the similarities are many, it's the differences that can help you match your needs to your chosen version.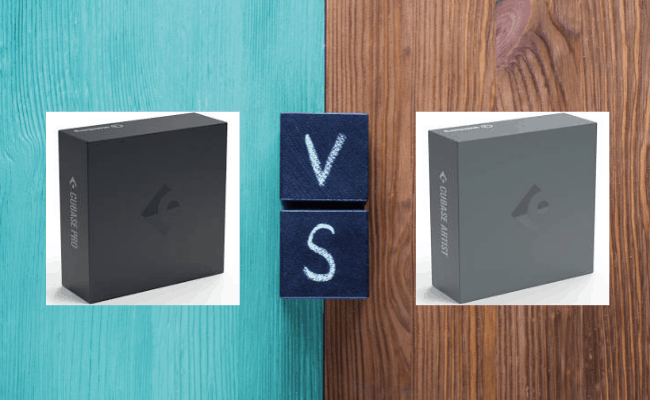 Cubase Artist
Recording, editing, and producing music in Cubase Artist can provide an unmatched delight. Cubase Artist comes with thousands of midi construction kits, loops, and samples. These are the building blocks from which you can draw inspiration and create music sketches, soundtracks, and full song productions. 
With Cubase Artist, you can mix up to 128 midi and 64 audio tracks on the large screen console. You can even copy ideas copies and takes and paste them at any point in your new project. 
About Cubase Artist
Cubase works best for recording, editing, and producing music. If you run a home studio or a small commercial studio, you can start with Cubase Artist. As you get familiar with the software, you can upgrade to Cubase Pro. 
Features
Some of the key features of Cubase Artist include:
Full Automatic Delay Compensation.
The artist includes Spectralayers One, which allows the extraction of instrumentals and vocals out of any stereo audio file. This is a fantastic tool for artists who want to produce acapella or music remixes. 
Up to 32 physical inputs and outputs to support unlimited audio, instrument, and midi tracks. 
Pitch Correct for vocal editing, including VST Amp Rack and VST Bass Amp.
VariAudio3 for precision tuning monophonic of instruments such as vocals.
8 premium instruments playing over 2,600 different sounds. These include Halion Sonic SE, Virtual Analogue Synthesizer, Groove Agent SE 5, Padshop 2, and Retrologue 2.  
Prices
Cubase Artist 11 Full version goes for EUR 331.99. The USB eLicenser retails at EUR 22.99 per unit but if you already have one then get Cubase Artist at EUR 309.99. 
What Is It Good For
Cubase Artist allows music production right from your computer. It's the perfect tool for mid-level mixing, recording, and editing of audio productions. 
Cubase Artist is designed to meet the needs of seasoned musicians, bands, and project studio operators. 
Cubase Artist System Requirements
According to Recording.org, Cubase has a higher system requirement than most other DAWs. If you are using an Apple computer, you need to be running a macOS Catalina, macOS Mojave, or macOS Big Sur. For Windows PC's you will need the 64-bit Windows 10 version 2004 or higher. 
Your processor needs to be at least Intel i5 or faster, with a minimum of 4GB RAM. Cubase takes up space and will need at least 35GB of free space on your hard disk. To run Cubase Artist, you need the Steinberg USB eLicenser, which comes with your package. 
Cubase Pro
Cubase Pro offers studio-quality audio at every stage of the creative process. It's versatile for all music genres and is used for recording, mastering, film scoring, editing, and mixing. 
Though the Pro version has a steep learning curve, it's easy to use once you get used to it. The memory management is superior to most DAWs, and the audio interface is first in class. 
Cubase works great for musical notation and video integration. 
About Cubase Pro
Cubase Pro is a full-featured DAW with one of the most extensive MIDI tracking libraries. 
For more information, check out which is better: Logic Pro vs. Cubase Pro.
Features
Cubase Pro offers everything Cubase Artist offers and more. With Pro, you have comprehensive editing and automation support and a robust plug-in package. 
For video integration, Cubase Pro supports 4K and Retina-Class displays. For audio editing, the Key Editor and MIDI roots work magnificently. 
Additionally, Cubase Pro sports a Floating Transport Bar that's fully customizable. Chord Track and Harmony Generation fuel your audio tracks in harmonizing vocals and integrating chord progressions for smoother sound effects. 
Prices
Cubase Pro 11 Full Version retails at EUR 581.99. The USB eLicenser has a unit price of EUR 22.99, so if you already own one, then you can grab Cubase Pro 11 for EUR 559.00.
What It Is Good For
Cubase Pro is specifically designed for powerful, ultra-flexible recording. It's best suited for MIDI compositions using virtual synthesizers. It has higher capabilities for audio editing and superior features for post-production. 
Cubase Pro is particularly suitable for MIDI and virtual instrument composition. That's why it's highly favored by mixing engineers, professional producers, and top composers. 
For recording and mixing, Pro offers more powerful tools than Artist. VariAudio3, which is in both versions, is a precise tool for editing micro-pitch levels and vocalist transitions. 
The Alignment feature works to build complex harmonies and syncing them together anywhere within your track. Apart from the automatic capabilities that save you time and effort, you can make manual revisions at each phase of the production stage. 
Cubase Pro also features the Lower Zone, which allows you to fix the Mix Console and the Piano Roll Editor onto the instrument track. 
Cubase Pro System Requirements
Cubase Pro operates on both Windows and macOS. Your system will need to have:
Windows 10 64-bit
macOS Mojave, macOSHigh Sierra, or macOS Catalina. 
Ports should be Thunderbold 2 for Mac and Thunderbolt 3 for Windows. 
Minimum RAM is 4GB but works better with 8GB or more. 
Display resolution should be at least 1440 x 900. 
What Is The Difference Between Cubase Pro And Artist?
There are a few differences between Artist and Pro. With Cubase, you can't transpose and switch pitches with Artist until you upgrade to Pro. This limits the creation of samples. However, if you have Artist, then you can purchase Audio Transpose separately. 
When you upgrade from Artist to Pro, the first difference you're likely to encounter is the addition of the Control Room. This adds lots of functionality when you're either mastering or mixing. 
The Score Editor in Pro also features some improvements while the extended VSTS greatly enhances post-production. 
The workflow in Pro performs much better than in Artist with more rendering and side chaining capabilities. 
Pro allows an unlimited number of MIDI, instruments, and audio tracks, while Artist has limited tracks. The Rack instruments are 64 in Pro and 32 in Artist. 
In Artist, you can only export your stereo output, while in Pro, you can batch export just about any sounds. You also can't set up parallel drums without the Pro version. 
Pro has up to 256 physical inputs and outputs while Artist offers only 32, which is still a high number compared to most pro-level DAWs. Pro also supports comprehensive notational support.  
If you're a composer, you will love Pro's MusicXML import and export feature that's lacking in Artist. Expression maps and Time Warp are also available only for Pro users. 
Some of the powerful features you'll get with Pro and not with Artist include:
Frequency 2
Enhance your mixes with precise EQ. 
New Score Editor
Better and simplified workflow processes. 
Advanced Audio Export
Simplify stem creation with new export queues. 
Imager
Multiband placements for easier and more organized planning. 
Squasher
A robust tool for enhancing tame bass, improve reverb, and boost leads. 
Global Tracks
Sync your tempo alterations and markers fluidly within the Key Editor. 
SpectraLayers One
Visualize your audio and separate the vocals from any part of your audio track. Best for creating remixes, mashups, and acapella. 
Sampler Track
Chop up your loops with the slicing mode. Use the move and glide features for magnetic sound effects. 
New Sample Sets
Pro offers a wider variety of sample sets. From Hollywood scores in the Noir pack to dancefloor tech house and Lo-fi hip hop beats. 
Can You Upgrade From Cubase Artist To Pro?
You can upgrade from Cubase Artist to Cubase Pro for $249.99. Some third-party retailers offer financing where you can pay as low as $7 per month for 36 months for the full version of Pro. 
Conclusion
Cubase is an award-winning DAW renowned globally. You can use Cubase Artist for professional-grade mixing, mastering, and film scoring. 
Cubase Pro offers advanced features and is the preferred DAW for professional sound engineers, top movie studios, and A-list musicians. With Pro you enjoy access to extra features such as the Control Room, a wider track library, and extensive VST processors.
Sources:
https://new.steinberg.net/cubase/compare-editions/