A Music Instrument Digital Interface (MIDI) keyboard is welcome in any studio to help with music production. Whether it is your profession or simply a hobby, a MIDI keyboard will make any production fast and easier.
Sometimes a keyboard and mouse just doesn't cut it when trying to make accurate beats. You need the feedback of being able to layer in real time. A MIDI keyboard not only provides a keyboard for you to use, but a variety of drum pads and knobs to help with the creation of your art.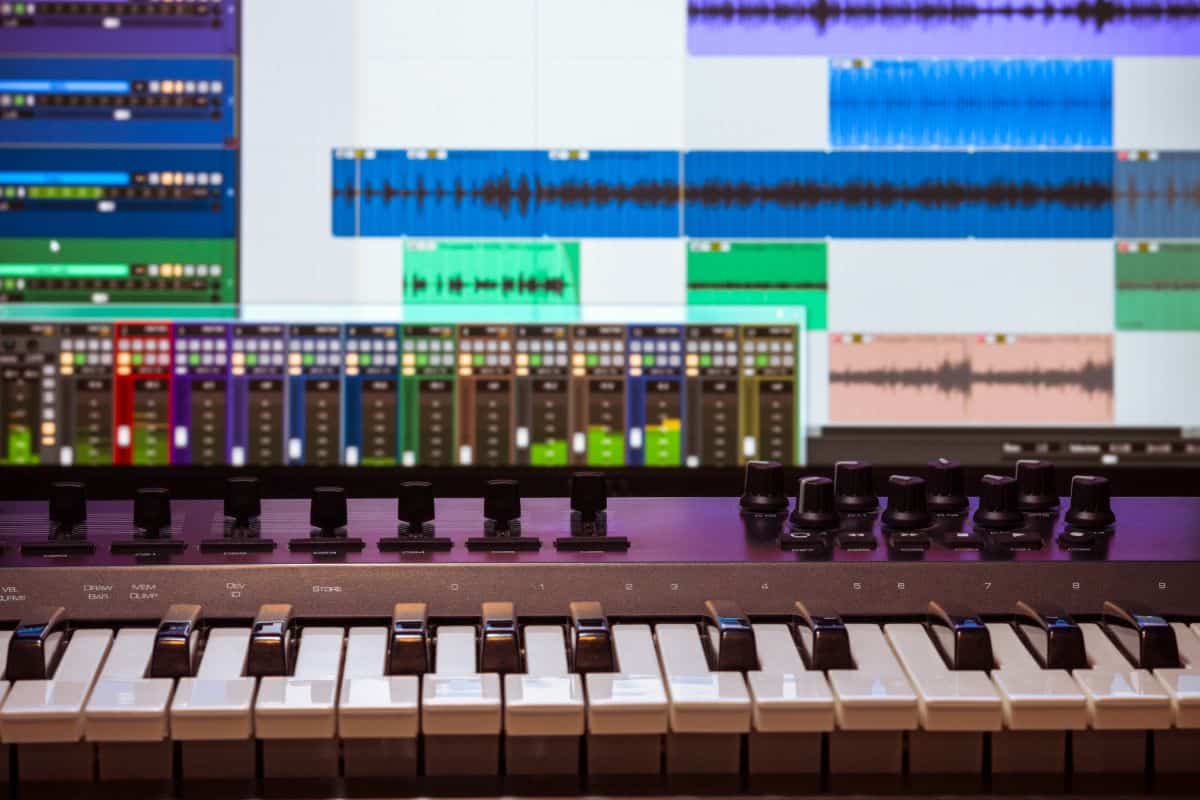 If you are new to music production you might not know what the Digital Audio Workstation (DAW) FL Studio

is. Or you might know it by its previous name of FruityLoops, which they had to change after threat of a lawsuit with Kellogs.
This iconic DAW is known for its easy to use system and power.
FL Studio is prime for people who are just starting to produce their own beats. Which is why a good MIDI keyboard is important. In this article you will find 5 of the best MIDI keyboards on the market.
At the bottom there is also a buyers guide and a FAQ to help you choose the best MIDI keyboard for you.
This 25 key MIDI keyboard is perfect for those who want a bit of color in their life. With 8 backlit drum pads and a bold red color it would be sure to stand out. It also comes in all black and a white with black accents version if the full red isn't for you.
Featuring a 4 way thumbstick for pitch and modulation control, 360 degree knobs, velocity sensitive keys and a sustain pedal input. The AKAI MPK Mini MK3 is perfect for any type of music creation no matter how complex.
Weighing only 1.98 pounds and being USB powered means that you can take your music making skills on the road with little obstacles.
As hinted by its name, the AKAI MPK Mini MK3 is the third generation of their MIDI controllers and each time they get improved upon, this time it's with the inclusion of endless knobs.
Pros
Aesthetically pleasing – With a market flooded by boring MIDI keyboards, sometimes all you need is something unique to work with your studio. Coming in a sleek black and red design with backlit pads you can have a MIDI keyboard that fits your music style.
Small size – The compact size (8.4 x 14.4 x 3 inches) means that it can fit on any desk and travel easily.
AKAI – As a company, AKAI actually listens to their customers to improve products. That means you can always be sure that your product has been tailored by the people who actually use them.
Cons
Compact design – What can be a pro can also be a con. While a compact design is good for traveling, if you are someone with larger hands this may be a hindrance as you will hit keys you don't mean to.
Not compatible with Chrome OS – If you are someone who works on a Chromebook it should be known that the MPK Mini MK3 is not compatible with Chrome OS.
Also Available At
The slim design of the Korg 25 key MIDI keyboard makes it ideal for any desk with limited space. It is also the lightest MIDI keyboard on this list weighing only 12.8 ounces.
Offering 8 channels (each with 3 buttons, 1 fader and 1 knob) this MIDI keyboard offers a great beginning point for anyone looking into music production. A simple USB plug allows for it to be hooked up to a tablet or even a smartphone.
As a company, Korg is known for creating high quality products at great prices. So you know this MIDI keyboard was designed by the best. The Korg 12 key MIDI also comes with the Korg Kontrol Editor Software so you can get started the same day you get your keyboard.
Pros
Cost effective – Great for people who are just starting out and don't want to spend a lot of money.
Highly portable – No plastic keys which are easier to snap during travel.
Very lightweight – Weighing less than a pound this MIDI keyboard is easy to move with adding barely any weight to your bag.
Cons
Lacking features – Due to its simple design it is missing some of the features that are on other keyboards, like knobs and sliders.
No foot pedal input – If you require the use of a foot pedal, this MIDI keyboard has no input for one.
Also Available At
The first USB 2 keyboard on our list is the MIDIPLUS AKM320. USB 2 is also known as hi-speed USB which is becoming the standard for technology in the 21st century.
Despite being an inexpensive option, this MIDI keyboard offers a lot of functions. It is also the only keyboard on our list that is 32 keys instead of 25. Because of this it is slightly larger than the 25 key but it is still lightweight at 1.59 pounds.
Perfect for beginners who require the full range of keys.
Boasting some impressive transpose and octave buttons, this MIDI keyboard gives you more control with fewer controls. It also has pitch and modulation wheels for easy adjustments.
It also has a sustain interface, but the foot pedal is not included.
Pros
Plug and go – Easy set up to get started in minutes.
USB 2 – Rather than using a USB, a USB 2 allows for faster transfer of data.
Works with other programmes – If you don't want to use FL Studio it works with other programmes such as GarageBand.
Cons
No software included – Unlike most MIDI keyboards, the MIDIPLUS doesn't come with any beginning software.
Key pressure – The key pressure means that you have to press down hard on them.
Also Available At
The only white MIDI keyboard on our list is the Arturia MiniLab MKII. With eight RGB backlit drum pads you can customize your MIDi keyboard however you like.
The Artuia is also USB 2 powered and comes bundled with a selection of software to fit whatever your need. One of those softwares is a world class piano instrument for those wanting to go a bit more classical.
Above the drum pads you will find 16 assignable encoders, 2 of which are clickable. Allowing for maximum functionality for only 3.2 pounds of weight.
Pros
Key feeling – It may seem simple but if the keys feel great to play, it can really improve your producing ability.
Comes with other software – If you don't want to work with FL Studio then the Arturia also comes with the highly praised Albleton DAW.
Smaller width keys – If you have smaller hands, it can sometimes be hard to find a keyboard that works for you. Fortunately the Arturia has slightly slimmer keys for anyone with shorter fingers.
Cons
Touch strip – The touch strip controls for pitch bend and modulation might be new to some people and will take time to get used to.
White – While white can be a unique color to find MIDI keyboards in, that can be for a good reason. The reality of it is that white gets dirty faster than black. So you may need to invest in some wet wipes to keep on hand.
Also Available At
Last but not least is the M-Audio Oxygen USB powered keyboard. This 25 key MIDI gives a user friendly experience with its plug and play functionality. The M-Audio Oxygen also comes in 49 and 61 key variations if you need a larger MIDI keyboard.
Featuring 8 trigger pads, 8 knobs, a LCD screen, pitch and modulation wheels, and dedicated octave buttons, this MIDI keyboard can help anyone get their music career off the ground.
The keyboard also features full sized keys so if you're used to playing an average keyboard this is ideal for you.
Pros
Multiple drum pads – Not only are there 8 drum pads but they are very responsive making using them a dream.
Ergonomic positioning of buttons – Having all the knobs and frequently used buttons on the top middle allows for easy use.
LCD screen – The built in LCD screen gives instant parameter feedback.
Cons
No volume slider – Having no volume slider physically on the MIDI keyboard can make producing just the slightest bit harder.
Key sensitivity – Need to press harder on the keys than you would on other keyboards.
Also Available At
Buyer's Guide
With the amount of MIDI keyboards on the market you can be spoilt for choice. Or you might not even know where to start. Below are some factors to consider when buying a MIDI keyboard.
Weight
If you are planning on traveling with your MIDI keyboard, then weight is a key factor that needs to be considered. The lighter the keyboard, the easier it is to carry.
All of the MIDI keyboards on this list weigh under 4 pounds, but if you are looking into larger keyboards you will need to look at the weight of it and if it is worth it for the features it offers.
Size
Similar to weight, size will also need to be considered when traveling, you want your keyboard to take up as little space as possible. The average size backpack is 19 inches tall so if you're traveling light that will need to be taken into account.
On the other hand if you require a full size keyboard then you will need a larger MIDI keyboard with 88 keys. It would be a good idea to measure the space on your desk before buying so you know what size you should be looking for.
Price
While it may sound like the most obvious thing to consider, you may be tricked into believing that the more expensive the product is the better it is. There are plenty of MIDI keyboards out there that will do exactly what you need them to do without upsetting your wallet.
Of course if you don't have a budget and just want the best possible MIDI keyboard then you will need to weigh up your options as you might just be paying for the brand name rather than quality features.
Some MIDI keyboards can reach thousands of dollars so it's important to find out what they actually do before handing over that amount of money.
Brands
Talking about brands, it is important to do your research on which brand to use. Not only to get the best possible product but also for if you ever need to get something repaired. Some of the best known brands for MIDI keyboards are Nektar, Arturia and Alesis.
Due to this if something ever breaks then you know the customer service is verified or the MIDI keyboard is popular enough that someone has posted a video online on how to solve your problem.
What Controls You Actually Need
Everyone's music is unique and because of that you need to consider what features and controls you will actually need on your MIDI keyboard.
You may only need drum pads, stop and play. Or you might need the whole arsenal with pitch sliders, faders and knobs. Whatever your needs are, there is a MIDI keyboard out there to meet them.
Key Weight
How the keys feel on a MIDI keyboard varies between manufacturers but usually fall under synth-action, semi-weighted and fully-weighted.
Synth-Action
This is the most common key weight. These keys bounce back quickly because they are spring loaded.
Semi-Weighted
These are a step up from synth-action and are better for those who are accustomed to playing an actual piano.
Fully-Weighted
For the feel of playing a traditional piano. These keys will provide a proper 'heft' to playing. These types of keys are usually larger and more expensive.
Aftertouch
When looking into MIDI keyboards you will find the word 'aftertouch' thrown around a lot, but what does it mean?
Aftertouch is the pressure applied to a keyboard after a key has been struck. Whether through being held down or sustained the aftertouch can add a lot of depth to a note.
This feature is typically found on higher end MIDI keyboards. Aftertouch can be found in 2 different forms, monophonic and polyphonic.
Monophonic – one note can be played at a time.
Polyphonic – multiple notes can be played at once.
Most MIDI keyboards you find with aftertouch will be polyphonic.
Digital Audio Workstation (DAW)
While this is a list of the best MIDI keyboards for FL Studio, that doesn't mean you are limited to only that DAW.
FL Studios is the typically best one to start off with, but if you are expanding your music production and find a DAW that works best with your needs then your MIDI keyboard needs to support it. Below is a list of the most popular DAWs and a benefit of it.
Ableton Live – Fast and easy workflow
Apple GarageBand – Free with all Macs
Apple Logic Pro – Comes with lots of content
Bitwig Studio – Built-in modular environment
PreSonus Studio One – Contemporary software
Steinberg Cubase – Refined workflow
Frequently Asked Questions
Before you leave us today, check out our FAQ section below to get your last-minute questions answered!
Can I Travel With A MIDI Keyboard?
Yes, in fact MIDI keyboards are perfect to travel with due to their size and weight. Just like any piece of equipment you will need to be careful with them, as people have found keys snapping off on certain MIDI keyboards.
How Do I Set Up A MIDI Keyboard?
Most MIDI keyboards are simply plug and play, usually via USB or MIDI to MIDI. There are also a few in the market that are bluetooth operated.
Make sure to read the instructions before setting up any piece of technical equipment to ensure that everything works.
Do You Need A MIDI Keyboard To Use FL Studios?
Technically? No.
We do however highly recommend you have a MIDI keyboard when using FL Studios. If you don't then you will be limiting your creativity and not have access to all the features available to you. This also applies to any other DAW.
How Do You Use FL Studios?
FL Studios actually have a tutorial page on their website which you can find here

. The pro or FL Studios being a commonly used programme is that if you have any questions you can be sure that someone else had that exact same question and a quick Google search will get you the answer.
Was this article helpful?
Recent Posts
link to How To Allow QuickTime To Access Microphone 🎙️  
QuickTime is a vital app for many Mac users, and if you've recently bought a new microphone, you might wonder how to use it optimally. QuickTime cannot record audio content if it doesn't have...
link to How Do I Test My Microphone? 🎙️
Every microphone leaves a unique signature on the quality of its output. If you're a podcaster trying to melt your way into your audience's hearts, a muddy, distorted recording won't cut it....