MIDI keyboards are beneficial tools that make the music creation process incredibly convenient. While most production software permits you to make music with just your computer's keyboard, MIDI keyboards make the process faster and easier due to their unique perks.
MIDI keyboards are not necessary to make music. However, they make music production easier since they permit you to listen to your ideas right away, hit several keys simultaneously, and adjust your note's velocity. They also help improve your musical knowledge.
Next, we'll go over what MIDI keyboards are, how they work, and whether or not you can make music without them. Then, we'll discuss the perks of MIDI keyboards and three of the best products currently available.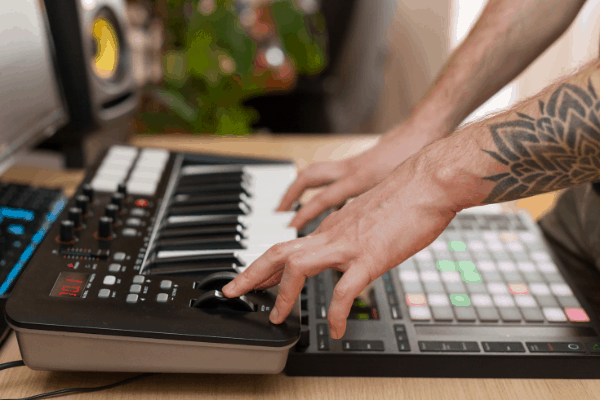 What Are MIDI Keyboards and How Do They Work?
MIDI keyboards are devices that look like mini-pianos. They can be plugged directly into your audio interface or computer to help you make music. Most keyboards are equipped with several knobs and sliders that can be programmed to control different aspects of your music.
The keyboards themselves don't have any built-in noises or sound effects. Instead, you connect them with your DAW (digital audio workstation) and use them to control the virtual instruments and sounds your software provides.
MIDI keyboards range in size and price. Smaller keyboards typically have around 25 keys, whereas larger ones can have up to 88 keys, which is the size of a full piano. Generally, smaller keyboards are ideal if you are starting out since they are less expensive and have fewer keys to control. 
Can You Make Music Without a MIDI Keyboard?
Yes, you can make music without a MIDI keyboard. Most DAW programs allow you to control your sounds with a built-in virtual keyboard operated by your computer's keys. So, if you are new to music production and don't have a MIDI keyboard or you're on a really tight budget, it is possible to make music with just your computer.
However, we highly recommend investing in a MIDI keyboard since they make music production much easier and more efficient!
Perks of Getting a MIDI Keyboard
There are several reasons why you should consider investing in a MIDI keyboard. We've listed some of their main benefits below.
Allows You To Hit Several Keys at One Time
When you use your computer's virtual keyboard to produce music, the number of keys you can hit at one time is usually limited. Typically, you can only select chords that are close together, which decreases your options.
However, with a MIDI keyboard, you have a wide range of keys that you can hit simultaneously, providing you with more possibilities. While the exact number of options you have varies depending on the number of keys on your keyboard, any sized MIDI is going to provide you with more choices than your virtual keyboard will.
If you don't want to feel limited when making music, invest in a MIDI keyboard. It will open up a whole new world of possibilities for you!
Permits You To Listen to Your Ideas Right Away
When you are making music, it's beneficial to hear your ideas immediately as you think of them. This way, you can discover new melodies or play around with chords that aren't quite right until you find the perfect sound.
With a MIDI keyboard, you can easily experiment with different sounds until you find what you've been looking for. Once you've found the perfect notes, all you have to do is hit record.
However, when you use your computer's virtual keyboard, you have to draw the notes with your mouse then press play to hear how they sound. This is more time-consuming and can be frustrating when you are in the middle of your creative process since you can't hear your ideas right away.
MIDI keyboards permit you to get your "creative juices flowing" since you can play around with different ideas as soon as they pop into your head. You won't have to spend five minutes drawing up notes just to discover that you don't like how they sound!
Check out my ultimate guide to the Best 49-Key MIDI Controller

Allows You To Adjust Your Note's Velocity
Many MIDI keyboards come with pressure sensors in their keys, which permit you to control your notes' velocity (AKA how loud they are played.) All you have to do is press lightly on the keys to play soft notes or press firmly to play louder notes.
Unfortunately, this option is not available when you play with your computer's built-in keyboard since your computer keys don't have the necessary sensors to detect variations in pressure.
Velocity is essential because it gives your songs a "human touch," making them sound more authentic than songs produced with a built-in keyboard. When people play instruments in real life, their notes velocity varies, giving instruments their raw and soulful sound. When you mimic this with your MIDI keyboard, you bring your songs to life instead of making them sound like soulless computer automation.
As a side note, not all MIDI keyboards come with this feature, so make sure to check the keyboard's product details before you make your purchase.
Advance Your Musical Knowledge
Since MIDI keyboards are similar to pianos, learning to use one can enhance your knowledge of musical concepts

, like chords and scales. Understanding these concepts can improve your music since you'll have more advanced musical theory knowledge and a better understanding of which notes and chords sound good together.
Even more, the skills you acquire on your MIDI may transfer over to a real piano, especially if you have a full-sized keyboard with 88 keys. Using a MIDI keyboard will make you more knowledgeable about music and may even help you learn how to play a new instrument!
Check out my article about whether you can use your phone as a MIDI controller

.
Best MIDI Keyboards
This 49 key MIDI has velocity-sensitive keys, permitting you to adjust your notes' volume. With 24 adjustable knobs, faders, and switches, you'll have endless ways to customize your sound.
Additionally, this helpful keyboard has 16 illuminated pads with four banks that allow you to set up loops, melodies, samples, and so much more. These features are must-haves if you're interested in making beats.
This keyboard is compatible with PC and Mac, so no matter what kind of computer you have, the Akai Professional is ready to bring your music to the next level.
AKAI Professional MPK249 - USB MIDI Keyboard Controller with 49 Semi Weighted Keys, Assignable MPC Controls, 16 Pads and Q-Links, Plug and Play

Pro Keyboard Performance - 49 semi-weighted, velocity-sensitive full-size keys and a premium...
Beat Making Essentials - 16 RGB-illuminated MPC-style pads each with 4 banks for 64 pads - the...
Assignable Control - 24 assignable Q-Link controllers comprising 8 control knobs, faders and...
Last update on 2023-09-27 / Affiliate links / Images from Amazon Product Advertising API
If you're looking for the perfect MIDI keyboard to turn all of your musical dreams into realities, the Midiplus Origin 62 is the ideal device for you. It comes with 62 sensitive keys that make music creation a breeze. It also has assignable sliders and knobs, which allow you to customize their functions depending on your needs.
Even better, this keyboard is foot pedal compatible. The foot pedal gives you some additional functions, such as allowing you to hold notes and other sounds for longer (the foot pedal is sold separately).
midiplus Origin 62 61 Keys USB MIDI Keyboard Controller

61 full size sensitive keys. Eight fully assignable 40 mm sliders. Eight fully programmable knobs....
The supplied USB MIDI out and keyboard MIDI out Can connect to other MIDI device by oneself. Sustain...
Attachment: Owner's manual, USB cable
Last update on 2023-09-26 / Affiliate links / Images from Amazon Product Advertising API
The Arturia Keylab Essential is the perfect tool for creating beautiful tunes. It has a straightforward keyboard layout with knobs and faders on the right and performance pads on the left, guaranteeing ease of use. Additionally, it has durable keys and a sturdy frame, ensuring that it will withstand the test of time.
This keyboard is compatible with multiple software systems, giving you versatility. It also comes with free software, which has over 6500 presets ready for you to experiment with. This permits you to start making, recording, editing, and releasing your music as soon as your keyboard arrives!
Sale
Arturia KeyLab Essential 49 - 49 Key USB MIDI Keyboard Controller with Velocity Sensitive Synth Action Keys, 8 Drum Pads, 9 Faders, 9 Knobs and Analog Lab V Software Included

Software Included: Analog Lab V with 2000 synth sounds, Ableton Live Lite, and UVI Grand Piano model...
49 key velocity sensitive keyboard with hybrid synth-piano feel
Controllers: 1 clickable encoder, 9 encoders, 9 30mm faders, 6 transport switches, 4 command...
Last update on 2023-09-26 / Affiliate links / Images from Amazon Product Advertising API
Final Thoughts
MIDI keyboards are incredibly useful because they permit you to adjust your notes' loudness or softness, organize your sounds, and create beats. While it is possible for you to do this directly on your computer, using MIDI keyboards makes the process easier since they are more user-friendly. 
Sources
Was this article helpful?
Recent Posts
link to How To Allow QuickTime To Access Microphone 🎙️  
QuickTime is a vital app for many Mac users, and if you've recently bought a new microphone, you might wonder how to use it optimally. QuickTime cannot record audio content if it doesn't have...
link to How Do I Test My Microphone? 🎙️
Every microphone leaves a unique signature on the quality of its output. If you're a podcaster trying to melt your way into your audience's hearts, a muddy, distorted recording won't cut it....