Starting with music production can be an overwhelming experience for many music producers.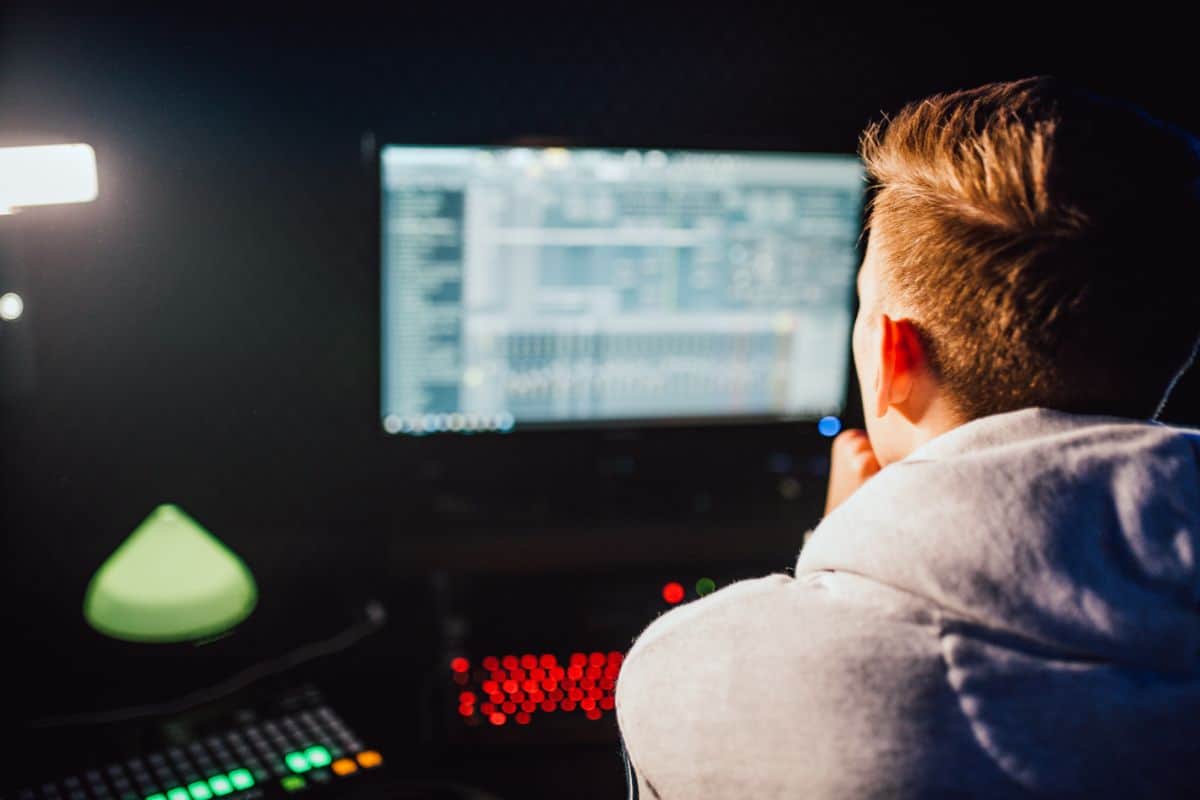 Before you even get started, you need to choose which software to use, as there are many pros and cons to each of them.
Once you have made the choice, it's about learning the ropes of the software.
But an often overlooked aspect of using music production software is which plugins to use, of which there are plenty.
Sifting through the endless amount of plugins can be time-consuming, so we put together a list of our favorite plugins for Ableton Live.
The good news is that some of these can be downloaded for free, and take your tracks to the next level without costing a dime.
Start our list with a powerful reverb and delay plug-in, that has many features, and to top it off is free to download.
There are over 14 different reverb algorithms that have been named after the consolations, and each provides a slightly different sound to the mix.
This plugin has incredible control and plenty of presets that are fresh-sounding that can be used across percussion or lead melodies.
One thing to note is that it is not the easiest plug-in to understand and may take some practice to perfect.
Pros
There are 14 different reverb algorithms.
Free to download and use with no limitations.
Ideal for all types of sounds, including percussion.
Cons
Not the easiest plug-in to navigate and may take some practice.
If you want a large selection of sounds, make sure to check out Xfer Records Serum wavetable synthesizer.
With this plug-in, you can avoid high-end distortion that many synthesizers unforgivingly provide for a cleaner sound without insulting your audience.
There are plenty of features to keep you interested, such as a third oscillator for subs, a filter module, and a wide variety of editing capabilities.
However, this can take its toll on your CPU, especially on chords

with heavy unison.
Pros
Comes with many features, including a third oscillator for subs and a filter module.
Plenty of editing options for even cleaner mixing.
Good at removing high-end distortion that other synthesizers fail at.
Cons
It will run your CPU high and fast if not careful.
Released in the late 2020s, this oscillator wavetable synth is the younger sibling of Xfers Records Serum synthesizer; it has many similar qualities that the music production community has enjoyed, except it doesn't come with a high price tag.
With the free version, you can have access to 25 built-in presets, 75 wavetables, and noise samples for added texture.
Whilst it's likely one of the best freebies, it is limited in its preset selection and effects, and you might be tempted to upgrade to their paid option.
Pros
One of the best free synthesizers ideal for those on a budget.
Musical filters without sounding too digital.
Easy to learn, with a small learning curve compared to other options.
Cons
The free version is limited in presets and effects.
The standard-issue saturator in Ableton provides enough warmth and distortion to your audio signals, but the FabFilter Saturn provides more flexibility in even more detail.
There's plenty of functionality with this plug-in, with up to 16 distortion or saturation options, as well as push or pull bands to tailor signals however you like.
The user-friendly interface makes this one of the best multiband plugins available, however, it does lack real-time modulated parameter visualization.
Pros
Up to 16 distortion and saturation options available.
Wide range of sounds.
The interface is user-friendly and simple to pick up.
Cons
No real-time modulated visualization.
One of the most popular plug-ins that have taken the music industry by storm is the inclusion of autotune to provide pitch editing for vocals.
You can now get this for Ableton, for free with Graillon 2.
The remarkable sound quality will create a professional-sounding voice pitch, with options for correcting pitch to your preference.
Although many of the better features are hidden behind a paywall.
Pros
The best plug-in for pitching up vocals.
Easy to navigate user interface, and gives a full range of digital-sounding vocals or subtle tune-ups.
Ideal for hard-sounding tracks.
Cons
A lot of the content is locked behind a paywall.
Delay is one of the most overlooked aspects of modern music production, so you must have a plug-in that caters to this need.
H-Delay from waves will provide plenty of flexibility and deliver low CPU usage.
You will be able to access many delay effects and have the functionality to set delay via host tempo, in BPM or milliseconds, allowing for the utmost precision.
However, you will not be able to bypass the variable pitch many other plug-ins offer.
Pros
Delivers low CPU usage ideal for keeping your system healthy.
Lots of flexibility and delay options to choose from.
Features a smooth parameter transition.
Cons
No bypassing variable pitch options available.
This plug-in is an open-source VST Soft synth, meaning that users have the freedom to make changes to the code, and create their own modified synth.
There's plenty of room for modulation, with low and high-pass filter options available.
Whilst not the most powerful synth on the list, it's easy to use and is ideal for making quick sounds that don't require a lot of CPU power.
Great for beginners and for sculpting sounds without too much hassle.
Pros
Plenty of room for modulation and tight control.
Open-source VST means that even more modifications can be made for those that want to take the time to code.
Two oscillators with low and high-pass filters for added effects.
Cons
Limited options and not the most powerful synth on our list.
Admittedly, Abelton is more than capable of housing its EQ that is versatile and good enough to handle the job.
Although, if you wanted to do a bit of experimentation with your levels, you can try this from SoundRadix which offers two filters and five frequency bands for pitch tracking and EQ.
The standout feature is the sidechain, which is prominent in many modern tracks and gives room in the track for things like vocals, which can even out a mix and make things more balanced.
Although something to bear in mind is that it is limited with Q width which ultimately reduces its surgical capability.
Pros
Five frequency bands and two filters for pitch tracking.
High-quality Spectral Gate settings.
The GUI is functional and great to work with.
Cons
There is limited Q width which can lessen the surgical capability.
This is for the drums producer, and for those that are missing out on those extra percussion sounds because the vanilla version of Abelton just doesn't have the choices, Smack Attack from Waves gives you the power to achieve a punchier kick-drum and boost your transients on the front and back end.
This plug-in will easily be able to supply transparent sounds and enhance any mix beyond the standard-issue capabilities, yet this is not for the faint of heart and will take some practice to figure out before it sounds good.
Pros
Comes with an excellent transparent sound.
Plenty of functionality that should be a standard issue with a transient shaper.
Protection limiter and envelope shape controls are just some of the best features.
Cons
Not the easiest to understand and may take some practice.
For a truly vintage sound that is hard to get from the Ableton base package, we recommend trying Valhalla's VintageVerb which contains downsampling as well as modulation shaping, that gives you that distinctive 1970s or 1980s sound.
It's a cool idea and ideal for those that want to get nostalgic, as it comes with several controls, such as a size knob for controlling the size of the room, and density controls for diffusion tailoring.
But not the best option for simple room sounds and keeping a mix simple.
Pros
Easy to use and not the most expensive plug-in on the list.
Awesome for adding layers and color to your sounds.
Plenty of powerful controls such as size knobs and density controls.
Cons
Not ideal for concocting simple room sounds.
Check out: The Six Best Mixing Plugins

Best Ableton Plugins Buyers Guide
Now that we explored the best Ableton plugins, it's time to sift through them and decide which ones to download and begin to use.
This is easier said than done, and choosing the best plugins for your music production comes down to a few factors that we'll explore now.
Here's our buyer's guide on picking the right plug-ins for you, as we break down your level of experience and how much you have to spend.
Music Production Skill Level
The first and most important step is to define where you are on your music production journey.
This is a humbling first step but is necessary to help you make the correct choice or choices, and not blow your budget on unnecessary plugins.
We can easily break down music producers into three categories: beginner, intermediate, and advanced.
A beginner can be defined quite simply as somebody that is brand new to music production, from a music producer that has perhaps only just downloaded Ableton, or to someone that has already downloaded it and perhaps put some stems together and created a basic track.
Beginners are just starting to learn the ropes of music theory, and how to make a track that sounds good, and so will not necessarily need a large intake of complicated plug-ins because they're still getting used to the software.
But that doesn't mean that they don't need any plug-ins.
If you are a beginner then we recommend you choose a plug-in that is simple to use in terms of its interface and doesn't take a lot of practice.
Something like Graillon 2 could be a good option, as it's not difficult to figure out, and can tighten up vocals making them sound more polished and electronic.
On the same point; avoid plug-ins that take a feature of Ableton such as the EQ function, and make it more complicated. Stick with Abeltons basic EQ for now and understand it before taking the plunge on this plug-in.
Intermediate
Moving on to an intermediate music producer, this is an individual that can easily navigate their way around Ableton or similar music production software and has a better understanding of how to perform functions that can make a track go from good to great.
An intermediate will have created a few tracks from start to finish and is now looking for the next level in their music production journey.
For this music producer, you have a lot more scope to trial and experiment with different things, and it's not uncommon for an intermediate producer to try out a plug-in that pushes the boundary of your work.
It's likely that an intermediate will still get a lot of benefit from some of the inexpensive plug-ins, which is down to them mostly sticking with the vanilla software for their tracks, to begin with.
We recommend trying one of the new synths, or perhaps the FabFilter Saturn to bridge the gap between getting yourself from a great producer, to an excellent one.
You might want to pick up a synthesizer, too.
But the good news is that not every plug-in is created equally, which means you pick up a cheaper option that is going to be easier to navigate, and not blow your production budget in one go.
Advanced
Now we're reaching the top echelons of the music production game, and this group is reserved for those that are consistently releasing tracks on music labels and will be playing gigs or sets across the globe, either for a living or part-time.
It goes without saying that you can be forgiven for trying out numerous plug-ins and becoming a master at all of the intricacies each has to offer.
You may even decide to pick up a freebie and unlock the premium features that are locked behind a paywall.
There's no limit to what you can try out in our list above, and feel free to try out any that spark your interest.
For example, you might want to retro-up your mix with Valhalla's VintageVerb for a classic 1970s or 1980s sound, although we know that this is not for everyone.
You should also look to invest in a decent synthesizer, and you would not go wrong with picking Xfer Records Serum, which can be upgraded from the Vital synth if you already have this version.
In terms of extras, we would also recommend Waves H-Delay for added control over delays and taking full use of the low CPU outage it allows.
Budget
We've already touched on the budget in the above sections but wanted to give it its section, as it's an important variable to consider.
Notwithstanding the cost of purchasing Ableton, and perhaps any samples or instruments that you are going to bring to the table; it's not always wise to simply buy a plug-in for the sake of it,
You should consider creating a hierarchy of your needs before taking the plunge and spending over $100 on a plug-in that might not even help you.
Also, take into consideration that many of the plug-ins above have cheap or even free features that can be road-tested, which is a good idea, as it will allow you to familiarize yourself with the plug-in before any money has changed hands.
Think of it as a free trial that you can cancel anytime.
Expect you to keep the 'lighter' version which still has many powerful features great for music production.
Obviously, if you are a superstar DJ or A-list band that doesn't have a budget, this is going to be different, and we would refer you to the Advanced section for further guidance on how to choose a plug-in.
Frequently Asked Questions
Which Is Easier To Use: FL Studio Or Ableton Live?
This ultimately depends on the type of music that you want to produce, and there is no standard answer as they both have their pros and cons.
Both DAWS are powerful, however, generally speaking, FL Studio

is easier to navigate and can be learned a lot quicker.
Ableton has better stock samples but does carry a higher price tag.
How Is Ableton Live With Recording Non-MIDI Tracks?
Ableton is very able at recording audio if that's all you need it for, however, there are many things to consider that go hand in hand when considering recording audio.
If you're interested in multitrack recording with a live band, or editing there are other DAWS that would probably do the job better such as ProTools.
However, it is a very capable sequencer that is ideal for loop-oriented music production and electronic music and excels when it comes to MIDI tracks.
Can a MacBook Air Power Ableton Live?
Yes, the MacBook Air has enough CPU and power to run Ableton Live without running into performance issues.
Was this article helpful?
Recent Posts
link to How To Allow QuickTime To Access Microphone 🎙️  
QuickTime is a vital app for many Mac users, and if you've recently bought a new microphone, you might wonder how to use it optimally. QuickTime cannot record audio content if it doesn't have...
link to How Do I Test My Microphone? 🎙️
Every microphone leaves a unique signature on the quality of its output. If you're a podcaster trying to melt your way into your audience's hearts, a muddy, distorted recording won't cut it....