Video producers often take background lighting for granted in shoot setups. Still, it is crucial to produce a consistent and professional quality stream. Without proper lighting, whatever you record can take on a weird color tinge because your camera has to use the available light. With a profusion of selections in the market, you may wonder: what's the best model to buy?
The best background lights for streaming are those with the most features: illumination manipulation, flexibility, programmable modes, control via software or app, multiple settings, power sources, and color temperature options. The top brands that streamers use include Elgato, MountDog, and Neewer.
We have compiled a listing of the most popular background lights for streaming, so you don't have to wade through the masses of options out there. Read on to see our favorites.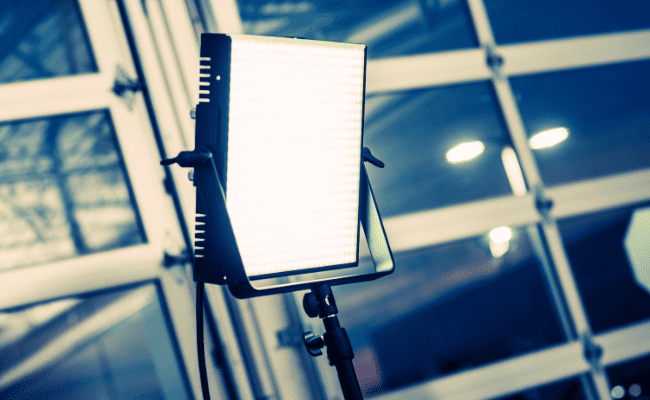 Why Is Lighting Vital in Streaming and Video Broadcasting?
The importance of adequate lighting cannot be overemphasized. Streams taken with a basic webcam and professional lighting easily trumps those shot with a quality camera and poor lighting.
Invest in a professional high-quality light setup from the start. You don't have to waste time experimenting with ones that don't illuminate your video stream correctly.
What Is a Background Light?
A background light illuminates specific areas for a stellar live broadcast. Some streamers use RGB band lighting to create interesting backgrounds.
You should use a background light to illuminate subjects from behind. Position it above them.
Hustlr

suggests using backlights with your key (main) light if you want the audience to notice the background. An example is if you have trophies, valuable collections, or notable artwork to show off.
Best Background Lights for Streaming and Video Broadcasting
Whether you produce or direct indoor or outdoor shoots, the superior lighting setups below offer the best-controlled lighting for excellent streams.
We chose these models (all available on Amazon) because they consistently crop up across various aggregator lists and professional photography sites as some of the best background lighting for streaming:
This model is created specifically for streaming as a key light, but you can also illuminate backgrounds with it. Its metal frame supports a robust 2,800 lumens of light. You can place it on a desk or connect it to a screen as it comes with a handle and stands.
Its level of customization and flexibility make it a top contender in various applications like:
General shoots
Photography
Video creation
Media streaming
You can fully customize your setup using the Elgato app. You can also adjust the color temperature and brightness settings without interrupting your streaming.
A cheaper alternative is Elgato's Key Light Air

, which has a lower output, smaller console, and adjustable table stand.
Pros
Durable light structure and composition
Effortless in-app configuration and feature/color switch
Adjustable, versatile range of color temperature (from the warmest at 2,900K to the whitest at 7,000K) to fit different scenarios, including background focus
*K stands for Kelvin, the SI (French Système International) base unit of thermodynamic temperature. Its measurement intervals are identical to those of the Celsius degree scale.
Cons
This is the priciest model on this list.
Sale
Elgato Key Light - Professional 2800 lumens Studio Light with desk clamp for Streaming, Recording and Video Conferencing, Temperature and Brightness app-adjustable on Mac, PC, iOS, Android

Wi-Fi Enabled: switch on/off and fine-tune light settings via the desktop app.
2800 Lumens: illuminate your entire workspace and dim down to a subtle glow.
2900 – 7000 K: change color temperature from sunset amber to arctic blue.
Last update on 2023-03-29 / Affiliate links / Images from Amazon Product Advertising API
This two-item kit's lighting setup is similar to Elgato's but costs five times less. You can buy individual lights separately if preferred. This model has adopted the latest LED honeycomb design. The Viltrox VL-200T

is one level up and costs more, but it has a larger panel and remote control.
Pros
Dimmable LED lights.
Excellent brightness and color temperature accuracy.
Digital control of luminescence and color temperature values
Cons
Its mini tripods are not extendable.
Viltrox 2 Sets Photography LED Video Light Lamp with Bi-Color 3300K-5600K, HD LCD Display Screen,CRI 95 for DSLR Table Photo Studio with Tripods

VILTROX L116T LED light adopts newest LED honeycomb design with 15W 987LM high brightness ,nature...
You can adjust the brightness and color temperature steplessly.The brightness is accurate to 1%, and...
HD LCD display .let the operation interface is clear.Digitally accurately control brightness/color...
Last update on 2023-03-29 / Affiliate links / Images from Amazon Product Advertising API
VILTROX VL-200T Bi-Color Dimmable LED Video Light with Remote Wireless Control,Ultra Thin 3300-5600K CRI95+ Studio Photography Panel for Photography TikTok YouTube Twitch Live Streaming Zoom Meeting

Wide Application: The 10.2"×7.8" LED video light photography panel delivers continuous,...
Wireless Remote Control: It employs an FSK 2.4GHz wireless remote control system with 6...
Bi-color & Dimmable: With a steppless dimmable knob, you can customize your lighting effects from a...
Last update on 2023-03-29 / Affiliate links / Images from Amazon Product Advertising API
This softbox kit is fab because it offers the optimal lighting option for video streaming. Plus, its aluminized fabric has multiple functions:
It produces soft, balanced, diffused light.
It reflects light effectively.
It prevents shadows.
It reduces light loss.
It disperses light throughout a large area.
Pros
A breeze to install.
Foldable, with a carrier case
Energy-saving
Lightweight
Affordable
Suitable for beginners and general photography.
Each bulb is 1,350 watts, and there's a replacement bulb in the package.
One-year warranty
Cons
You need space for it.
Some parts don't last as long as you'd like.
For more information, check out which is better for streaming between ring light and key light.

This umbrella lighting kit is an affordable complete photography lighting solution. Its photo bulbs offer a 5,500K color temperature. Daylight-balanced fluorescent floodlights give off cool, white constant lighting. Its umbrellas reflect and spread light uniformly and prevent glare.
A unique feature of Craphy is its background support system with three chromakey muslin background variants: black, white, and green—all collapsible. The backdrop is a cinch to set up for any kind of photography and video streaming.
Pros
Each bulb has a lifespan of 10,000 hours.
It's 80% energy-efficient.
All accessories are robust and durable.
Cons
The set occupies a lot of space.
CRAPHY Photo Studio Umbrella Lighting Kit 1250W 5500K Photography Daylight Umbrella with Muslin Backdrop Kits(9x6FT White Black Green),Background Stand Kit(10x6.5FT)

★[STUDIO TRANSLUCENT UMBRELLAS]: Made of high-quality Nylon, light-weight and easy to set up; it...
★[ENERGY-SAVING PHOTO BULBS]: 5500k color temperature daylight balanced fluorescent floodlights...
★[COMPATIBLE LIGHT STANDS]: Made of Aluminum Alloy,these 2 umbrella flash strobe light stands are...
Last update on 2023-03-29 / Affiliate links / Images from Amazon Product Advertising API
This product is a budget alternative to Elgato. Though approximately ten times cheaper, it does a stellar job. This bi-color, dimmable LED video light combines the features of Elgato, and Godox SL-60 LED Video Light

. Its color temperature ranges from 3,200K to 5,600K, surpassing Godox's capacity.
This current Neewer model has:
An LED Panel
LCD screen
Lighted metal U-mount bracket
Barn door
Unlike older models, the Advanced 2.4G has a wireless remote, which allows you to adjust its 11 channels, brightness, and color temperature from a distance of 66 feet (20 meters). Also, unlike its predecessors, it comes with an AC power adapter.
Pros
It offers an adjustable white balance from tungsten (3,200K) to daylight (5,600K).
Two individual knobs behind the panel allow you to adjust the brightness and color temperature.
The LCD screen lets you view the status of the color temperature, brightness, and the light's power level.
Cons
While you can also power this Neewer model with a Sony NP-F550 or a Sony NP-F970 lithium-ion battery, both are not included.
Neewer Advanced 2.4G 480 LED Video Light, Dimmable Bi-Color LED Panel with LCD Screen and 2.4G Wireless Remote for Portrait Product Photography, Studio Video Shooting with Metal U Bracket and Barndoor

DIMMABLE BRIGHTNESS AND 2 COLOR TEMPERATURE: With 240 White and 240 Yellow LED long lasting bulbs,...
PREMIUM MATERIAL AND U-MOUNT BRACKET: Made of excellent quality aluminum alloy showing simple...
2.4G WIRELESS REMOTE CONTROL: It can easily adjust brightness, Channel and color temperature from...
Last update on 2023-03-29 / Affiliate links / Images from Amazon Product Advertising API
Sale
Godox SL-60 LED Video Light (Daylight-Balanced)

Godox SL Series SL60W 60W White LED Video Light - Reflector - Lamp Cover - Power Cord - Original Box
Last update on 2023-03-29 / Affiliate links / Images from Amazon Product Advertising API
NP-F550 Digital Camera Battery Replacement (2200mAh, 7.2V, Lithium-Ion) - Compatible with HXR NX5U, HDR FX1, NEX FS100, HDR FX7, HVR V1U, HVR Z1U, HVR HD1000U, HDR FX1000, HVR Z5U, DSR PD150

Replacement for Battery NEX FS700, HXR NX5U, HDR FX1, NEX FS100, HDR FX7, HVR V1U, HVR Z1U, HVR...
Battery Capacity: 2200mAh, Voltage: 7.2, Type: Lithium-Ion
Lifetime Warranty
Last update on 2023-03-29 / Affiliate links / Images from Amazon Product Advertising API
Sale
Sony NPF970 Rechargable Battery Info Lithium L

Rechargeable Lithium-ion battery pack designed for Handycam camcorders
Provides up to 18 hours of continuous recording time
6600mAh storage capacity without the memory effect found in other batteries
Last update on 2023-03-29 / Affiliate links / Images from Amazon Product Advertising API
This studio softbox continuous lighting kit with a boom arm has three socket heads and three softbox lights. The triple setup eliminates shadows and encompasses the left, right, and top zones of a scene.
This kit has:
Multiple adjustment options
1000-watt bulbs
Fluorescent lights
A carry bag
Pros
Adjustable
Energy-saving
Creates bright highlights.
Individually-controlled bulbs via the control panel
You can use it in both small and medium venues.
Cons
Hard to configure.
Priced higher than most lighting kits.
Perplexing instructions
Sale
Fovitec 3-Light Fluorescent Studio Lighting Kit w/ Boom arm, 20"x28" Softboxes, 11 45W Bulbs, Light Stands, & Carry Case for Portraits, Product Photos, Vlogging, Video Conferencing, & Live Streaming
Contains 2 5-socket heads, 2 20" x 28" softboxes, 1 single-socket head with a built-in softbox, 11...
Suitable for a wide variety of photo and video applications such as live streaming, interviews,...
Offers easy-to-use lighting controls for maximum versatility and light quality
Last update on 2023-03-29 / Affiliate links / Images from Amazon Product Advertising API
For more information, check out how many lumens is needed for video lighting.

These models sport two types of high-caliber "flapjack" panels: the SO-28TD and SO-68TDX II. (Flapjacks got their moniker from their round, flat structure, which resembles a vanity mirror.)
The SO-68TDX II is the newer version of the SO-68TD. It boasts no-step dimming, 2.4G mutual control, and a new dual-color control system you can manage with the RC-5B remote. Its on/off button has two options: one for the AC adapter and the other for the V-mount battery.
These bi-color LED edge lights are more expensive than Viltrox lights, but they span a larger surface and last longer.
The Falcon Eyes brand's superior standard and ultra-bright light output are why it's the preferred choice of many live and video broadcasters, YouTubers, and movie directors.
Pros
You can manipulate multiple lights at the same time.
You can adjust the color temperature from 3,000K to 5,600K using the touch screen.
You can power the unit with either an AC adapter or battery.
You can adjust the U-bracket to 360 degrees.
Dual-color temperature
Cons
The kit does not contain the battery nor the remote control.
Sale
Falcon Eyes SO-28TD Kit 28W LED Dimmable High CRI95 3000-5600K Soft Lighting LED Edge Light Film Continuous Lighting

Bi-color temperature from 3000K~5600K, CRI and TLCI of 95+
Output power 28W, With LCD touch screen control.
Step-less Dimming, With 2.4G Mutual Control Technology in 4 group control channels(A/B/C/D) to...
Last update on 2023-03-29 / Affiliate links / Images from Amazon Product Advertising API
Sale
Falcon Eyes New Version SO-68TDX II 360pcs 68W Soft Led Bi-Color Edge Light with 9 Scene Effect Mode

Ultra-Bright, Power 68W, Bi-Color LED Edge Lights.
Color Temperature can be adjust from 3000K-5600K through Touch Screen.
Step-less Dimming, 2.4G Mutual control. The SO-68TDX II is built with a new bi-color control system,...
Last update on 2023-03-29 / Affiliate links / Images from Amazon Product Advertising API
The 120D is a new video light model more durable than its predecessors. Rated at 5,500K, it can be used in numerous devices. It has a universal Bowens mount, wireless remote control, temperature control, and transport case. Its flexible cable system is color-coded.
Its all-in-one power box means minimal cabling and power elements and an easier, faster setup.
High-standard studios appreciate it for its 1,000-watt tungsten bulb, making it more powerful than older models. It has a wide array of applications and shooting settings. You can program it to produce lighting effects like pyrotechnics.
The 120D's built-in power supply and remote control can switch the video light from 1% to 100%. Its structure allows the light to be angled up to 330 degrees and pointed in your desired direction.
Pros
Easy to install
Its aluminum composition makes it lightweight and portable.
Its smart fans have advanced internal thermometers that change speed according to system temperature.
This new model has a locking mechanism that makes it safer than previous ones.
Cons
Aputure 120D Mark 2, 120D II LED, 180W Daylight Balanced Led Video Light, 30,000

[email protected]

, CRI96+ TLCI97+, Support DMX, 5 Pre-Programmed Lighting Effects, Ultra Silent Fan

🌿 |Accurate Color Rendition|: CRI 96+ TLCI 97+ offers Natural, Pristine Color for Broadcast...
🌿 |Supports DMX Lighting Function|: The C120D II's DMX system is also pre-programmed with special...
🌿 |Combined Controller-Power Unit|: The C120D II is now powered by a single, all-in-one power...
Last update on 2023-03-29 / Affiliate links / Images from Amazon Product Advertising API
Conclusion
Your choice of streaming lights for vlogging platforms depends on the type of video shoot you specialize in and your spending power. We hope that this list will help you choose the appropriate lighting setup for your purposes.
Check out whether ring lights are suitable for Zoom video calls.

Sources
Was this article helpful?
Recent Posts
link to How To Allow QuickTime To Access Microphone 🎙️  
QuickTime is a vital app for many Mac users, and if you've recently bought a new microphone, you might wonder how to use it optimally. QuickTime cannot record audio content if it doesn't have...
link to How Do I Test My Microphone? 🎙️
Every microphone leaves a unique signature on the quality of its output. If you're a podcaster trying to melt your way into your audience's hearts, a muddy, distorted recording won't cut it....