Perhaps you're still building that music studio, or you've completed it and looking to add some décor. Well, LED strip lights are one decoration that brings life to your studio. And with the right components, you can even make the light beat with the music. So, what do you need, and how do you make these LED lights beat with the music?
To make an LED light pulse with the music, you need a music-sensitive LED controller with a microphone feature. The microphone in the LED controller syncs the light with the beat's loudness creating a rhythm of beats or pulses.
If you don't know how to connect an LED light such that it beats with the music, in this article, I will show you how if you are looking to buy LED lights but don't know which one to buy. Later in this article, I'd be recommending a couple of the best LED lights you should check out.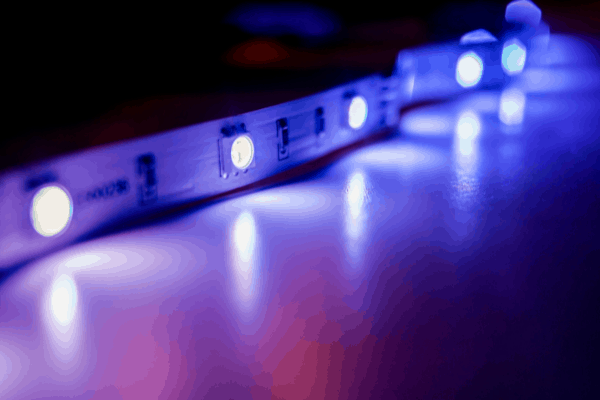 Can You Connect LED Lights to Music?
You cannot connect LED strip lights directly to a music source. Nevertheless, most LED strip lights with a music-sensitive controller come with music mode. With music mode activated, the strip will beat with the music with no need to connect it to Bluetooth or any other device.
So, the best way to connect LED lights to your music is by turning on the music mode. And as long as the microphone is working and the music mode is turned on, the music will sync with the LED light making it pulsate to the rhythm. 
How to Connect LED Lights to Music?
Connecting LED lights to music is fairly easy, provided you have all you need. What you need includes a strip light, a controller, and a step-down transformer. Here is how to connect every component, so it beats with the music.
Power up
Before you can step up the controller, you need to have a way to power it. Unlike regular bulb lights that use 120V/240V AC source, LED strip lights use a 12V current. This means that you cannot connect the strip lights directly to a power outlet. It would be best to have a step-down transformer that will convert the 120V/240V AC to 12V.
Hang up the strip
Next, hang up the strip in your wall, ceiling, or wherever you want to have the effects. To create a nice environment with the LED strip, don't leave the light open. Hang the light at the back of your bed, chair, monitor screens, and so on.
Connect the strip with the controller
With your step-down transformer ready and the strip hung up, connect the strip with the controller. On the controller is a four-pin connector that allows you to plug in the strip and a port to connect the step-down transformer. Find and plug the strip and step-down transformer appropriately.
Play a music
With everything set up, plug in the strip to a power source and set the controller to music mode. With the music mode activated, the strip will pulsate when music is played in the background.
How to Sync LED Lights to Music?
Today, most LED strip lights can be controlled via Wi-Fi or remote control. Nevertheless, sometimes, they wouldn't work properly because of settings or connectivity issues. The easiest way to fix this and get your LED light back in sync with the music is to reset the strip light via the remote control. Here is how to fix this error:
Plug the LED light into a power source and turn it on for a few seconds.
Please turn it off, then take out the power adaptor without turning it off with the remote control.
Press and hold down the power button for a few seconds, then connect it to a power supply again.
Keep holding the button for about five seconds as you wait for the LED strip to turn on.
When the LED strip turns on, it will alternate between its colors.
But when the LED strip holds at color, you can release the button, and your LED light will reset and sync back with your music.
Best LED Lights for Music Studio
If you are looking to buy a feature-filled strip light without breaking the bank, consider the BIHRTC LED strip light. Featuring a fantastic music mode, a built-in sensitive microphone makes the color change based on the ambient sound. And with the low voltage short circuit and low heat protection, you can use this strip light safely.
Interestingly, I love that the BIHRTC LED strip light comes with Bluetooth and IR sensor giving you the freedom to control it via an app or remote. Also, the memory and timer function lets you automatically turn on or off the strip light at a preset time.
BIHRTC Led Strip Lights 5050 Rgb 600leds 32.8ft Led Lights Music Sync App Control Color Changing Rope Lights with Built-in Mic Remote Led Rope Strips Light Lighting for Bedroom Home Party

App control &music mode:Bluetooth led strip lights built-in high sensitivity microphone and...
Memory and timer function:with the smart app,you can automatically turn on and off at preset time...
Multiple application led strips:you can use our led strip light to decorate your dining...
Last update on 2023-06-02 / Affiliate links / Images from Amazon Product Advertising API
Another prominent LED brand to check out is the Nexillumi strip light. This strip light features a remote and phone app control. The 44 key remote control lets you customize the colors of this strip light to fit any interior design. While the mini controller has 3 buttons, you can use it to turn on/off the lights and change the coloring and music modes.
One feature I love about this strip light is its easy installation process. It features 20 LED strip hooks that are strong adhesive and 20 screws. Nexillumi also provides this strip light with 4 strip connectors, and 2 double-sided adhesive tape, and 2 cable straps. As such, this strip light feels like a complete installation package.
Nexillumi 65.6ft LED Lights for Bedroom Music Sync Color Changing RGB LED Strip Rope Lights 44-Key Remote, 5050 RGB LED Light Strips(APP+Remote+Mic)

【More User-Friendly Ways to Control Your Lights】① Download the app "illumi Home" (Available on...
【Upgraded high adhesive double sided tape, Easy Installation】No tools required, the high...
【Upgraded Safest UL listed Power adapter and cords】The fireproof power adapter that meets the...
Last update on 2023-06-02 / Affiliate links / Images from Amazon Product Advertising API
The Govee Smart strip light is another top choice I'd recommend you check out. The built-in microphone allows the LED strip to sync with the music, and it also works with the voice control option. The voice control option helps you monitor and control the lights. Govee Smart LED strip light is compatible with Google Assistance and Amazon Alexa as it supports Wi-Fi.
Even though this strip light does not come with an IR remote controller, the voice command lets you set the timer and turn on/off the LED strip. Overall, the performance of the Govee Smart LED strip is quite impressive as you can use it to create up to 7 scenes in your room.
Govee Smart LED Strip Lights, 16.4ft WiFi LED Light Strip Work with Alexa and Google Assistant, 16 Million Colors with App Control and Music Sync LED Lights for Bedroom, Kitchen, TV, Party, Holiday

Even and bright Light: As indoor decorations, Govee 16.4ft rgb led strip lights are equipped with...
Wireless Smart App: The Govee Home app offers you advanced control over your led strip lights and...
Music Sync: As holiday decorations, a built-in mic allows the smart LED strip lights to sync to any...
Last update on 2023-06-02 / Affiliate links / Images from Amazon Product Advertising API
One feature of the L8star LED strip light I love so much is that double-layer copper on the PCB board lets you cut between every 3 LEDs. This makes it flexible to install this LED strip light anywhere you want. And you can also take full control over the lighting of this strip light with your smartphone.
The L8start LED strip light comes with an AC adapter, 2 reels of 16.4ft lights, a remote, and a control receiver. The control receiver features a microphone that makes the light beat with the sound. The remote control with 24 keys lets you control the light settings to suit the ambiance of your room.
Lastly, the TBI Pro LED strip light is a premium LED room light with 1 x 20 feet RGB LED lights, a remote controller with 40 keys, power adapters, and connectors. At the back of this strip light is a strong adhesive that makes it easy to mount this light to surfaces. Installing this LED strip light is as easy as plugging it into a power source and play.
I love that this wireless LED light comes with Bluetooth functionality. This feature lets you connect this LED strip light to a mobile app and control the brightness, and color. You can also use the mobile app to turn on music mode which uses the microphone to sync the light with the music such that it beats with the music.
Upgraded 2019 LED Strip Lights Kit 32.8ft w/Extra Adhesive 3M Tape - 300 LEDs SMD 5050 RGB Light, 44 Key Remote Controller, Flexible Changing Multi-Color Lighting Strips for TV, Room

ALL-INCLUSIVE QUALITY LED STRIP LIGHT KIT – This premium LED room lights kit comes with (2) 16.4...
EXTRA STRONG 3M TAPE COMES INCLUDED – Are you tired of using RGB LED strips that won't stay in...
PLUG & PLAY DESIGN FOR EASY INSTALLATION – We make installation a breeze. The color changing...
Last update on 2023-06-02 / Affiliate links / Images from Amazon Product Advertising API
Conclusion
In conclusion, now you have all the information you need about RGB LED strip lights and how to make the surroundings look elegant and beautiful. If you are looking for one of the best strip lights to match your home or outdoor decorations, feel free to consider anyone of the strip lights I recommended. And if you have any questions or queries regarding RGB LED strip lights, feel free to share them with me in the comment section below.
For more information, check out what the best color is for studio walls.

Also check out, Effective DIY Alternatives To Studio Lights.

Sources:
https://www.youtube.com/watch?v=g3TIVxRdLiA

Was this article helpful?
Recent Posts
link to How To Allow QuickTime To Access Microphone 🎙️  
QuickTime is a vital app for many Mac users, and if you've recently bought a new microphone, you might wonder how to use it optimally. QuickTime cannot record audio content if it doesn't have...
link to How Do I Test My Microphone? 🎙️
Every microphone leaves a unique signature on the quality of its output. If you're a podcaster trying to melt your way into your audience's hearts, a muddy, distorted recording won't cut it....